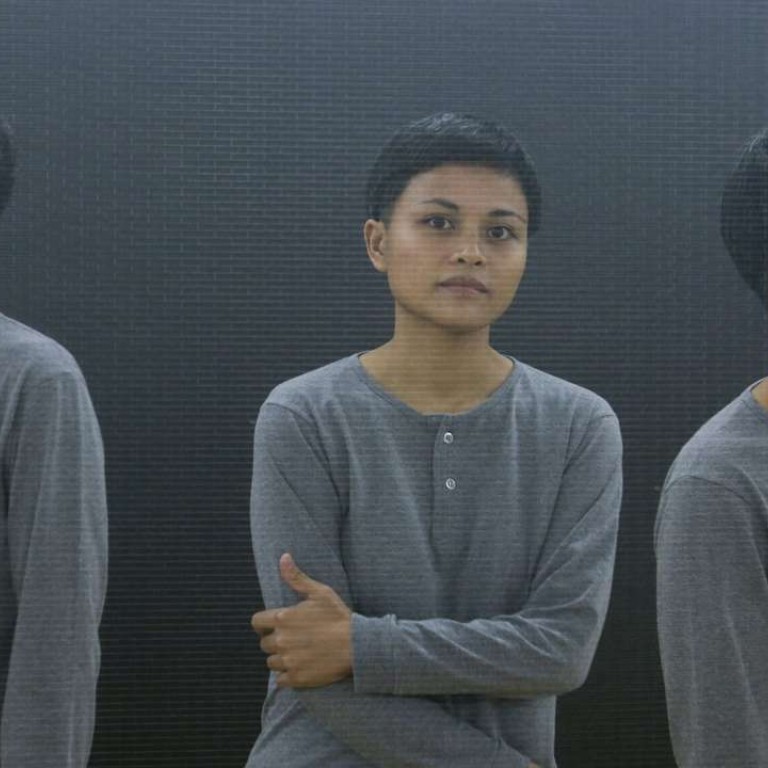 Hong Kong solo debut for Filipino who's painted same thing since 2008
Manila-based Maria Taniguchi has been making realistic paintings of a wall of black bricks for eight years, and her first solo show here features five new brick works plus an installation
All good visual artists have a distinct, recognisable style. And Maria Taniguchi's approach is undoubtedly unique. After all, she was awarded the Hugo Boss emerging Asian artist jury prize in 2015 for her "very singular" practice.
Since 2008, the Filipino artist has been making what she calls "brick paintings" – realistic paintings of a black brick wall. They come in different sizes: the largest one on show at Galerie Perrotin is nearly three metres wide and two metres high, but the bricks are always the same size and she always uses the same black paint. Basically, she has been painting the same thing over and over again for eight years.
There are many artists who are single-minded. But Taniguchi's persistence makes even Yayoi Kusama – who at least allows herself to vary the colours, patterns and shapes of her dot-covered creations – seem weak-willed.
There is another aspect of her practice that is unusual. The brick paintings, which are all untitled, are her best-known works so far, but she sees them almost as warm-up exercises before she tackles other projects such as videos and installations.
In the catalogue of her September exhibition with artist Sriwhana Spong in Singapore's Lasalle College of the Arts. she said: "[The brick paintings] serve a very practical purpose. These paintings take time and help me regulate my own production, my thinking."
Speaking at the opening of her first solo exhibition in Hong Kong, the 35-year-old artist from Manila says she wants to debunk a common misconception that she paints the bricks as a meditative exercise.
"When you meditate you are supposed to empty your mind. But the brick paintings are more like a container, because I like to listen to audio books, especially fiction, when I am painting them. I absorb the books better," she says. She also sees the paintings as parts of a single, very large work which, in her mind, forms a space in which her other creations can emerge.
The black panels entrance. Not in the stirring, sonorous manner of the black panels in the Rothko Chapel, but it is hard to look away from the beautiful precision of the bricks and the unyielding uniformity of the black. Well, almost uniform.
The surfaces give off different "feelings and vibrations" because each brick is hand-drawn, and also, the lighting each time they are displayed will be different, she points out.
At the very heart of her work is a deep fascination with materials and forms and how they react to different conditions. One favourite platform for such conceptual explorations is Mies Van der Rohe's Barcelona Pavilion.
In 2010, Taniguchi made a video called Mies 421. "In the film, there are a set of slides showing someone – actually myself – walking in a circle around the Pavilion looking at the walls, the marble, the floor, the furniture, the sculpture in the pool. And the set of slides in the video is repeated twice over and each time, the amount of time in between the shots gets shorter, creating a feeling of anxiety. There is a ticking sound that accompanies each change. The sound of a clock that's in a hurry," she says.
She calls it "an accidental horror movie".
The next year, she made another video called Untitled (Dawn's arms). In it, she filmed Filipino marble workers recreating the arms of the sculpture of a naked woman in the Barcelona Pavilion. There is something eerie about the severed, displaced limbs, too.
Her habit of turning the serene temple to modernist architecture into something unsettling suggests a love-hate relationship with the place, perhaps?
"I just see it as a weird, abstract space with a lot of reflective and absorbent surfaces, like leather. For me, it is actually an obsession about the ascetic charge of materials," she says.
She resists being labelled as an artist who resists modernism, or figurative paintings, or any art movement.
"I think if a work is subsumed into a category, then it becomes a product. The only way to do it right is to look at individual practices," she says.
Taniguchi was amused to see her name in Chinese for the first time when she picked up her Hugo Boss award in Shanghai. It was based on the kanji for Taniguchi, the surname of her Japanese stepfather. To assume that there is Japanese influence in her work would be to fall into another trap. "If my childhood visit to Tokyo Disneyland counts as Japanese influence, then yes," she says.
The Hong Kong exhibition is made up of five new brick paintings and an installation called Fountain Model 1. That consists of two glass tanks connected by a white channel made of bamboo and a plastic hose. Water flows through this system endlessly.
Taniguchi says it is inspired by a story she has written as part of a project commissioned by Patrick Flores, curator at the Jorge B. Vargas Museum, which is located near a massive water filtration plant supplying the metro Manila area.
This may take her into a new direction. "I have never made a technical installation before and I may make others," she says.
Maria Taniguchi, Galerie Perrotin, 17/F, 50 Connaught Road, Central, Tue-Sat 11am-7pm. Until Dec 21.
This article appeared in the South China Morning Post print edition as: Just another brick in the wall for star on the rise