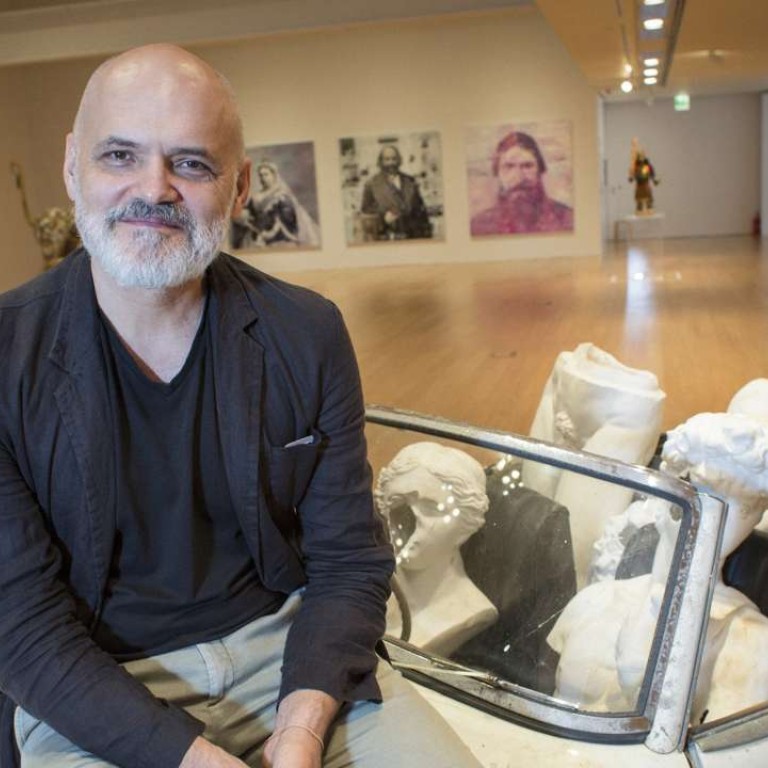 Macau-based Russian artist Konstantin Bessmertny and his world of opposites
The artist talks about his new show at Macau Museum of Art, which includes a vintage Mercedes-Benz sports car, near-obsessive doll's houses, and a two-metre wide painting of Queen Victoria
If you visit the Macau Museum of Art between now and the end of May, you'll notice a vintage Mercedes-Benz sports car – auspicious number plate KB8888 – parked at the foot of the entrance stairs. Every night, as darkness falls, a thunderstorm begins to rage inside: an epic force compressed into a dinky vehicle.
"A car is a private space, really human," says its artistic creator, Konstantin Bessmertny. "Then nature interferes and pushes the human away."
Bessmertny, 52, who has been a fixture on the Macau art scene since 1992, loves to play with scale. Inside the museum, where his exhibition "Ad Lib" is currently on show, there's another thunderstorm, noisily flashing within a small glass box above a tiny sheep, the words "One of you will betray me" circling, like a scriptural hologram, over its woolly head. Religious artistic references are rife in Bessmertny's work; God is in the details.
Playing with such opposites – big/small, solemn/absurd, exquisite/vulgar – is a Bessmertny hallmark, and not just artistically. As a native of Russia, the largest country in the world and, subsequently, a resident of Macau, one of the globe's more teeny corners, he's had to adapt to conflicting proportions. He's as warm and twinkling-eyed an individual as you could hope to meet, but that's twinned with deep intensity: the photographer had to ask him not to look quite so furious in front of the camera.
When he was growing up in the Union of Soviet Socialist Republics, everything was massive including the neighbours: from his city of Blagoveshchensk, on the Sino-Russian border, he could see the gigantic face of Mao across the Amur River. After studying at the Institute of Fine Arts in Vladivostok, he says, he tended to do more "monumental" things.
Once he moved to Macau, however, he found it (even then, before the 1999 handover, when the clichéd description was "a sleepy Portuguese enclave") an "over-occupied space". Creatively, he was Gulliver, trained in Brobdingnag but relocated to Lilliput. The world he glimpsed, like Alice's, shrank at the far end of a telescope.
From the beginning, therefore, he carved out his distinctive Wonderland style – the sort of art that looks as if it's been created by an icon-maker on hallucinogens. These little people aren't pious: they're lecherous gamblers or come-hither females or puking passers-by, quaintly clad (or not) while busily sinning.
Viewers often invoke the names of Bosch and Bruegel when they see Bessmertny's work, and he occasionally plays on this. His Universal Decision Maker (2013) echoes Bruegel's Tower of Babel (c.1563), if Bruegel had thought to include flying cars.
He privately divides his work into three meaty groups: Rare, Medium and Well Done, depending on the level of detail required, although to an outsider the general standard of meticulousness is extraordinary.
In the Macau show, there's Prima Via, with its six lines of Latin, courtesy of Thomas Aquinas, and its "hand of god" hovering over a goalpost, courtesy of Maradona. There's also a beautifully painted, oil-on-wood panel of Saint Sebastian, straight out of the Renaissance but bristling with actual acupuncture needles instead of the usual two-dimensional arrows. (Asked if he thinks Sebastian's feeling better, Bessmertny replies, "Yes, he's not suffering with Catholic guilt and torture".)
There are some of his near-obsessive dollhouses, including one titled Godfather; peer in at the mantelpiece and you'll see microscopic, hand-painted Christmas cards of Al Capone.
But these days, there are also considerably bigger pieces: a two-metre wide painting of Queen Victoria wearing full make-up; a life-sized leonine sculpture from his Bestiarium series; a four-metre canvas, The Battle of Vegas (Macau). They variously celebrate – if that's the right word – the beastly cult of celebrity. Macau is now a place where everything's out of proportion, he writes in a description of that last work. The USSR shrivelled; Macau expanded.
Of the 34 works on display, most still belong to Bessmertny. Technically, he says they're not for sale but interested parties, which include West Kowloon's M+, are making inquiries.
"The artist doesn't sell," he states, seriously grinning. "He lets people buy." That's one of his rules: the less you think about money, the more it comes.
His first rule, however, is that every artist should have a Plan B. His is graphic design. He recently published The Last Dumpling, a parody cookbook, with Swedish chef Kristoffer Luczak. Plan A and Plan B are both doing sufficiently well that he bought a studio last year in Chai Wan to which he now commutes.
"In 25 years in Macau, I'd moved studio more than 14 times," he says. "I don't want anyone else to say 'Tomorrow you have to leave'."
He points to another, bigger, vintage Mercedes-Benz in the exhibition. (It's filled, not with lightning, but broken Roman sculptures: "Our fossil-fuel civilisation".)
"This would never happen without Hong Kong," he says. "I'm sharing time now between two spaces so there's more inspiration. I'm doubly charged."
Ad Lib – Recent Works by Konstantin Bessmertny, Macau Museum of Art. Ends May 28, 2017
This article appeared in the South China Morning Post print edition as: Bessmertny unveils aworld of opposites