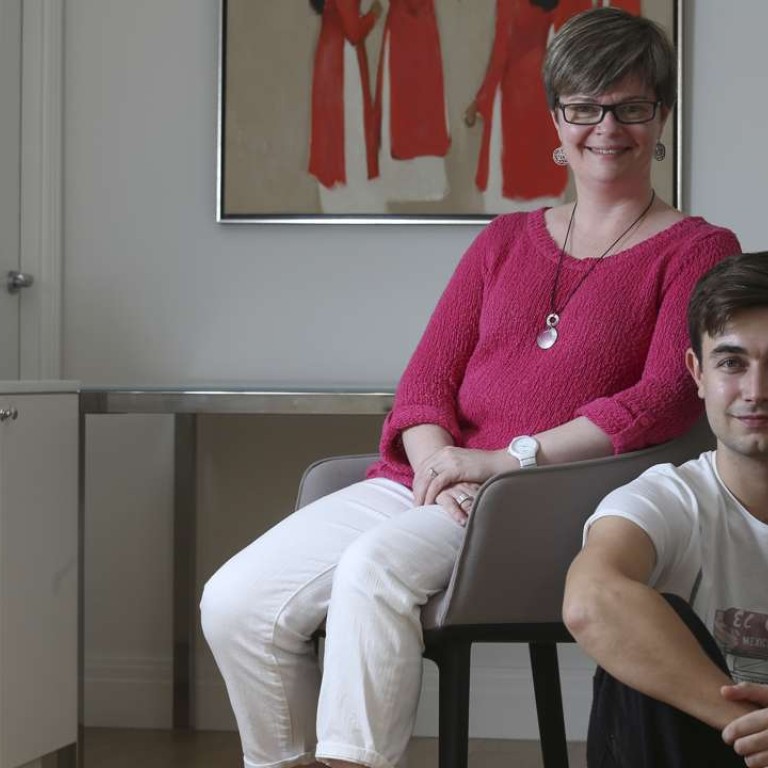 Hong Kong theatre director Candice Moore returns to stage
Moore, who has spent the past year in London, is back with a new production of Nicolas Billon's play The Elephant Song
Leading light of the Hong Kong drama scene, actor and director Candice Moore, has returned from a year's sabbatical in London.
While there she picked up a master's degree in theatre directing from the Mountview Academy of Theatre Arts, and she has wasted no time in getting back to work.
Nicolas Billon's 2004 play, The Elephant Song, presented by Moore's company Sweet & Sour Productions, gets its Hong Kong premiere next week at the Hong Kong Fringe Club.
The production is transferring from the Karamel Club in Wood Green, London, where it made its UK debut. Moore directed it there as the showcase production for her degree.
The play is a three-hander, and British actor Luke Lampard has flown out to reprise his role as psychiatric patient Michael Aleen. The other roles, a psychiatric doctor and a nurse, are taken by locally based actors Warren Adams and Kath O'Connor.
Moore says she is happy to be back in Hong Kong, but that a year in London during which she saw more than 100 plays as well as learning new disciplines in stage direction was time well spent.
"I thought I should be in London if I was going to do something like that, because that's where it's all happening," says Moore, who had previously completed a director's course at the Royal Academy of Dramatic Art and holds a teacher's certificate in communication from the London Academy of Music and Dramatic Art.
A Scot, she graduated with a BA from the Royal Scottish Academy of Music and Drama in Glasgow, now the Royal Conservatoire of Scotland, so her links to theatre in the UK are strong.
"I needed a change of scene and just to meet different people and to work with different practitioners. It certainly fulfilled that, and I wanted to look at different directing techniques as well," she says.
"It was hard to leave but it's good to be back."
Her course work at Mountview required her to direct a public production of a play, which had to be not more than 70 minutes long and with a maximum of four actors. The Elephant Song, which was drawn to her attention by a friend in Hong Kong, fitted the bill.
Billon is a Canadian playwright, and The Elephant Song, which was filmed in 2014 by director Charles Binamé, was his first play. It is probably still his best known work.
The plot, which is full of unexpected twists and turns, develops through a dialogue between Lampard's character and Adams' psychiatrist, Dr Greenberg.
"It's like a tennis match, going back and forth between the doctor and the patient," says Adams.
If that premise sounds reminiscent of Equus, by Peter Shaffer who died in June, that is not entirely a coincidence.
Billon acknowledges the influence, and the name of the nurse, Miss Peterson, was chosen as a somewhat oblique tip of the hat to Shaffer. The character of disturbed stable boy in Equus, Alan Strang, was played in the original London production and subsequent film by Peter Firth.
"He was also influenced by Alfred Hitchcock, particularly Rear Window, because he was interested in the idea of a play with only a few characters stuck in one room, so it's very claustrophobic," says Moore.
"The audience is, maybe, in the position of the doctor. They won't see what's coming at the end. It's like a thriller and a mystery. The set-up is quite straightforward but once it gets going you don't know where you are with the patient."
Much of the burden of keeping everybody in the dark falls on Lampard.
"The character takes the audience and Dr Greenberg down various garden paths," he says. "You think you are working it out and then it goes off in another direction entirely. It's a little bit of a roller coaster. If I do my job correctly you should be confused at the start for a good 10 to 20 minutes."
The London production ran for four performances, and was well received. Although some small changes have been made to adapt to the smaller Fringe Club Underground Theatre, Moore and Lampard say that the production is otherwise essentially the same, and no cuts have been made to the text.
This time, however, Moore has been able to share new insights about the characters, direct from the author, with her cast.
The dissertation for her master's was written about directing the play, and involved some correspondence with Billon who she says was "very open to answering questions. Often writers aren't".
Lampard says some of the insights into his character have helped him to develop his interpretation of the part ofAleen, who is suspected by Greenberg of having something to do with the mysterious disappearance of the psychiatrist who was treating him previously.
He was introduced to Moore at Mountview, where he was involved in a play reading, and invited to audition.
"I got the role which was very exciting, " he says. "It's very interesting doing it again with two new actors."
O'Connor, head of drama at the German Swiss International School, is well known to Hong Kong theatre audiences, but Warren Adams, playing Dr Greenberg, is new to the Hong Kong stage, although he has appeared on local television and works regularly as a voice-over artist.
Having developed the production, which given its basic set is highly movable, Moore is now looking to stage The Elephant Song elsewhere in Asia, and possibly again in London.
"The writer's agent came to see it, from Paris where she's based, probably just to make sure we hadn't ruined it, but she was very pleased and said 'Do it anytime you want to'," says Moore.
"She's very pleased about Hong Kong. I've spoken to a venue in Kuala Lumpur about doing it, possibly early next year, or Singapore would be a good place."
The Elephant Song, Underground Theatre, Fringe Club, 2 Lower Albert Rd, Central
Nov 30, Dec 2 and 3, 7.30pm; Dec 3, 2.30pm.
HK$200 and HK$250, HK Ticketing. Inquiries: 2922 8288
This article appeared in the South China Morning Post print edition as: Her master's voice