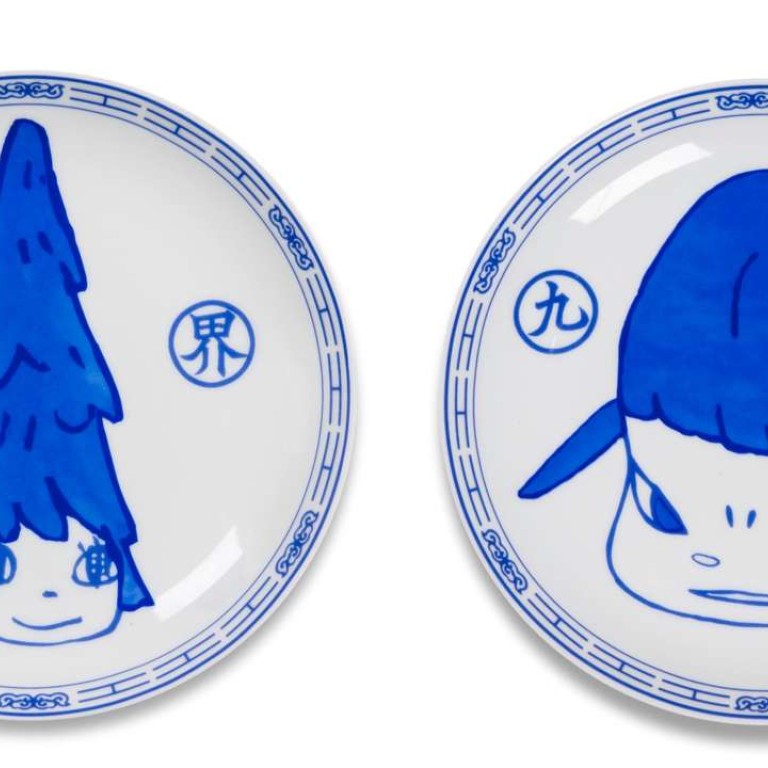 Yoshitomo Nara plates auctioned for 18 times 2015 retail price in Hong Kong
Limited-edition plates by Japanese artist, sold at HK$988 for a set of three last year by Asia Society, fetch HK$18,000 at Bonhams auction, suggesting resellers on eBay may now up their asking prices
A set of Yoshitomo Nara's limited edition Hong Kong plates sold at auction on Monday, for HK$18,000, more than 18 times the price of HK$988 at which they were
sold by the Asia Society
in the summer of 2015.
The set of three blue-and-white porcelain plates feature the Japanese artist's iconic angry girl with the Chinese characters for Hong Kong, Kowloon and New Territories. A total of 1,800 sets were released and sold to promote Nara's solo exhibition in Hong Kong.
The plates and other Nara memorabilia sold at the exhibition, such as smartphone covers, caused Hong Kong's endemic Snoopy fever to raise its head again. Hongkongers and visitors alike bought them up as eagerly as they collected McDonald's figurines of the cartoon dog in 1998, when long queues formed outside the fast food chain's outlets when a new version was released. The purchases at Asia Society were less frantic, as the cultural centre had the foresight to phase the plates' release in weekly batches.
They have since appeared on eBay, where sets are being so for a few thousand Hong Kong dollars, but prices may well go up once sellers become aware of the price paid a Bonhams sale on Monday. While the hammer price was HK$18,000, the buyer had to part with HK$22,500 after fees to the auctioneer.
The seller did not make as much as a 17-time profit, however, as the auctioned set has already changed hands at least once.