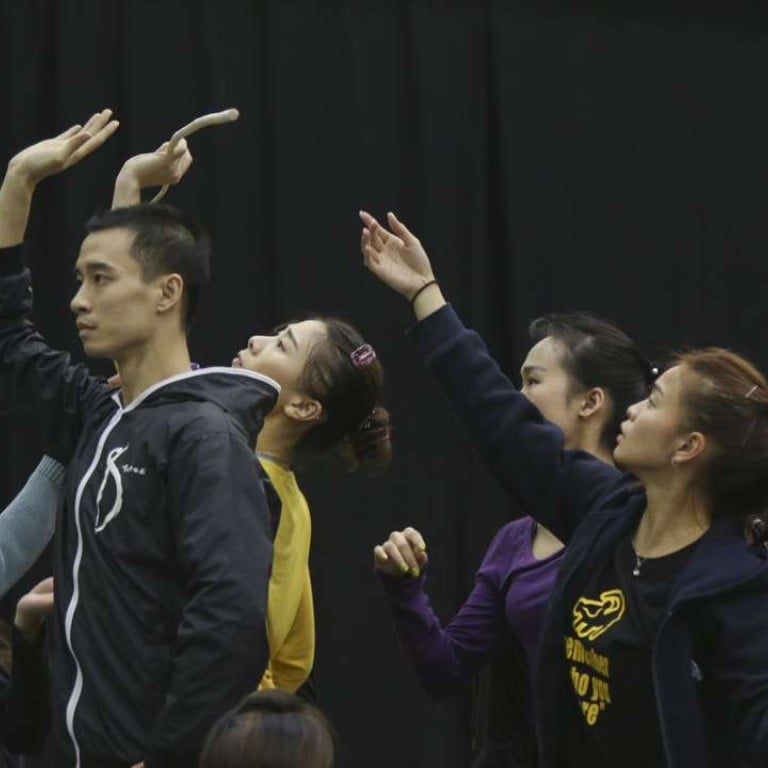 Hong Kong choreographer Yang Yuntao explores a hero's burden in adaptation of comic classic
Hong Kong Dance Company's version of Ma Wing-shing's martial arts series Chinese Hero reflects on hurdles we face in daily life
It's tough to be a hero. Just as Spider-man is told that "with great power comes great responsibility", Wah Ying-hung, the most skilful swordsman in Ma Wing-shing's comic classic Chinese Hero, has to learn to lead a life of burden.
This less glorified take on what it means to be a hero has inspired choreographer Yang Yuntao to adapt Ma's best-known work for the Hong Kong Dance Company's upcoming production Chinese Hero: A Lone Exile.
"My idea of a 'hero' is very neutral; it's neither good or bad," says the artistic director of the 35-year-old government-subsidised troupe. Instead of presenting a straightforward heroic narrative, "I want to explore the many limitations that a hero may face".
"In the case of Wah Ying-hung, because he was born with a curse – that everyone close to him must die – our piece looks at what it means to live in solitude... and the inability to escape one's fate."
Originally titled Tales of the Blood Sword, Chinese Hero follows Wah Ying-hung, who left China for the US to avenge the person who murdered his parents. There, he is caught up in gang wars and a deadly feud with his main nemesis Invincible, whose life's mission is to become, well, invincible.
With so much blood and violence, this popular 1980s martial arts series may not be an immediate choice for a dance adaptation. But Yang says his work focuses more on the characters' emotions and feelings that can be expressed through movement.
"In the story Wah Ying-hung has to fight two battles, one with Invincible and one with his daughter. The protagonist is forced to make choices and our focus has more to do with his inner struggle, conflict and pain than about whether he will win or lose," explains Yang, 42, adding the hero's journey of self discovery – that life is more than achievements and success – is something contemporary audiences can relate to.
Chinese Hero: A Lone Exile is the second stage adaptation of Ma's work by Yang. Storm Clouds, a martial art dance drama, is based on another popular comics series Storm Riders. The piece was well-received and picked up three prizes in the 2015 Hong Kong Dance Awards, including outstanding achievement in production and outstanding performance by dancer Sun Gongwei.
Yang, 42, says Storm Clouds is, essentially, a love story, featuring a cast of younger characters (in their 20s), while Chinese Hero is more mature and has a darker tone. A couple of scenes from their rehearsal show the work's more solemn mood.
"I approach Chinese Hero with a very different attitude and mindset," he says. "After Storm Clouds, I feel there are still a lot of questions [about life] that are left unanswered. So, what is a hero? I think in reality, people who go about solving their daily problems are already heros."
As the artistic head of the Hong Kong Dance Company since November 2013, Yang has had his fair share of troubleshooting. Is he content with where the troupe is heading artistically?
Balancing a repertoire of works that are traditional and contemporary, as well as productions that have both niche and mass appeal, the choreographer-dancer believes it's best not to set artistic boundaries for his company. However, since it is also a publicly funded group, he is aware of the responsibilities and limitations it has too.
"Sometimes you have to go through a lot of pain, navigating your way around many limitations, in order to find that freedom to create," he says.
Chinese Hero: A Lone Exile, Hong Kong Dance Company, November 25-27, 7.45pm; November 26 and 27, 3pm; Hong Kong Cultural Centre Grand Theatre,. Tickets: HK$160 to HK$360. Inquiries: 3103 1805