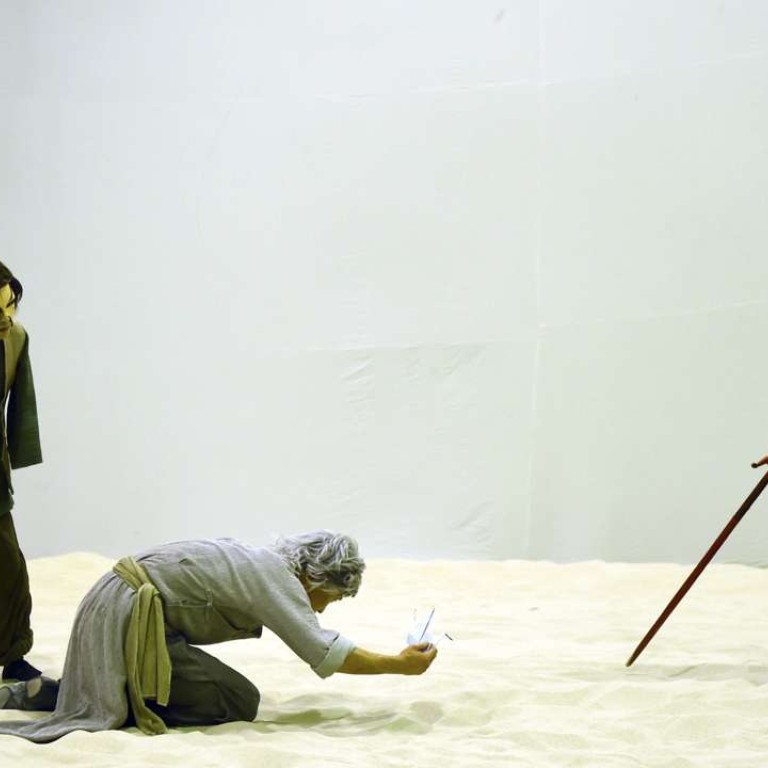 Arts review – Chinese Hero: A Lone Exile is so flawed, it's bad for your health
Weak narrative and structure aside, this Hong Kong Dance Company adaptation has performers dancing on dust and sand, which is not just a health hazard for them – but everyone in the audience
Following 2014's Storm Clouds, Hong Kong Dance Company artistic director Yang Yuntao revisits the world of Ma Wing-shing, a leading Hong Kong creator of martial arts comics, with Chinese Hero: A Lone Exile.
Like its predecessor, the new production is visually striking but fatally weak on narrative. The story has been reduced to a series of disconnected vignettes, making it hard to follow what's happening and leaving gaping holes in character development.
Yang's choreography is also disappointing – limited in range, it fails to showcase the thrilling dancing of which the company is capable. This is compounded by the stage being covered with a thick layer of sand, which the characters kick, throw or let trickle through their fingers like water, a recurring motif. Difficult and potentially dangerous to dance on (or rather in), this surface restricted what the dancers could do.
Worse, as the piece progressed, clouds of fine dust rose from the sand and remained hanging in the air. Combined with dry ice from above this created a powerful visual effect, which was presumably Yang's intention. However, even in the middle of the stalls, eyes were smarting from the dust – what it was like for the dancers, whose lungs and eyes were filled with it, doesn't bear thinking about.
Artistic vision is all very well, but there's no excuse for health and safety being sacrificed to it – it's hard to believe that such cavalier treatment of performers would be permitted in this so-called "world city".
The eponymous hero (in every sense – his name, Wah Ying-hung, literally means Chinese Hero) believes he is doomed to bring death to those he loves. He has gone into exile to protect them and when his son Kim-hung tracks him down, refuses to speak to him. The scene jumps to Tokyo where Wah takes up his legendary Blood Sword to fight the arrogant Invincible. The scene jumps again to the female warrior King-tin, who hates Wah bitterly and has kidnapped Kim-hung to lure him into a trap. When Wah comes to rescue his son, he discovers that King-tin is none other than his beloved long-lost daughter and faces the choice of killing her or letting her kill him.
While fans of Ma's original comic series may get more out of Chinese Hero, Yang and his dramaturg Natalia Chan haven't catered for those not familiar with the characters and their complex back stories. Narrative dance needs to tell its own story, not rely on the audience reading notes in the programme in order to grasp who people are.
Structure is another problem – the opening scene is too long and goes nowhere, the epilogue is an irritating anti-climax to the most effective scene, Wah's fatal encounter with King-tin.
Fine performances from Huang Lei in the title role, Pan Lingjuan as King-tin and Ho Ho-fei as Kim-hung, and a good score by Lee Che-yi and Choi Sai-ho are not enough to overcome the production's flaws.
It's an excellent idea for Hong Kong Dance Company to draw on iconic local work like Ma's comics for inspiration. Indeed, one of its greatest successes was former artistic director Leung Kwok-shing's trilogy based on the martial arts novels of Louis Cha (Jin Yong). Well-crafted theatre with spectacular dancing and popular with audiences, these works are part of the company's heritage and it would be good to see them return to the repertoire.
Chinese Hero: A Lone Exile, Hong Kong Dance Company, Hong Kong Cultural Centre Grand Theatre.
Reviewed: November 26 (8pm)