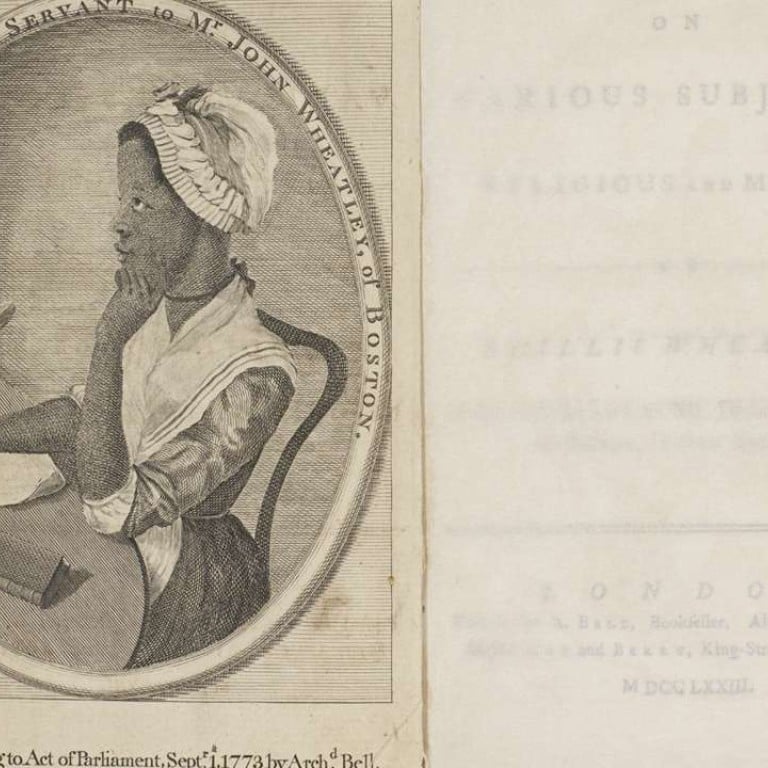 Hong Kong treated to rare collection of African American art and history
Impressive selection of books, documents and artworks dating back to the 16th century goes on display for the first time outside the US
It's fair to say that most Hongkongers have only a cursory acquaintance with the history of African Americans. They may be aware of the African slave trade, segregation, Martin Luther King Jnr and may have seen the Oscar-winning film, 12 Years a Slave. In a city where a black face is as rare as a smile on a Hong Kong shopkeeper, a more detailed understanding of the story from slavery to President Barack Obama may seem remote, irrelevant and unnecessary.
An upcoming exhibition at the University of Hong Kong argues that African American history is anything but marginal, even in Asia.
Rising Above: The Kinsey African American Art & History Collection, is a selection of documents and art dating back to the 16th century that are on loan from Bernard Kinsey, an American business consultant and his wife Shirley, and it is open to the public from December 9 at the University Museum and Art Gallery.
The exhibition will be accompanies by a series of public seminars, credit-bearing courses for undergraduates and the publication of academic articles.
"Our collection is a chance for people to have a dialogue about things they have not discovered before. They will see that we are more alike than we are dissimilar, that the Kinsey Collection is a shared history of how America became America and how everything since America's foundation was predicated by slavery, the recent presidential election included," says Kinsey, who has never shown his collection outside North America until now.
It is an American tale, but one likely to resonate with any visitor who is aware of all the social ruptures that have appeared the world over.
"The world is a divisive place. There's the American presidential election, Brexit and here in Hong Kong, its pursuit of democracy is a challenge to the mainland. In today's society, we label people. With this exhibition, we want to blow that up," he says.
In Hong Kong, this can also open the door to a wider acknowledgement of the city's endemic racism.
"Racial discrimination in Hong Kong is a bad problem. We cannot be blind to it. Martin Luther King Jnr showed us that," says Tim Gruenewald, director of the American studies programme at the university and joint curator with Florian Knothe, director of the museum.
If you think black people tend not to be smart, or do not have geniuses among them – which Kinsey says is what many still think – it may well stem from the misguided notion that African Americans were all uneducated labourers and servants before the abolition of slavery in 1865.
They weren't.
There's the now-familiar tale of Solomon Northup, author of the memoir
Twelve Years a Slave
. He was born to parents who were freed slaves and was a New York carpenter and violinist before his abduction by slave traders – a harrowing tale that was turned into a 2013 blockbuster. An 1892 edition of the book will be shown in Hong Kong.
Less well-known is the incredible story of Phillis Wheatley. She was about six years old when she was sold into slavery in Gambia and taken to Boston on a ship called Phillis, which was how she got her name after her original identity was lost forever as soon as she stepped aboard.
The Wheatleys bought her and gave her an education. Within two years, she learned English, Latin and Greek, and by the age of 13, started writing poetry. Her Poems on Various Subjects, Religious and Moral was published in 1773 and it was not through the subterfuge of a fictional white author: there was a portrait of her inside the book.
The richness of African American artistic output can also be seen in the art on display. There are paintings from the 19th century that are indistinguishable from Western Romantic landscapes of the time, as well as examples from the Harlem Renaissance of the 1920s.
Another notion that the collection wants to bust is that those of African heritage have a shorter history in North America than those who trace their roots to the white settlers, and can, therefore, share less of the glory of the eventual "founding" of the new nation.
A scrap of paper that has miraculously survived for more than four centuries tells of how Estebana, a daughter of a slave called Gratia, was baptised in the Catholic Diocese of St Augustine in Florida.
Gratia was probably a slave owned by early Spanish colonisers and it is the earliest known baptism record of an African American, dated 1596. What that means is that Estebana would have been 11 when the first permanent English colony was set up in James Town in 1607.
Visitors will be reminded that the African American history is one of constant put-downs and struggles. A copy of the 1801 New York census shows how the so-called "three-fifths compromise" had been at work since 1787, when it was decided that a census would count slaves as three-fifths of a person.
"Donald Trump won the presidential election this year because he won the Electoral College rather than the popular vote. This is a system that came from the three-fifths compromise, which was used to determine how much representation each state got in the capital. Everything in America can trace its root to slavery, including the Chinese exclusion act of 1893 and the internment of ethnic Japanese. The treatment of people based on skin colour rather than merit all came from our slavery past," says Kinsey.
There is memorabilia charting the civil rights movement from the 1950s and '60s, such as a placard carried through the 1968 memorial procession after Dr King was assassinated. The simple plea is as relevant today: "Honor King: End Racism".
"The history of African Americans is the best that the US has to offer. It is its greatest contribution to human kind. It has taught us that race is an important issue. It is inspiring. The civil rights movement gave us all a recipe to protest in a dignified, non-violent way. It is implicit that the Umbrella movement in Hong Kong and other non-violent protests across the world were inspired by what happened in the US," says Gruenewald.
Derek Collins, the African American dean of the university's arts faculty, says the museum made initial contact with the Kinseys a year before he arrived in Hong Kong, but he immediately decided to back it with faculty resources and help find sponsors.
"It is not just because of my own heritage. It fits in with my larger vision of bringing more unusual exhibitions to Hong Kong that get people excited. This exhibition is also a tremendous opportunity to help corporates open up to diversity. Many local companies tell me they are grappling with issues such as international recruitment, the hiring from the lesbian, gay, bisexual and transgender community. What we say to our sponsors is that, bring your employees, bring your clients, it's important to see this," he says.
Rising Above: The Kinsey African American Art & History Collection, University Museum and Art Gallery, 90 Bonham Road. Mon-Sat, 9.30am-6pm; Sun, 1pm-6pm. December 9 to February 26, 2017
This article appeared in the South China Morning Post print edition as: reflecting black