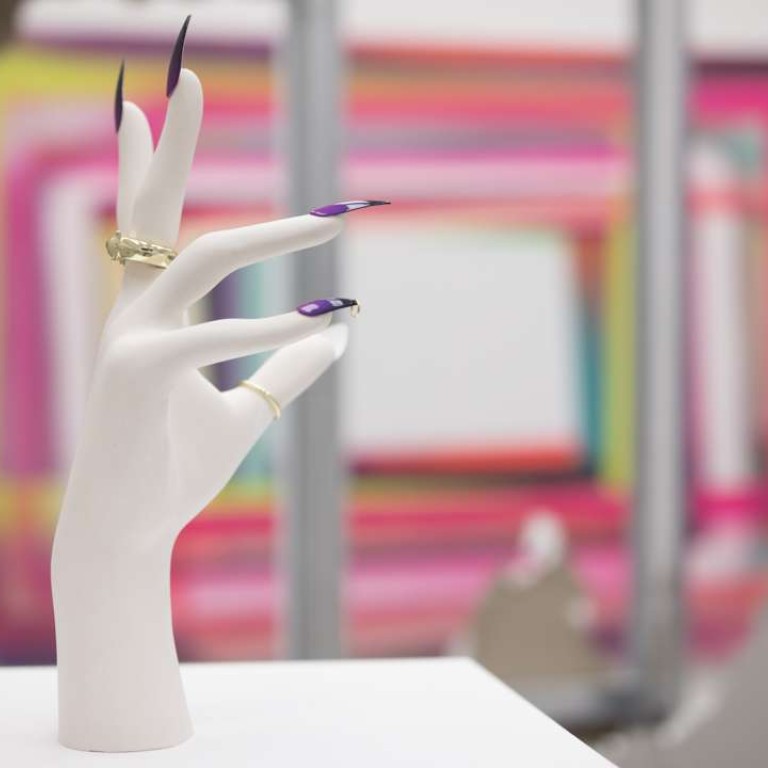 Hong Kong debut show by British artist Eddie Peake reveals some naked truths
Holes smashed in a wall, exuberance, depression and anthropomorphism all part of Peake's adults-only "Where You Belong" show at White Cube in Central
At the recent opening of British artist Eddie Peake's first show in Asia, guests were also treated to his first performance in Asia. A young woman in a black leotard stepped in among the drinkers at White Cube, cleared a space with her fierce gaze and was followed by a man in a T-shirt and tracksuit bottoms – Peake – clutching a megaphone.
The young woman did some energetic dancing, counting, retching and leaping. The man asked an amplified question (e.g. "If I kill myself will you miss me forever?"). She swore at him, slapped him (quite hard), swore more loudly. This happened, with minor variations, four times.
Megaphone Duet was notable because it was the first time Peake has spoken during a performance. Also, it didn't feature nudity. Followers of Peake, a current star on the British art scene – especially since last year's Barbican show, "The Forever Loop" – will know that Full Monty nudity is one of his hallmarks. His wordless website consists of exactly one image: his vigorously clasped penis, bathed in a pinkish glow.
Anyone who might have felt cheated by the opening-night clothed performance only had to glance at White Cube's walls for Peake viewing in its unclad entirety. (The gallery has a nudity and 'inappropriate for children' warning at the entrance.)
By rights, therefore, Peake should be first in line for a critical mauling, or at least a deft stitch-up, but here's the rub: he's one of the most pleasant individuals you could wish to meet. The only problem for a writer is quoting the titles of some the works (even the repeatable ones are iffy – The Labia or A Historical Masturbators [sic] come to mind). As an interviewee, he's articulate, responsive, affable.
His personality, however, seems to have come with a price tag. Peake, who's 35, has struggled with depression all his life and spent time in a London psychiatric hospital. He describes that state of mind as "a brain teetering on the edge of getting lost, falling off the edge of sanity". The new show, called "Where You Belong" – a statement, not a question – presents the knottiness of his identity, including his fluid sexuality.
He wants the work to address suicide – a gun being held to the head is a motif that occurred four times in the opening's performance – but also to feel "exuberant".
The act of looking, finding it "brazenly and unashamedly enjoyable", is also a theme, he explains.
Circling the gallery's ground floor is a wall, which Peake had worked over with a sledgehammer earlier in the week to facilitate further gazing. This is an installation favourite and the only work which isn't newly conceived for the show. He likes creating skewed frames.
"There have been instances where I haven't conveyed to the builders that I'm going to smash it up and they've looked on aghast," he says.
The wall also forces viewers to take a certain route round the gallery. Peake likes choreography, he likes looping people together (hence the title of the Barbican show), he likes loops in music. A couple of years ago he set up a small record label, Hymn, with occasional releases by friends.
"Club music," he explains, that club being Anal House Meltdown, a moveable gay night he founded with two other artists. "In fact, to be more specific – our club music."
Staking out his territory is a reason he's become more explicit about his depression. "Some of the responses to my work have tended to scrutinise it in a punitive and judgmental way – in a way that questions the aesthetics I'm working with, as though it's not mine. I want to make it clear it's my aesthetic from scratch. I'd be the first to point out my influences."
Which are? He grins, a little ruefully. "As I was saying that, I knew you'd ask. David Lynch – a lot. I recently rewatched
Twin Peaks
. I can't overstate the extent of the impact on a nine-year-old." Nine? Isn't that rather extreme? "Yes, from a position of retrospect." What's worth pointing out, although he doesn't, is that he is a twin: literally, twinned Peake.
Along with Lynch there was an early love of cartoons. "I don't know how to justify this statement," he begins earnestly, "but there's often something psychotic about cartoon characters. The fact that you can slice a character in half and then it's magically back to life…" (The news that this disturbing quality has been a subject of ongoing debate for decades is a genuine surprise.)
He's also a fan of anthropomorphism. Animals – bears, giraffes, foxes – constantly pop up. For his first White Cube show in 2013, he recreated the famous penguin pool at London Zoo, designed in 1934 by Berthold Lubetkin. Until 2004, it was so much a part of British children's childhoods that you get a glimpse into his thought process when he says, unexpectedly, "I like the way animals might link one to a place, a memory, like the birds of prey that fly between the buildings in Hong Kong."
His own alter ego is a faun, which struts through his work embodying the "hyper-sexualised, uber-masculine, quite mischievous and naughty" god Pan. Goatish, panic-inducing Pan isn't vulnerable. Peake, on the other hand – well, you have to wonder about exposing himself quite so much. Is it a coincidence that this show is being mounted 10,000km from where he lives?
"Maybe it isn't actually," he says slowly. He thinks about it for a while. "I wonder if I would do a show like this in London . . . I might approach it differently, in terms of physical objects."
One of the physical objects prominently displayed in Hong Kong is a sculpture of a large, ring-wearing female hand.
"I come from a family with three older sisters; they had a massive influence," he says. He told the press gathering that "to some extent I feel like a teenage girl". Now, on request, he holds out his own hands for inspection: warm, clean-nailed (his girlfriend – although he doesn't like to be called heterosexual – sometimes paints them), a signet ring on his pinkie.
"There was a big bruise there last week," he offers, pointing to a knuckle: he'd punched a door and neither came off well. This suggests something darker about the pulverised wall. Afterwards, he tweeted advice to himself and his 1,078 followers: must stop punching door.
The ring was a 30th birthday present – one to him, one to his twin, Lewis – from their three big sisters. "Apparently it's a crest from our family going back years and years, but I think it's bull****," he says, mildly.
Discussion of his family, however – his grandfather was writer Mervyn Peake (Gormenghast), his mother is the artist Phyllida Barlow, who will represent the UK at next year's Venice Biennale – is strictly off-limits. Exposure can only go so far.
"Where You Belong", White Cube, 50 Connaught Road Central. Until January 7, 2017
This article appeared in the South China Morning Post print edition as: exposure therapy