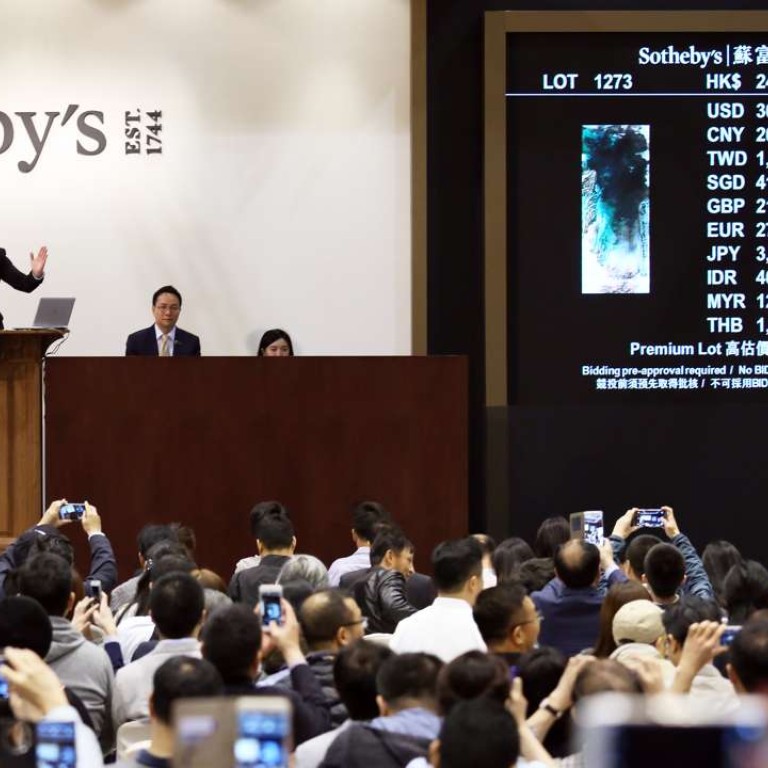 Hong Kong's auction houses looking at a stormy 2017 if buyers can't get money out of China
Capital controls could reveal full impact of China's economic slowdown on city's auctions, at a time when market is facing growing competition
The global art market could look back at 2016 as the calm before the storm by this time next year.
China's continued economic woes, the new realities of the US under President Donald Trump, the Brexit ripples through Europe, and (the latest surprise move) the reintroduction of capital controls by the People's Bank of China – these may not put people in the mood to buy art.
That last development – the capital controls – could unmask the real impact of China's slowdown on Hong Kong's art market. So far, a strong desire among the super rich to send their depreciating yuan across the border by any means has helped sustain demand in local auction rooms. But now that any transfer overseas of more than US$5 million has to be vetted – and that's just one of a raft of measures to curb rampant capital flight – the market may finally have to face up to the fact that many mainland collectors are just not making as much money.
But it is nearly Christmas, and those who have just pulled off yet another season of decent sales in Hong Kong are taking a well-earned break. For 2016 has indeed been a pretty good year, all things considered.
Perhaps ironically, the two giants of the auctions market had a couple of really good years here after the global financial crisis because of China's quantitative easing and a rush of speculative bidders. But they have struggled to recover to those levels since.
Back in 2011, Sotheby's two main auctions seasons here had sales of HK$7.49 billion, excluding private sales. That figure includes the fees paid by buyers to the auction house, as are similar figures quoted in this article unless stated otherwise. Christie's total was HK$6.5 billion.
This year, Christie's racked up HK$5.24 billion and Sotheby's HK$5.3 billion – similar to last year's. But more promising is the performance of some of the newer players, for this is the best year they have ever had.
Poly Auction Hong Kong recorded HK$2.37 billion of transactions in the city this year, considerably more than the HK$2 billion it sold last year.
China's second-largest auction house, China Guardian, is a more selective, boutique set-up compared to its state-owned domestic rival, but it, too, made substantial sales this year. Guardian's total tally was HK$778 million compared to HK$446 million in 2015.
When Guardian's owner Chen Dongsheng became the biggest single shareholder in Sotheby's this summer, the two auction houses underplayed any potential conflict of interest. But there is little doubt that Guardian and Sotheby's will increasingly be going after the same collectors of Chinese paintings.
Local ink art collector Vincent Lo Wing-sang says it was noteworthy that the Chinese house managed to sell a tiny (34.5cm by 40cm) painting by Fu Baoshi called
Literatis in Lanting
for HK$30.4 million in its autumn sales, nearly nine times more than the highest pre-sale estimates.
The most-watched player in Hong Kong this year is probably Phillips, because the Russian-owned, London-based auction house decided to launch its first art, design and jewellery sales in Asia last month, two years after it started selling watches here.
The sales at its small but packed room in the Mandarin Oriental hotel yielded HK$389.3 million.
Phillips adopted the strategy – probably first tested out here by Bonhams – of mixing photographs and works on paper with its sales of top-priced works of art. In addition, it also added contemporary furniture to its art and design evening sale.
One of the highlights of the sale on November 27 was the HK$1.9 million hammer price (around HK$2.3 million including fees) for a photograph, Nick Knight's
Tatjana Patitz for Jil Sander
. That was three times the top estimate.
Another bright spot was Adrian Ghenie's
Elvis
, which was sold at a hammer price of HK$4.5 million, excluding fees, or three times the pre-sale top estimate.
The furniture consignments didn't fare as well, with Jean Prouvé's "semi metal" chairs and a number of other lots unsold. According to Jonathan Crockett, Phillips' deputy chairman for Asia, some prices were probably set too high by consigners who had to be convinced to participate in what was a first test for Phillips in Asia.
That was also why Phillips arranged guarantees for quite a few paintings in the sale.
Phillips is only one of a number of smaller international auction houses now competing in Hong Kong. Tokyo Chuo celebrated its third year here by selling HK$425 million, compared with HK$269 million last year. Meanwhile, Seoul Auctions, which opened its Hong Kong office in 2008, will soon move into a much larger office and gallery space in H Queen's, the new, purpose-built tower for galleries in Central.
Bong Lee, chief consultant, says South Korea's largest auction house now holds three sales in Hong Kong a year, compared with at least six a year in its home country. Despite this, turnover in Hong Kong has grown to match the level in Seoul.
Competition is certainly heating up, and the two dominant players – Christie's and Sotheby's – are also bringing more here to sell. There is a new focus on Western art and works by lesser-known Southeast Asian artists, for example, and more sales are held outside the spring and autumn seasons. Just a month after its traditional autumn sales, Sotheby's sold another HK$72 million worth of jade and Chinese works of art on December 1 and 2.
Meanwhile, Christie's held its first Hong Kong private sale of Impressionist, post-war and contemporary Western art alongside its regular autumn auctions, though there are conflicting reports on how that performed as the results are private.
Private sales are always kept private, though some dealers say it is a shame that such a major sale doesn't provide useful data to the market at large.
What is truly baffling, however, is the recent decision by Christie's Hong Kong to stop publishing sell-through ratios of its public auctions – a move that Kevin Ching Sau-hong, chief executive of Sotheby's Asia, says doesn't help make the auctions world more accessible.
"What's the point of making it difficult to get to? Mature collectors certainly know how to calculate sell-through rates and work out themselves how well a category is doing. But others may not. It will only reinforce the feeling that auctions are elitist and not approachable," he says.
What is not in dispute is the fact that there has been plenty of money about this year – even if the scenario could change next year. Yet, the fact that the two big houses failed to improve the results of their main auction weeks, from last year's results, could point to the inability of what remains a small pool of participants to cover so many sales.
"The last five years have seen more auction houses entering the market than is justified by the growth in clients and dealers. For example, Chinese works of art are getting less interest from people because they are difficult to understand. Meanwhile, nobody is that willing to sell today," says a veteran art dealer in Hong Kong who requested anonymity. "One of my main clients is finding it impossible to go to all the sales. These are people who often fly all over the world to find objects that they like. He has never had this problem in Hong Kong before," the dealer says.
This article appeared in the South China Morning Post print edition as: Storm clouds gather over auction houses