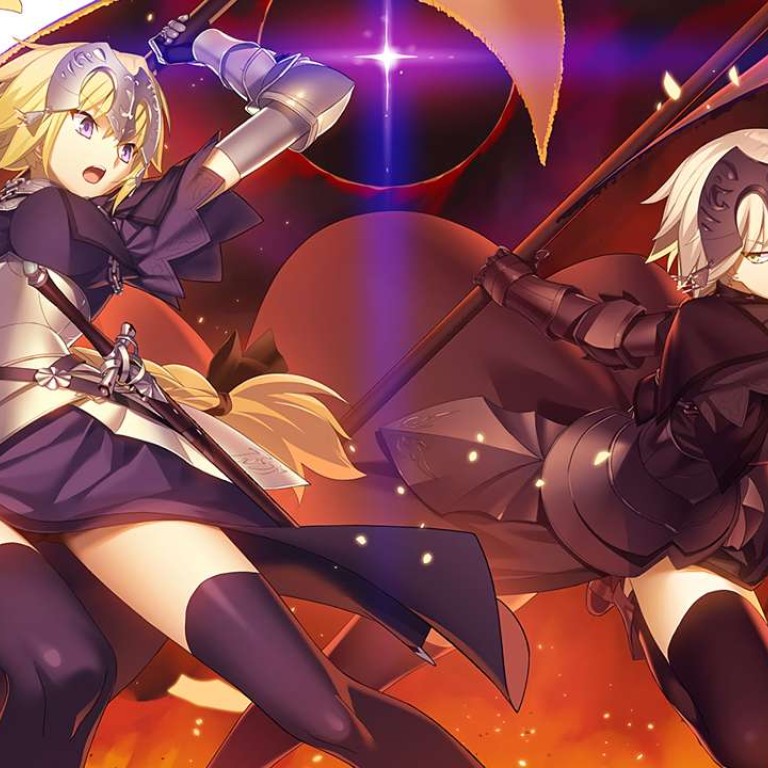 The game that's as big as Pokemon Go in Japan: with time-travel game Fate/Grand Order, Sony has a hit on its hands
Sony's Fate/Grand Order has been downloaded more than 7 million times, its players in Japan outspend Pokemon Go users and it's a hit in China. The mobile game may get a Hong Kong release in 2017
Nintendo might have scored a hit with the explosive debut of Pokemon Go this year. On its home turf, however, Sony has quietly eclipsed its rival with a popular mobile game titled Fate/Grand Order.
The game, based on an anime TV series called Fate, allows players to travel back in time and team up with historical figures such as  Julius Caesar, Leonardo da Vinci and Joan of Arc to rescue humanity from looming disaster. While the basic version is free to play, people can pay for tokens that make it easier to add characters and speed up gameplay.
Fate/Grand Order has been at or near the top of Japan's app revenue rankings all year and has been downloaded more than 7 million times since its July 2015 debut. It has made more money than Pokemon Go among Android users 104 out of 133 days this year, and 51 days on iOS devices, in the same period, according to researcher App Annie.
"In terms of the amount of money people are spending, it's up there above Pokemon Go," says Damian Thong, an analyst at Macquarie Group in Tokyo. "The intensity and engagement level for Fate/Grand Order is a lot higher."
When Sony reported its latest quarterly figures last month, Sony chief financial officer Kenichiro Yoshida singled out the game, saying "it continues to positively" contribute to the music division, where it's based. The game's success is a sign of how important Sony's gaming and entertainment businesses are for chief executive officer Kazuo Hirai, as the company struggles with razor-thin margins and competition in televisions, cameras and other hardware. The company plans to expand its mobile games effort with more titles in more markets in the coming months.
The original Fate television series and more recent game emerged from Sony's Aniplex studio, created in 1995 to produce anime TV shows and movies. Atsuhiro Iwakami, 44, the studio's president, says the idea to branch out into gaming was hatched three years ago when he realised the show's complexity and large cast of characters lent itself well to the mechanics of mobile games.
While mobile puzzle games such as Monster Strike and Clash Royale are also huge hits in Japan, Fate/Grand Order relies on a narrative, which has players travelling through time to days of the American revolution or Roman empire. While that approach has helped, it's also proving to be a challenge because the game's writers and producers need to keep coming up with fresh content to keep fans engaged.
"If our writers get stuck with story, the game will have to stop temporarily," says Iwakami. "Even if I wanted to push the business forward and have someone else write it, I can't."
The game has been released in China, where Iwakami says it's doing well, and it may be rolled out in other Asian markets such as Hong Kong. Expansion in the US, Europe and other Western markets is also possible, Iwakami says.
Iwakami says he's focused on maintaining Fate/Grand Order's momentum, as long as his writers can keep fans engaged. Like its corresponding TV series, the game needs new stories and narratives to keep people engaged. Every time there's a gap in the story line, usage drops.
"It will be a challenge for Aniplex to keep coming up with new narratives and characters over the [coming] years, but so far they have been successful with it,"  says Serkan Toto, founder of Tokyo-based consultant Kantan Games.
Aniplex is working on developing other new mobile games. A game called Band Yaroze that debuted in October, based on starting a rock band, hasn't taken off and isn't near the top of app download charts. In March, it will release a title based on the Puella Magi Madoka Magica anime series. Recreating the success of Fate/Grand Order will be challenging, because it relied heavily on the popularity of the Fate anime series, says Macquarie's Thong.
"Sony needs more of this: more experimentation and the willingness to take risk," Thong says. "Hirai has always talked about willingness to try and explore and move into different areas."