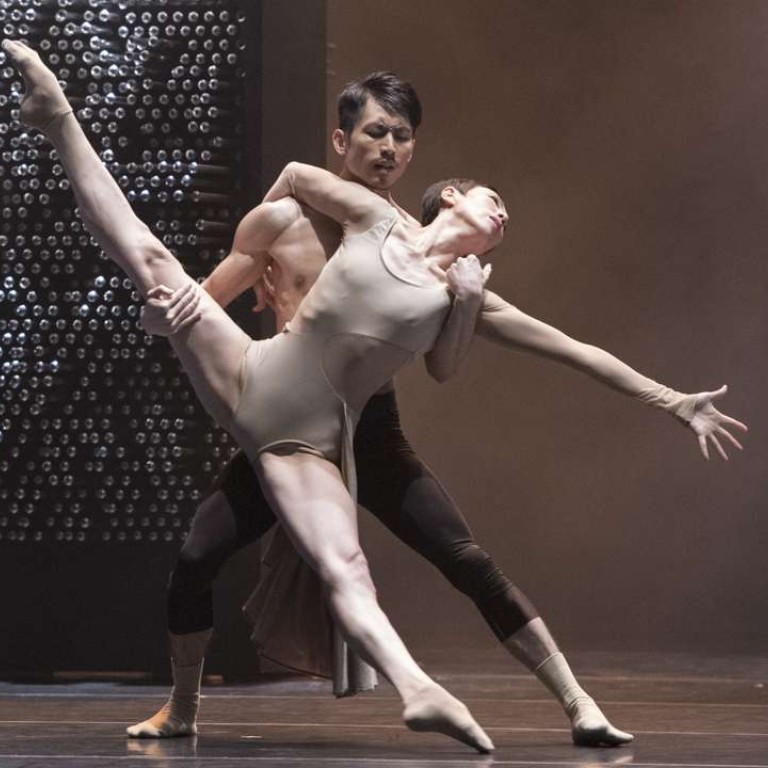 Two of Hong Kong's leading choreographers end City Contemporary Dance Company's year on a high note
City Contemporary Dance Company presents outstanding double bill by Noel Pong and Anh Ngoc Nguyen – a return to form for Pong and a tour de force from Anh
City Contemporary Dance Company ended the year on a high note with an outstanding double bill, She Says, He Talks, from two of Hong Kong's leading choreographers.
The "She" is Noel Pong Chi-kwan, whose touching Leaving & Living examines the pain and remembered joys of mourning. "He" is Anh Ngoc Nguyen, whose ecology-themed Mother, I Am Sorry is a visual, dramatic and choreographic tour de force.
The Mother of the title is Mother Earth (Qiao Yang), who, devastated yet powerless to intervene, must watch the destruction humans inflict on a once perfect world and on each other. Only one of her sons (Kelvin Mak) responds to her and shares her distress.
This is a masterly work by Nguyen, beautifully structured and full of emotional intensity. The choreography flows effortlessly and bears a distinctive, original signature.
Nguyen is a designer as well as a choreographer and has created a stunning set composed of large, moveable boxes pierced with banks of steel rods. These are manipulated to form images of tormented figures (a reference to the imprisoned Titans of Greek mythology) or ledges on which the dancers climb and pose, adding an extra dimension to the vocabulary of movement.
The piece ends with a compelling monologue spoken by Qiao in Putonghua, with an English version interwoven, accompanied by a spectacular cascade of giant video images.
The piece is further enhanced by Low Shee Hoe's dramatic lighting, Edmund Wong's stark costumes and Nguyen's well-judged selection of music by Ezio Bosso.
Qiao and Mak both give performances of extraordinary power and commitment, with special credit to Mak for his partnering (lifting not only men but at one point no fewer than four women) and his fearlessness in dancing naked during an extended final solo.
Leaving & Living represents a return to form for Pong after a couple of disappointing full-length works.
Inspired by the loss of her beloved dog, it explores the complex process of grieving, from the recollection of happy times through sorrow and helpless rage to acceptance.
Pong is at her best when dealing with human emotions and the work has a charming warmth and tenderness, well contrasted with darker feelings. The choreography has good moments, but some sequences are too busy and the pieces loses momentum in the middle before building to a strong climax. The dancing is excellent, with Tseky Tse and Bobo Lai making a strong impact.
Charfi Hung's brilliantly imagined set, with walls that switch between opaque and transparent, allows Pong to move seamlessly between scenes within the home (revolving around a large sofa where family and friends come together) and outside it.
Further visual impact is added by Wing Lo's video design, which creates startling images, from meshes of barbed wire to woods to stylised flowers springing up.
"She Says, He Talks" by City Contemporary Dance Company at Kwai Tsing Theatre, Kwai Chung, New Territories. Reviewed on December 9.