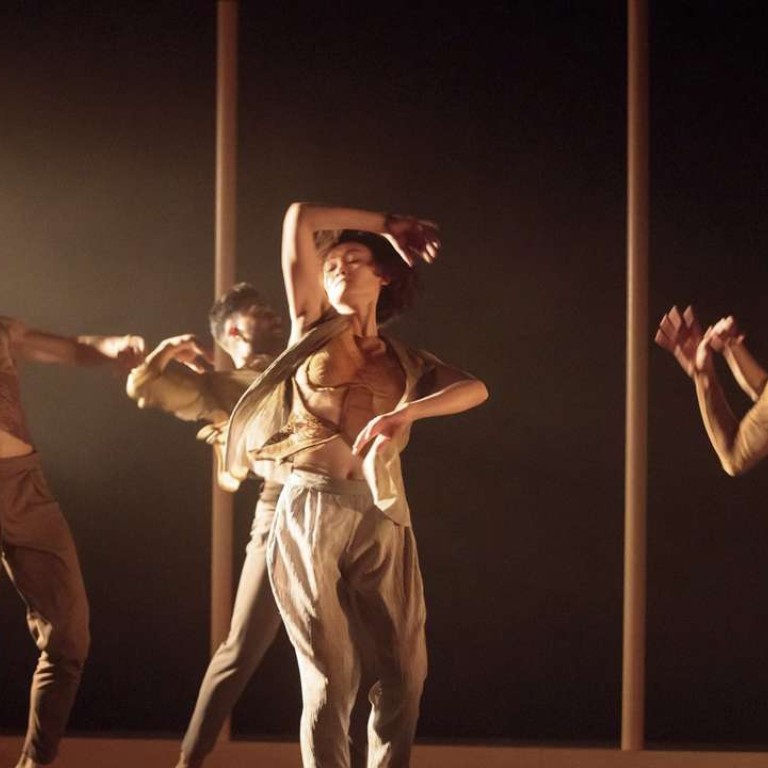 Arts review: DiviNation – strong message and choreography, but not enough dancing
Allen Lam's production explores humankind's destructive tendencies, but the choreography involving bamboo poles limits dancers' abilities to do what they do best
DiviNation, the latest production from Allen Lam Wai-yuen's Muse Motion, brings together seven outstanding dancers from Hong Kong and overseas. 
Choreographed by Lam and Hong Kong Ballet's Ricky Hu Songwei (who also performs) with an ingenious set design by Leocampo Yuen Hon-wai playing a key role, the piece has some strong moments and striking images. What is lacking, however, is actual dance, of which there is disappointingly little.
 Subtitled "A vision of what we could be…", the work explores how humankind continually constructs, then tears down, the communities we live in.  This is represented by Yuen's set, a rectangular space defined by a floor-level frame in which bamboo poles are inserted and removed by the performers to create and demolish different structures.  At one point a kind of wigwam is even constructed, with the dancers incorporated as part of its architecture.
 Five of the dancers move around in this environment – they interact yet ultimately always break apart. Two remain detached from the rest – Hu is primarily an observer; a woman shrouded in a long white veil (Gigi Yang) occasionally wanders through the group without ever joining it.
 The strongest sections are those where the group comes together, notably a stunning sequence where they lie down on their backs in a circle, each dancer resting his or her head on the thighs of their neighbour, then lift themselves together, creating a formation like a kind of human lotus flower. 
There is a fine solo at the beginning from Eryck Brahmania – a former Hong Kong Ballet soloist now back in his native UK; it was a pleasure to rediscover his dynamic, tautly defined movement. Another effective solo, for Hu, in profile against the back of the stage, shows off his control and flexibility with powerful, long-held poses.
Overall, however, DiviNation is a frustrating experience. Although the use of the bamboo poles is admirably inventive and the performers manipulate them with impressive skill, putting the focus on this rather than actual movement is a waste of these exceptional dancers' talents.  When they do move, you can see how good they are – they just don't move enough, leaving you wanting more. 
The piece would also be better without Yang's woman in white – she's clearly supposed to represent something but there's no clue as to what it is, and her costume looks all too much like a Halloween outfit. 
Visually, while Yuen's set design is superb, the lighting by Leo Siu is so dim that you can hardly see the performers' faces.
DiviNation, Muse Motion, Hong Kong City Hall Theatre. Reviewed: December 16