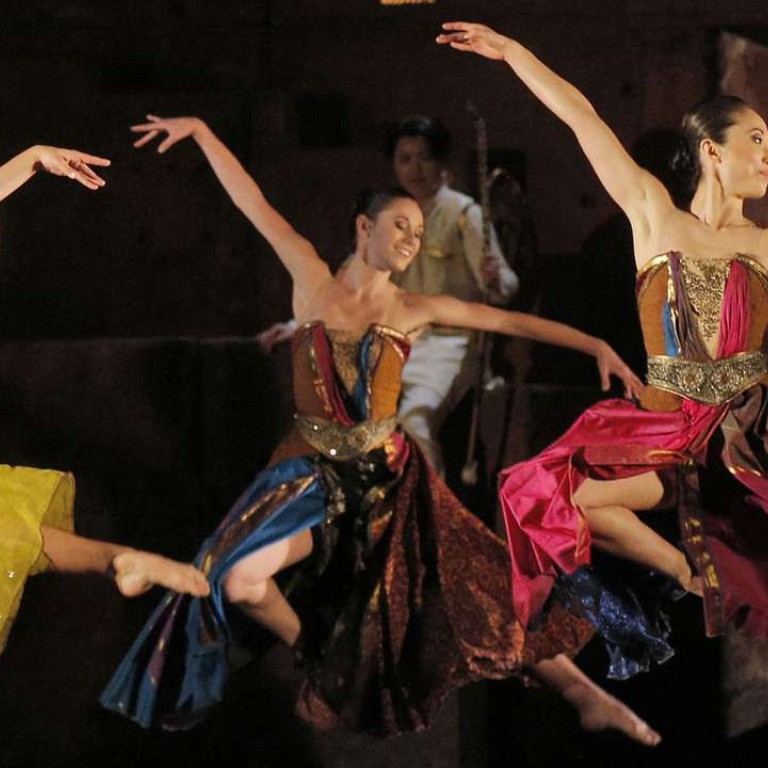 10 Hong Kong events and shows in 2017 to look forward to, from Arts Festival to Beijing, London and Paris museum exhibitions
Handover anniversary will be cue for a number of events, though details of July 1 concert are still under wraps; China and Hong Kong ballet companies, and Berliner Philharmoniker, also to perform
The clairvoyants envisage a year of anxiety and strife, but 2017 looks set to be a good year in terms of cultural offerings in Hong Kong. Blockbuster shows will be flown in under the aegis of the 20th anniversary of the handover, including previews of
the future Hong Kong Palace Museum
, while local powerhouses have lined up special programmes throughout the year. Here is a selection of the top performances and exhibitions Hongkongers can look forward to.
1. Hi! Houses
Teams led by four Hong Kong artists – Wilson Shieh, Lam Tung-pang, Fiona Wong and Jaffa Lam – will pay tribute to
four old houses
in Hong Kong with on-site installations that reflect the history of the heritage buildings. Organised by the Art Promotion Office.
When: Staggered opening dates from Jan 1-22, 2017. Works on view until June 30, 2017
Where: Dr Sun Yat-sen Museum, Central, Old House at Wong Uk Village, Sha Tin, Law Uk Folk Museum, Chai Wan, and Sam Tung Uk Museum, Tsuen Wan
2. Hong Kong Odyssey: A journey of music and poetry inspired by Hong Kong
Commissioned by the
Hong Kong Arts Festival
, veteran composer Chan Hing-yan joins forces with three emerging talents Charles Kwong, Daniel Lo and Phoebus Lee to create a work about Hong Kong's history. Choreographer Helen Lai is in charge of staging the ambitious production with narrators, vocalists, choir, orchestra and videos. Conducted by Lio Kuokman.
When: Feb 25-27, 2017
Where: Hong Kong City Hall
3. Dream of the Red Chamber
Playwright David Henry Hwang and composer Bright Sheng have adapted the Cao Xueqin's classical tale into a two-act opera with an English libretto. New commission by the San Francisco Opera and the Hong Kong Arts Festival. (Sold out)
When: March 17-18, 2017
Where: Hong Kong Cultural Centre
4. Le Louvre: From Palace to Museum over 800 years
An exhibition of masterpieces on loan from Musée du Louvre tells the tale of how the French landmark evolved from a royal palace to a modern-day universal museum.
When: April to July 2017
Where: Hong Kong Heritage Museum
5. The National Ballet of China: Giselle
The country's top ballet company will give a full-length performance of Giselle and a mixed-bill programme of Chinese and Western ballet classics at three venues in Hong Kong.
When: June 2-8, 2017
Where: Hong Kong Cultural Centre, Sha Tin Town Hall and Tuen Mun Town Hall
6. Yangxindian Exhibition from the Palace Museum
An exhibition of around 200 artefacts from the Palace Museum's Hall of Mental Cultivation will reveal the daily lives of emperors and how the empress dowagers Cixi and Cian "ruled behind the screen". Also from the Palace Museum, an exhibition of how imperial birthdays were celebrated.
When: June to October 2017 (tentative)
Where: Hong Kong Heritage Museum and Hong Kong History Museum
7. Eternal Life: Exploring Ancient Egypt
Six mummies of Egyptians who died as early as 3,000 years ago will come to Hong Kong as part of the British Museum's touring exhibition about the ancient Egyptians. They will be accompanied by CT scans and objects contained beneath the mummy wrappings.
When: June-October 2017
Where: Hong Kong Science Museum
8. The 20th Anniversary of the Handover Concert
The government's Celebrations Coordination Office is keeping details of the July 1 event under wraps but you can expect local orchestras to be featured in a gala event to mark the actual date of the
handover.
9. Le Corsaire: Hong Kong Ballet
The local ballet company will present Le Corsaire (The Pirate), in a version by Anne-Marie Homes that guest coach Julio Bocca mastered during his time as principal dancer with the American Ballet Theatre. Live accompaniment by the City Chamber Orchestra of Hong Kong.
When: November 3-5 and 10-12, 2017
Where: Hong Kong Cultural Centre
10. Berliner Philharmoniker with Sir Simon Rattle and pianist Lang Lang
The British conductor has made Hong Kong one of the stops in his farewell tour with the German orchestra, which he led in front of a rapturous audience in Hong Kong back in 2005. The two concerts will again be shown live outside the concert hall for free.
When: November 10-11, 2017
Where: Hong Kong Cultural Centre, with live relays at the HKCC Piazza, Sha Tin Park and Yuen Long Theatre