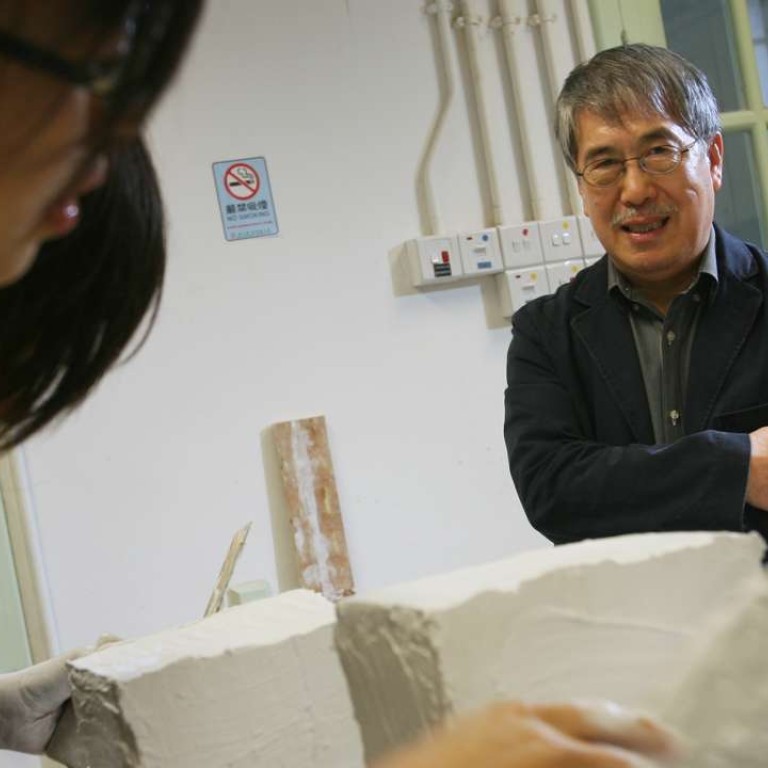 Wan Qingli, Hong Kong artist and art historian, mourned by city's art community following his death aged 72 in Florida
Beijing-born founding director and visual arts professor at the Academy of Visual Arts of Hong Kong Baptist University was also an adviser for museums on Chinese painting and calligraphy
Hong Kong artists and academics are mourning the death of artist and art historian Professor Wan Qingli, who had a heart attack earlier this month at his home in Florida. He was 72.
Wan, who died on January 11, was revered by Hong Kong visual artists, and was founding director of the Academy of Visual Arts of Hong Kong Baptist University a decade ago. He was also active as an expert adviser on Chinese painting an
d calligraphy for museums run by Hong Kong's Leisure and Cultural Services Department, including the Hong Kong Heritage Museum.
Part of his collection of Chinese art and calligraphy, which included seal carvings and handwritten letters by prominent artists such as Wu Zuoren, Li Keran and Huang Yongyu, went on show at the Hong Kong Museum of Art in 2013 and shed light on the social changes and development of art in China in the last century.
Born in Beijing in 1945, Wan's interest in art manifested itself at an early age and he was studying painting at the Beijing Adolescents Palace at the age of 10.
He was admitted to the Central Academy of Fine Arts (CAFA) in 1963. When the Cultural Revolution began three years later, his "out-of-favour" family background led to his imprisonment in the so-called ox shed, a makeshift prison at the CAFA, according to the Museum of Art.
While imprisoned, the young Wan became close friends with CAFA professors who were much older than him, and he often described his hardships as a blessing in disguise, as it was the time he met some of the country's top artists.
"Wan was one of the few academics to master both the history and practice of art. As a member of the generation born just after the second world war and only a few years before the establishment of the People's Republic of China, Wan experienced political and social upheaval at an early age, which paved a unique path for his later academic and artistic pursuits," says Pedith Chan, an assistant professor at The Chinese University of Hong Kong and a friend of Wan.
Wan became a student of Li Keran (calligraphy) and Lu Yanshao (painting) in 1973 and 1976 respectively, learning from the two Chinese ink masters who were collectively known as "Lu of the South and Li of the North".
His studies took him to the United States in 1984 and he started teaching at the University of Hong Kong in 1989. In 2006 he became founding director and visual arts professor at the Academy of Visual Arts of Hong Kong Baptist University, where he remained until his retirement in 2011.
Wan's unique training in both the practice and history of art in China as well as the United States equipped him to cultivate a unique personal style, according to Chan.
"His artworks reflect his personal trajectory and inner world. Five years of substantial training in art history in the United States not only laid a solid foundation for his academic career, but allowed him to visit scenic sites in the United States, which enriched his artistic language and provided a source of inspiration for his artworks," says Chan.
"Breaking away from the tradition of literati art, Wan injected a contemporary spirit into his painting by masterfully incorporating current issues into his works, thereby increasing the relevance of his artworks to his audience."
Wan is survived by his wife, Zhang Qingchun, and son Shane.