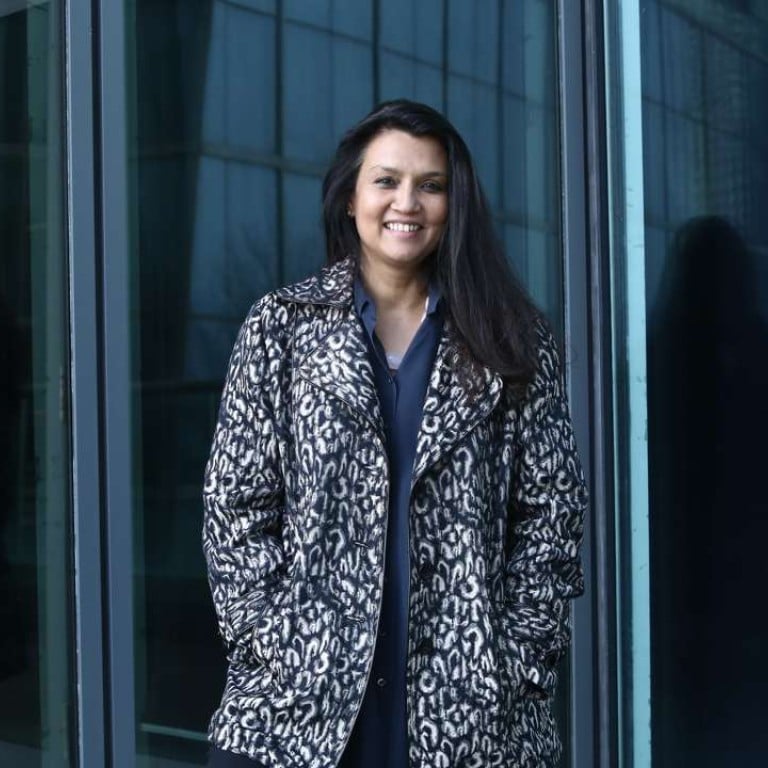 Exclusive
Hong Kong's M+ museum head vows she'll fight off political interference, amid fallout over secret Palace Museum plan
Suhanya Raffel, in first interview since becoming director of future visual culture museum at West Kowloon arts hub, backs a Hong Kong Palace Museum and says she'll defend M+ curators' independence and its global outlook
The new head of M+ has vowed to defend Hong Kong's future museum of visual culture against political interference amid renewed concern over the governance of the long-delayed West Kowloon Cultural District.
Suhanya Raffel, former deputy director of the Art Gallery of New South Wales in Australia, said she would fight off any challenge to the museum's global outlook or the independence of its curators.
Raffel started her job on November 1 and was soon confronted with the massive fallout from the Hong Kong government's secret planning for a branch of Beijing's Palace Museum to be built close to M+ in the waterfront cultural quarter.
The plan, revealed to members of the arts hub's board and to the public seven weeks after she replaced
Lars Nittve
as executive director of M+, drew heavy criticism because of the government's failure to consult the public over it. A director for the Hong Kong Palace Museum has not been named.
The plan was presented as a fait accompli by Carrie Lam Cheng Yuet-ngor, a former chairwoman of the West Kowloon Cultural District Authority, just before she entered the race to become Hong Kong's next chief executive – the head of the special administrative region's government.
In her first interview as head of M+, Raffel told the South China Morning Post that she supported building the satellite Palace Museum, which will physically book-end the 40-hectare cultural quarter along with another showcase for traditional Chinese culture, the Xiqu Centre at its eastern end.
"To have another museum on site is not a bad thing because you will amplify what a cultural district means," Raffel said. "I also see the Hong Kong Palace Museum as part of a global trend where big museums have begun to think about sharing their collections internationally," she said, comparing it to the V&A Gallery in Shekou, just over the border from Hong Kong in China's Guangdong province, the Guggenheim Bilbao in Spain's Basque region and the Louvre Abu Dhabi.
However, she acknowledged it was unclear if or how M+ would be involved in the development of the other museum, which the government wants to complete by 2022, three years after the scheduled December 2019 opening of M+.
Two people close to the West Kowloon Cultural District have told the Post that a head of museums overlooking both institutions ought to be appointed, though those people, and Raffel, said that the issue had yet to be properly discussed.
Raffel said she understood the political challenges of her job. Shortly after the interview, John Tsang Chun-wah, another candidate for chief executive, said if he was chosen for the job, legislation would be introduced as soon as possible to enact Article 23 of the Basic Law – an anti-sedition statute that would curb freedom of expression. There is also a lot of scepticism surrounding the whole West Kowloon arts hub project because it is years behind schedule and costing a lot more than the original HK$21.6 billion budgeted.
"Politics is not something that has stopped me for the last 30 years and I don't intend for it to stop me this time. I am committed to M+. I am absolutely going to be here when M+ opens," she said.
She was not aware of any political interference in M+ so far, she said, but the freedom of her curators was not negotiable. She also said that M+ would have a "global programme" with strong Hong Kong roots. Around a third of the 5,300-piece collection of visual art, moving images, architecture and design amassed so far is the work of Hongkongers.
As a Sri Lankan Australian, Raffel said she would "refine" the already sizeable M+ collection by adding more works by female, Southeast Asian and South Asian artists, architects and designers.
This article appeared in the South China Morning Post print edition as: M+ museum head vows to fight off political interference