What it's like to 'step inside' virtual reality artworks, and how to create a mean 3D doodle yourself
Bernice Chan dons a VR headset and walks through a 3D Chinese ink landscape drawn by Chinese artist Yang Yongliang using Tilt Brush, a new Google tool – then has a go at making art herself
Virtual reality isn't confined to the realms of video gaming and film. Artists now have the tools to create works of art that viewers can literally put themselves in and explore.
Google has developed a virtual reality app called Tilt Brush. A user, wearing a VR headset, holds joysticks – one in each hand, one for painting, the other to switch to different colours and functions in order to paint and draw in 3D.
For this week's Art Basel Hong Kong, fair organisers and Google Arts & Culture invited five artists, chosen for their use of different mediums, to try out Tilt Brush by Google: Yang Yongliang, Robin Rhode, Sun Xun, Cao Fei and Boychild.
SCMP.com got a chance to look at three of the pieces by wearing a simple VR headset called Daydream with a smartphone attached to the goggles. The first was a BMW that streaked in front of me with what seemed like fire coming out of its wheels. Next was a sea world of jellyfish by Sun Xun. The last was Yang's Chinese ink landscape painting, which, viewed with the VR headset, made me feel like I was right in the forest he'd drawn (complete with a deer).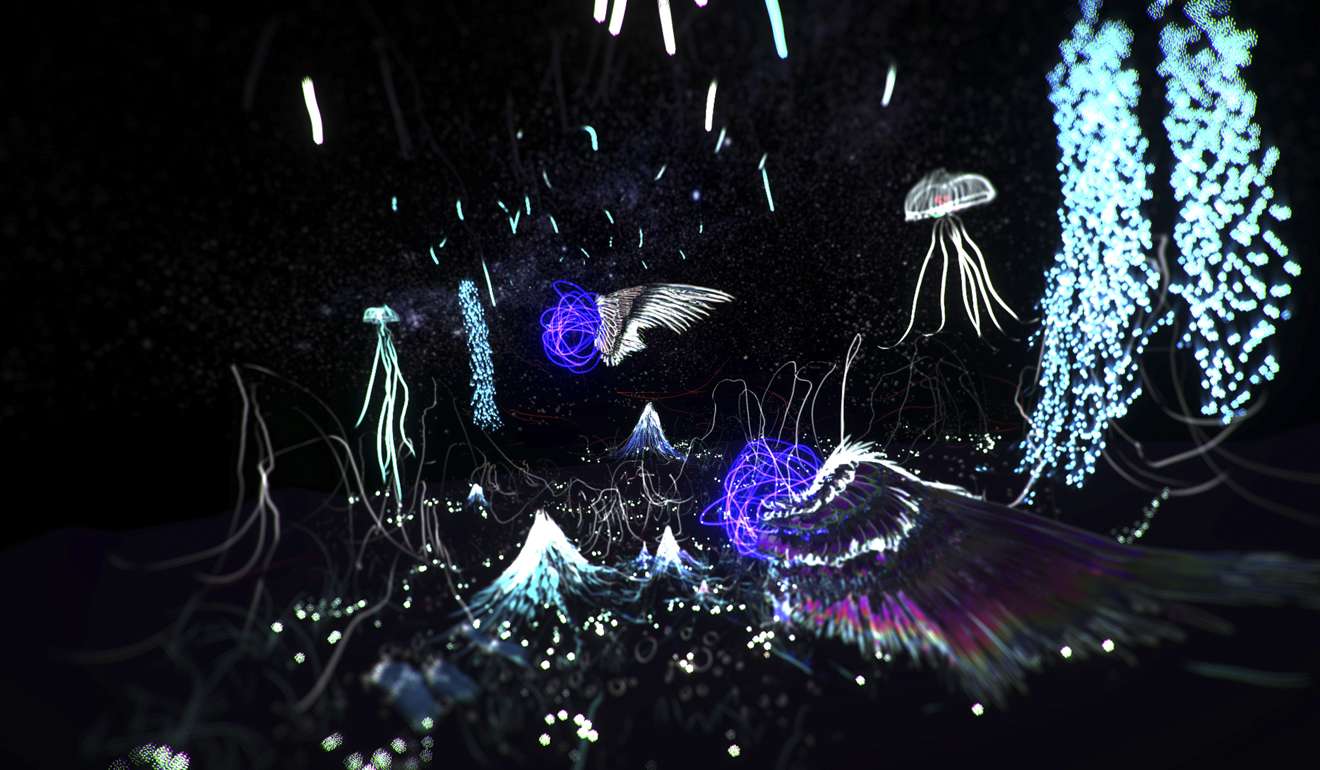 Having got used to the idea that I could look up, down and around 360 degrees, it was time to create art myself – OK, maybe not art, but at least some doodling.
After I put on the goggles, a Google assistant put the "paint brush" joystick in my drawing hand, while the other held a joystick I could flip with my thumb to a colour palette, and to formats to paint with – "duct tape", or "stars", "fire" or even rainbows.
I wasn't given a clear palette, but Yang's Eternal Landscape. At first I used the function to "jump" around the painting with an icon that had two feet together. You can jump up to a cliff and down again, and look up and down to see different perspectives of the painting.
But it was time to try painting, and it wasn't difficult to doodle with different colours, adding stars and such. It took a while to realise that I didn't have to paint in two dimensions, left to right, that I could "paint" in three dimensions, moving the joystick towards me or above.
At one point I was underneath a tree Yong had painted and felt confined by the branches above me, but then again I realised they were only virtual, and that I could poke my head through them and nothing would happen.
The Google assistant suggested I take a step back with the two-feet function, and so I was able to see the scrawled but colourful and sparkly mess I'd made in Yang's forest.
Recent Instagram posts about Tilt Brush by Google
It was fascinating to be able to step back virtually and see what I'd done from different angles, and the five artists who tried out Tilt Brush by Google gave similar feedback.
"It's this idea of endless space being all around you and creating in a totally different medium they were really excited by. The artist Robin Rhode was almost jumping up and down and saying, 'This is so exciting'," said Freya Murray, programme manager and creative leader for the Google Arts & Culture Lab.
She explains viewers can not only walk through an artwork like I had done, but also have the piece recorded in real time so that audiences can go back and watch how it was made from beginning to end, giving what Murray says is a unique insight into the creative process.
Tilt Brush by Google is not meant for professional artists only, but for people of all artistic levels. In order to use the app, users need either an HTC Vive or Oculus Rift VR headset.
This article appeared in the South China Morning Post print edition as: Art app lets you step inside your own creations