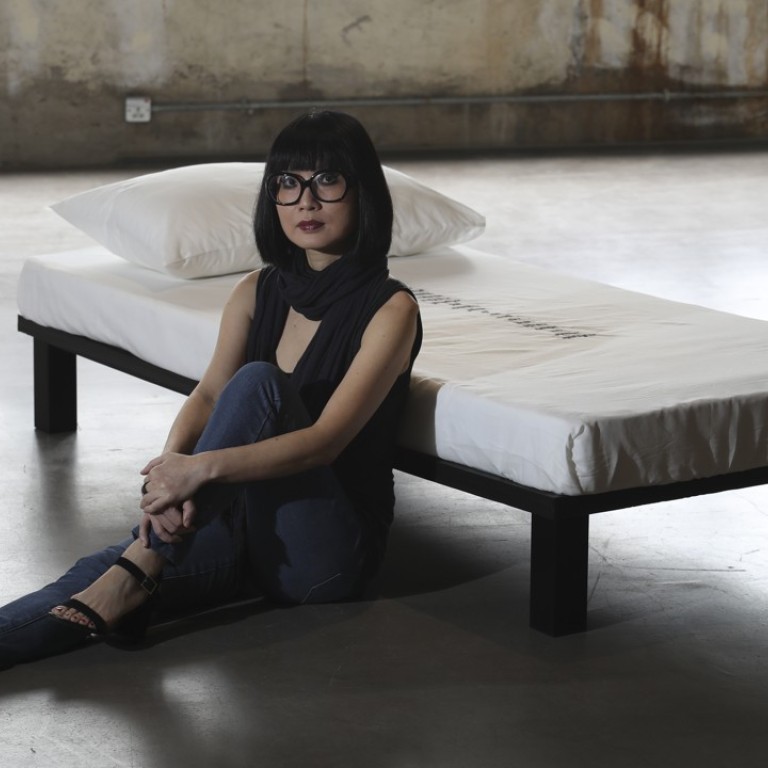 Hong Kong artist Angela Su's new show not for the faint-hearted, with its focus on mental illness and social control
'The Afterlife of Rosy Leavers' delves deep into Su's mistrust of psychiatric orthodoxy, and its blend of gothic aesthetics, sci-fi horrors and historic research make for a thoroughly disturbing and unforgettable experience
Two years ago, Angela Su showed her Mesures et Démesures in a group show that explored social constraints imposed on the mind and body. The five-minute video spliced together images taken at Victorian and Edwardian lunatic asylums, wartime photos, and general mundanity, blurring the boundaries of what psychiatrists consider normal and what they don't.
Su trained as a biochemist but her art has always shown her ambivalence towards the tyranny of science and technology.
In Tack Tack Tack, Su plays a version of the knife game
"The Afterlife of Rosy Leavers", her latest solo exhibition, delves deeper into her mistrust of psychiatric orthodoxy and its links with social control. This particular focus stems from having a close family member who was diagnosed as mentally unwell, and later, the artist's research into the Socialist Patients' Collective movement (also known as SPK based on its German name), which in the 1970s called on psychiatric patients to wage war on degrading treatments and the medical system as a whole.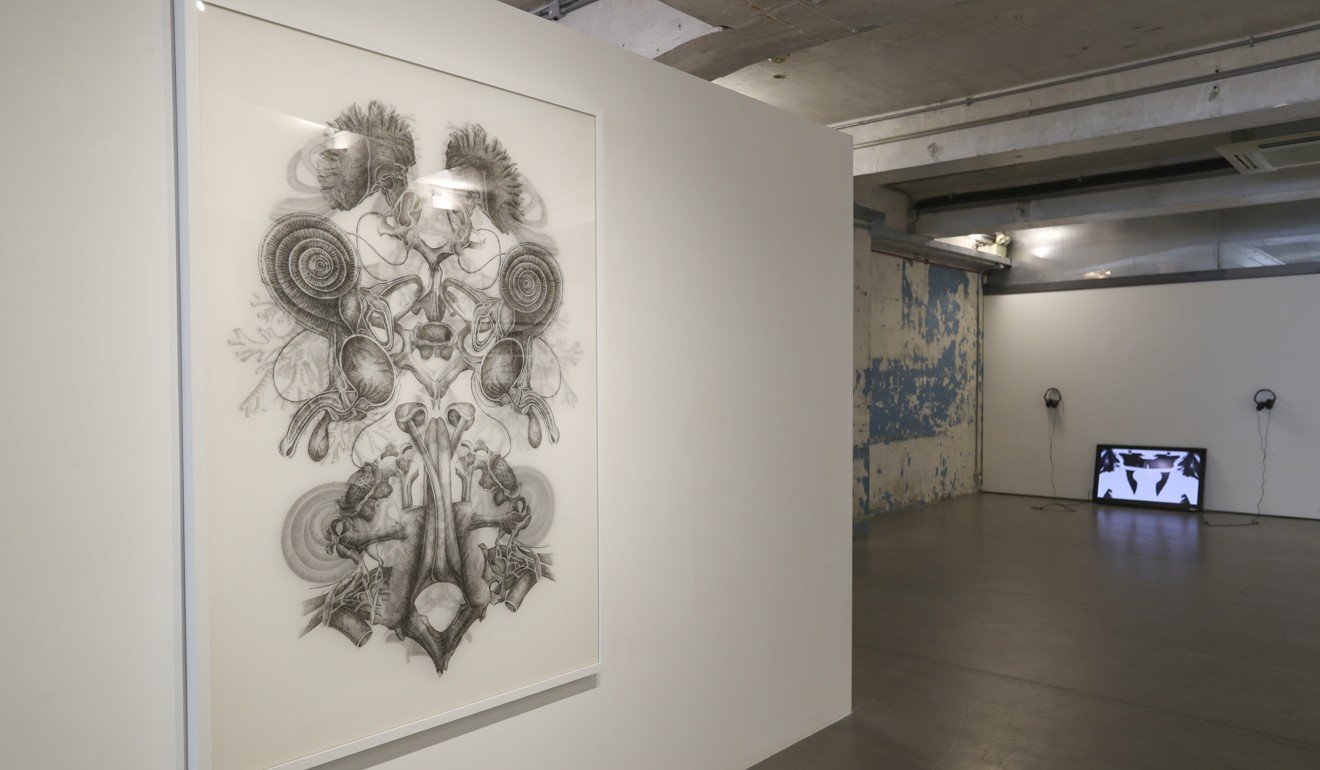 Among the pieces on show at the exhibition – held at Blindspot Gallery in Wong Chuk Hang – are new versions of her signature, quasi-anatomical images. These fake scientific drawings, titled Rorschach Test, are symmetric, like the folded up ink blots used to test personality. They provoke different reactions: some will find beauty in the meticulously drawn compositions of realistic, recognisable sexual organs and imagined human and plant elements; others will be repulsed.
A Reminder to Myself is a series of protest posters with a psychiatric slant: about the SPK and its call to "turn illness into a weapon"; how sexual deviancies have been normalised and monetised by the capitalist system, their potency as political resistance watered down; and historic figures who waged lone wars within asylums (such as Katharina Detzel, a German political protestor who was confined to a mental institution in 1907. She demanded patients' right and made a life-size male doll with a penis to keep her company).
In Please tell me what's been bothering you, 27 photographs with speech bubbles track a pretend conversation between a psychoanalyst and a female patient. The text is based on Su's interaction with Eliza, a first-generation computer psychotherapy program from the 1960s. Eliza's reactions to Su's suggestion that she has a doppelgänger are merely built on keywords that Su uses, hence mirroring the paranoia of the "patient" and, in effect, becoming her doppelgänger.
The exhibition then turns its gaze away from flawed systems of treatments and directs it on the "patient". In Tack Tack Tack, Su (who is also a performance artist who subjects her own body to physical danger and pain) has recorded herself playing a version of the knife game. She used a pair of sharp-pointed scissors instead of a knife – for the sake of visual symmetry – and decided the game could only stop when she hit flesh. That forced her into a situation where she yearned to draw blood simply to stop the game, while the audience stand there mesmerised by what is essentially a spectacle of self-harm (reminiscent of the unsympathetic crowd in her 2012 work, Hartford Girl and Other Stories).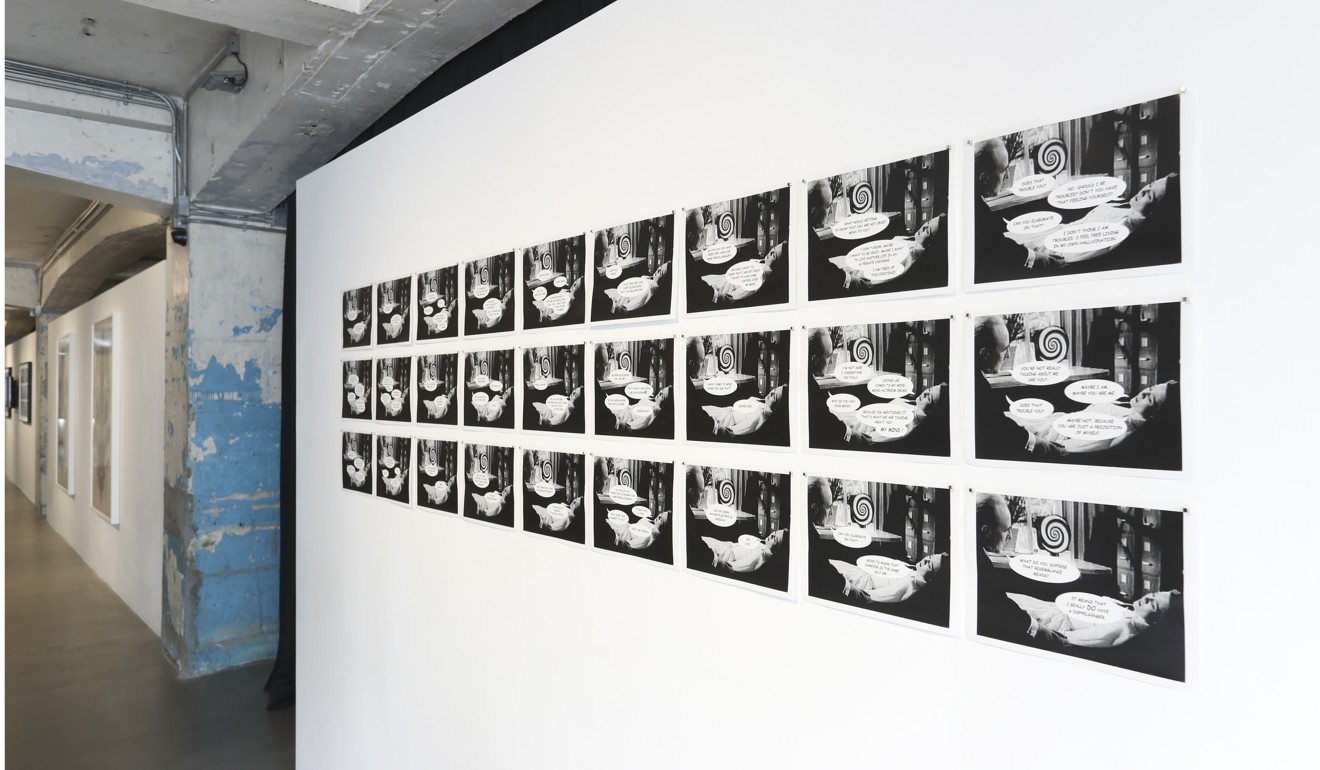 Rosy from the exhibition's title comes in when the works look at the concept of an evil twin – a fear that can be particularly troubling to someone who suffers from psychosis, but which also possibly resides in a lot of us.
Rosy Leaver is Su's doppelgänger (at least for the sake of the exhibition) and she has a fascination with spirals and hallucinatory psychedelics as a way to explore alternative conceptions. She is also schizophrenic, a member of SPK, and recently uploaded her consciousness to cyberspace to live as an animated character.
The centrepiece of the exhibition is a film that gives the exhibition its title. Su, who often references art and cultural history in her work, used footage from Dadaist cinema and the Fleischer cartoon studio to put Rosy's obsession with spirals in context, ending with an animation of Rosy's avatar in cyberspace. Unfortunately for Rosy, life isn't all roses inside the internet, as we watch her raped and cut open by a man wearing a panda mask.
Those familiar with Su's work may recognise the culprit. He first appeared in her Methods of Art (2015), a side-splittingly funny video of Su being kidnapped by Panda Man and forced to apologise for making bad, meaningless art. Rosy's version is not funny at all. Has Su's evil twin succumbed to her worst fear of having her art criticised?
Su says no. Rosy's video is simply a further exploration of Su's way of making art. In cyberspace, Su can subject herself to being raped and cut without suffering the consequences. Real-life limitations are removed, such as those that prevented her One Woman Apartment sex worker experiment from taking place in 2008, for example.
But she says she is also questioning whether it is a good thing for art (and human capacity for empathy) that Rosy can be raped and killed a million times without feeling the slightest pain – and that she will always survive.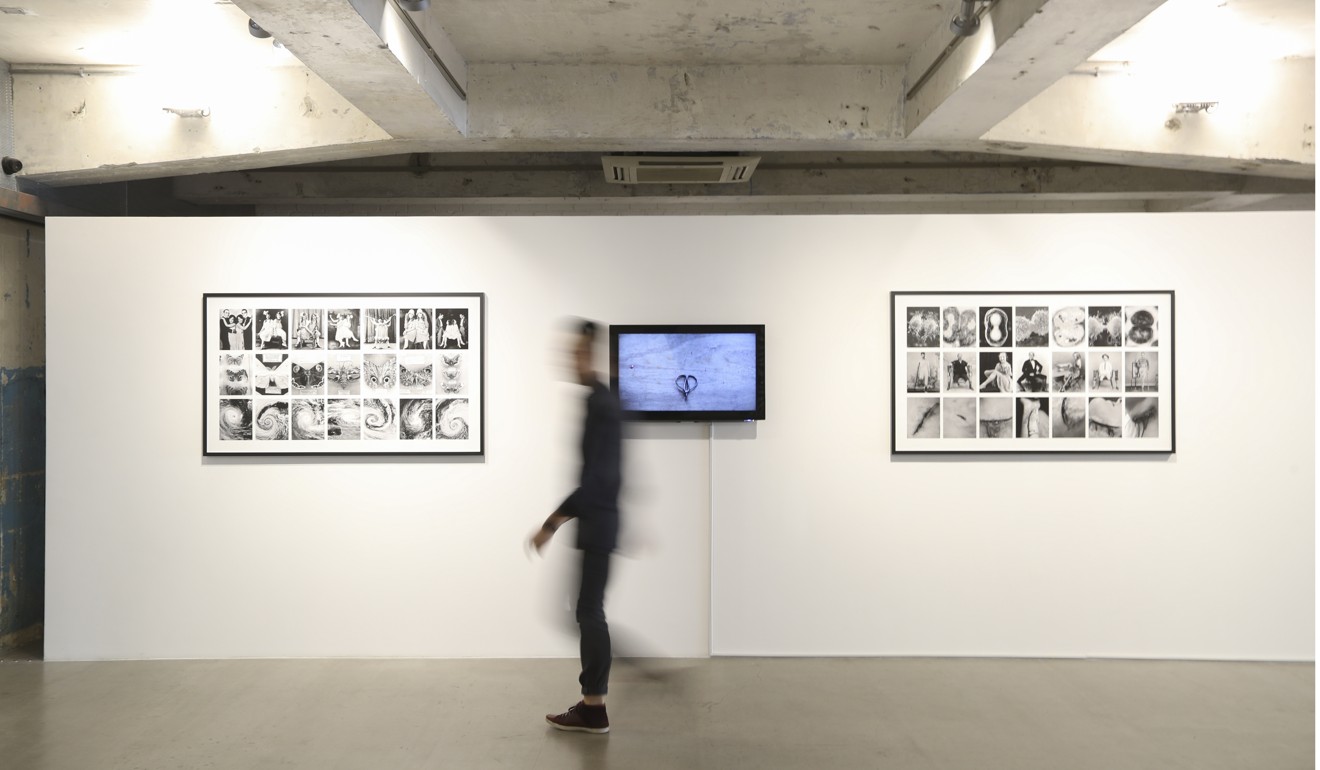 The real-life Su gives the finger to Panda Man with two final works. The Interview is a video of her silently facing a barrage of questions on her methods. My sincere apologies consists of a bed covered in a white sheet on which she used hair to embroider an apology for being yet another female artist to use a bed as an artistic trope.
Su needs not apologise. There are so many different strands here that the viewers may feel they are ensnared in one of her fallopian tubes drawings. But her unique blend of gothic aesthetics, sci-fi horrors and historic research has once again produced a powerful, thoroughly disturbing and unforgettable experience.
The Afterlife of Rosy Leavers: Angela Su's solo exhibition, Blindspot Gallery, 15/F, Po Chai Industrial Building, 28 Wong Chuk Hang Road, Wong Chuk Hang, Tue-Sat, 10am-6pm. Until June 30.
This article appeared in the South China Morning Post print edition as: moments of madness