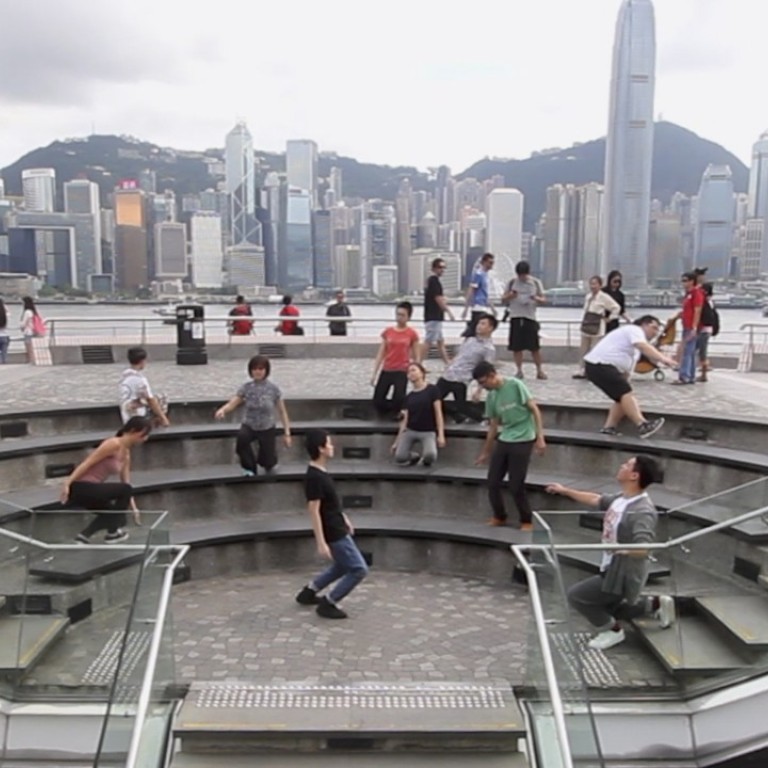 How has art fared in Hong Kong under China's rule? The scene is thriving, but some artists see – or fear – censorship
There are many more galleries, auctions and events and a lot more spending on art than 20 years ago, but some artists feel their work is threatened or compromised by lack of political freedom
It wasn't a given that Hong Kong's art scene would thrive better under Chinese rule than when the city was administered by a more liberal British government. Yet more funding and a creative environment have made the cultural ecology a lot richer than it was in 1997.
The government has set aside HK$4 billion for recurrent arts and culture expenditure this financial year, compared with just HK$840 million just after the handover. International art fairs and auctions are bringing more collectors to Hong Kong.
The number of commercial galleries has jumped from about a dozen in 1997 to more than 130. Independent art spaces, theatre and music groups appear to be thriving. And even the long-delayed West Kowloon Cultural District has started a regular programme of off-site exhibitions and performances.
"Some people have gone as far as to call this the start of a golden age. It's certainly changed a lot in the last few years," says Yim Sui-fong, a performance artist and founder of the non-profit Rooftop Institute, which encourages regional exchanges on social and cultural issues.
"Back when I was studying for my master's of fine art in 2010, no new graduate could hope to get an exhibition straight after graduation, or to become a full-time artist, without struggling for years first. Now they can."
But there are fears the good days will not last. The Chinese Communist Party, which censors anything perceived as a threat to its rule, has adopted an increasingly hardline approach towards Hong Kong. Many artists say a gradual erosion of artistic freedom has either begun or is inevitable, even though Hong Kong's "one country, two systems" model of governance enshrines the freedom of expression.
Political artists are naturally the most worried. Kacey Wong Kwok-choi, who was 27 in 1997, thinks any Hong Kong artist who doesn't toe Beijing's line will eventually have to go underground.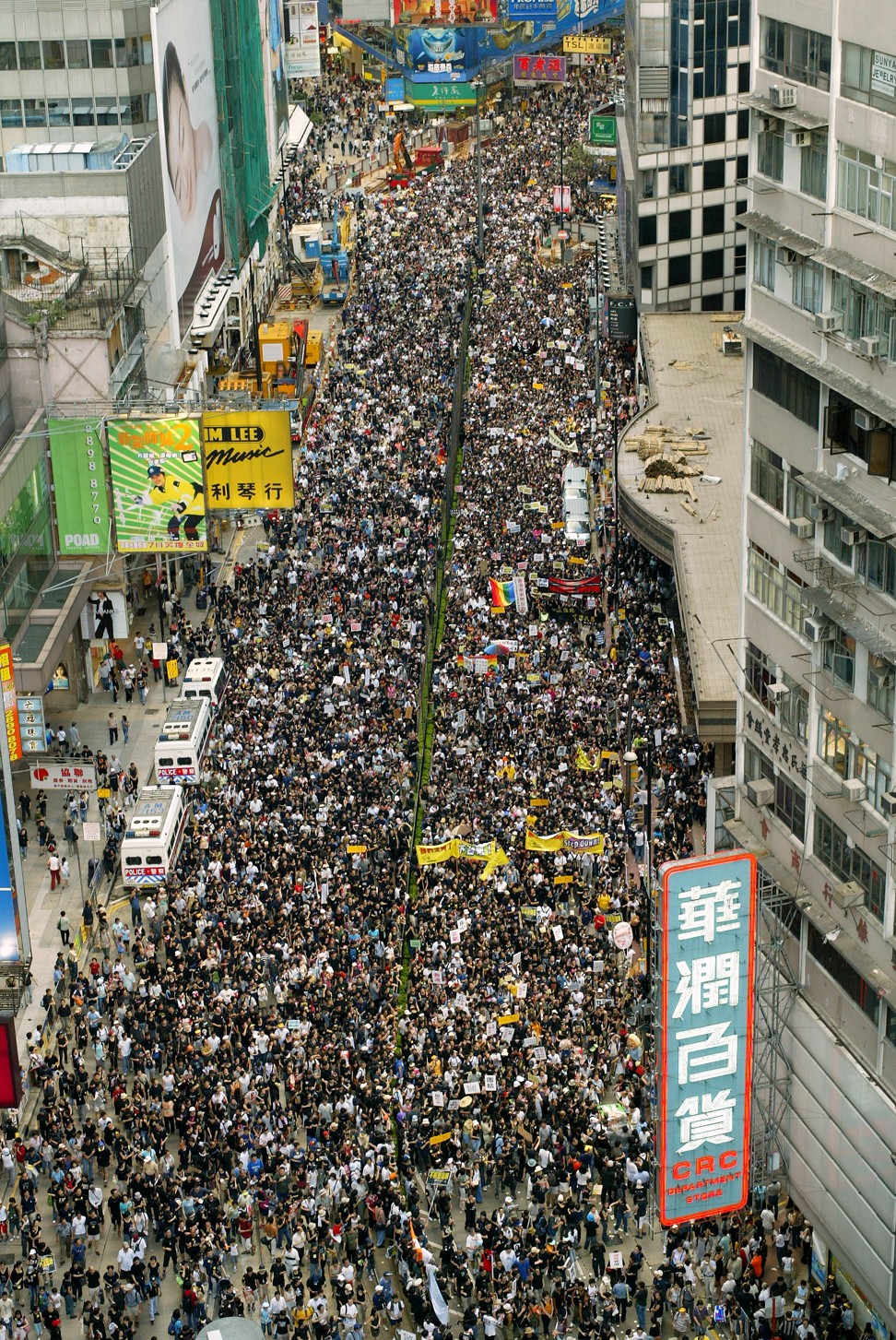 "I began to incorporate direct references to politics after 2003. That was the year of Sars," he says, referring to the deadly outbreak of severe acute respiratory syndrome. "That was the year when half a million people took to the streets to protest against Article 23, the anti-subversion bill. And that was the year when Beijing decided it had to actively intervene in Hong Kong affairs," says the multimedia artist, performer and self-described activist.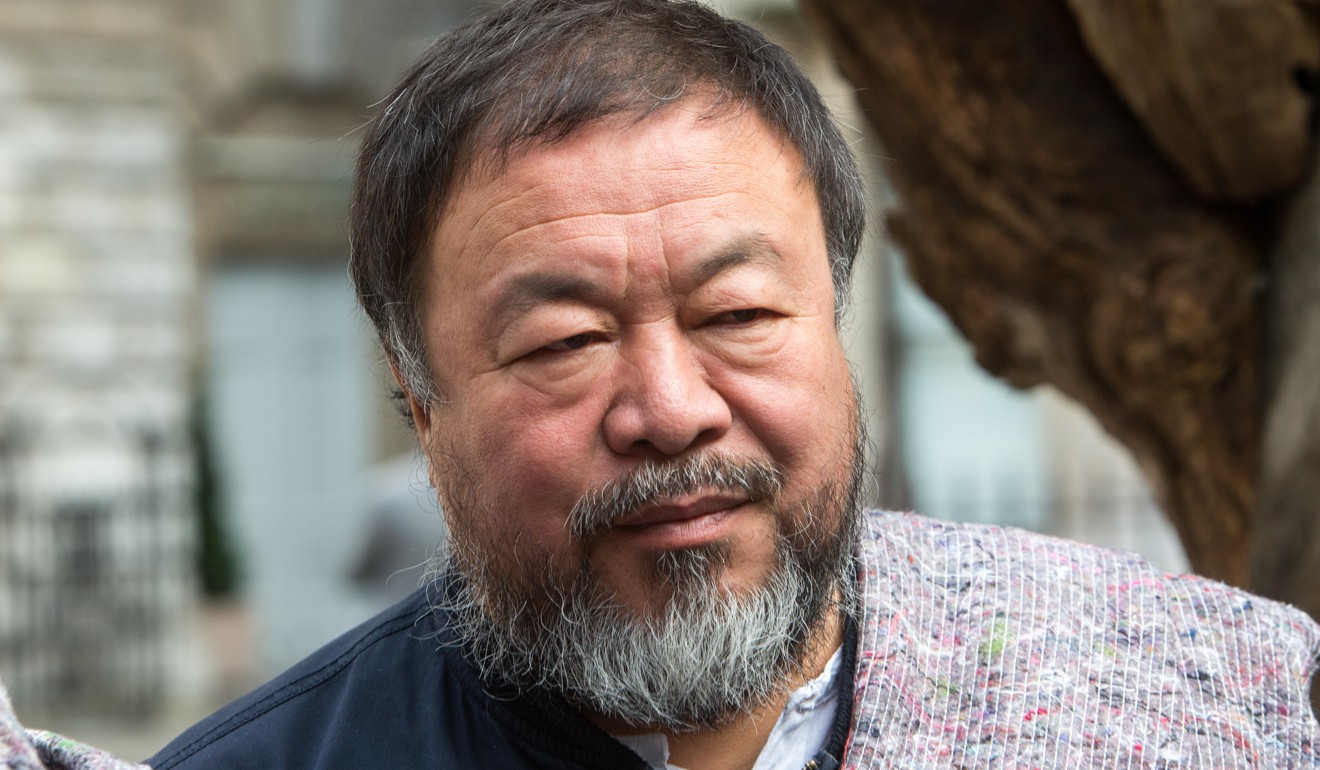 The year 2011 was another watershed, he says, when 2,000 Hong Kong artists held a protest to demand the release from detention of dissident Chinese artist Ai Weiwei, who was accused of tax evasion, bigamy and spreading pornography. "Hong Kong artists didn't used to go on marches. They didn't used to talk politics. But we are now living in politically very tense times."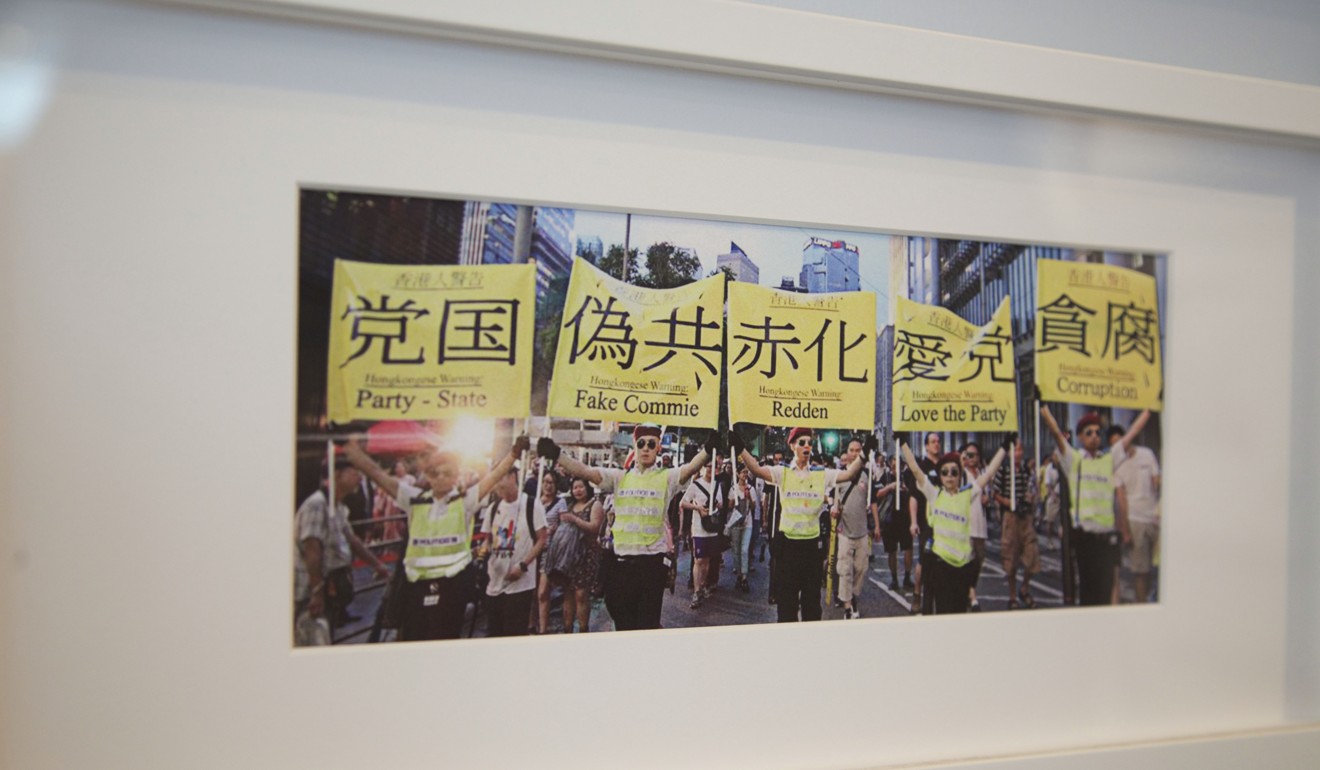 These days Wong shows up at major anti-government protests with the most outrageous props. On July 1, 2014, he and friends calling themselves the Hongkongese Warning Squad dressed up as police officers and held up fake, yellow warning banners with the words "redden" (being turned red – a reference to the Communist Party"), "corruption", "party state", "love the party" and "fake commie".
Just because he can do such a thing and not get arrested doesn't mean artistic freedom hasn't been compromised. "I have noticed myself self-censoring," he says.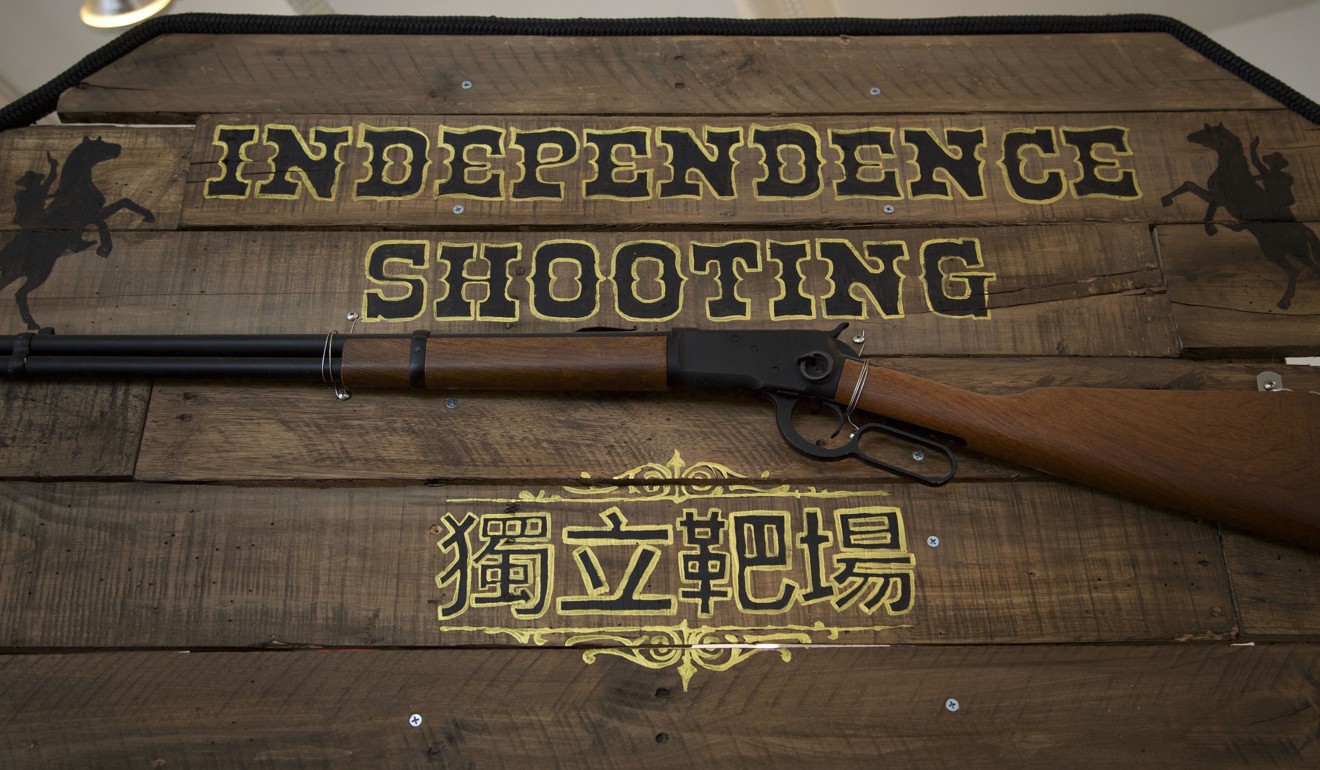 Wong may drop an idea he had of creating something using the Chinese and Hong Kong flags on July 1 this year in case he gets arrested for desecration. "I also don't think I'd dare do something like Hongkongese Warning Squad again after seeing how brutal the police were during the 2014 Occupy Central movement," he says.
Wong and other artists say there is no overt pressure to avoid sensitive subjects, and approvals for government grants remain politically neutral. But the threat comes indirectly through cases such as the disappearance of five men involved in the publication and distribution in Hong Kong of books critical of the central government, the treatment of dissidents in China and Beijing's increasingly frequent chastisement of wayward Hongkongers.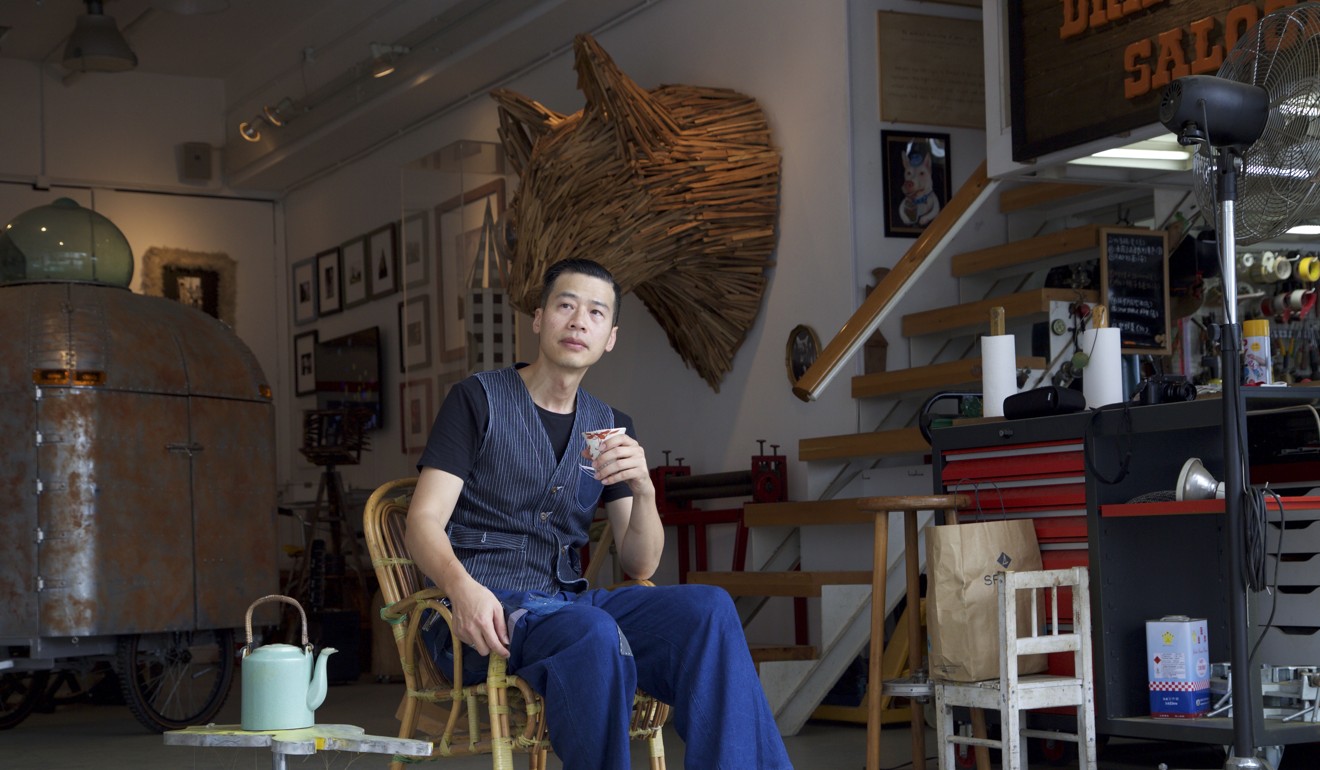 Wong is also convinced curators have at times pulled politically sensitive art from exhibitions because they fear the wrath of Beijing. The art world's view on this issue is heavily divided because censorship is difficult to prove.
Sampson Wong Yu-hin and Jason Lam Chi-fai's light installation Countdown Machine – a reference to Beijing's promise of 50 years of no change in Hong Kong – on the façade of the ICC skyscraper in West Kowloon was switched off last year during Chinese state leader Zhang Dejiang's visit. Organiser the Arts Development Council defended the decision by saying the work was not the one it commissioned. Some artists labelled the switching off censorship, but others blamed Wong and Lau for using guerilla tactics, damaging trust between artists and curators.
In 2015, Otto Li Tin-lun accused the University of Hong Kong Museum of Art of pulling his busts of top Chinese political figures from a group exhibition. Museum director Florian Knothe is adamant the decision had nothing to do with what Beijing might think.
"Li did not agree with the three display areas we suggested and he actually did not have the pieces ready for the opening," Knothe says. "He withdrew, and then claimed later that he was not allowed to show them for political reasons. There is no censorship here and we have featured a good many very provocative pieces that refer directly to [the 1989 crackdown on student protesters in Beijing's] Tiananmen [Square] and the 'umbrella movement', for example."
Yim, the performance artist, describes pressure to shy off sensitive subjects as "shapeless", but says artists are looking over their shoulders. This sense of foreboding inspired her to create two works timed for the 20th anniversary of Hong Kong's return to China.
"I lived in Beijing for three years after I graduated from [the] Chinese University [of Hong Kong] in 2011. I had no idea what was happening in the world because of the heavy censorship of the press and internet," she says. One day, she was frightened by an eerie, mournful noise moving through the sky. It turned out to be racing pigeons fitted with whistles so their owners could track them.
This month, she is recreating that sense of paranoia in Causeway Bay – which coincidentally was where the book publishers were based. She has tied the Beijing whistles to pigeons being released in Victoria Park and is waiting to see how people react.
For her "Fall Like a Feather" project, a group of performers fell down in slow motion amid a crowd. "The audience may identify with a sense of helplessness or they may recall key historic moments … such as when Margaret Thatcher fell on the stairs outside the Great Hall of the People in 1982," she says.
Vivian Ho Bok-yan, an artist and designer born in 1990, says her art is not political, but she is also disturbed by a pervasive sense of insecurity and a loss of Hong Kong's identity.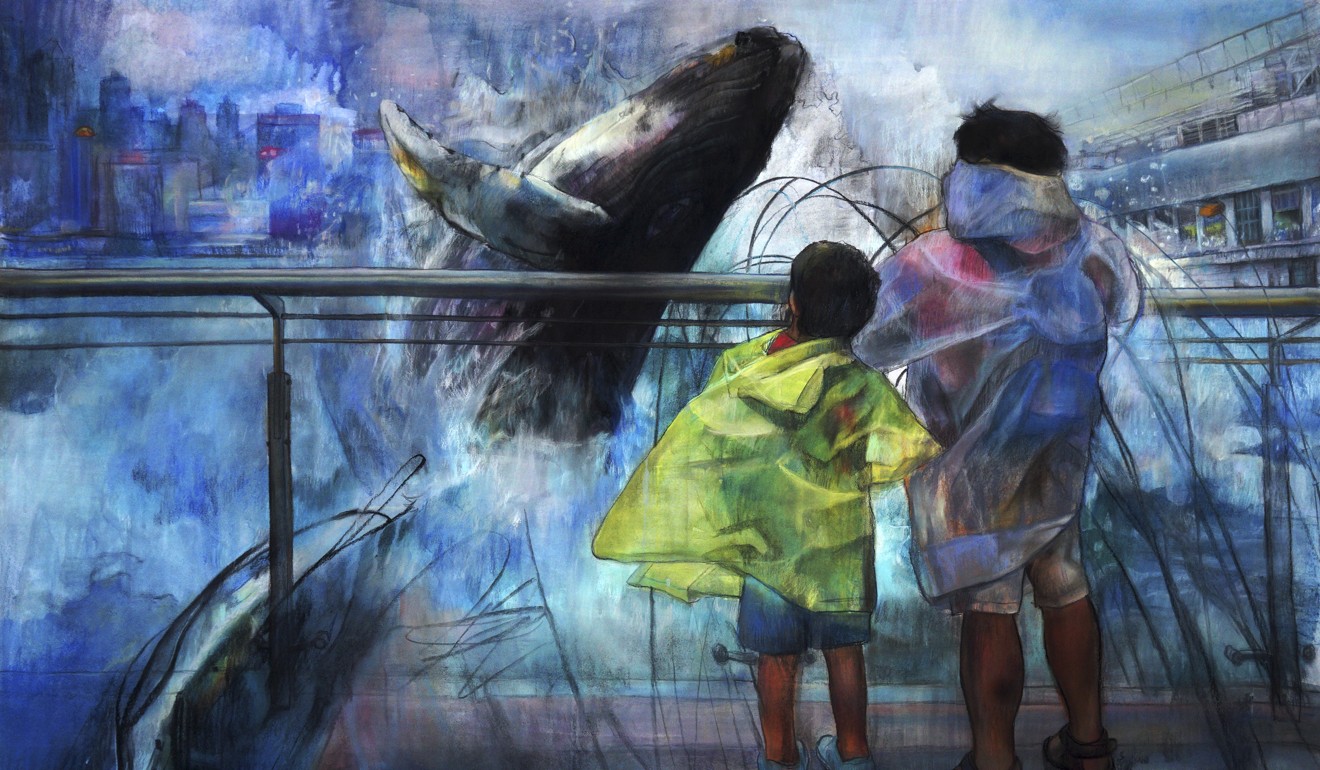 "I was studying in the US for five years and when I came back in 2012, I realised the home I felt homesick for had become unrecognisable. I became a stranger to my city. Nobody listens to the Canto-pop songs I grew up with, the streets look different, and politics have torn people apart," she says.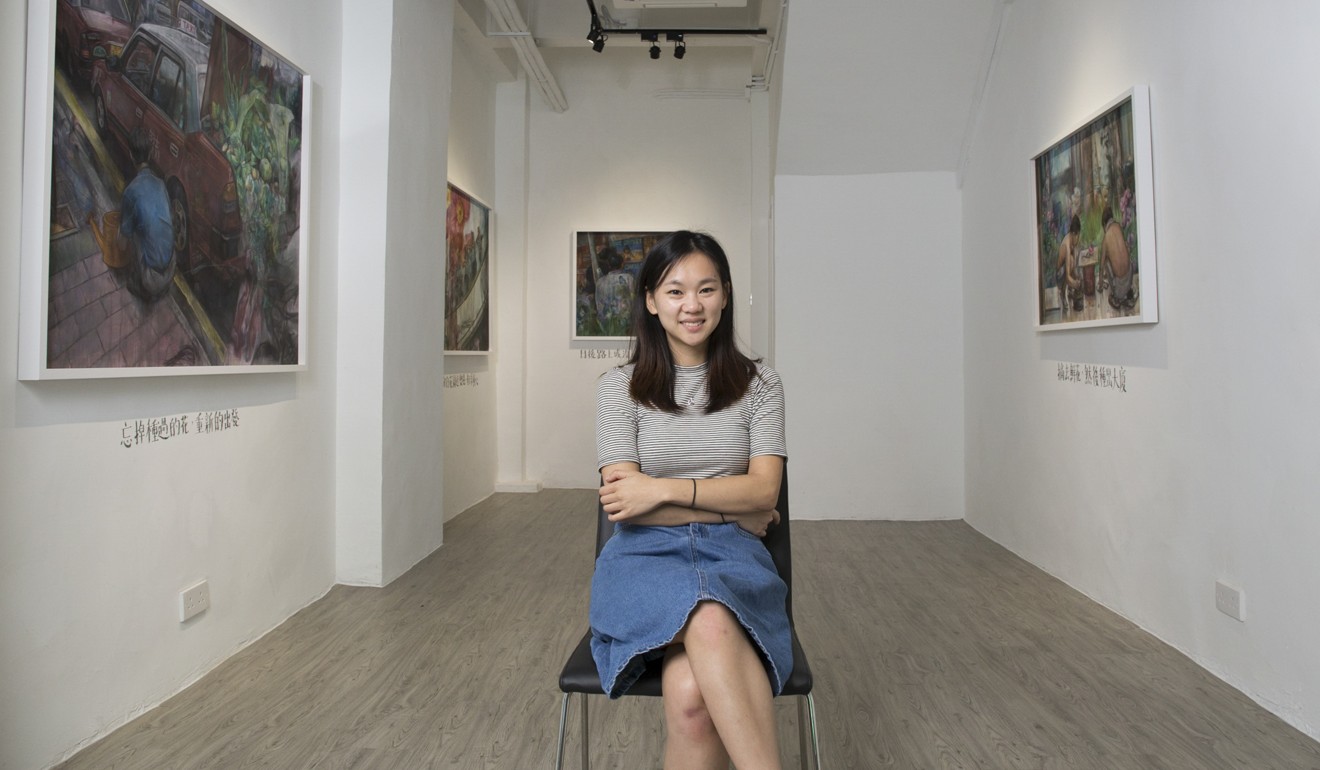 Her new exhibition, "And then we are strangers again", at A2Z Art Gallery, features pastel paintings of surreal Hong Kong scenes, their titles inspired by the song
When the Grapes Grow Ripe
by Eason Chan Yik-shun.
She has lost buyers and design clients because of politics.
"I am quite outspoken on Facebook about my political views. I talk about June 4, for example," she says, referring to the 1989 Tiananmen Square crackdown. "People have told me that they have seen my comments and they can't work with me any more."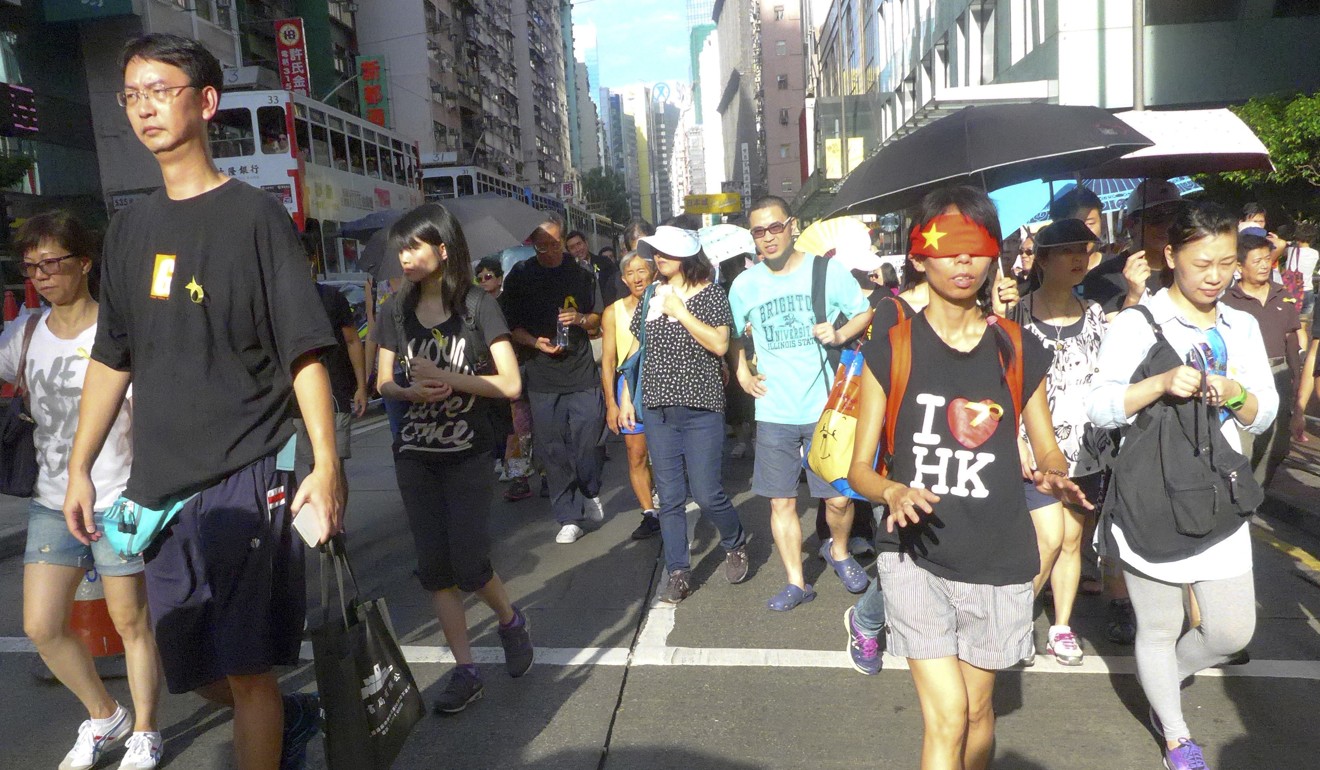 Wen Yau, a performance artist who joined an Occupy Central protest wearing a blindfold designed like the Chinese flag, is determined to foster more rational, calm discussion within the arts community for this year's handover anniversary.
"There are so many divisions and not enough talking. It's true even within the arts community," she says.
"Talkover/ Handover 2.0" at 1a Space is a revival of a 2007 AAA project that got artists of different generations to collaborate and discuss a number of issues. This year, the main topics are localism, art in politically sensitive times, art labour, and sustainable development of independent, artist-run spaces.
"These are issues that affect a lot of us. The Beijing regime is not changing, but things may not get worse. We are more wary of the risks of doing certain things now and we are frightened. But what we need to do is come together and reach a consensus, and get stronger together," she says.
Yim also refuses to accept that the future for artists is bleak. "If we think that, then there's no point in carrying on," she says. "The fact that Hong Kong's particular political and social conditions have inspired many local artists means that a lot of local art is not elitist and abstract, and really resonates with ordinary people. That has got to be a good thing."
This article appeared in the South China Morning Post print edition as: brushes with authority