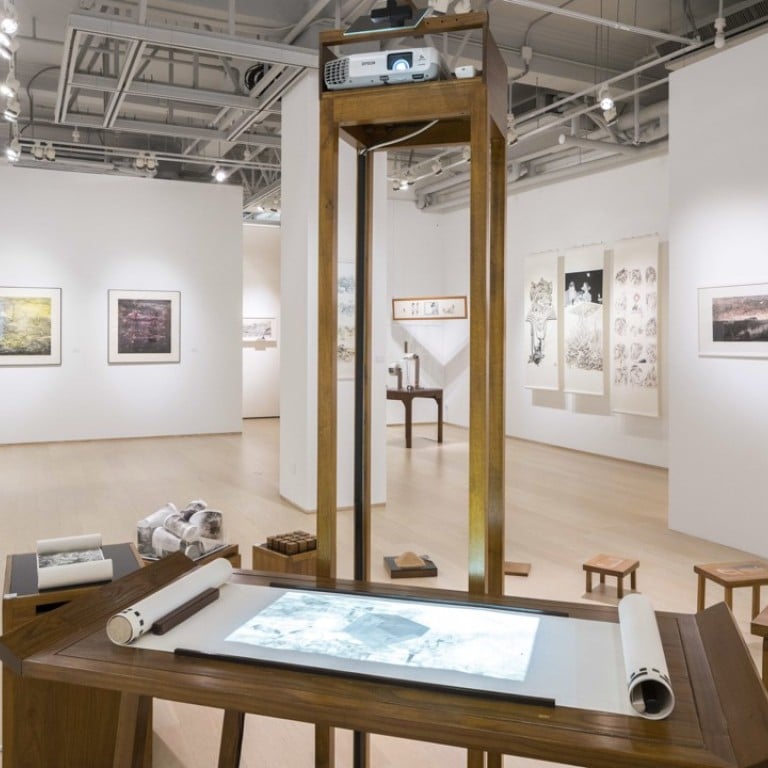 Hong Kong artist Wong Chung-yu's solo show Centrifugal Force couples computer science with traditional Chinese ink art
Now showing at Hanart TZ Gallery in Central, exhibition shows Wong Chung-yu's his interest in bridging Chinese and Western philosophies through traditional Chinese ink and video animation
The unconventional coupling of computer science and traditional Chinese ink art lends a striking aesthetic to "Centrifugal Force", Wong Chung-yu's latest solo outing at Hanart TZ Gallery in Central.
Including works from the past 14 years, the exhibition is a showcase of Wong's polymathic skills and his interest in bridging Chinese and Western philosophies through traditional Chinese ink and video animation.
Wong has a degree in computer science and studied Chinese painting with Wucius Wong, whose influence can be seen in some of the exhibition's ink paintings. He is also an award-winning fiction writer.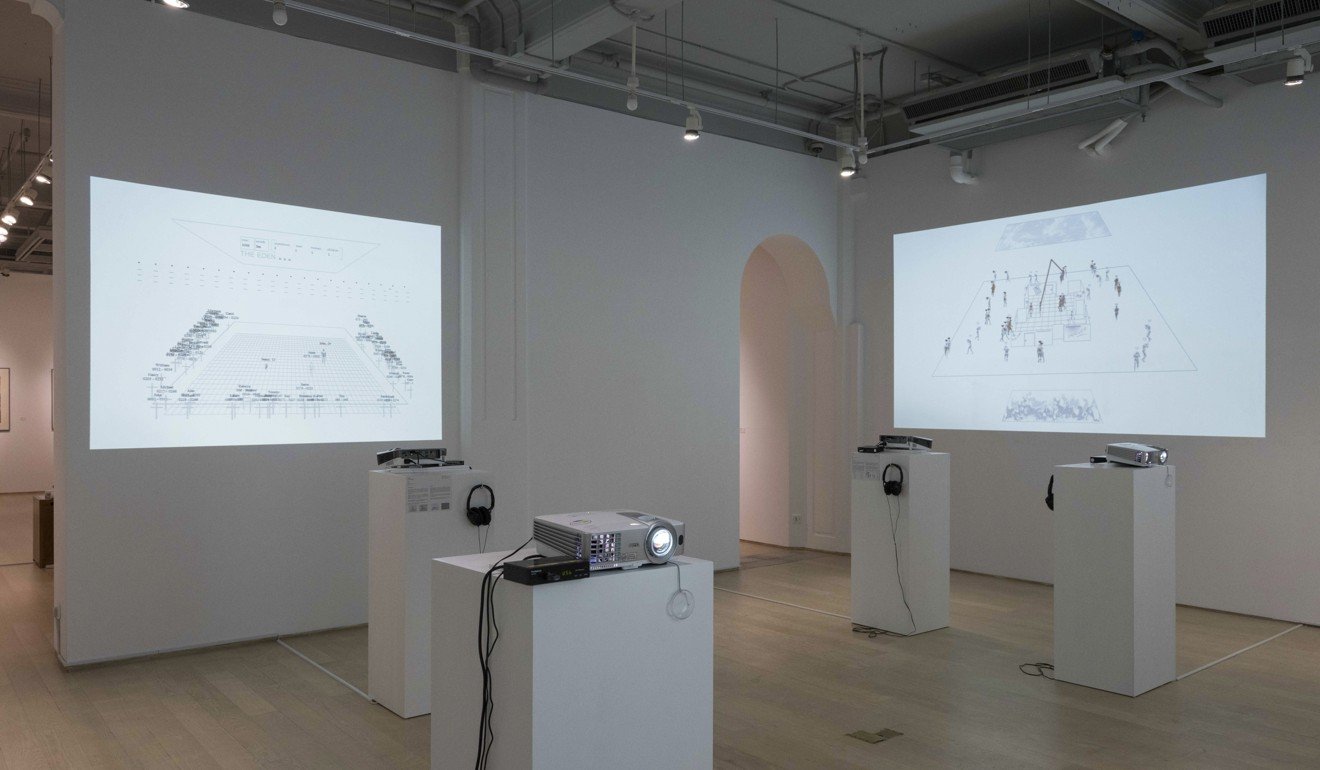 A side room features four animations from Wong's Garden of Eden series that are reminiscent of computer games in which the player plays God. Tiny, human figures move about according to a computer code that determines how they interact with each other.
A Transiting Cycle of Dualism (2013) is an eye-catching, circular installation in the main exhibition space that features a digital hand scroll and uses wood and paper to refer to different stages of life and transformation.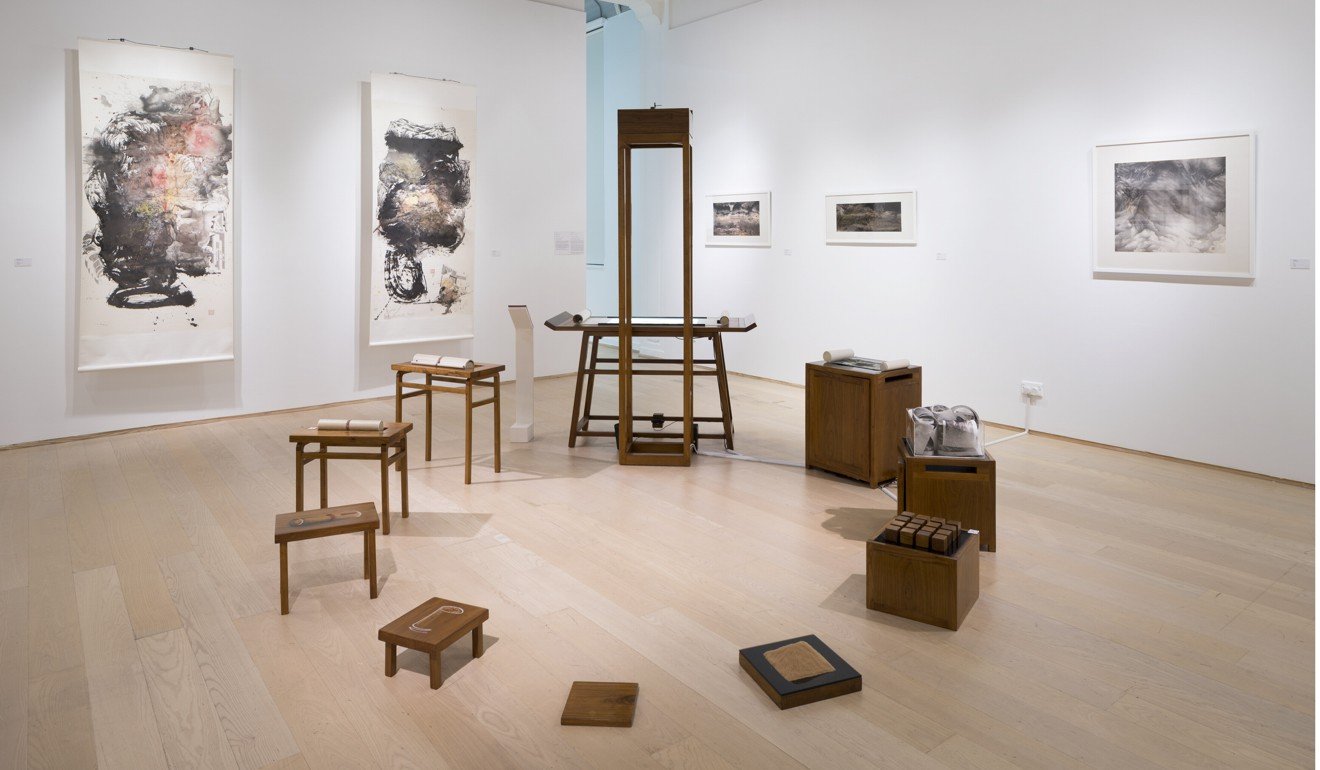 The installation invites the audience to slowly unfurl a blank Chinese hand scroll on top of a specially designed table. As in-built scanners detect discrete codes printed at the bottom of the hand scroll, animations of sci-fi bunkers set amid a Chinese ink landscape are projected onto it.
If A Transiting Cycle of Dualism is hi-tech, then Movie Machine (now presents the hot movie: "A Thousand Summers") (2016) is delightfully on the other end of the spectrum.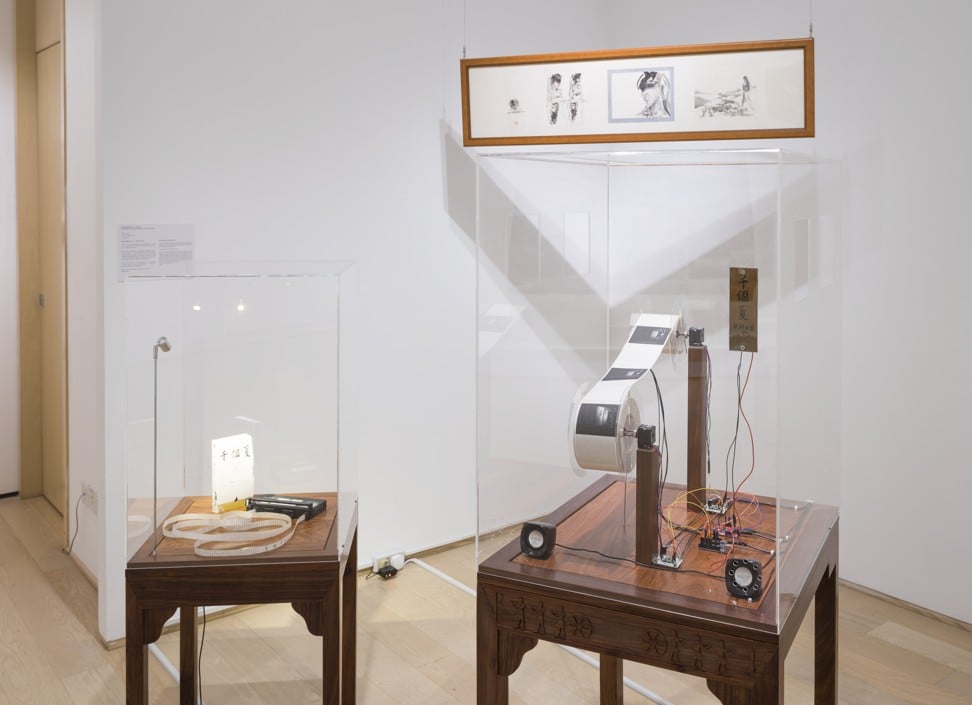 A paper film reel plays inside a glass box, with each frame hand-painted by Wong. It tells an original story written by the artist accompanied by his recorded narration. Next to the reel is an old-fashioned VHS cassette with a paper tape covered in the film script, in place of a regular magnetic tape.
"With this piece, I wanted to return to the foundations of animation and movie production – the script and the storyboard of the work," Wong explains. By "disintegrating" the conventional notion of film, he wants to challenge conventional storytelling, as well as the imagination of his audience.
Centrifugal Force: The Art Field of Wong Chung-yu, Hanart TZ Gallery, 401 Pedder Building, 12 Pedder Street, Central, Mon-Fri 10am-6:30pm, Sat 10am-6pm. Until July 15.