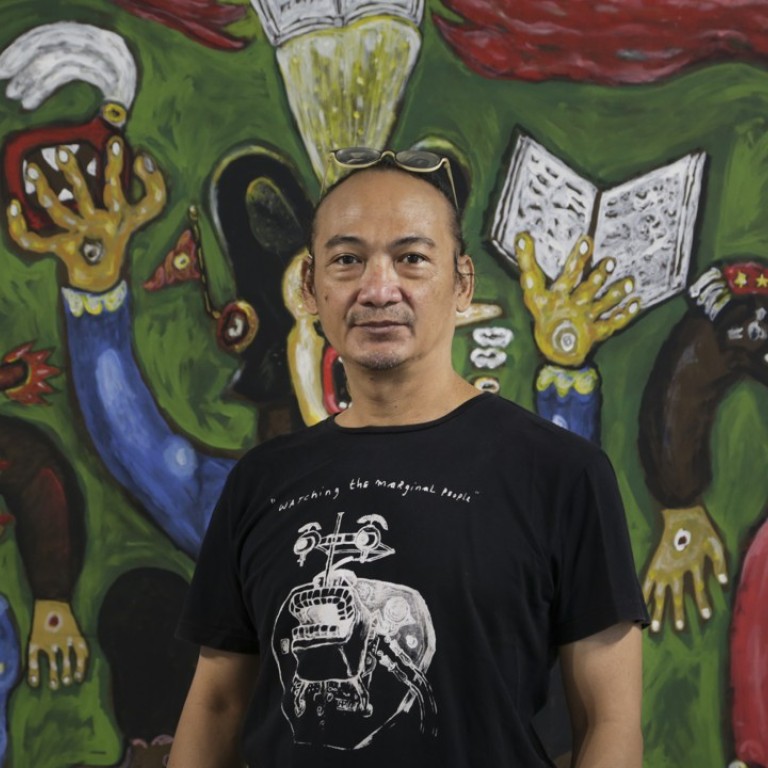 Indonesian artist Heri Dono's first solo Hong Kong show takes aim at Trump, political Islam with angry satire
Exhibition at Tang Contemporary Art in Central takes few prisoners as Dono looks on recent world events in his trademark artistic style, inspired by Javanese shadow puppets
Half of the works in Heri Dono's first Hong Kong solo exhibition feature the current US president as a grotesque monster while others make fun of fundamentalist Islam. In mood, the political Indonesian artist's angry satire fits right in with a week in Hong Kong that has been filled with protests and the merciless lampooning of politicians.
Recent world events have provided plenty of fodder for Dono, who lived through Indonesia's oppressive Suharto regime and has spent nearly 40 years depicting tensions between opposing ideologies in his trademark style inspired by Javanese shadow puppets.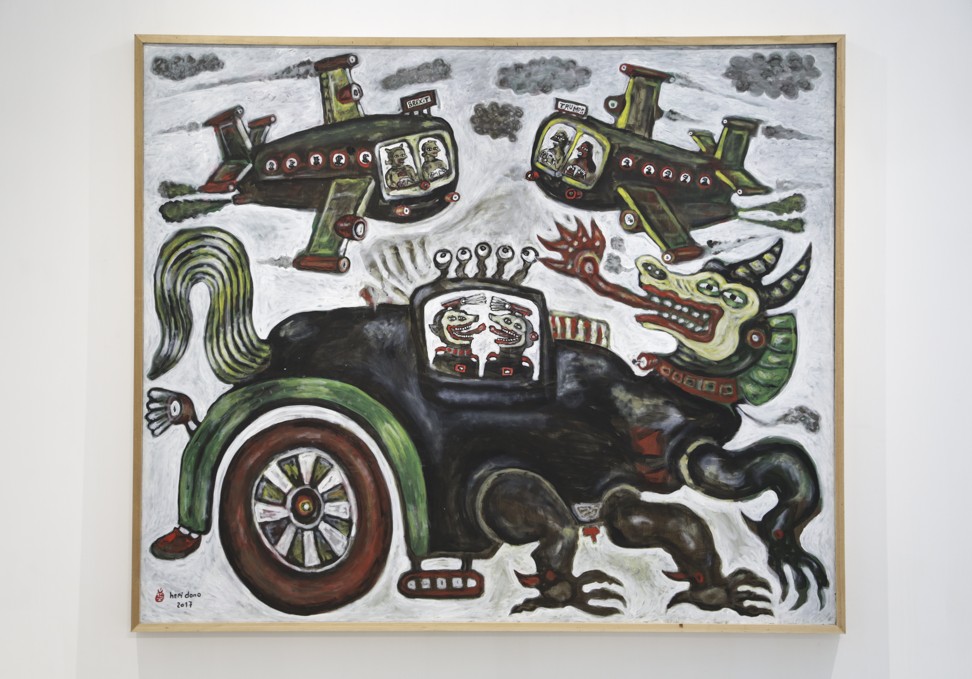 He depicts Donald Trump with a long tongue of flame, a symbol of his fiery rhetoric that is causing so much concern around the world. In one painting, the US president is seen battling a dragon, as Dono anticipates growing animosity between America and China. In another, Super Trump Land, the president is seen in a Superman outfit with the "S" symbol replaced by Woody the Woodpecker – the image of a buffoon, but armed to the hilt and shooting at everyone willy-nilly.
"Donald Trump seems to think that his life is a Hollywood film set. It's very troubling," the mild-mannered 57-year-old says in Hong Kong.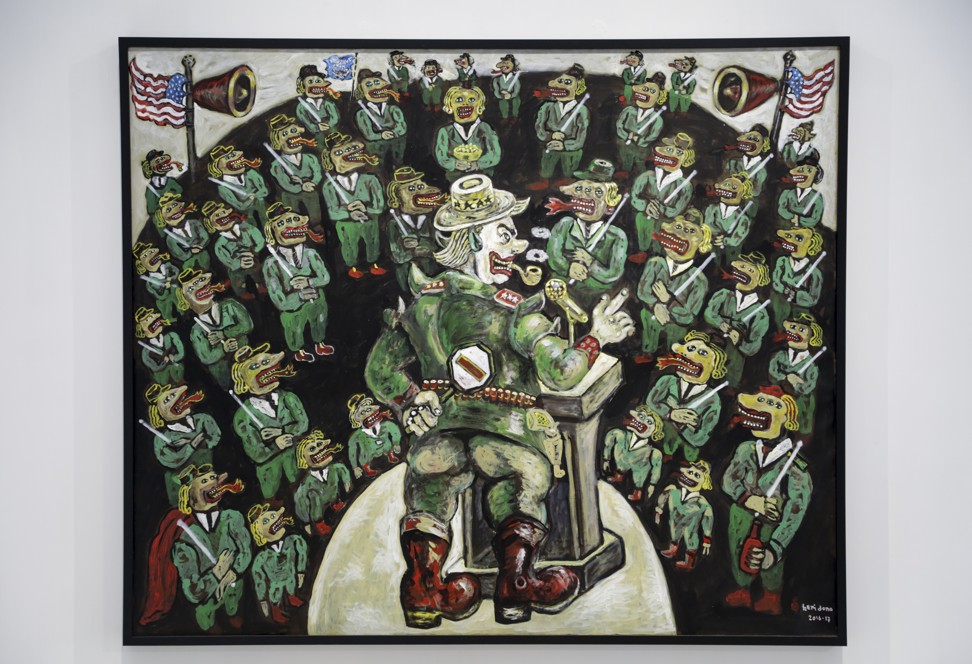 Dono is just as tough on the religious extremists at home. Joko Tarub Bath in the Lake, Attacked By Terrorists, Protected by 7 Bidadari is the self-explanatory title of a work that depicts a folkloric hero under attack by modern-day militants. In a gender flip, the hero is rescued by a group of female celestial beings who were the bathers in the original tale.
Between Wine and Chicken Porridge is a criticism of Islam's denouncement of alcohol. "There have been long traditions of home brews across many parts of Indonesia. Wine is more indigenous than bubur ayam, an 'Indonesian staple' that was imported from China," Dono says.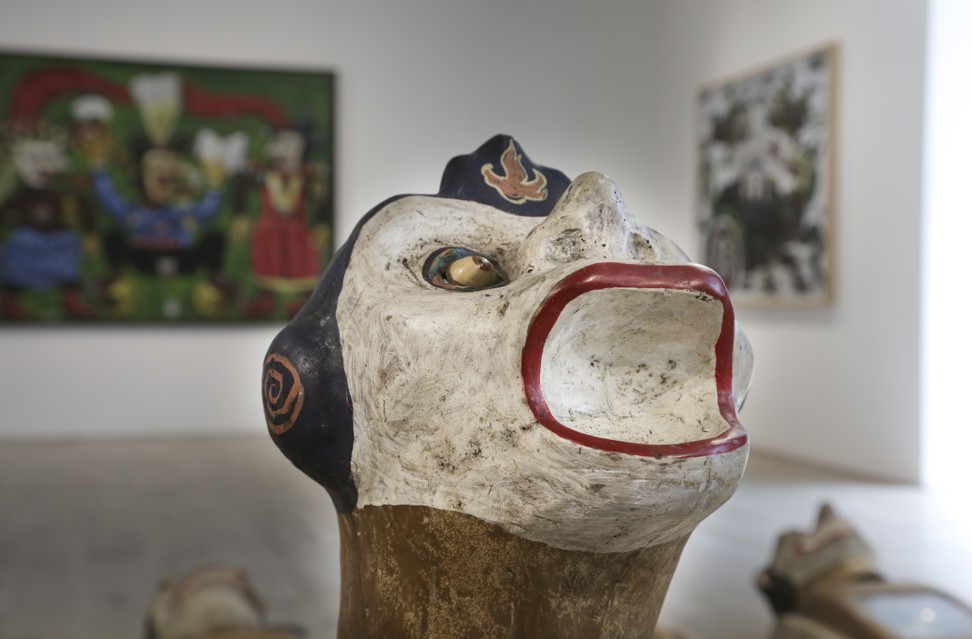 Like so much of today's political satire, Dono's caricatures are as funny as they are angry. There is a lot of urinating into glasses by his characters, which he says is how most of the world is treating civilisation. Subtle they are not.
The exhibition is rounded off by a 2004 installation called Born and Freedom, made up of more nuanced sculptural works that Dono took to the Venice Biennale in 2015. A row of mythical-looking dogs sit on the floor, looking fierce and tied by chains to winged deities fitted with speakers playing an unrecognisable version of the song Born Free. When first exhibited it was a cynical interpretation of freedom, but Dono says he has now changed the way this work is displayed. By doing so, he has injected a glimmer of hope into an otherwise grim exhibition.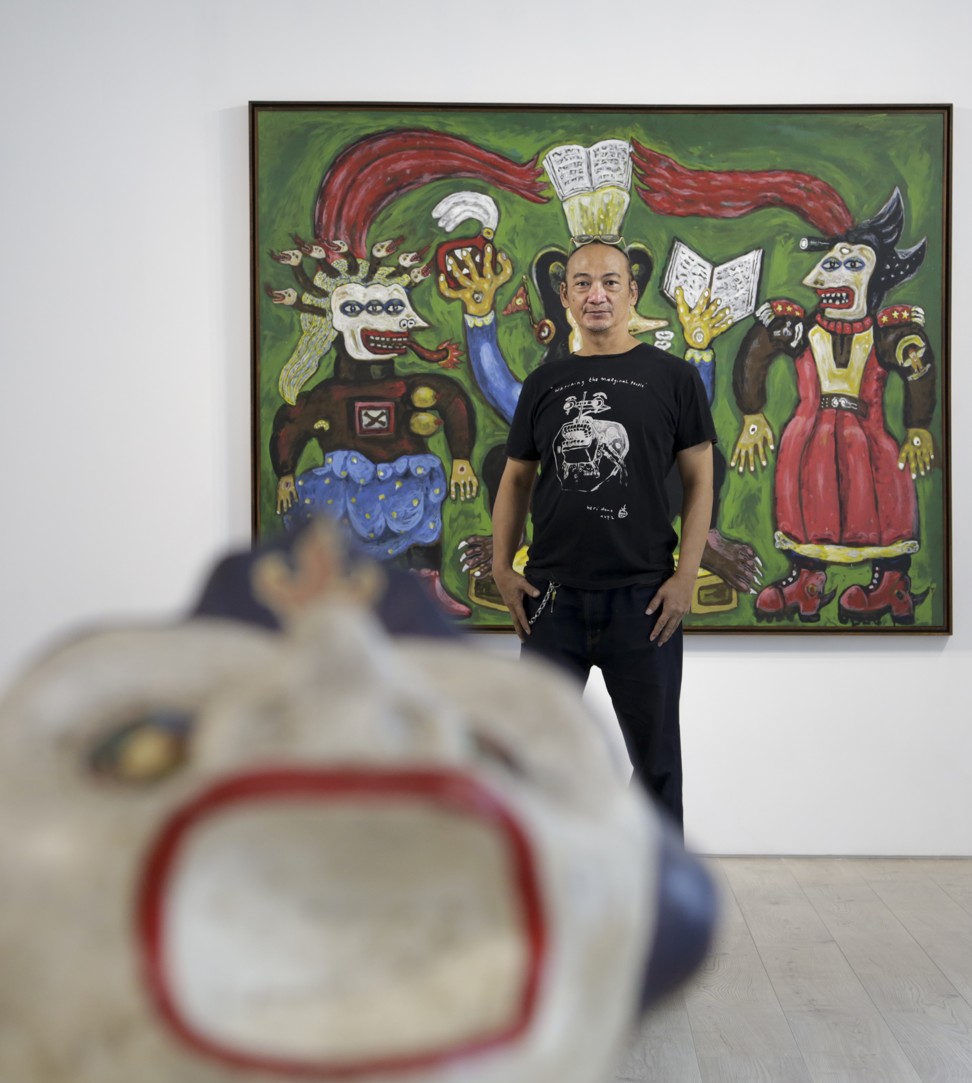 "I used to hang the winged gods on a wall and they looked down on us. This time, I show them lying on the floor as if being dragged along by the dogs," he says. "Our relationship with authority has changed. We are now more informed and more independently minded. I wouldn't say I am entirely pessimistic about the world."
Land Of Freedom – Heri Dono, Tang Contemporary Art, 19/F, 18 On Lan Street, Central, 11am-7pm, Tue to Sat. Until Aug 12.