Review: Yuja Wang/HKPhil – Chinese pianist dazzles in Tchaikovsky, Jaap van Zweden steers transcendent Stravinsky
For all her technical and sartorial flamboyance, it was Wang's musicality that shone through in Tchaikovsky concerto, while orchestra warmed to the task in The Rite of Spring under van Zweden's assured baton
As soon as soloist Yuja Wang stepped assuredly onstage in a body-hugging, skin-revealing azure concert gown, we knew we were in for something special at this Hong Kong Philharmonic Orchestra season opener, which paired the monumental Tchaikovsky Piano Concerto No. 1 with Stravinsky's riotous The Rite of Spring.
Wang's playing was a mix of controlled flamboyance and poignancy, at times projecting the piano part, at others accompanying the orchestra, all with the digital dexterity and ease audiences have come to expect of her. And for a soloist with such a delicate frame and sinewy arms, the weight she can apply to the keys produces power one might expect from a player twice her size.
Tchaikovsky opts for a lean orchestra here by late Romantic standards, choosing pairs of woodwinds, a standard brass ensemble along with the usual complement of strings and a pair of timpani. The interplay between soloist and ensemble was always heard with clarity, even during moments when the former assumes a subservient role.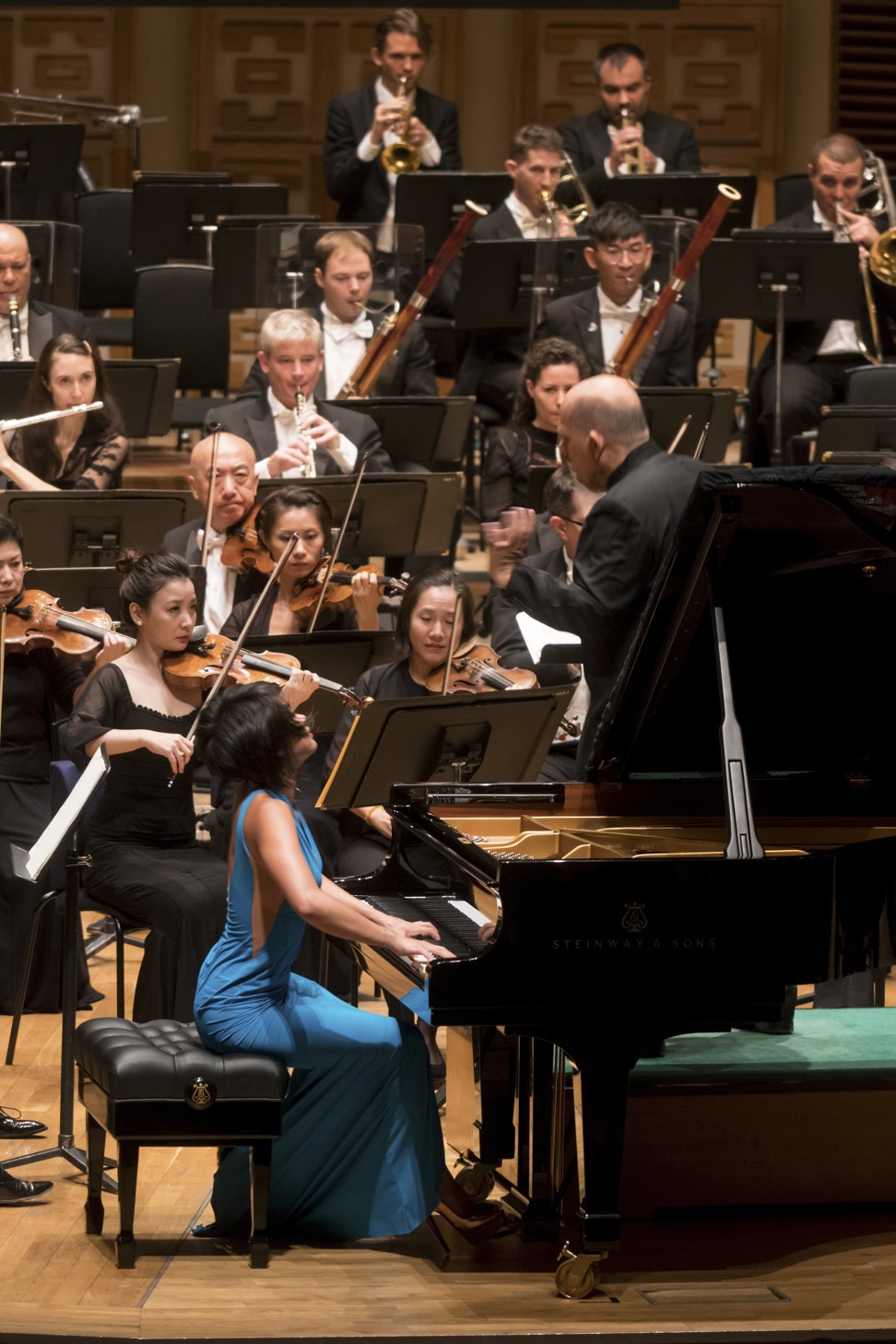 Wang's devotion to the music is paramount, something particularly noticeable during the final cadenza of the first movement; she chose a musically driven approach rather than an audience-pleasing one.
Another highlight was the opening of the second movement, in which flautist Megan Sterling captured the necessary purity of the melody with minimal vibrato. Wang's playing of the middle section of this movement, which is labelled "as fast as possible", was of apparently effortless simplicity. She and the orchestra, under its music director, Jaap van Zweden, played the concluding movement with buoyant rhythms and great energy.
As if that was not enough, Wang left audience members gasping with a rendition of Horowitz's Carmen Variations that was technically almost superhuman.
The second half of the concert saw the HKPhil tackle Stravinsky's ballet suite. There were moments of great technical skill, such as Benjamin Moermond's opening lines on the bassoon, but as a whole the opening sections lacked the necessary rawness and primitivism.
It was not until the section titled "Game of Capture" that the orchestra under van Zweden found their stride. Under his assured control, the rhythmic interplay became clearer and the patchwork structure of the music had an almost transcendent energy.
The second half of The Rite of Spring is even more rhythmically complex than the first, but the Dutch maestro guided the players through it to a rousing conclusion that was both violent and unsettling.
Jaap & Yuja, Cultural Centre Concert Hall, Tsim Sha Tsui. Reviewed Friday September 1