Inside Hong Kong's first virtual reality gaming arcade
From boxing to archery, from shoot-em-ups to zombie hunts, Playdium VR has the latest games from around the world and the hardware to play them. We get loaded up and enter an immersive world
Virtual reality is regularly touted as the future of all media. Soon, everyone will spend days wearing a headset, living out their fantasies in true-to-life simulations. Or so they say. Cynics like myself don't necessarily feel VR is a true medium in itself – it only augments what we already have.
However, I'd never experienced true VR. I had used a rudimentary version involving a cheap cardboard headset and a smartphone, but I'd never tried out the high-end variety. This is why I jumped at the chance to visit Playdium VR, a "virtual reality experience studio" in Causeway Bay, which became the first of its kind in Hong Kong when it opened in July.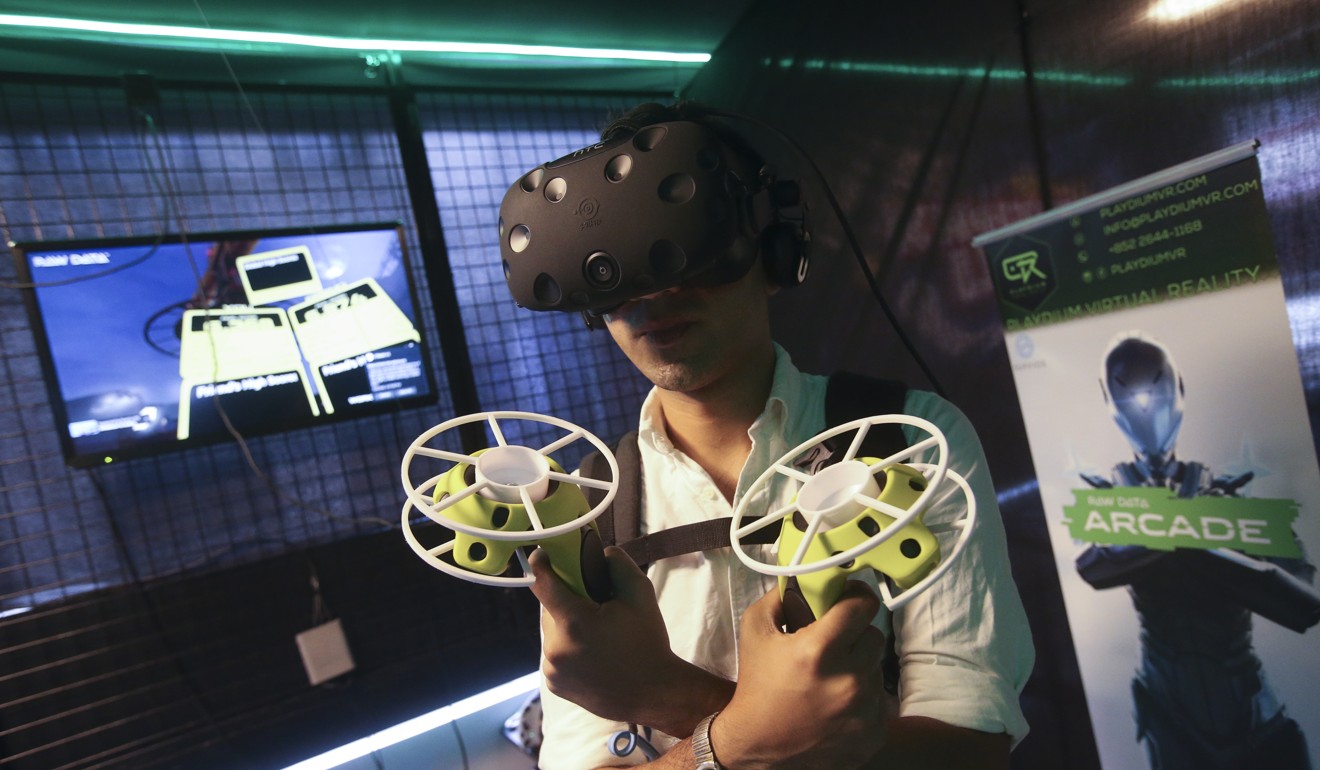 For retro gamers, it's a clean, contemporary update on those old smoky game arcades. It offers a modern social setting where gamers can congregate, team up and battle it out over a selection of ever-changing VR releases. But to find out whether the games are any good – VR games have been considered everything from fads to life-changing experiences – there was only one way to find out.
I visited Playdium on a weekday afternoon, welcomed by owners Darren Lo and Albert Yau. It's fairly small, housed in one of those upstairs Causeway Bay spaces commonly used for independent stores and cafes. The space is effectively managed, split into thirds: one area dedicated to two Virtuix Omni motion-platform machines, another to exclusive machines from China and Japan (including a boxing ring), and the third, an open multiplayer space with green tape marking out floor squares.
"Virtual reality is a trend, and it's a trend that can't be ignored. In nine months of travelling to the US, Japan and other parts of Asia, we found a good selection of titles and machines available," says Yau.
"In Hong Kong, people are adaptable to new concepts, including VR, and they're willing to spend on superior entertainment. That's what we're trying to provide."
I'm immediately thrown in the ring to try the boxing simulator, Knockout League. The HTC Vive headset is strapped on, everything goes black and the darkness is a little disconcerting. Then the ring appears, and if you ever played classic NES game Punch-Out!!, you'll recognise its cartoonlike visuals transported to a 3D setting.
A muscle-bound boxer approaches me. I'm wielding dual VR controllers in each hand, which appear as fists on screen. I'm beating at the air, throwing hard lefts and rights, but his guarded gloves are too much. Then his strategy becomes obvious: I crouch and duck his sluggish blows, before dealing him a quick barrage of jabs and uppercuts.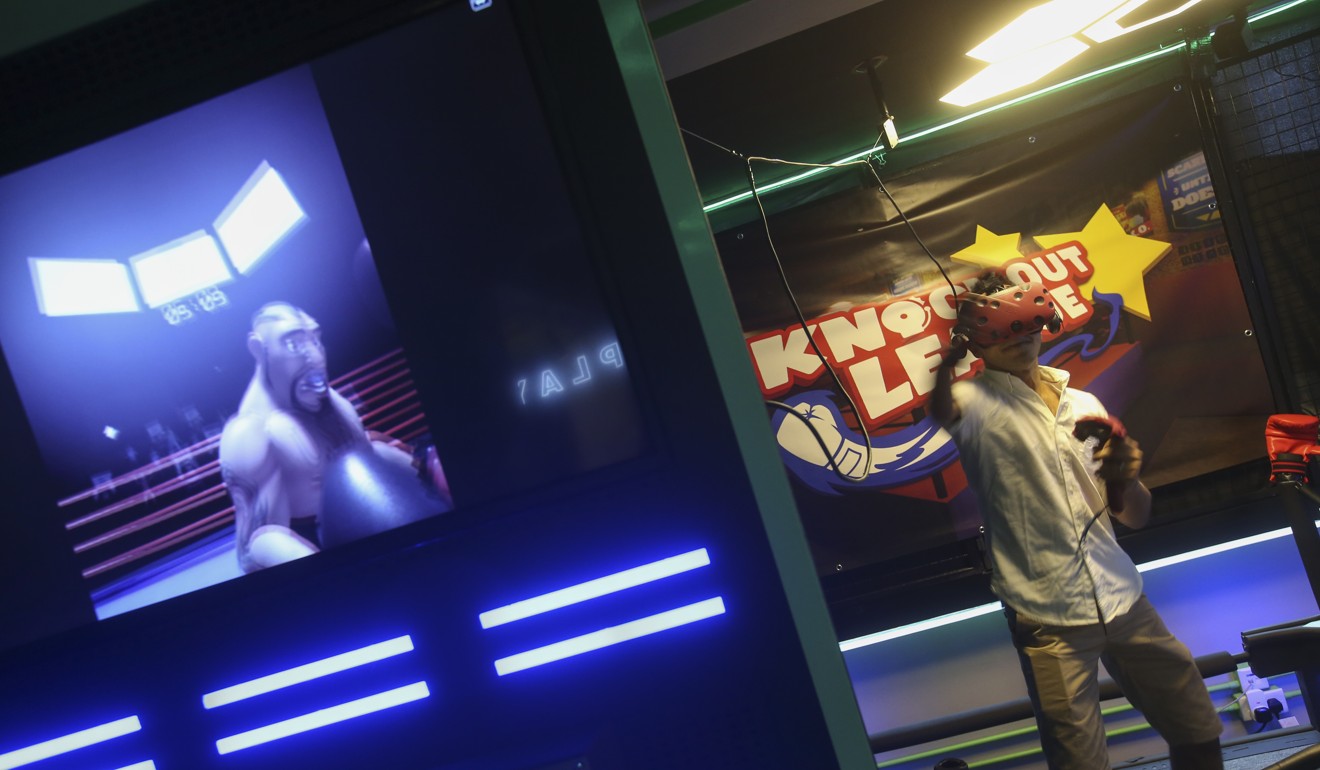 My opponent is soon floored and the Playdium folks are impressed. It's rare for a first-time player to win, they tell me, but I bet they say that to everyone. It's a fun game, but a tiring workout, even with the air-cons blasting at full strength, I'm sweating when I take off the headset.
The Omni machines are up next, the classic doughnut-like device one thinks of when you imagine VR. I've wanted to try one since seeing similar set-ups in 1990s movies such as Hackers and Johnny Mnemonic.
This is a dream come true and I'm giddy as the staff pass me a pair of special rubber shoes to simulate movement on its curved floor. The only single-player game available is an archery game called Bow Master, but I'm not disappointed – in no time at all, I'm loading arrows, hitting circular targets and moving by sliding my rubber boots across its course.
Things get a little tiresome, though: you can only hit so many targets before it starts feeling like a glorified Nintendo Wii game. And just then, I hear my friend Rav arriving. The Playdium crew strap him in and we're set up to play Omni Arena, an intense co-op first-person shooter game, they tell us.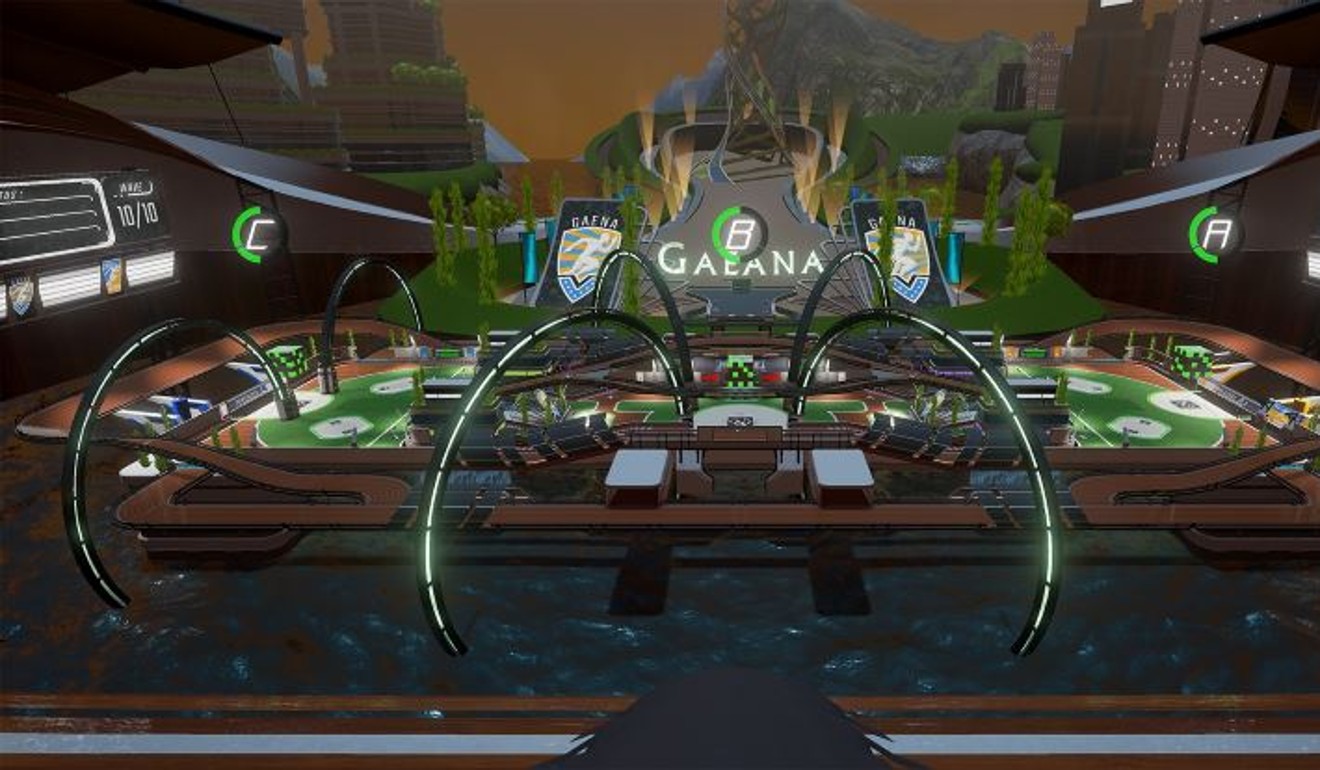 We load in and it feels like something out of
Lawnmower Man
: all jagged graphical edges and bright, trippy environments, with oversized weapons that never need reloading. A swarm of faceless, white-tinged enemies come charging towards us. "Kill the white guys!", Rav shouts, although I'm not sure he's talking about the game.
Over three rounds, we get to grips with the double-team action, strategically blasting bad guys from every corner of its limited map. The game's set-up is simple but surprisingly fun, and no doubt the shared immersion increases the entertainment factor.
I'm starting to feel a little weary and I'm about to call it quits, when they convince us to try one more: Arizona Sunshine is a must, they say. Rav and I head to the open multiplayer area, and along with a couple of staff members, we take the plunge into a four-player virtual world.
Arizona Sunshine is a zombie death match in the desert, and it's unlike anything we've played before. The detail in my field of vision is astounding, with modern console graphics seamlessly transported to a virtual format. I'm constantly bending over to peer at desks, radios, tennis balls, guns – and no doubt looking like a stooping idiot in real life. And once the gameplay starts, it's almost creepily authentic: the zombie hordes – all dishevelled and decomposing – creep up behind us, and we mow them down.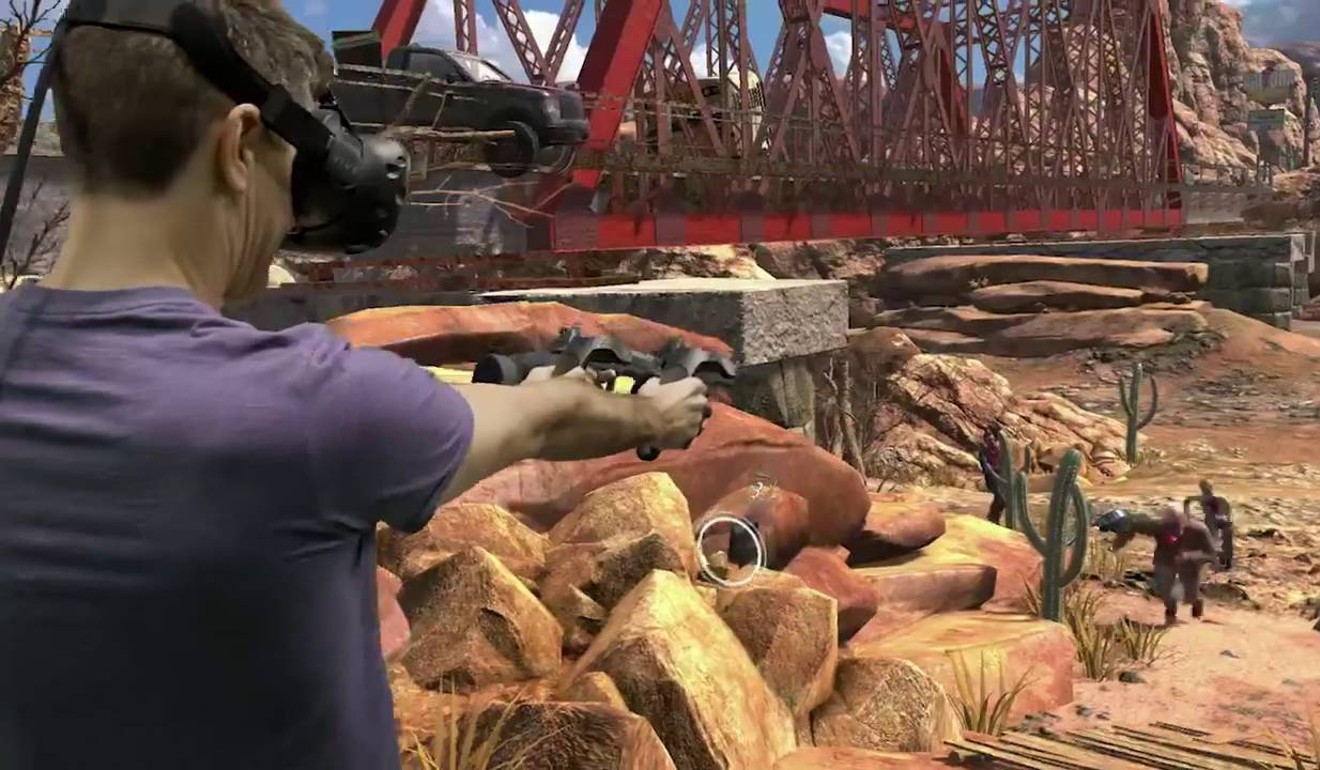 We desperately try to keep them at bay, reaching out for extra ammo and throwing virtual grenades, but eventually their numbers are too much. This is it. This truly feels the first step in VR gaming's future, a fully engaging experience where it's all reality focused and the environments are truly immersive.
Playdium VR didn't disappoint. It's a fully realised virtual gaming arcade with plenty on offer for all manner of player. For hard-core gamers expecting the next step beyond PCs and consoles, it's not quite there yet: this is infant technology. But I can see the endless possibilities of VR, and Playdium is the first step to popular acceptance – not to mention, a lot of fun.
Visit Playdium VR at 1/F, 1 Cannon St, Causeway Bay. Inquiries: 2644 1168
This article appeared in the South China Morning Post print edition as: Punch-ups and zombie hunts: welcome to the city's first VR gaming arcade