Art
Get more with myNEWS
A personalised news feed of stories that matter to you
Learn more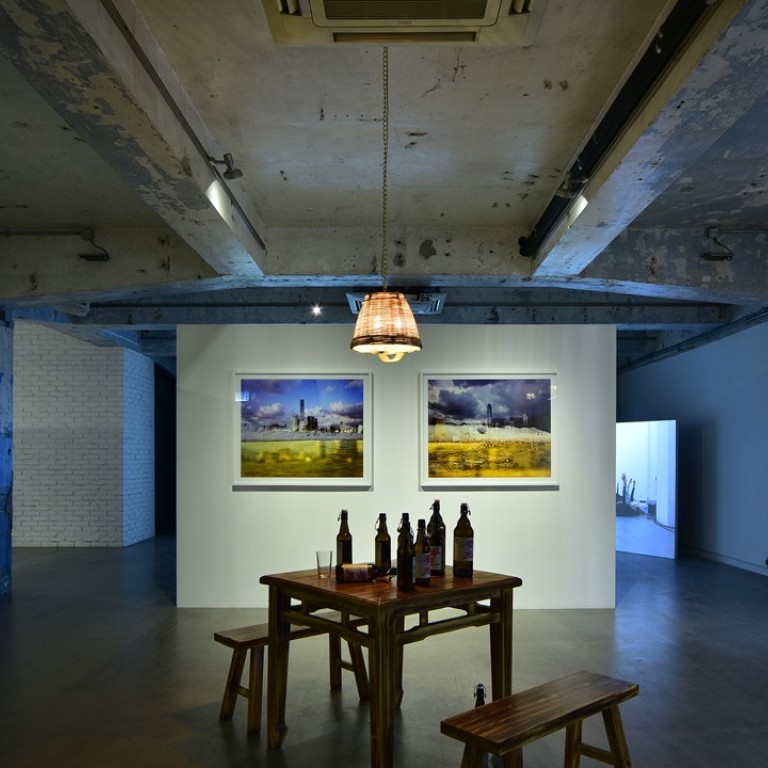 Hong Kong artists reflect on life in the 20 years since Chinese rule over city resumed
Exhibitions at Blindspot and ParaSite galleries by nine artists show a predominantly pessimistic view of Hong Kong since its return to China
In "Tale of the Wonderland" at Blindspot Gallery, Hong Kong artists reflect on the 20 years since the city returned to Chinese rule, an experience the exhibition compares to Alice falling down the rabbit hole.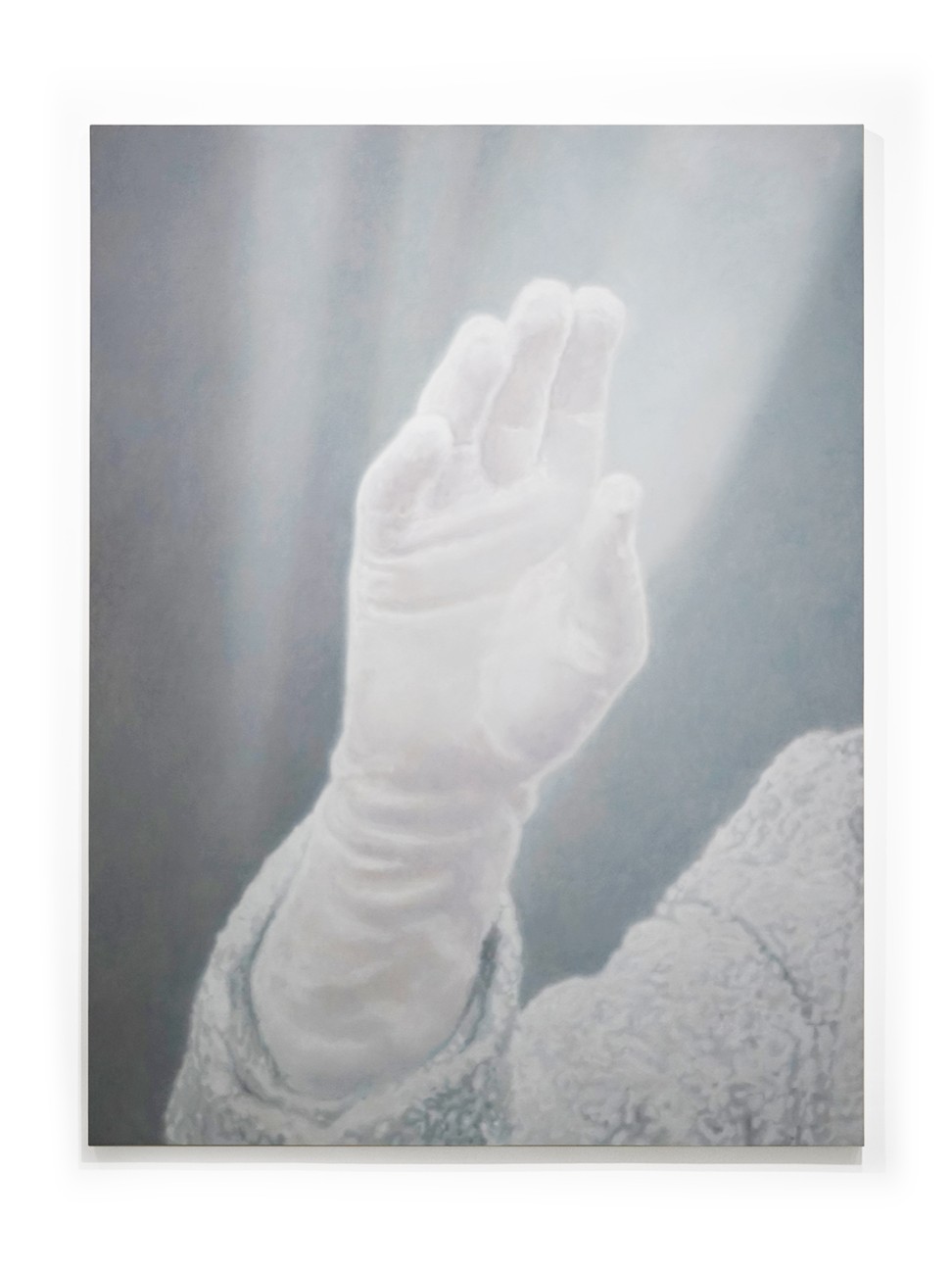 One of the most powerful works in the group show is Sarah Lai's
White Glove
(2017). It is a simple, yet perfect encapsulation of how Hong Kong people feel about a different queen: Britain's Elizabeth II.
The tilt of the waving hand in a white glove immediately brings to mind the queen's standard greeting to the hoi polloi. It is also an ambiguous gesture, either saying hello, or waving goodbye. It seems friendly, but the white glove demands that distance is kept. As Lai explains it, the gloved hand is a symbol of the hypocrisy of colonialism, and her painting a satire of some Hongkongers' idealised nostalgia for British rule.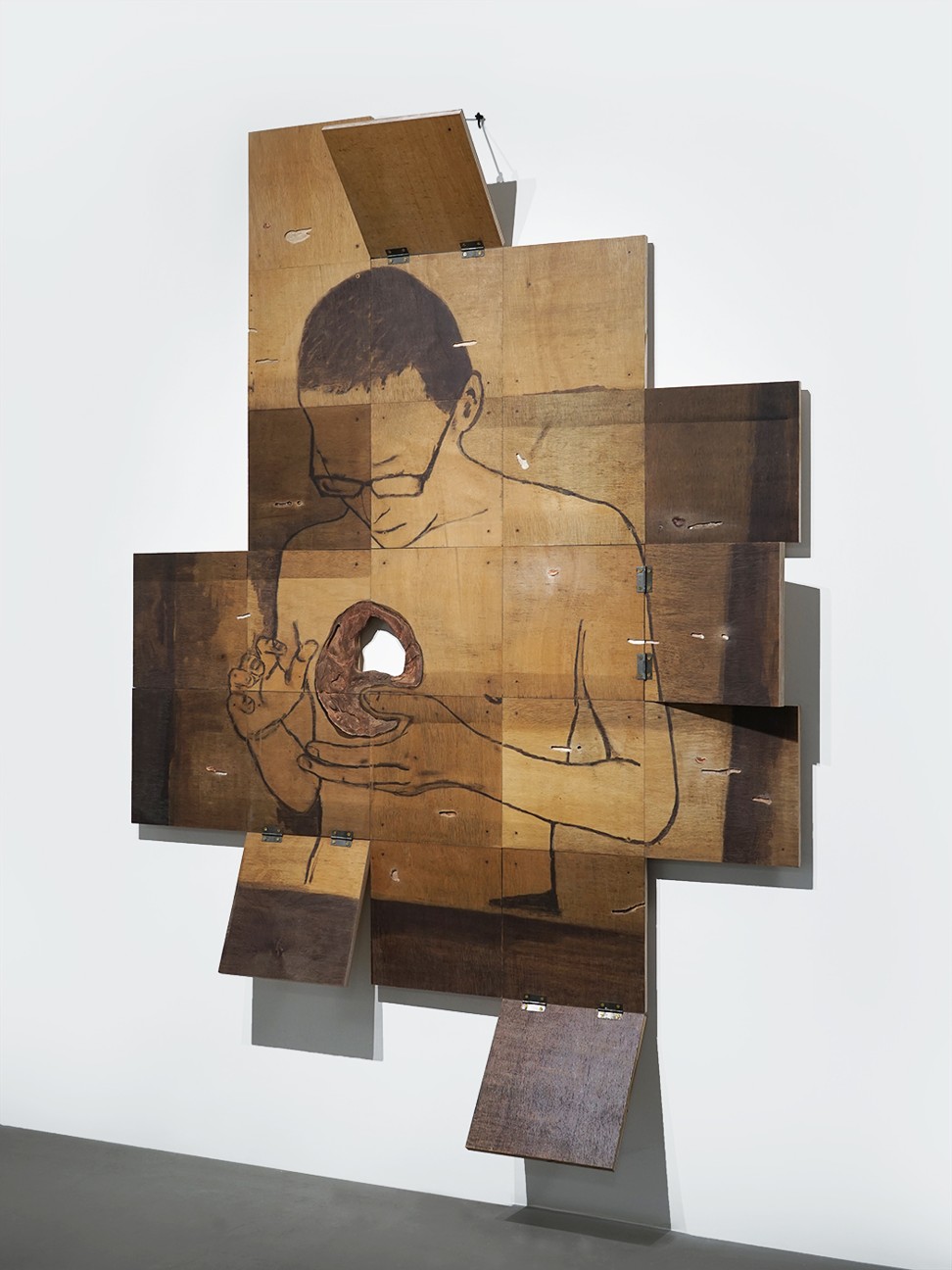 Nearly all of the eight artists represented in the exhibition seem to think Hong Kong's future is none too bright. Lam Tung-pang revisited a self-portrait on wood panels called
Folding
, completed 10 years ago when he was studying in the UK. In the original, he held out his hands as if he was holding something but there was only empty air, a symbol of the uncertainty he felt about being an artist in Britain.
The 2017 version, called Re-Folding, is nearly identical, except he is now holding a big hole in his hands and there are drill marks all over the wooden panels. The holes stand for "the bottomless voids accumulated in a decade of emptiness". Being back in his hometown doesn't take away the sense of uncertainty.
South Ho Siu-nam, a young artist who took haunting black-and-white photos of empty Hong Kong streets during the Occupy Central 2014 protests, takes a more lighthearted approach. A wooden table sits in the middle of the gallery, its two halves joined together, but like Hong Kong and China, not quite in alignment.
It is covered in bottles of beer that Ho and fellow artists are brewing to supplement their income as artists. One kind is called Drunken Life, the other, Dying Dream. Two framed works hang nearby, showing Hong Kong's harbour turned golden and frothy with beer, a city unaware of the terrible hangover that lies ahead.
The most baffling images in the show belong to Tozer Pak Sheung-chuen's Adult Library Series: LXB (2017). The black-and-white prints contain abstract shapes resembling Matisse's paper cuts, realistic but unexplained symbols such as a hot-air balloon, and strange, half-human, half-bird creatures.
This is a continuation of a 2008 series that paid tribute to authors included in New York's public library system, and the LXB here stands for Liu Xiaobo, the Chinese poet, intellectual, Nobel Peace Prize laureate and jailed dissident who died this year without ever regaining his freedom. The images are automatic drawings, Pak says. It is as if he is trying to communicate with the dead.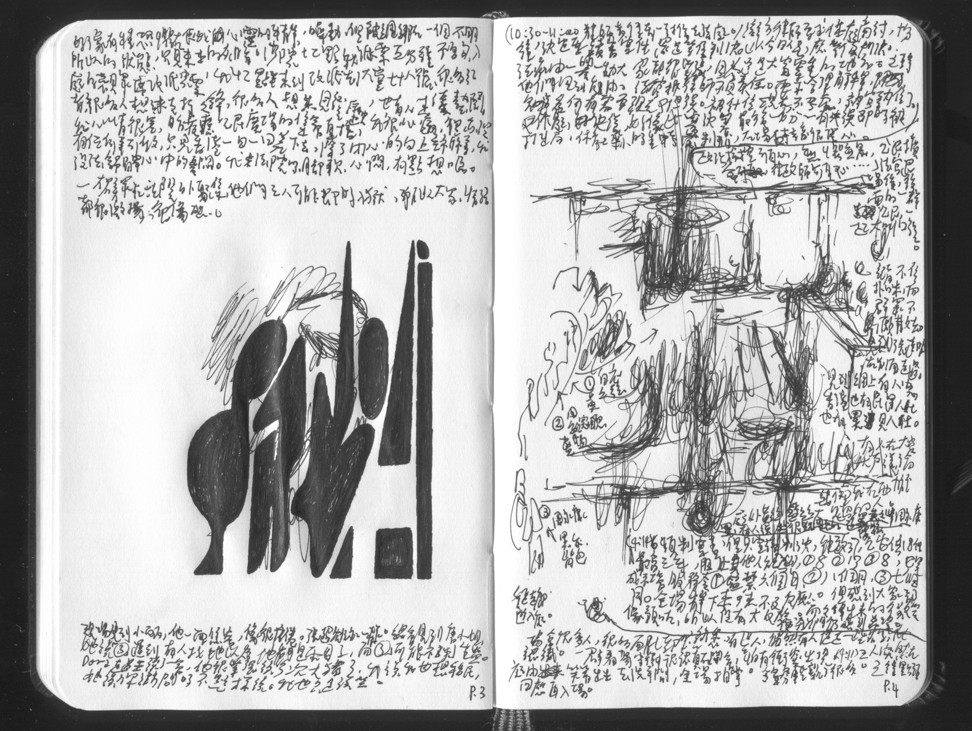 The LXB works are in the same style as those on show in a solo exhibition at Para Site, a troubling demonstration of the deep depression that beset many participants in the umbrella movement after the protests were disbanded without any sign that Hong Kong was closer to their wish for democratic reform.
The Para Site show is centred on sketches he made while attending court hearings of student leaders and those arrested over riots in Hong Kong's Mong Kok district at Lunar New Year in 2016. It was the first thing he did after the euphoria he felt during the 2014 protest turned into a hopelessness that kept him practically bed-bound for six months. He took copious notes of what he saw in court, and made hundreds of automatic drawings that often had religious overtones.
These are symbols that have power, he says, distilled from the many hours of evidence given. He may only just be getting back on his feet, but he has a clear plan of what he needs to do. One day, he is going to project the symbols on to the walls of Pik Uk prison, where Joshua Wong Chi-fung, one of the student leaders during the "umbrella movement" protests, is serving a sentence of six to eight months for storming Hong Kong government headquarters in September 2014.
Tale of the Wonderland
Blindspot Gallery, 15/F Po Chai Industrial Bldg, 28 Wong Chuk Hang Rd, Wong Chuk Hang.
Tues to Sat, 10am-6pm. Ends Nov 11.
Featured artists: Amy Cheung, Isaac Chong Wai, Chow Chun-fai, South Ho Siu-nam, Sarah Lai, Lam Tung-pang, Leung Chi-wo and Pak Sheung-chuen.
Pak Sheung Chuen's solo exhibition is being shown with British artist Chris Evans' works at Para Site. Para Site, 22/F Wing Wah Industrial Bldg, 677 King's Rd, Quarry Bay, Wed-Sun, 12pm-7pm. Ends Dec 3.