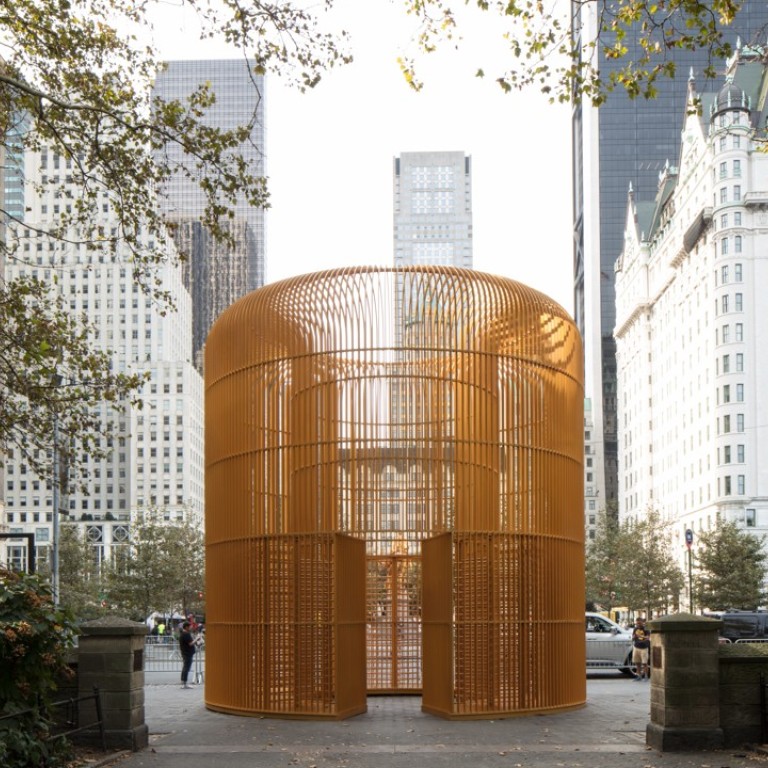 Chinese artist Ai Weiwei on the importance in Trump era of his art inspired by refugee crisis, now on show in streets of New York
Good Fences Make Good Neighbors is made up of 300 works spread across New York's five boroughs, and is anchored by fences and cages at popular monuments
Chinese artist Ai Weiwei has always had big ideas, and now he has
the whole of New York to act as his canvas
. "Good Fences Make Good Neighbors", a sprawling exhibition with 300 works of art organised by New York's Public Art Fund, features three big sculptural installations – including one in the city's historic Washington Square Park – as well as site-specific installations in Lower Manhattan, and artistic interventions in bus shelters in Brooklyn, Harlem and the Bronx.
There are also 200 portrait banners hanging from street lights all over the city featuring images taken while Ai was filming Human Flow, his film about the global refugee crisis. The show runs citywide until February 11.
"The title of the exhibition is a line from a Robert Frost poem," says Ai, referring to the American poet's 1914 poem Mending Wall. "It's fitting for my topic, as it talks about fences and neighbours, something that is important to consider in these times when President Trump wants to build a fence, and calls those on the other side of the fence criminals. It's amazing that a major power in the world could have this opinion – I couldn't believe my ears when I heard it."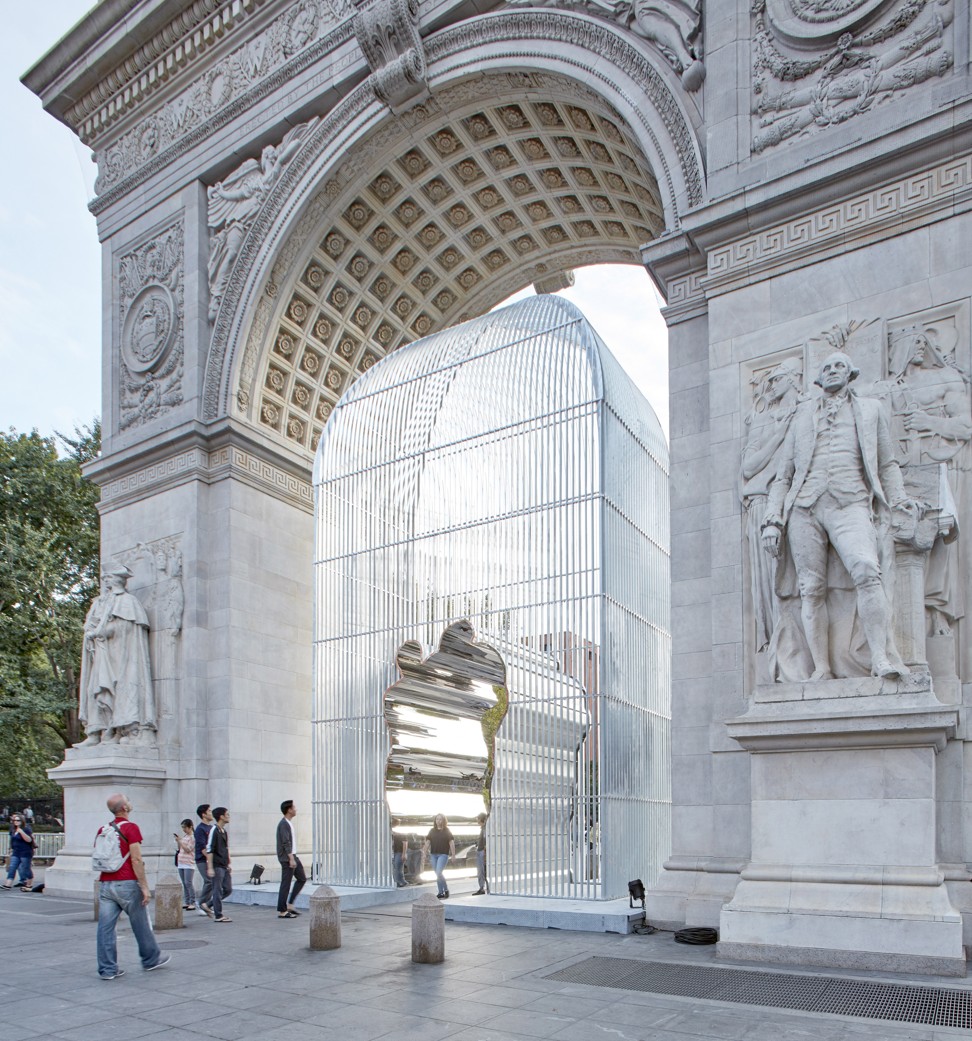 Ai's three large sculptures involve fences and gates which align with New York landmarks to emphasise the idea of freedoms becoming limited and borders closing. The sculpture in Washington Square Park, a popular meeting place for New Yorkers, closes off the historic 1892 arch with a fence, but allows the public access through a human-shaped gateway.
A circular fencewraps around the Unisphere in Flushing, a monument representing openness and internationalism that was conceived for the 1964 World's Fair. Gilded Cage, in the Doris C. Freedman Plaza on the southeast border of Central Park, is a giant cage designed as a contrast to the open nature of the park.
"The Public Art Fund commissioned the exhibition as a very special project for its 40th anniversary," says Nicholas Baume, the fund's director and chief curator. "We were looking for an artist who is deeply engaged in the public sphere, who has the ability to make a major impact in the art world and well beyond it. We also wanted someone who could create the quintessential public art project, something that could never work in a museum or gallery setting. Ai Weiwei is an artist who clearly works in that way, one who is very interested in participating in civic dialogue.
"Ai was very interested in taking this opportunity to take use of the city itself; to create something that is woven into the fabric of it, and responds to monuments, the architecture, and the transportation – to all of the things that make the city the way it is," says Baume, who first contacted the artist about a public exhibition in New York in 2008.
"He also sees New York as a place which embodies the ideal of a democratic space as it has a grid-like layout," Baume says, referring to the city's relatively evenly spaced, numerical street layout.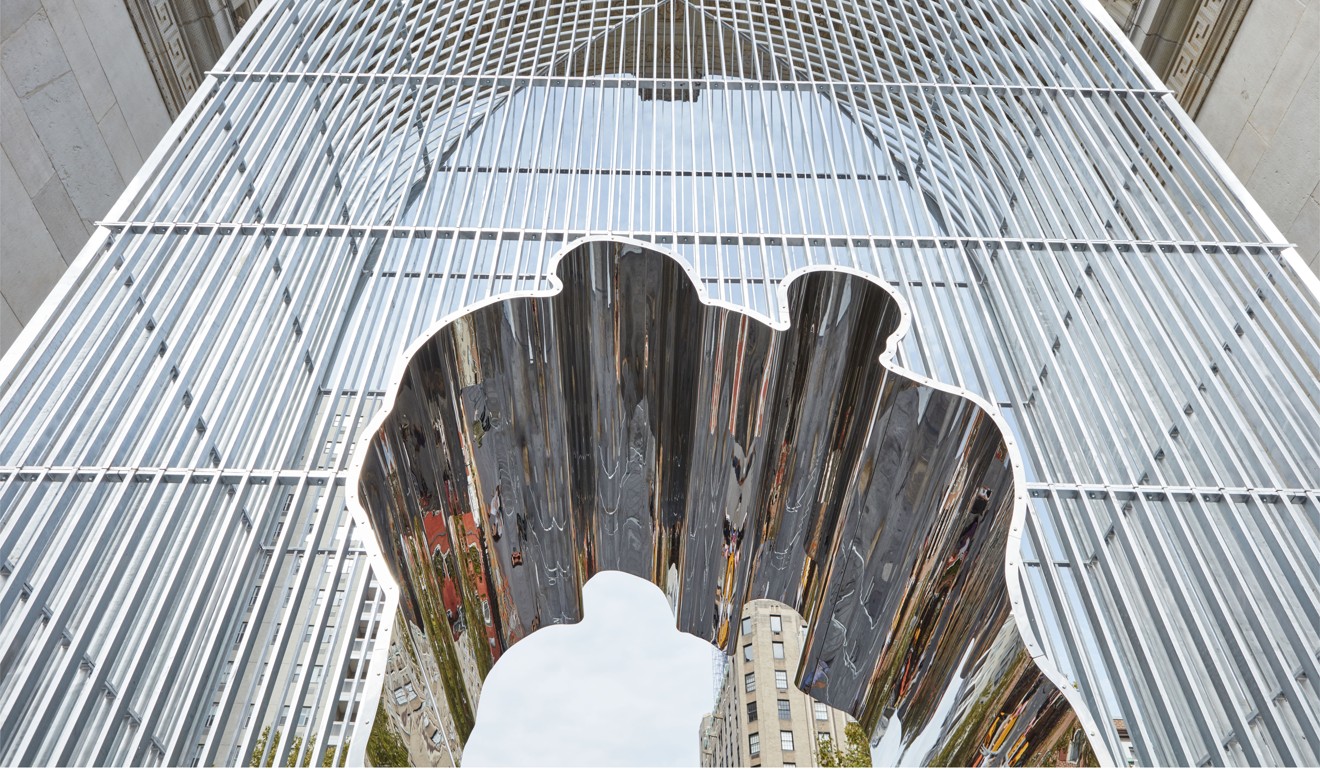 The exhibition is an extension of Ai's concerns about freedom, democracy, and human rights with specific reference to the global refugee crisis.
Ai visited refugees in Syria and elsewhere for his film Human Flow. Concerns stemming from his investigations gave him the idea for the exhibition's theme.
"Human rights and freedom of speech have been a core theme of all my works, and that is still true of this exhibition," he says. "My works are defined by the way they all address the value of human freedom. An individual who stands on this planet, uses his mind, and takes action, can build up communication with others to make change," Ai says.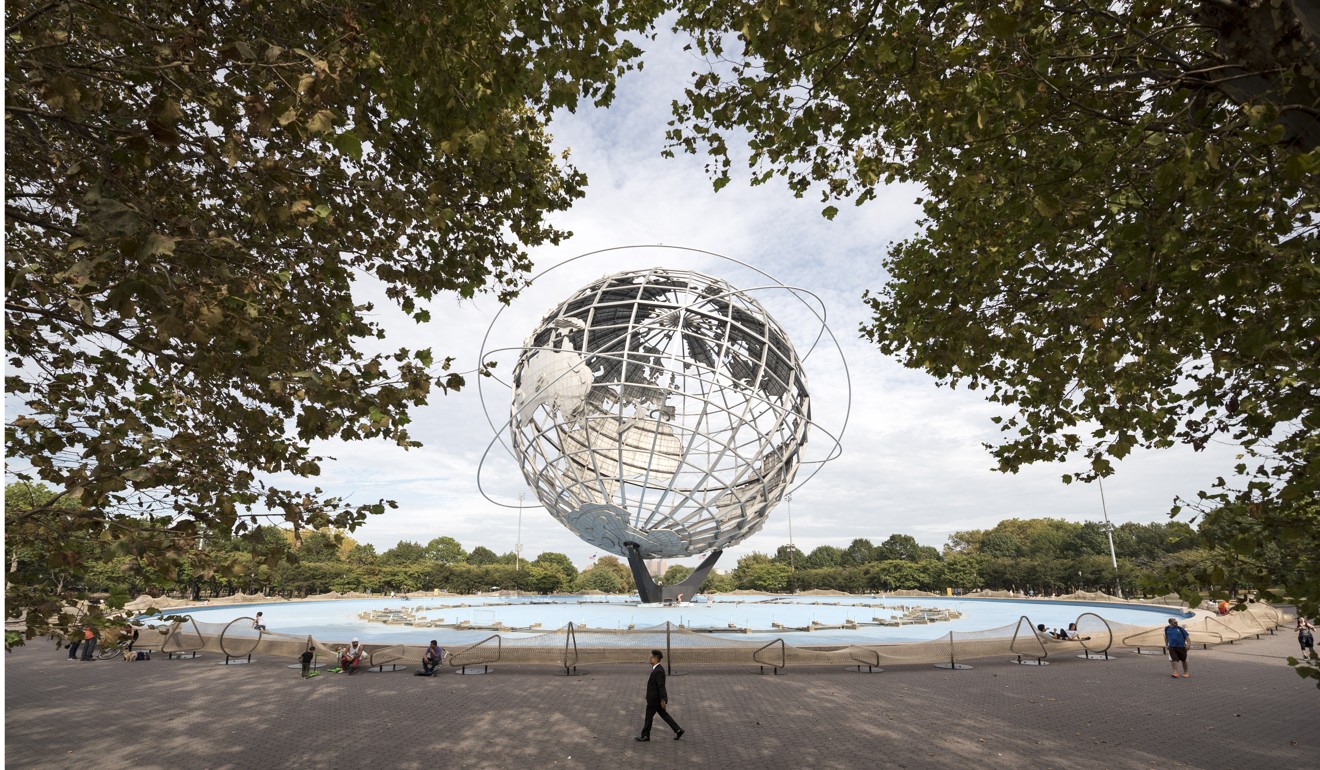 Baume notes that the show does reference Trump's controversial idea of a wall between the US and Mexico, but was not specifically inspired by it.
"The fence reference came about from Ai's engagement with the refugee crisis, the rise of fortified borders around the world since 9/11, and the rise of nationalism, of isolationism, of anti-immigrant feelings," Baume says. "Ai wanted to take the motif of the fence and elaborate on that through a series of different forms that breathe a narrative into this idea."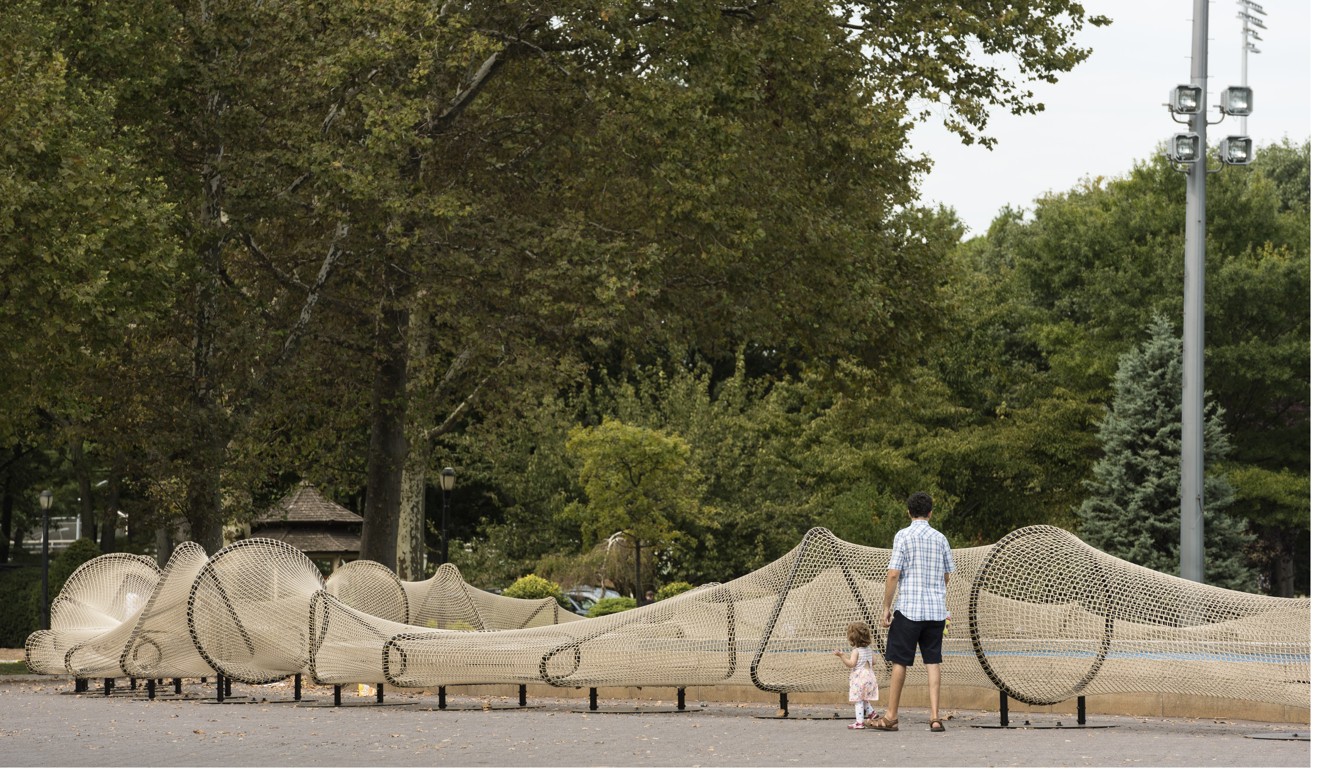 Ai lived in New York during the 1980s and as a result there's an autobiographical side to the exhibition. An installation at 48 East 7th Street marks a basement flat where he once lived. Washington Square was also important to Ai, Baume says. "He saw Washington Square as a quintessential New York place. It had student activists, diversity, and protests. It was grittier back then, too, with drug dealers.
"Think of the effect this would have on a young artist coming here from China, where you weren't even allowed to express your opinions freely. But it also showed him how tough this city is, and how tough capitalism is. It was a rich and influential time for him here," Baume says.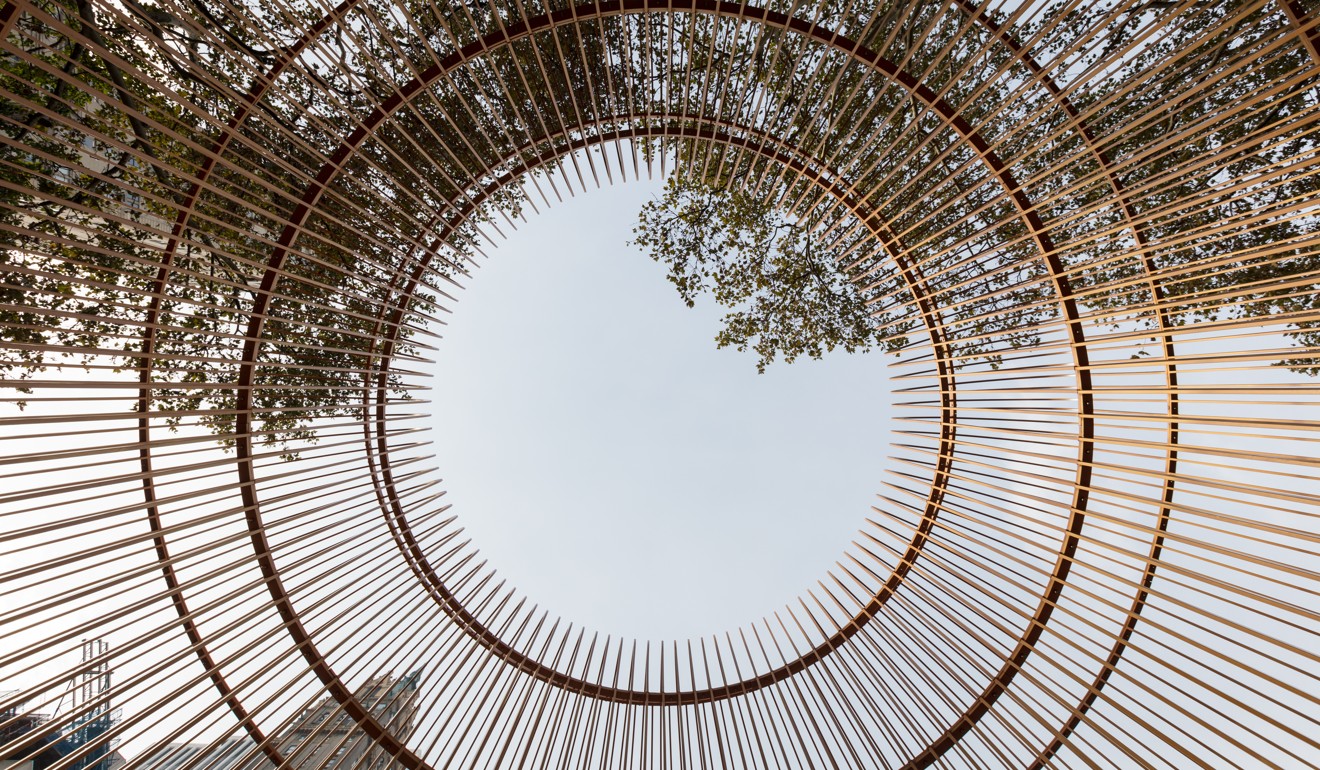 he scale of the exhibition, and the size of some of the exhibits, has a metaphysical connotation for Ai. "Scale is important, because we usually perceive things from the perspective of our size as humans," Ai says. "If you can only see for one or two kilometres, you can't really see anything. A human makes a very small imprint on the universe, and even a place like New York City does not look like much from high above.
"Individuals are really only able to make small gestures, and we should use such efforts to value life. That is the human thing to do. From continent to continent, we are all connected by human values, human freedom, and a consciousness of the value of life."
This article appeared in the South China Morning Post print edition as: Ai's monumental tribute to migrant capital of the world