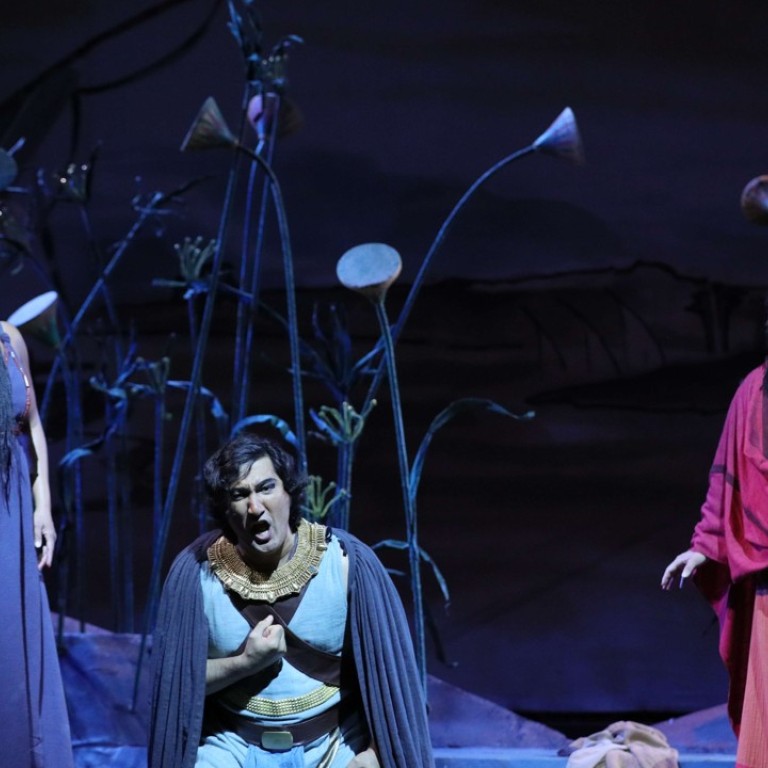 Review: Hong Kong Opera's Aida – superb singing from stellar cast and chorus in sophisticated production
Singing against a backdrop of stills from making of Cecil B. DeMille's The Ten Commandments, a comment on the artificiality of opera, Kristin Lewis was impassioned in title role and Najmiddin Mavlyanov's Rameses Pavarotti-like
Aida is one of Verdi's best-loved and grandest operas and this new production is far stronger than Opera Hong Kong's last one in 2007, sophisticated in its conception and boasting an outstanding international cast.
Originally produced to open the Khedive of Egypt's opera house in 1871, Aida combines epic spectacle set in ancient Egypt with a profound, timeless theme – the conflict between love and duty. These two sides to the opera can be hard to reconcile, and this new co-production with Shanghai Opera House pulls it off through a highly original idea: the opera is presented as the making of an epic film in the 1950s.
The scene is set by a giant image projected on the curtain showing Yul Brynner and Anne Baxter in Pharaonic costume chatting to director Cecil B. DeMille during the filming of The Ten Commandments. The performance takes place with director, cameraman and crew in the background or watching the rushes; between takes, as it were, the singers chat to each other or have their make-up and wardrobe touched up.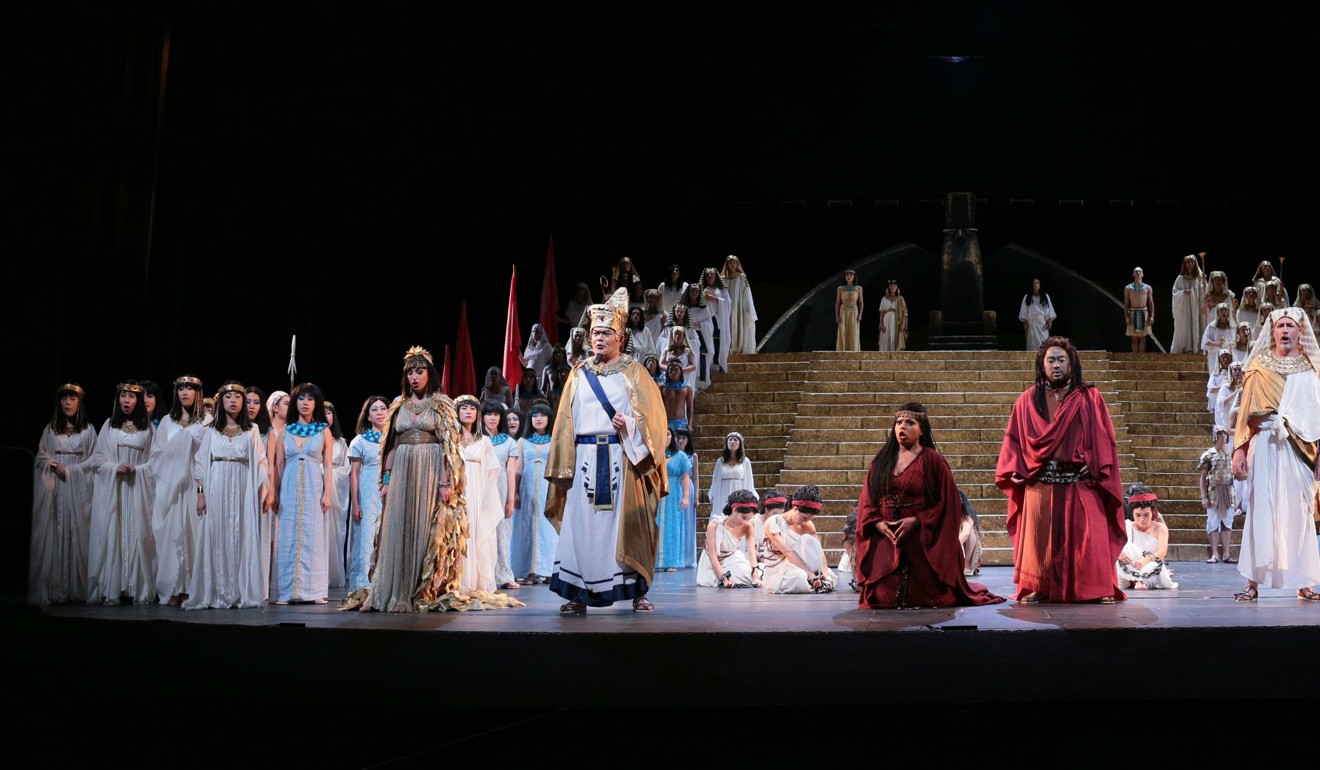 The concept could easily become intrusive but director Jean-Louis Grinda does a skilful job of ensuring that this clever commentary on the artificiality of opera as art form does not interfere with the authentic emotional power it generates. The designs are as sophisticated as the direction. Nicola Antonia Schimid's stunning revolving set moves smoothly between temple, palace and tomb; Françoise Raybaud's stylish costumes evoke ancient Egypt and 1950s Hollywood with equal effectiveness.
In the end, of course, Aida is all about the singers, and Opera Hong Kong pulled out the stops with several stellar castings.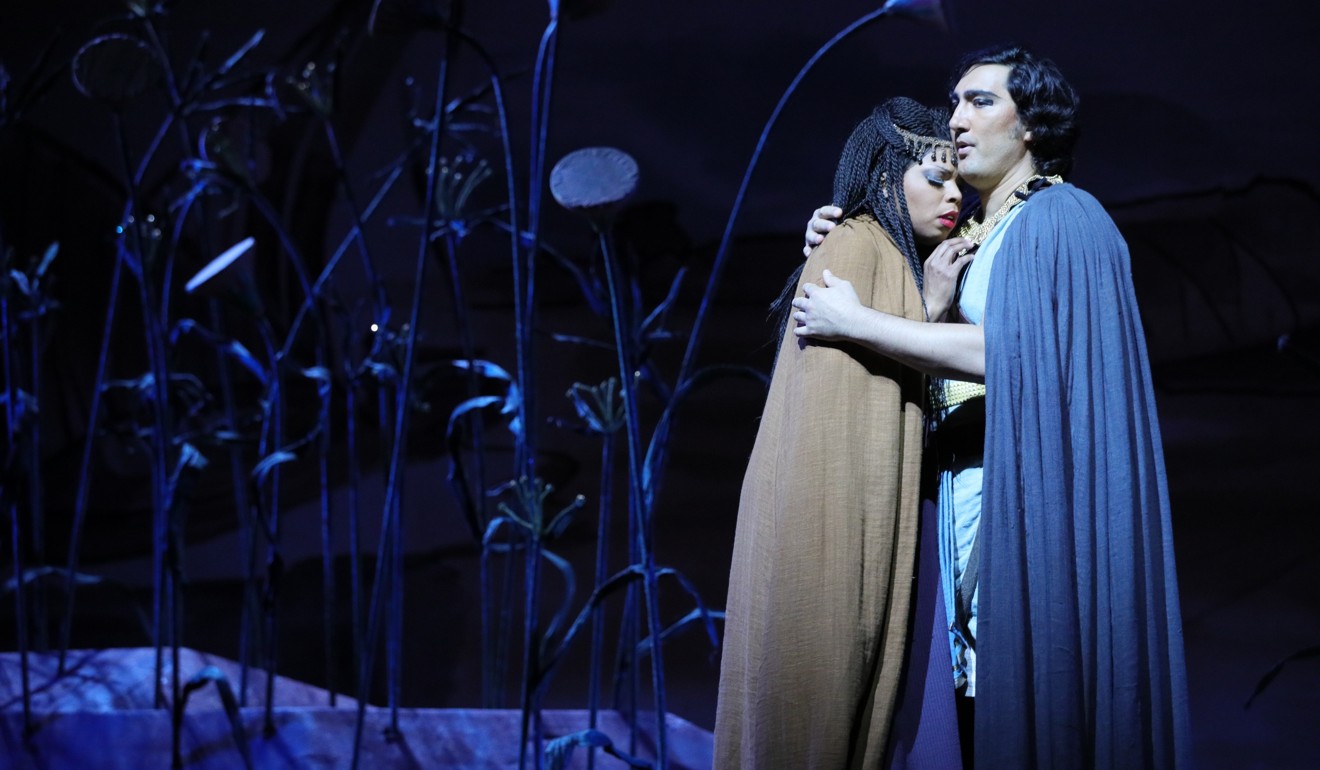 The performance I saw was led by Kristin Lewis, one of America's leading young sopranos, who gave an impassioned performance in the title role and made the heroine's terrible choice – to betray either her father and her country, or the man she loves – genuinely moving. While her voice shines in the upper register, the lower is less audible and there are a few oddities of pronunciation – the "rs" in particular are over-rolled – but these are minor quibbles and there is no doubt Lewis is a world-class talent to watch for the future.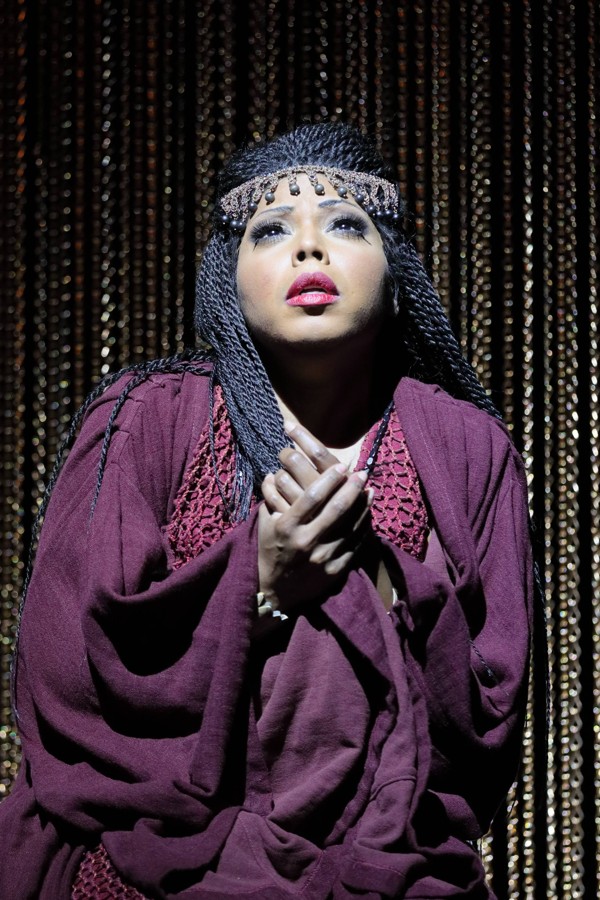 Her Radames was another rising star, Uzbek tenor Najmiddin Mavlyanov, whose magnificent old-school singing in the Pavarotti mould, powerful, perfectly pitched and passionate, was ideal for the role and made it easy to see why he's been singing leads at Covent Garden and the Bolshoi. The opera's ill-fated love triangle was completed by a sultry, thrillingly sung and splendidly acted Amneris from Nino Surguladze.
There was more outstanding singing and acting from Paul Gay as the implacable High Priest Ramfis and a vivid portrayal of Amonasro from Sun Li, visibly forcing himself to sacrifice his daughter's happiness to save his country.
Conductor Xu Zhong drew a fine account of the score from the Shanghai Opera House Orchestra and Suzhou Symphony Orchestra.
The Opera Hong Kong Chorus, under the direction of Alex Tam, were especially impressive – for what is in effect an amateur group to produce such a high standard of singing in some of opera's most celebrated choruses is truly admirable.
Aida, Opera Hong Kong, Hong Kong Cultural Centre Grand Theatre. Reviewed: October 11