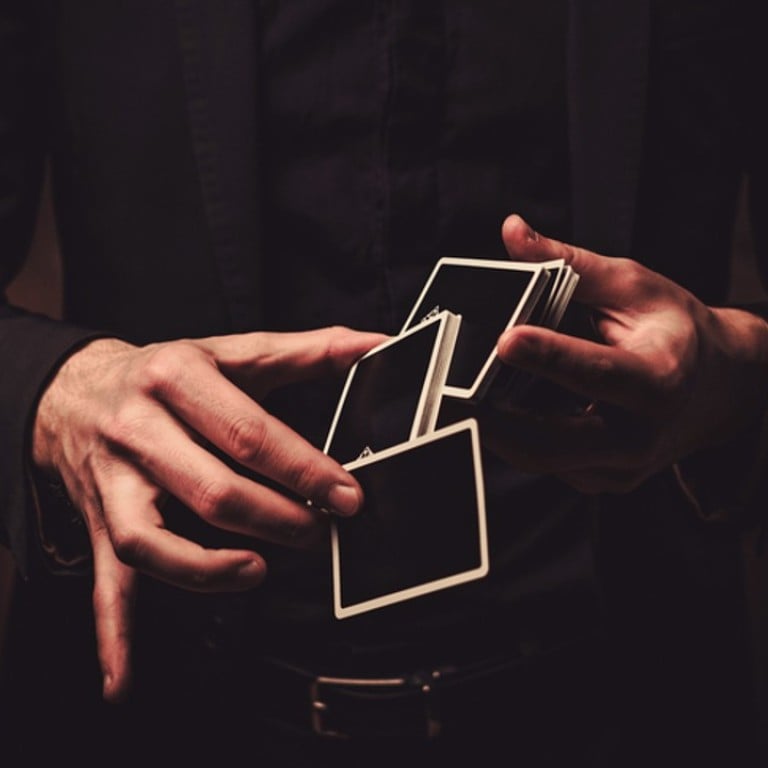 How six of Asia's leading magicians play tricks on your eyes – and mind
Hong Kong illusionist Jeff Teo, Princess Tenko from Japan and Taiwan's Will Tsai are among the stand-outs of Magic Week who will have you fooled with their mastery of the mystical arts
Magic Week is upon us and, appropriately, the period devoted to the world of illusion ends on October 31. That's also Halloween, which doubles as the day master magician Harry Houdini died.
In honour of this week devoted to the mystical arts, here's a parade of some of Asia's most remarkable modern conjurors. The emphasis is on sparkle – celebrity stardust with an East-meets-West tint.
Jeff Teo (Hong Kong)
Jeff Teo is trumpeted as Hong Kong's most sought-after corporate entertainer – a firm fixture at bashes by Fortune 500 firms and celebrity parties across Asia since 2006. Inclined to mix magic with mind-reading, Teo is a practitioner of "strolling magic" marked by sleight of hand, even apparent miracles.
The so-called "celebrities' illusionist" is equally at home on cruise ships and in clubs. "His unique style is a breath of fresh air in an easily cliché industry," his LinkedIn profile says. Still, Teo has a bachelor's degree in mass communication so there is method to his magic.
Will Tsai (Taiwan)
In some footage of the previously homeless Will Tsai, the Taiwan-born magician comes across as shy and retiring. However, Tsai has since cultivated a dramatic gothic persona that smacks of Hogwarts.
His life has been dramatic, too. While working in Brazil, Tsai contracted a potentially lethal lung infection but defied the odds and staged a miraculous comeback. Tsai then devoted his life to pushing the boundaries of conjuring.
The Taiwanese-Canadian close-up magic exponent delighted the judges on season 12 of America's Got Talent. Judge Simon Cowell said: "This is the best magic I have ever, ever seen on the show." Tsai ended up with four gigantic yeses.
Yu Ho-jin (South Korea)
Born in Seoul, master illusionist Yu Ho-jin now lives in New York. Despite his fame, suave looks and reputation as a prodigy, Yu remains grounded. He always carries a deck of cards so he can perform for punters when randomly broke and lost on the streets.
The Korean began performing magic at age nine and entered the limelight as a card magician in 2012 when he became the first Asian to win the Federation Internationale des Sociétés Magiques (FISM) World Championships of Magic – the Olympic Games for magicians. Like Tsai, Yu has also wowed the judges on America's Got Talent. In the featured footage, Yu cheekily uses the judges' pictures as props and wins a standing ovation.
Princess Tenko (Japan)
In this male-dominated business, Princess Tenko is the foremost female performer. The former pop singer, whose real name is Mariko Itakura, is partial to sword tricks and illusions involving flying objects. Her love of magic extends to animation. Each episode of her 1995-96 cartoon series, Tenko and the Guardians of the Magic, ended with the real-life Princess Tenko performing an illusion or explaining a magic trick.
Her career in the arcane arts has been marked by some epic incidents. In 1998, she visited North Korea to attend a friendship festival in the capital, Pyongyang. Consequently, Princess Tenko met former North Korean leader Kim Jong-il. In 2011, she was invited to attend the Dear Leader's funeral, but declined. Four years earlier, the adventurer was injured during an illusion involving a sword. Despite intense pain, in time the show went on.
Ning Cai (Singapore)
Previously known as "Magic Babe Ning", Ning Cai is a Singaporean magician with a wild past. Ning has been dubbed "the sexiest woman in magic" by the British magic magazine MagicSeen. These days she calls herself Mind Magic Mistress, and her routine is more sophisticated. MMM goes in for "mentalism": the belief that life and magic are a mind game. Like Teo, she has a degree in mass communications.
The Singaporean with a wild streak has done some extreme escape stunts. In 2012, she and her then stage partner set a world record by being the first illusionists to capture the thoughts of 100 random people in under an hour. Mentalism indeed.
J.C. Sum (Singapore)
Ning's former stage partner, J.C. Sum, paints himself as a global presence. The self-styled headline entertainer claims to have performed more than 3,500 shows in 34 countries on four continents.
But what makes Sum unusual is his hi-tech take on magic. Just look at his disruptive iPad digital magic show, iFrame. The boundary-busting act mixes smartphones, iPads and other digital devices with optical illusions.
Another of his unique specialisms is "mega-stunts": epic illusions and mind games including a national lottery prediction. Sum's outward ability to predict the lotto may be the handiest super-power possessed by any Asian magician. Just like Houdini, the coiffed Singaporean also does death-defying escapes in the air, underwater or wherever he pleases.