Art
Get more with myNEWS
A personalised news feed of stories that matter to you
Learn more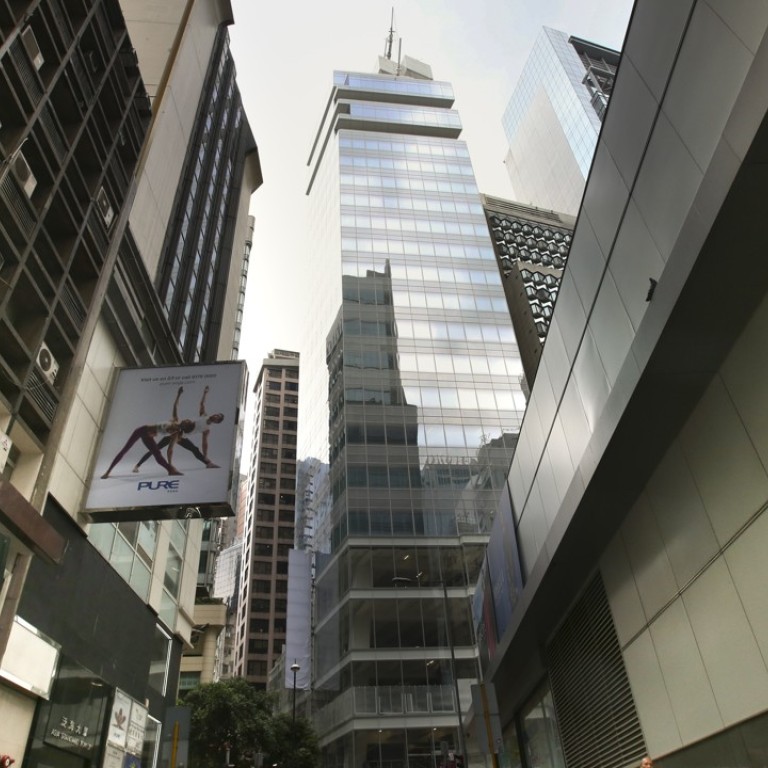 Hong Kong bureaucrats throttle innovation at birth (again), foiling use of hoist for big artworks at new H Queen's tower for galleries
Tower's first tenants, Tang Contemporary Art, forced to split main artwork into pieces and fit them into passenger lift after being told of lengthy approval process needed before using rooftop lifting system
There were two reasons the opening of Tang Contemporary Art at H Queen's last Thursday was keenly anticipated.
First, there is the art.
Husband and wife artists Huang Yongping and Shen Yuan have provocatively called their first joint exhibition in Hong Kong "Hong Kong Foot" (slang for athlete's foot), a symbol of how the city has the power to afflict anyone who comes here with Hong Kong characteristics.
Huang, whose Theater of the World (1993) is the titular piece of a controversial exhibition currently showing at New York's Solomon R. Guggenheim Museum (full title: Art and China after 1989: Theater of the World), has made three new works about Hong Kong for Tang Contemporary Art's new space. These are on show with a large installation by Yuan inspired by the 2014 Occupy Central protest.
Then there is the location. The gallery, founded by Chinese art dealer Zheng Lin in 1997, is the first to move into H Queen's, Hong Kong's first made-for-galleries commercial building. Its opening gave everyone a chance to finally see what all the fuss is about.
The new property on Queen's Road Central – built by Henderson Land Development – wants to tap into art dealers' demand for high-ceilinged exhibition spaces with a large floor area. Its positioning seems to have paid off so far. Other tenants will include David Zwirner, Hauser & Wirth and Seoul Auction, which have all credited the William Lim-designed building for their decision to open permanent spaces in Hong Kong.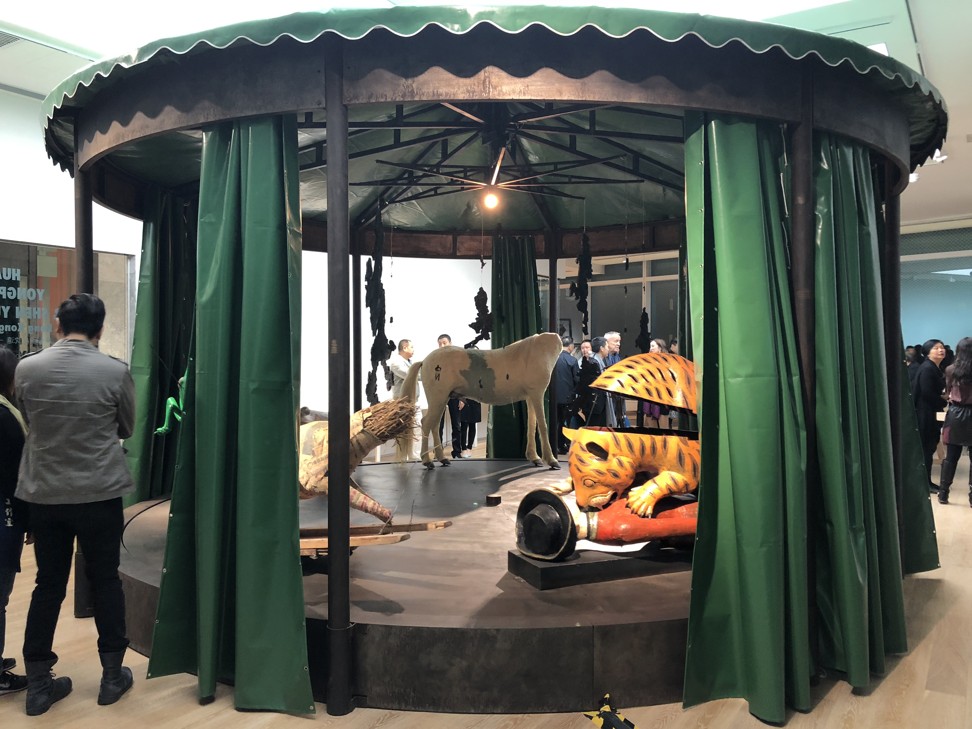 Each floor boasts a 4.65m-high ceiling, 4,000 to 5,000 sq ft of gross floor area, and a heavy load-bearing floor that can support large pieces of artwork. The building is served by a glass shuttle lift that allows visitors to see into all the galleries as they travel up and down the first 10 floors.
It also has a rooftop gondola system that can lift objects up from the ground and deliver them through a 3.65m x 4.65m sliding window on each gallery level. This, in theory, facilitates the moving of large artworks and has dispensed with the need for the building to have a large cargo lift that would take up precious space.
However, galleries have to reckon with Hong Kong's notorious bureaucracy before they can use the gondola, as Tang Contemporary Art found out to its cost.
When gallery director Vivian Har asked building management if they could use the hoisting device for Huang's main piece – a 3.7m-tall merry-go-round with a diameter of 5.6m – she was told to first get approval from several government departments separately and notify minibus operators of possible road closure.
"That would have taken weeks, if not months," Har said. "So we had to dismantle the work into small sections and tried to fit them into the lift. That's when we discovered that the lift's specification did not mention that there is a door handle that stuck out and was in the way. So we ended up cutting a chunk out of the base of the merry-go-round and got a welder to fuse it back together. It was a major production."
Henderson Land and Lim have yet to respond to questions regarding this.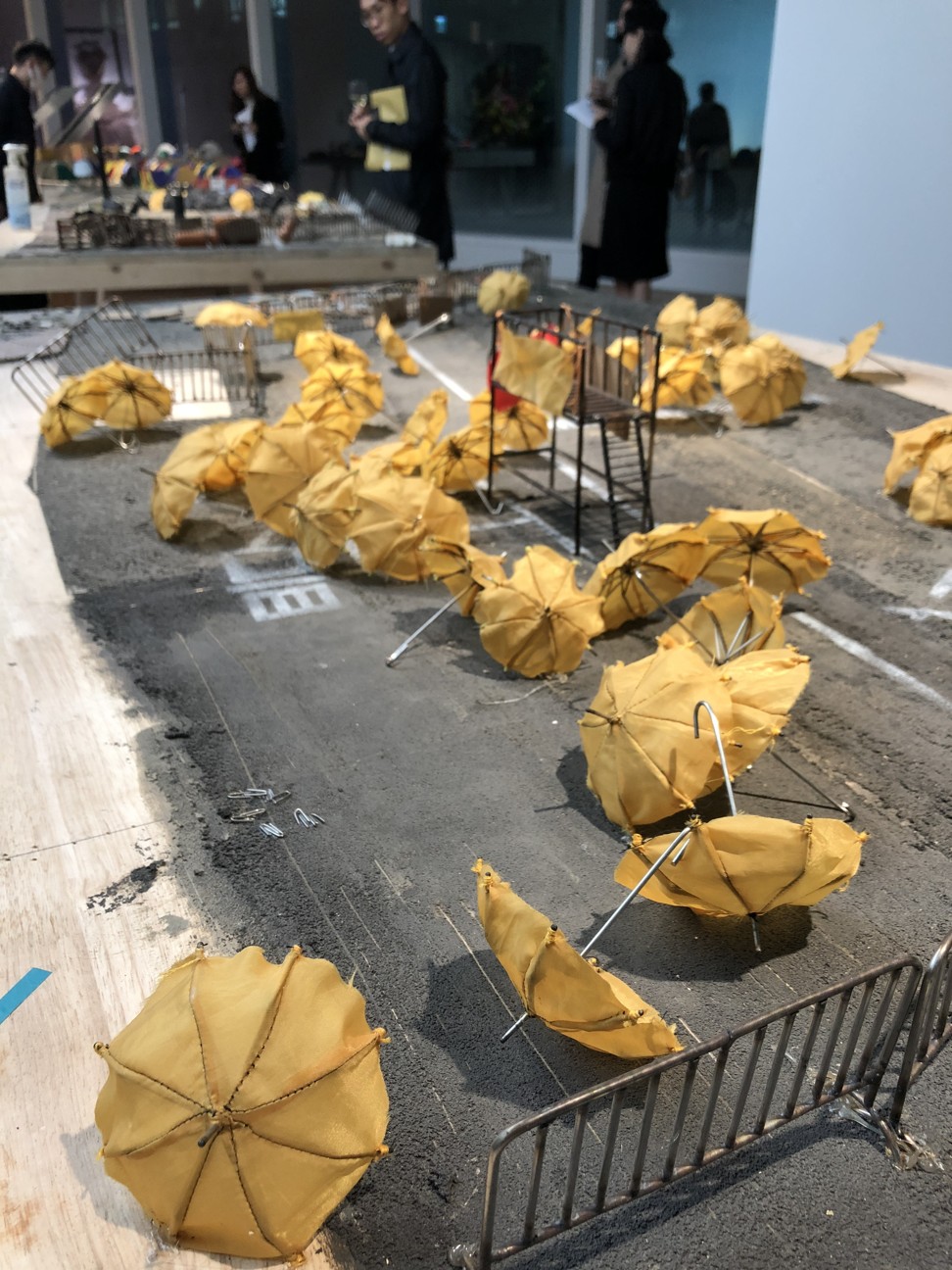 Visitors to the 10th-floor gallery will not see traces of the behind-the-scenes drama. Huang's rotating merry-go-round, Les Consoles de Jeu Souveraines (2017), has been successfully installed near the entrance and is a big, bold comment about the current state of Hong Kong.
Instead of horses, the rides on the merry-go-round are symbols of imperial power and Hong Kong's post-colonial conflicts. One is a model of a wooden tiger mauling a European man lying on the ground – a very good copy of the 18th-century mechanical toy made for the Tipu Sultan, the then ruler of the Kingdom of Mysore in India, now in the Victoria and Albert Museum in London.
There is also a giant green locust, the derogatory term used by Hongkongers for mainland Chinese tourists; a model of an aircraft carrier, which will remind Hongkongers of the recent visit by the Liaoning, China's first aircraft carrier, in a show of the country's military might; and a wind-up toy in the shape of a frog, which may well allude to how we are all the playthings of larger historical movements set in motion generations ago.
Huang's Wax Seal (2017), a long scroll with sketches of the figures on the merry-go-round, make the historical context explicit, as it references the 1814-15 Congress of Vienna and the 1842 Treaty of Nanking that ceded Hong Kong to Britain.
Shen's Yellow Umbrella/Parasol (2017) is spread over four tables and made up of miniature barricades, tents, makeshift furniture and yellow umbrellas – the symbol of Hong Kong's protest for universal suffrage. The artist said she wasn't in Hong Kong during Occupy Central, but was able to glean from the press – and a visit to the public space below the HSBC headquarters on a Sunday, when it is packed out with domestic helpers – what the mass sit-in would have looked like.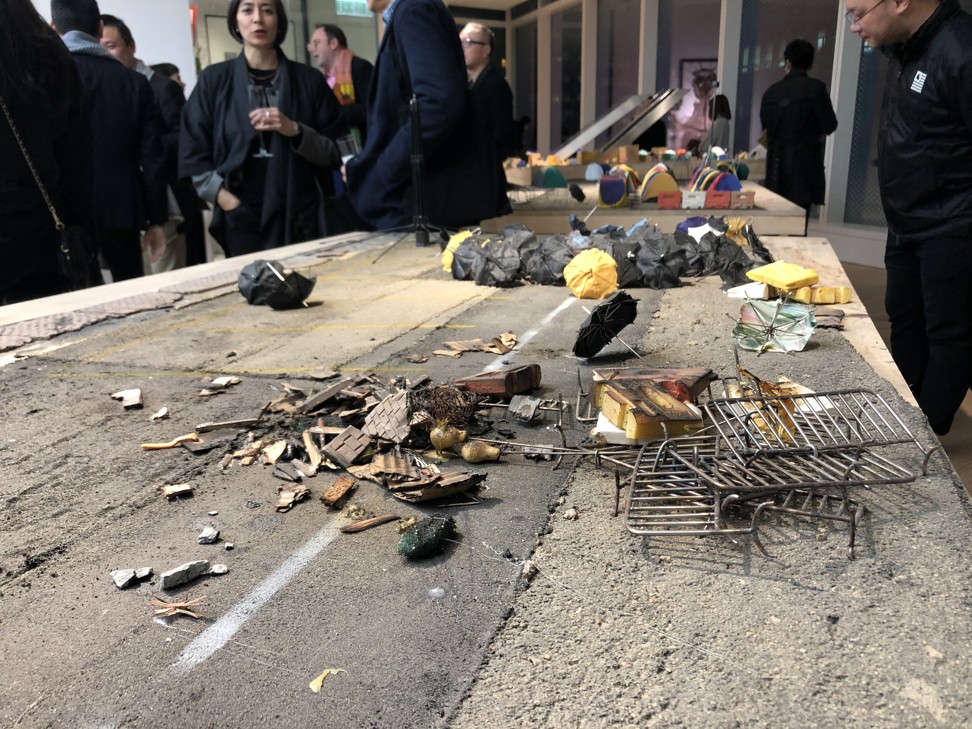 Another work by Huang, H.K./La Peau de Chagrin (2017), is based on a story by French novelist Honoré de Balzac about the destructiveness of desires.
"Hong Kong Foot" is an impressive debut for Tang Contemporary Art's new home and gives us a taste of the scale of artwork that we can expect to see in the new building – especially when someone manages to give the gondola a go.
Hong Kong Foot: Huang Yongping and Shen Yuan, Tang Contemporary Art Hong Kong, 10/F, H Queen's, 80 Queens Road Central, Tue-Sat except public holidays, 11am-7pm. Until Jan 27, 2018.
This article appeared in the South China Morning Post print edition as: Bureaucracy puts foot into H Queen's art show