Art
Get more with myNEWS
A personalised news feed of stories that matter to you
Learn more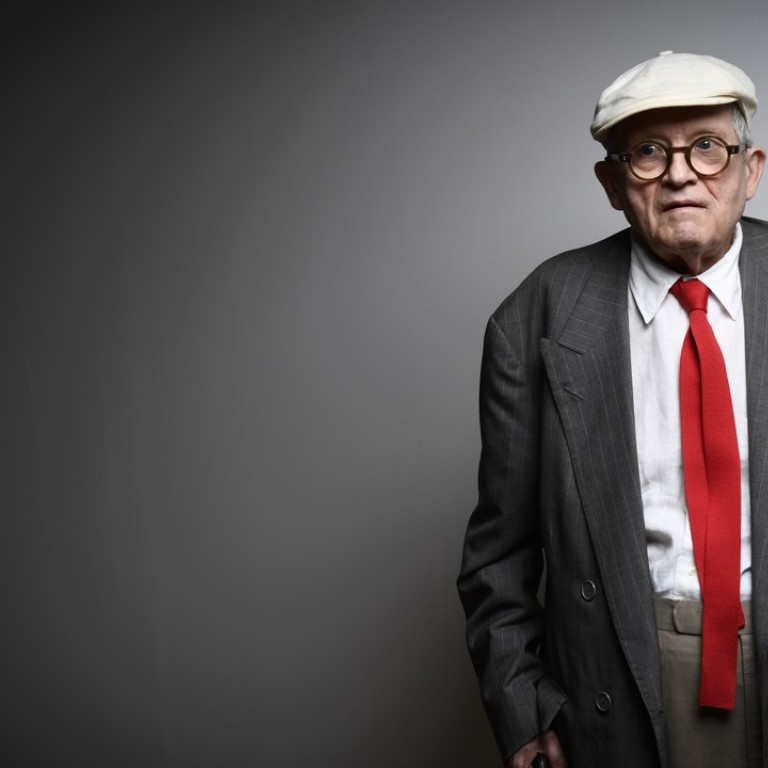 David Hockney's life in painting: stunning retrospective on the artist's career showcases his restless talent
Exhibition at New York's Metropolitan Museum of Art shows why the English painter was once such a rebel of the art world, with his most colourful, iconic works and key moments also proving his versatility over the last six decades
The David Hockney retrospective at New York's Metropolitan Museum of Art is one of the delights of the season. Room after room unfolds a sense of his seemingly limitless visual talent, his mix of whimsy and keen insight, his love of the world, and his courage.
The last of these, courage, is twofold. His early work was explicitly homoerotic at a time – the early 1960s – when same-sex relations were a crime in his native England. And all of his work, then and since, is strikingly individual, often running counter to the prevailing tastes and dogma of the art world.
This engaging exhibition suggests that these two forms of daring are connected, the independence achieved as a gay man in a hostile world carrying over to a larger sense of independence from the fashion and dictates of other artists and critics.
Hockney, who emerged as an artist just as London was entering its post-war "swinging" age of music, fashion and sexual liberation, has always been a hard artist to incorporate into the standard narratives of 20th-century art.
His best-known work, made during an extended stay in Los Angeles in the 1960s, is figurative and wry, with a pop-art sheen to it. If that was all he ever produced – if he hadn't left a legacy of magnificent drawings, or designed iconic opera stage sets, or used Polaroids to play games with multiple perspective points – then he might well be seen as a minor artist entranced by swimming pools, palm trees and other blandishments of sun-drenched suburbia.
But this exhibition, seen earlier at the Tate Britain in London and the Centre Georges Pompidou in Paris, explodes that misconception. Often, when one explores the work of a single artist over decades of production, you struggle to find connections between the various chapters. But Hockney is the rare artist who continually evolves without losing a powerful sense of continuity.
Early works, made while he was in 20s, take on sexual desire in a confrontational way, with some of the darkness found in the works of Francis Bacon (an artist Hockney admired at the time).
But this feral energy is soon exorcised, and his focus shifts from desire to beauty, from furtive activity to open admiration. Beautiful men are seen in swimming pools, male couples cohabit benign domestic spaces and the frisson of cruising gives way to a sense of tenderness that is, perhaps, even more challenging to heterosexual sensibilities.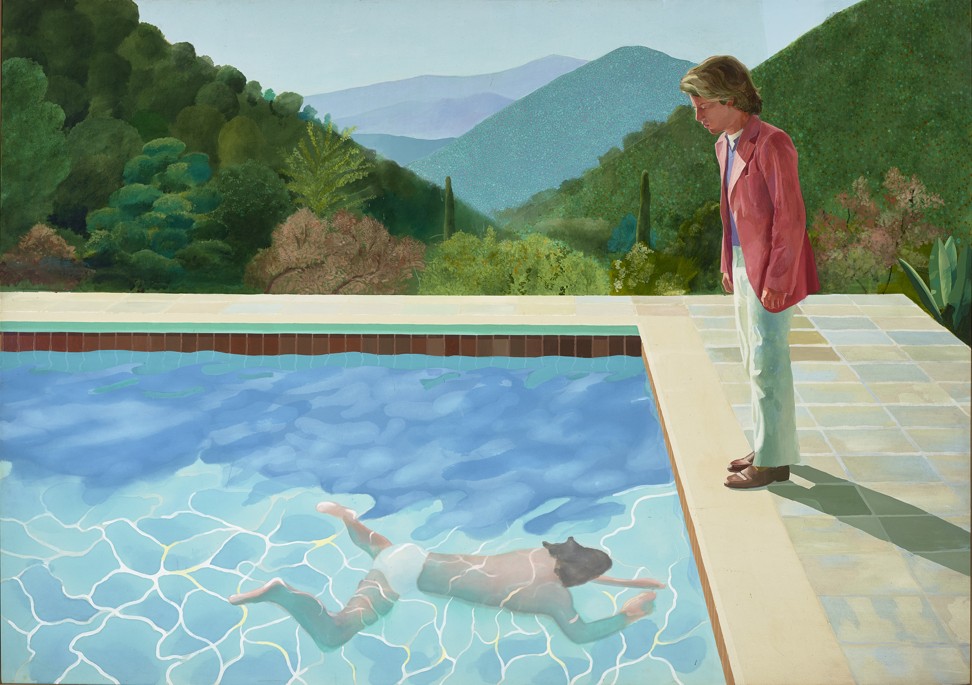 These early works, in which male figures are rendered as sack-like grotesques, bleeding and blurring into abstract backgrounds, suggest a kind of torment, but torment leavened by humour. In later works, that humour is in turn leavened by a sense of isolation and nostalgia.
In a misguided effort to raise Hockney's credentials as a serious painter, critics often point to the many ways in which he grappled with abstraction, as if every great painter of the period had to stake out his or her place in relationship to the dominant mode of painting. But Hockney doesn't seem terribly addled by abstraction. Rather, he absorbs from it what he needs and deploys it to his own advantage. He is, perhaps, a bit like some fine composers, including Hindemith and Stravinsky, who borrowed and reconfigured gestures and ideas from atonal or serial composers without ever subscribing to a musical ideology.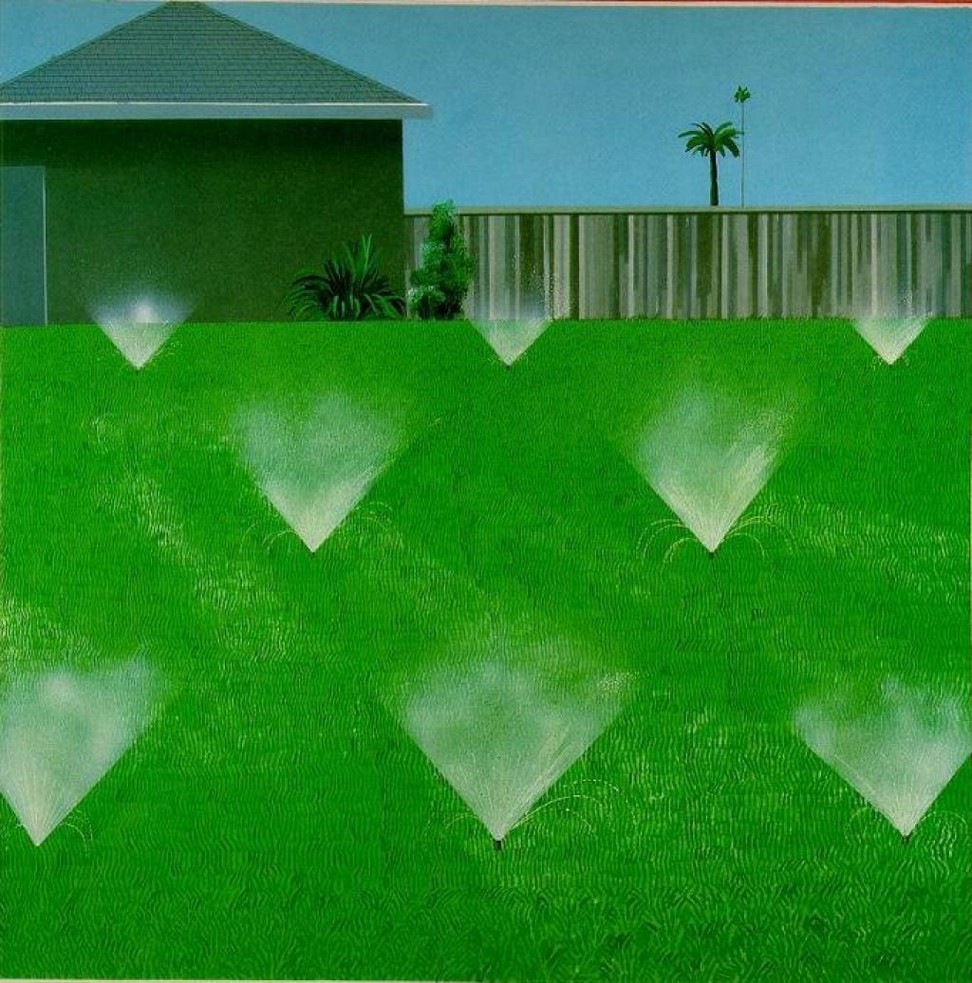 Or, as a quotation from Hockney printed on the back of the exhibition catalogue puts it: "I paint what I like, when I like, and where I like, with occasional nostalgic journeys."
Those nostalgic journeys offer much of the best of the show. There are drawings on paper made with all the finesse of Picasso, and perhaps even more humanity. There are large-format paintings in which beloved paintings from earlier ages – Piero della Francesca, Vermeer, van Gogh – are incorporated, taped onto a screen which suggests a mix of contemporary abstraction and pointillism.
The geometries of his early California paintings are sometimes said to mimic or confront the grid forms popular among minimalist painters at the time.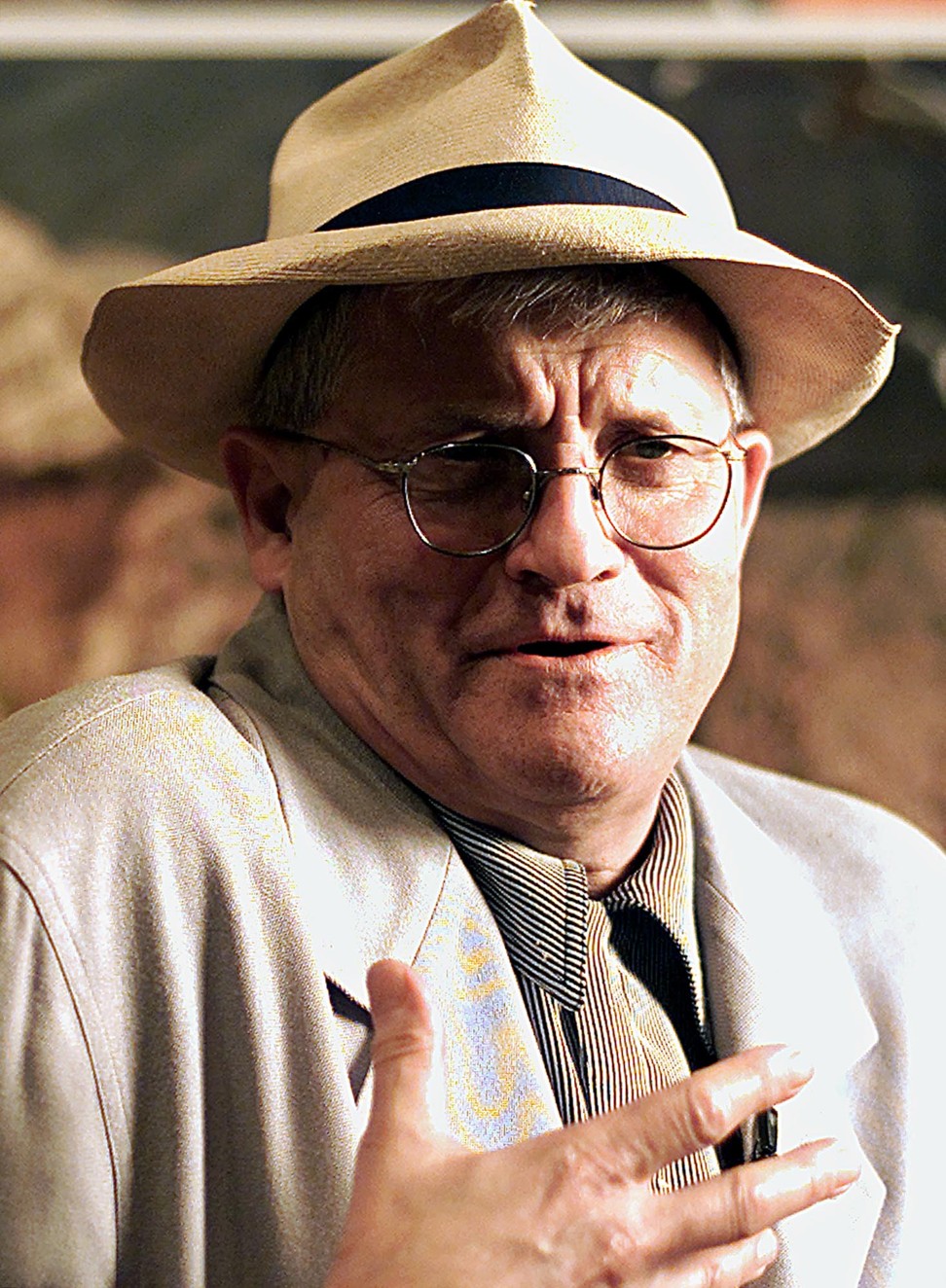 Modernist buildings resolve into vertical patterns of coloured windows. But these visual games usually have emotional resonance, functioning more as commentaries on the architecture than on minimalist painting.
One particularly stunning work from the California years, the 1967 A Lawn Being Sprinkled, shows eight perfectly triangular plumes of water shot out of irrigation nozzles set into a pristine patch of green lawn, like vaporous topiary. Two forlorn palm trees that rise above a distant fence locate the scene in California. Eliminate those trees and blur a few of the details – smudge the planks of the wooden fence, smooth out the texture of the grass – and this could be an entirely abstract composition.
And yet the painting doesn't seem to want to flirt with that danger. It is happily representational – or at least happy to use representational gestures. And the curious stylisation of the water jets seems more about offering a typically droll comment on the alluring, industrial perfection of American life than they are a feint in the direction of abstraction.
Hockney's photo collages, often made with dozens of Polaroid images pasted into a dizzying, multi-perspective view of a recognisable scene – his mother at a ruined abbey on a rainy day, or an intersection on a desert highway – are sometimes dismissed as gimmicky. But like the supposed references to minimalism or abstraction, they often have strikingly emotional power.
Hockney's more recent work has turned to landscape, rendered in brilliant, even garish colours.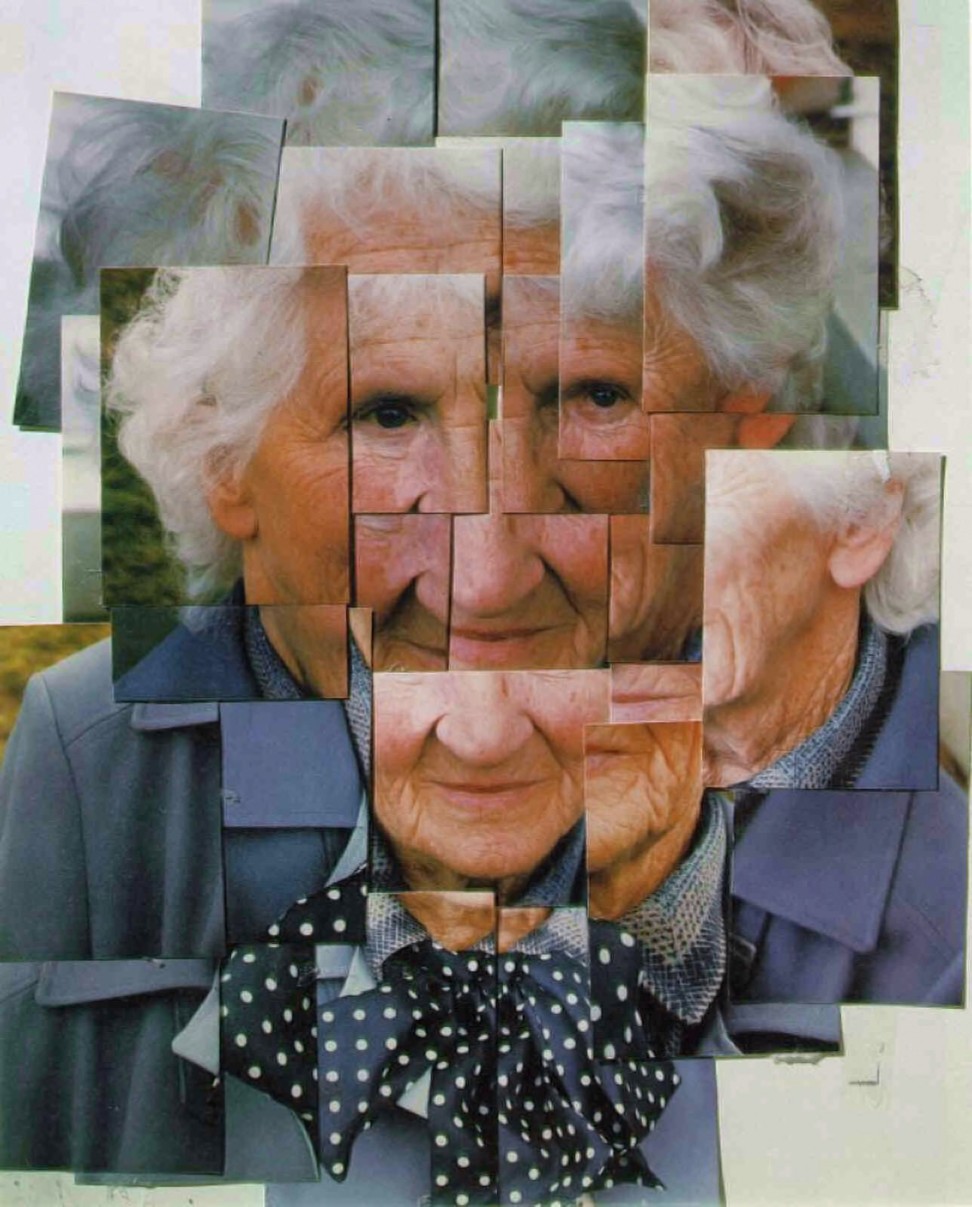 Matisse and Van Gogh are clearly in the background, perhaps too much so. But these works are not radically disjunctive from the earlier work. They are rich with the familiar Hockney fascination with how a mark on the canvas conveys information, how formalised and often bizarre the language of painting has always been.
Hockney is now 80 years old and has had a prolific career. The most recent works are more difficult to love than the earlier work, but in part that is because they don't seem to fit the expectations we might have of an older painter: they seem more energetic, less contained, and more spontaneous than the work that has come before.
They may not be the work for which Hockney is remembered, but one can admire them for what they say about the artist's relation to life. He seems inexhaustible.