Art
Get more with myNEWS
A personalised news feed of stories that matter to you
Learn more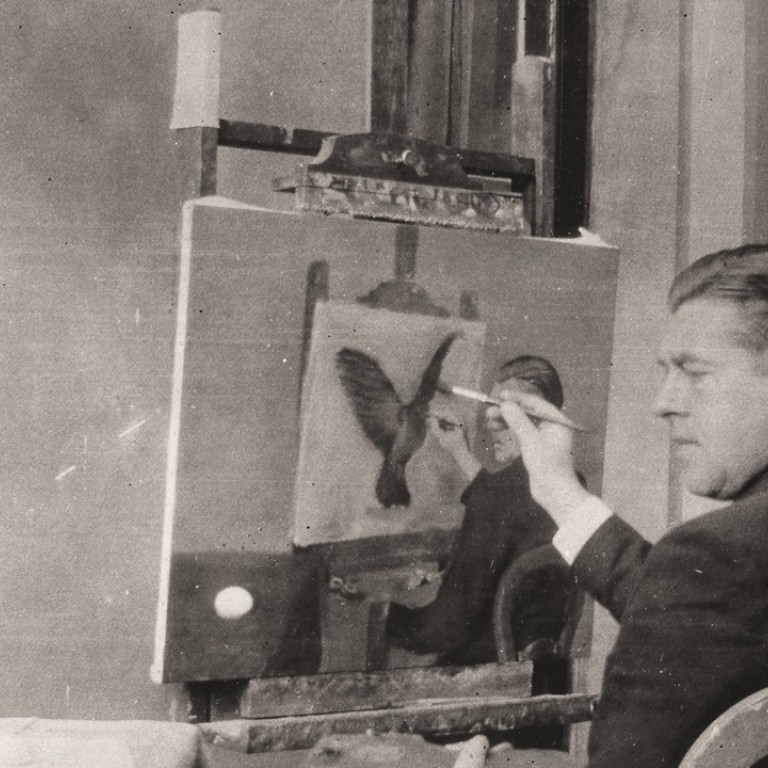 René Magritte in Hong Kong: show of personal photos, films shines light on 'mischievous' artist
The Belgian surrealist was known for his witty images showing everyday objects in strange contexts. Their symbolism challenged the links between appearance and meaning. An exhibition at ArtisTree in Quarry Bay offers a glimpse into the life of this influential artist
The name René Magritte is likely to conjure images of a pipe, a bowler hat or a lashless eye filled with a blue sky and clouds. A new exhibition of more than 100 photographs and films from Magritte's personal collection offers an alternative way of understanding the man behind the symbols.
Of course, to even think that you can understand the real Magritte from the images of the artist, his wife Georgette and his family and friends seems disloyal to the Belgian surrealist's personal philosophy. After all, he used his art to destabilise links between appearance and meaning.
The blue sky in the eye is, as he called it, The False Mirror (1929). A picture of a pipe is accompanied by the words "This is not a pipe" in The Treachery of Images (1929). In front of the camera, he play acted, sometimes keeping his eyes shut, as if denying others a glimpse of the world that he alone saw.
It is hard not to see a mischievous personality coming through from the 130 or so images in "René Magritte: The Revealing Image", a touring exhibition that has just opened in ArtisTree.
Xavier Canonne, director of Musée de la Photographie in Brussels and curator of the exhibition, included straightforward, biographical photos from the Magritte family albums, as well as works that could be considered works of art in their own right (though the two categories sometimes overlap).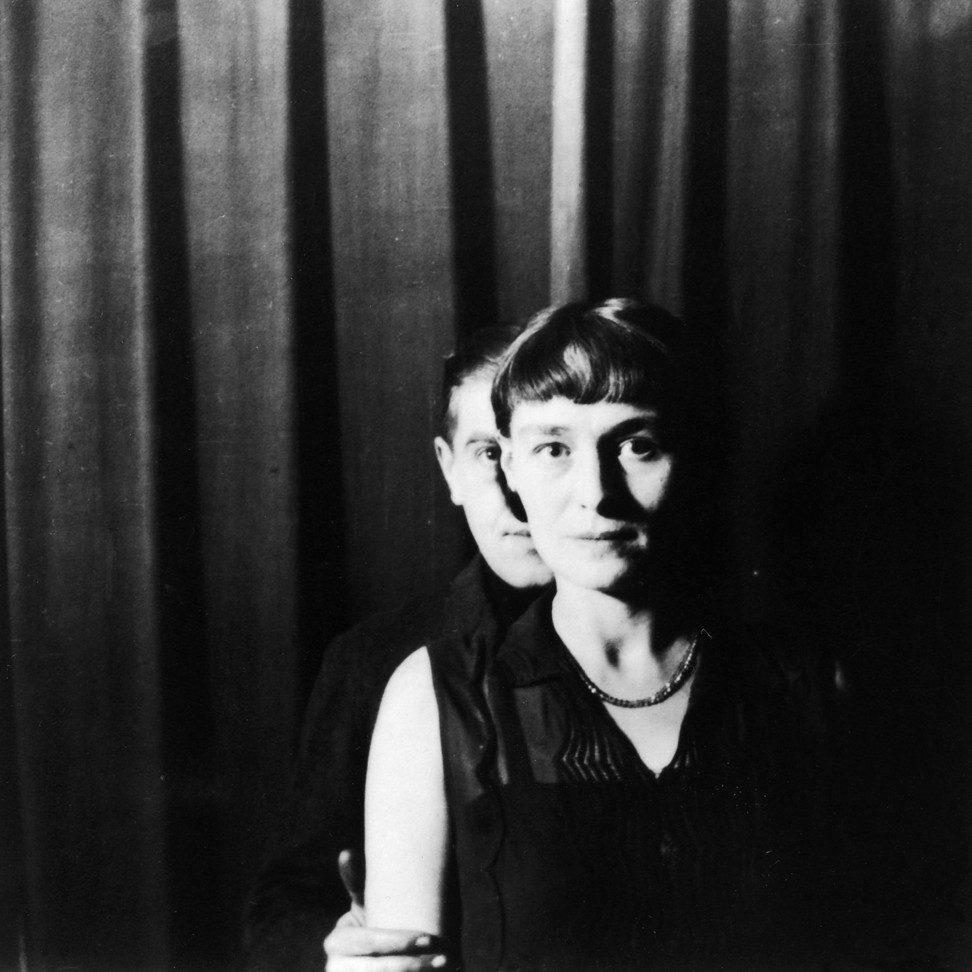 There are pictures of young Magritte with his two brothers and parents – his mother drowned herself in a river when he was 14. There are photographs of him and his wife, Georgette – alone, with friends and fellow artists in Brussels and Paris, and with their dogs, a succession of black and white Pomeranians.
"They improvised in front of their paintings; they played like children," Canonne says, giving an example of when Magritte, his youngest brother Paul and artist Marcel Marien pretended they were eating bricks in a photograph titled The Feast of Stones (1942).
And then there are the ones showing Magritte posing with his paintings, or as his paintings. (There is no painting in the exhibition, although small reproductions are included with some of the photos to show how he used the camera to prepare for, or enhance, his works on canvas.)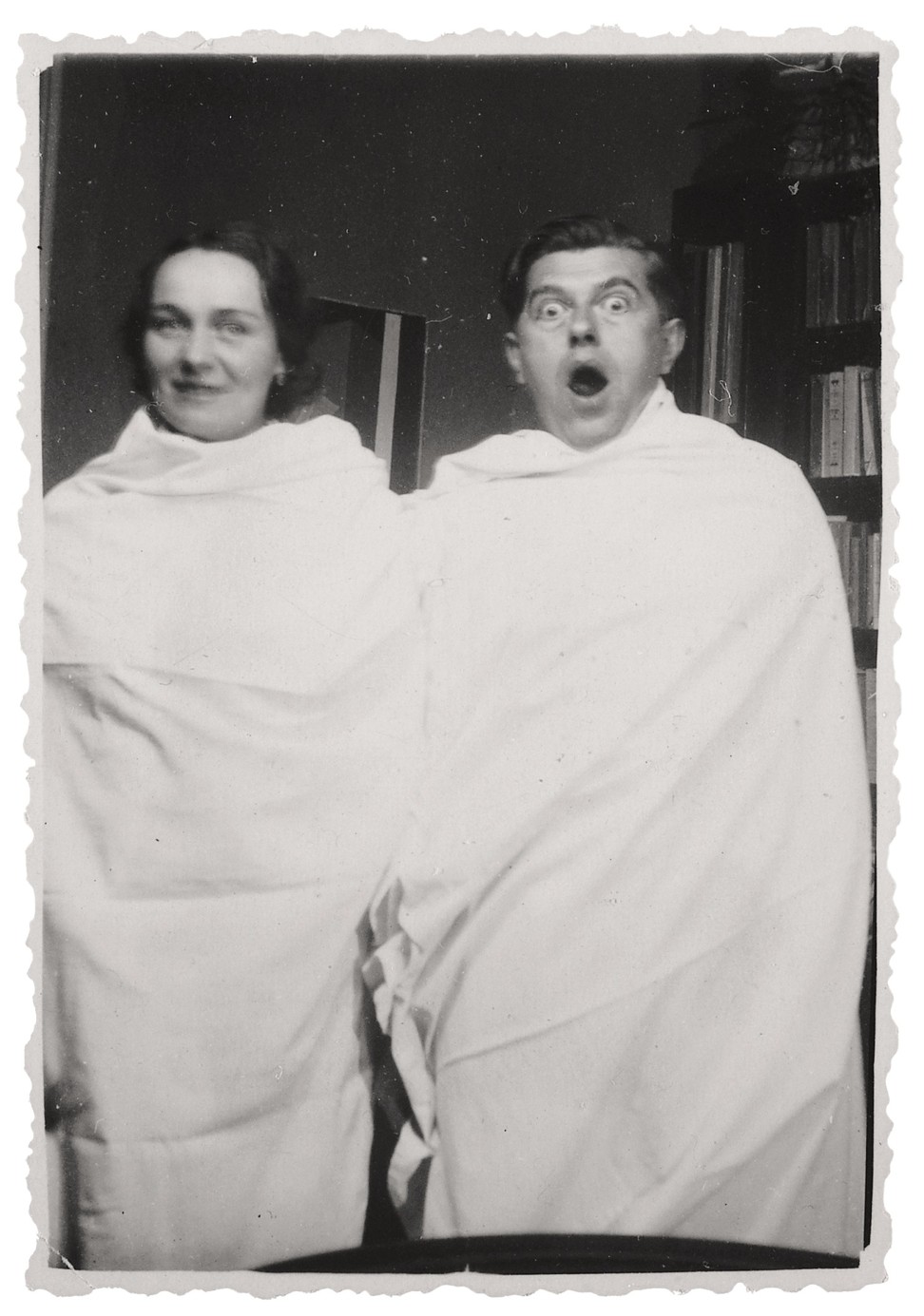 For example, he asked photographer Jacqueline Nonkels to shoot him sitting at the easel with a finished painting,
La Clairvoyance
(1936).
The painting was a self-portrait of the artist painting a bird while looking at an egg, and so Canonne argues that the photograph of the artist "painting" the self-portrait is a so-called mise en abyme (the suggestion of infinite copies of an image) that went beyond the notion of photography as document – a radical image in what were still the early days of photography.
Canonne has included a still from Sergei Eisenstein's 1925 film Battleship Potemkin showing a group of sailors covered in a drape before they were shot. Magritte, fascinated by the cinema since he was a boy, had seen the film and might therefore have painted a figure covered in a white cloth in his The Invention of Life (1928).
A photograph of John Wayne may also seem incongruous. But as Canonne explains, Margritte loved Westerns and had hoped to meet Wayne on his first trip to the United States.
He made short films himself and some of these are shown in the exhibition. They are mostly lighthearted affairs. He believed the cinema had to be "amusing", so he played Charlie Chaplin parodying Adolf Hitler in a pastiche of The Great Dictator (1940).
In real life, Canonne says Magritte had little interest in socialising, avoided grand functions and generally saw little need in self-promotion. You wouldn't have guessed it from the photographs and films – which just goes to prove that he was right all along.
René Magritte: The Revealing Image – Photos and films, ArtisTree, 1/F Cambridge House, Taikoo Place, 979 King's Road, Quarry Bay, Mon-Sun 10am-8pm. Until Feb. 19, 2018.