Art
Get more with myNEWS
A personalised news feed of stories that matter to you
Learn more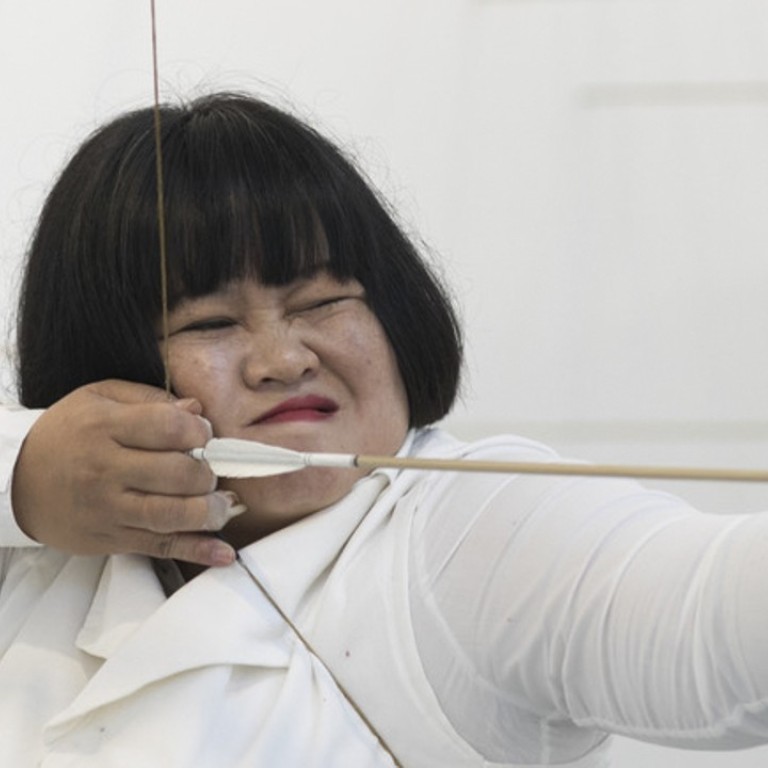 Indonesian performance artist brings her maverick style to Singapore Art Week
Whether it is dancing in stilettos on blocks of melting butter or calmly shooting 800 white-feathered arrows randomly around a room, Marina Abramovic protégée Melati Suryodarmo's surreal art commands attention
The threatening thud, thud, thud of arrows piercing the walls didn't stop hundreds from queuing to join artist Melati Suryodarmo inside a windowless room at Singapore's Gillman Barracks. They watched as she calmly let go a total of 800 arrows without much aiming.
The Indonesian artist was performing her work, Transaction of Hollows, at ShanghART's Singapore gallery during Singapore Art Week at the end of January.
She is best known for her deeply personal "durational performances". She acts out bizarre scenarios that put her through great physical discomfort or require her to repeat a simple action for an extended period of time.
In Exergie – Butter Dance (2000), she danced in stilettos on blocks of melting butter, which was both funny and excruciating as she persevered with her elegant dance despite slipping and becoming more and more undignified.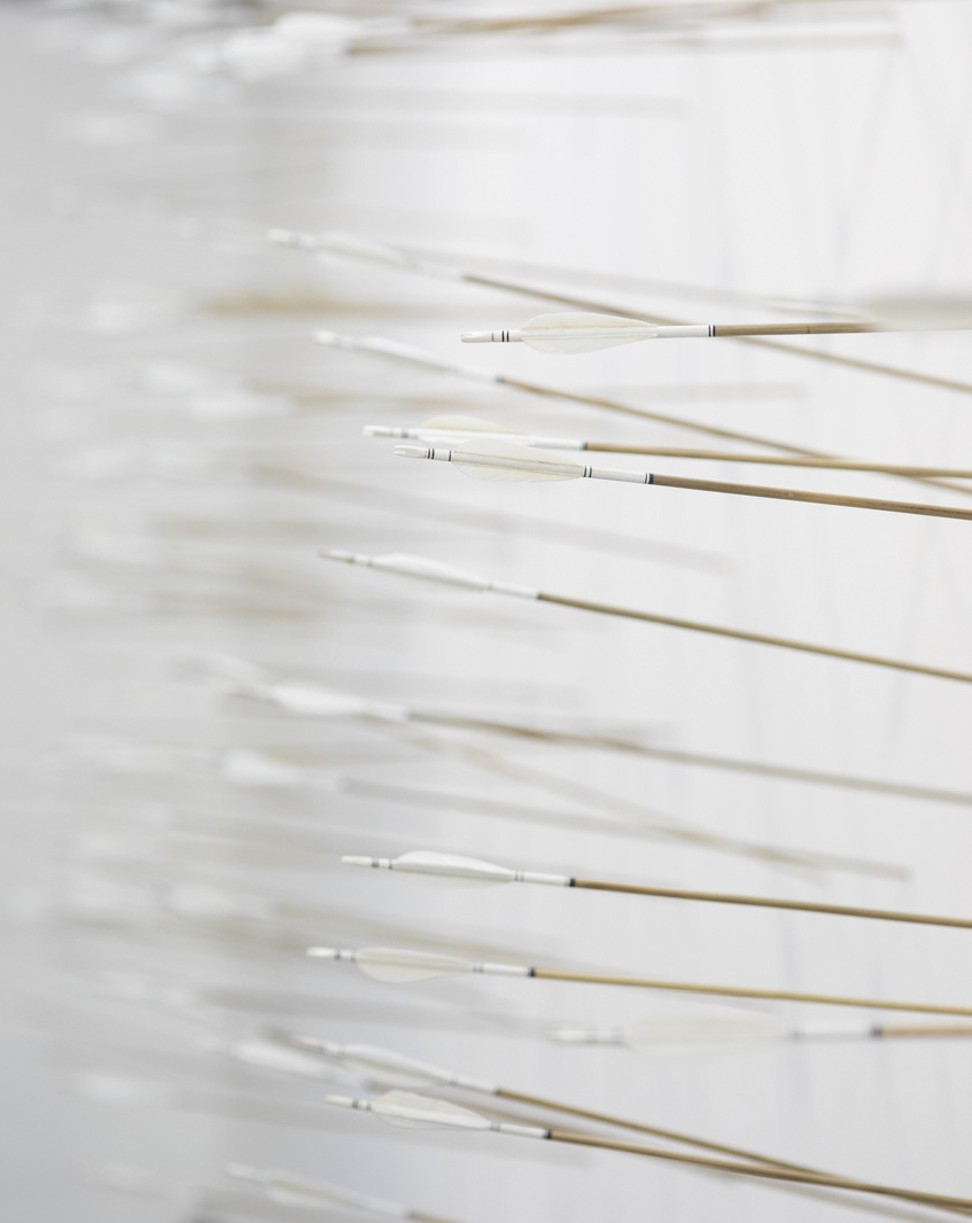 In 2012, she ground charcoal into dust for 12 continuous hours in I'm a Ghost in My Own House, a work about the desire for emancipation from rigid systems.
It has always been too reductive to call her Asia's answer to Marina Abramovic. Melati's practice, especially how she always puts her own body on the line, certainly bears traces of her time studying and working with the world's most famous performance artist. But works like Transaction of Hollows were particularly informed by Javanese tradition and Japanese butoh, another major influence.
On January 25 and 26 between 5pm and 9pm, Melati shut herself in a white room built from wooden boards and shot arrows at the walls slowly and meticulously. Dressed all in white, she picked up white-feathered arrows from the quivers propped up around the room and at regular intervals, loaded, drew and fired a heavy, traditional Javanese bow – also painted white.
Breathing steadily, she would drop her hands slowly and then start all over again. The white reinforced the meditative quality of the performance, as if each firing of an arrow was an emptying of the mind.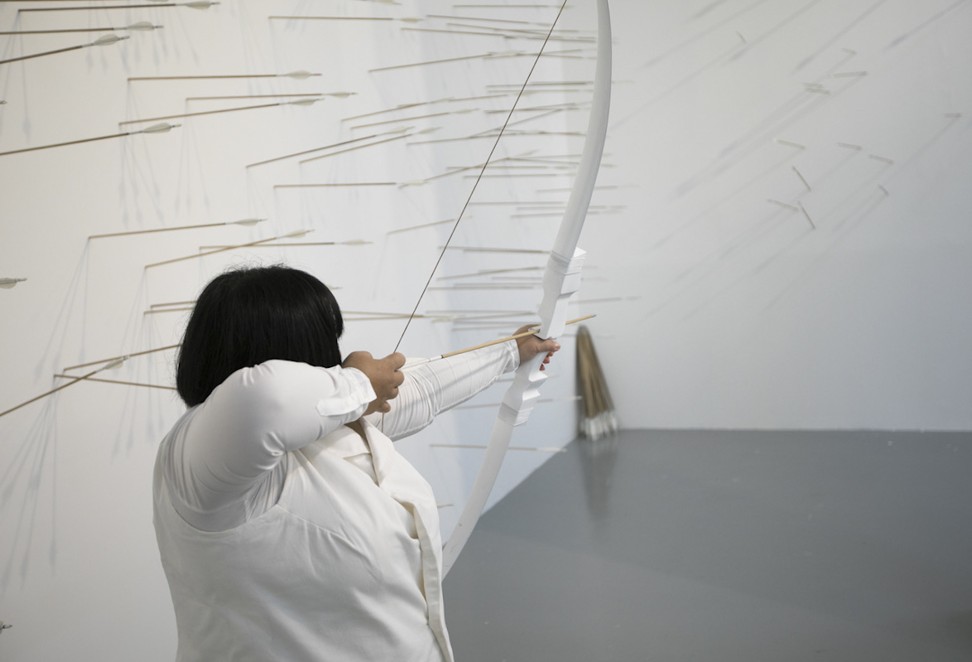 Indeed, the Transaction of Hollows was based on the fact Javanese archery places more value on disciplined movement than hitting a target. It also came across as a frustrated, despondent reaction to world affairs. If arrows were her thoughts, they were fired off in isolation and resulted in "hollow" resonance (the title refers to the hollow sound on impact).
Around a dozen people were allowed into the room at a time. While she clearly took care not to shoot anyone, there was no acknowledgement of her audience. At the end of the second day, the walls were covered in arrows and left in the gallery as part of a retrospective exhibition.
Despite the white purity of the room, it was nonetheless a disturbing aftermath of great violence.
The setting was reminiscent of her 2016 performance of Eins und Eins in Pearl Lam Gallery, one floor up from ShanghART at Gillman Barracks. For three hours, she sipped black ink from a basin and spat or otherwise regurgitated it on the white walls and on the floor. That, too, seemed to point to the futility of utterances, of thoughts.
Her work seems to be getting darker, but Transaction of Hollows essentially points to the need to develop one's inner strength and focus – much like the butter dancer but without the comic element.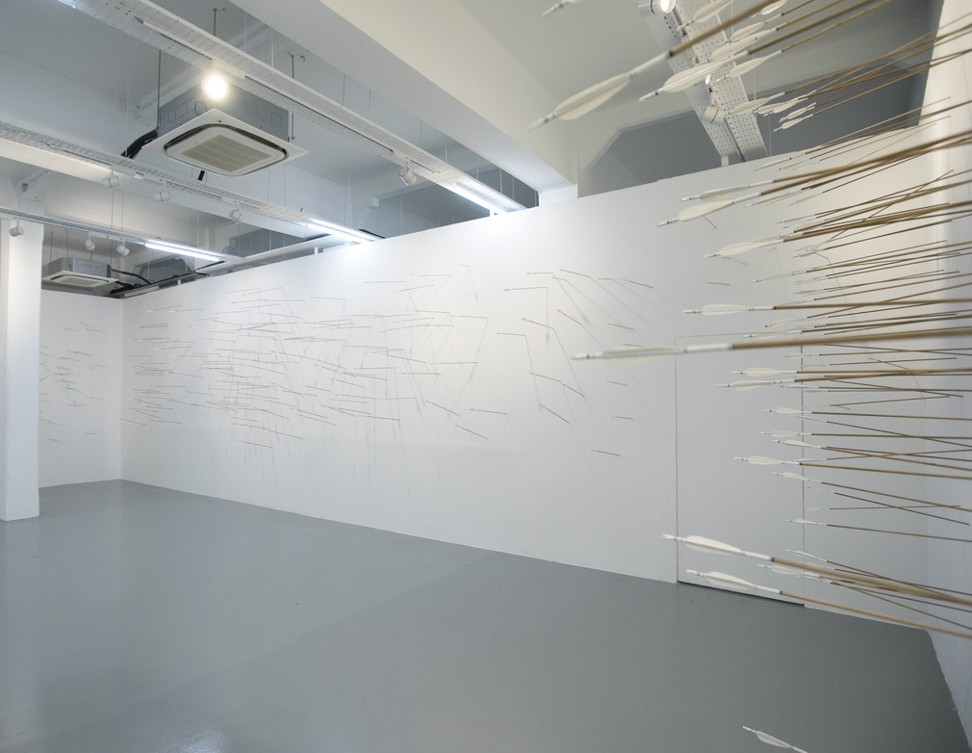 Transaction of Hollows is part of an exhibition called "Timoribus", named after the title of a new video installation which shows blurred scenes of what look like a mob chasing individuals across a field and beating them up.
The piece refers to Melati's concern that mass media is manipulating viewers and feeding them "fake news" in a post-truth world. That comes across as trite and lacking in visual impact, especially when compared to the unforgettable tableaux in her performances.
Timoribus, ShanghART Singapore, 9 Lock Road, #02-21, Gillman Barracks, Singapore, 11am-7pm, Wed to Sun excluding public holidays. Until February 25
This article appeared in the South China Morning Post print edition as: Maverick Indonesian artist aims to make her mark