Art
Get more with myNEWS
A personalised news feed of stories that matter to you
Learn more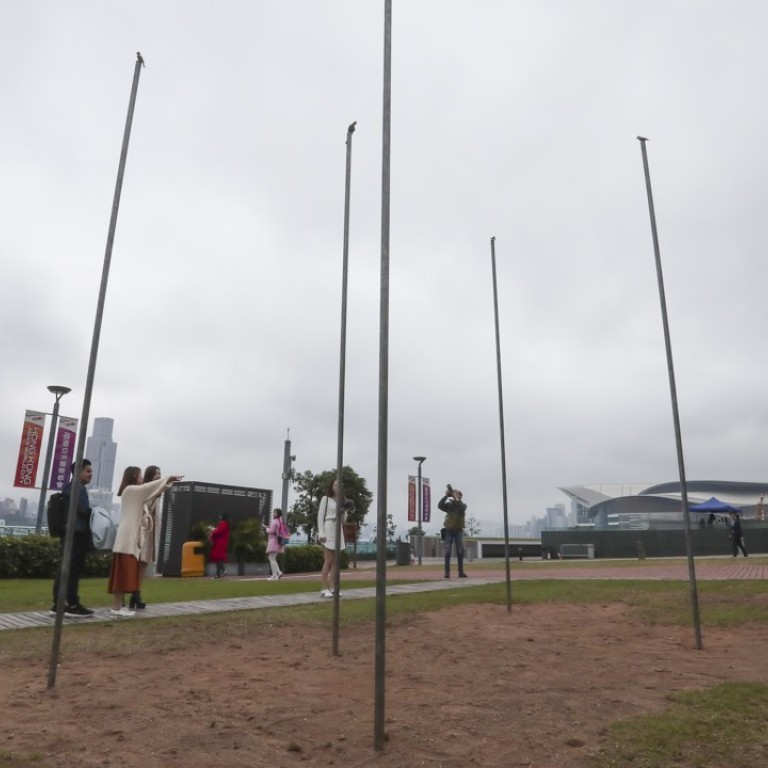 Hong Kong outdoor sculpture show: funny, functional, minimalist, whimsical – how will art go down with the public?
Tracey Emin, Antony Gormley, Yayoi Kusama and Jenny Holzer are among the contributors to the temporary Harbour Arts Sculpture Park, which runs until April, and uses Victoria Harbour's world famous skyline as its backdrop
It is appropriate that one of the highlights of the first Hong Kong Harbour Arts Sculpture Park – a temporary outdoor exhibition beside Victoria Harbour – is dedicated to
David Tang Wing-cheung
. The late entrepreneur, bon vivant and philanthropist was an enormous believer in the necessity for art in society, and argued passionately for Hong Kong to have more art accessible to the public.
The work in question is Tracey Emin's A Moment Without You , 2017, based on an earlier work called Roman Standard (2005) that was conceived as a retort to historically masculine victory columns. Slimmed down to narrow poles, the top of the columns are occupied not by male generals but by birds about to take flight.
On the occasion of its exhibition in Hong Kong, Emin has dedicated it to Tang, a friend and "a true free spirit and now even freer"; she has also rebaptised the work as a symbol of "hope, faith and spirituality".
It is one of 21 sculptures on public display on the harbourfront between Central and Wan Chai until April 11.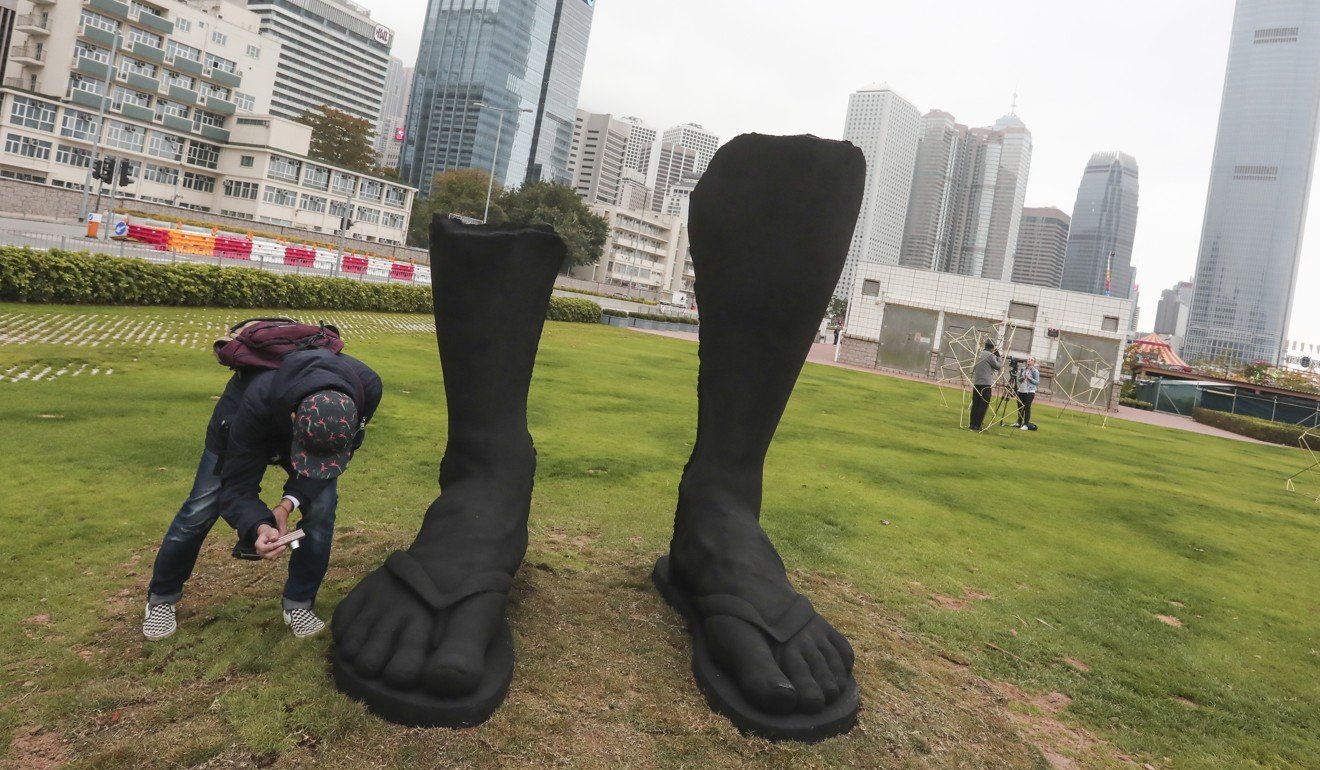 Prodigious cultural firepower lies behind this celebration of public art in the city, led by its presenter, the Hong Kong Arts Centre.
The curators are Tim Marlow, artistic director of the Royal Academy of Arts in London, and Fumio Nanjo, director of the Mori Art Museum in Tokyo.
Between them, they chose 19 artists to be involved in the project; they include art world superstars such as Emin,
Antony Gormley
, Jenny Holzer,
Yayoi Kusama
and Zhan Wang, as well as five Hong Kong artists: Ho Kwun-ting, Matthew Tsang Man-fu, Kacey Wong Kwok-choi, Morgan Wong Wing-fat, Wong Chi-yung.
The Hong Kong Jockey Club and British art college Central Saint Martins have partnered to deliver a rich educational programme.
The 19 participating artists were invited to respond to the city, and their choices interact with their Hong Kong Island backdrop in different ways; consideration was given to how some of the works can be seen to converse.
Rasheed Araeen's Hong Kong Blues (2018) is a minimalist response to the geometry of the Bank of China in the background. Next to it is Kacey Wong's Asteroids & Comets (2017), a cluster resembling the outlines of space rocks – geometry that harks back to the origins of life.
Tsang's Before Collapse (2018) is a pair of feet in flip-flops, seemingly made of charcoal. The casual footwear and the burnt, apocalyptic appearance run counter to the monumental size of the feet.
The indeterminate nature of charcoal – a substance between the solidity of wood and the fragility of ash – suggests that something as static and vast is also in flux.
That same sense of ambiguity is seen in Zhan Wang's 45 Degree Artificial Rock (2014), a colossal slab poised between falling flat and being hoisted up.
Less philosophically placed, but funny, is Michael Craig-Martin's Gardenfork (magenta) (2017), its oversized, two-dimensional prongs shoved into the ground behind Mark Wallinger's White Horse (2013), as if a giant gardener was getting ready to muck out the life-size sculpture of a thoroughbred racehorse (a reference to class distinctions and in the context of Hong Kong).
A map is required to track down all the pieces. Most are enclosed within Tamar Park in Admiralty, but a number of them are in the Western Garden by the Grand Hyatt Hotel, outside the Hong Kong Academy for Performing Arts and the Hong Kong Arts Centre.
That is where American sculptor Hank Willis Thomas has installed his sculptures The Truth is I Love You (2018) – with some of the signs translated into Cantonese – and Ernest and Ruth (2015), a bench in the shape of a speech bubble.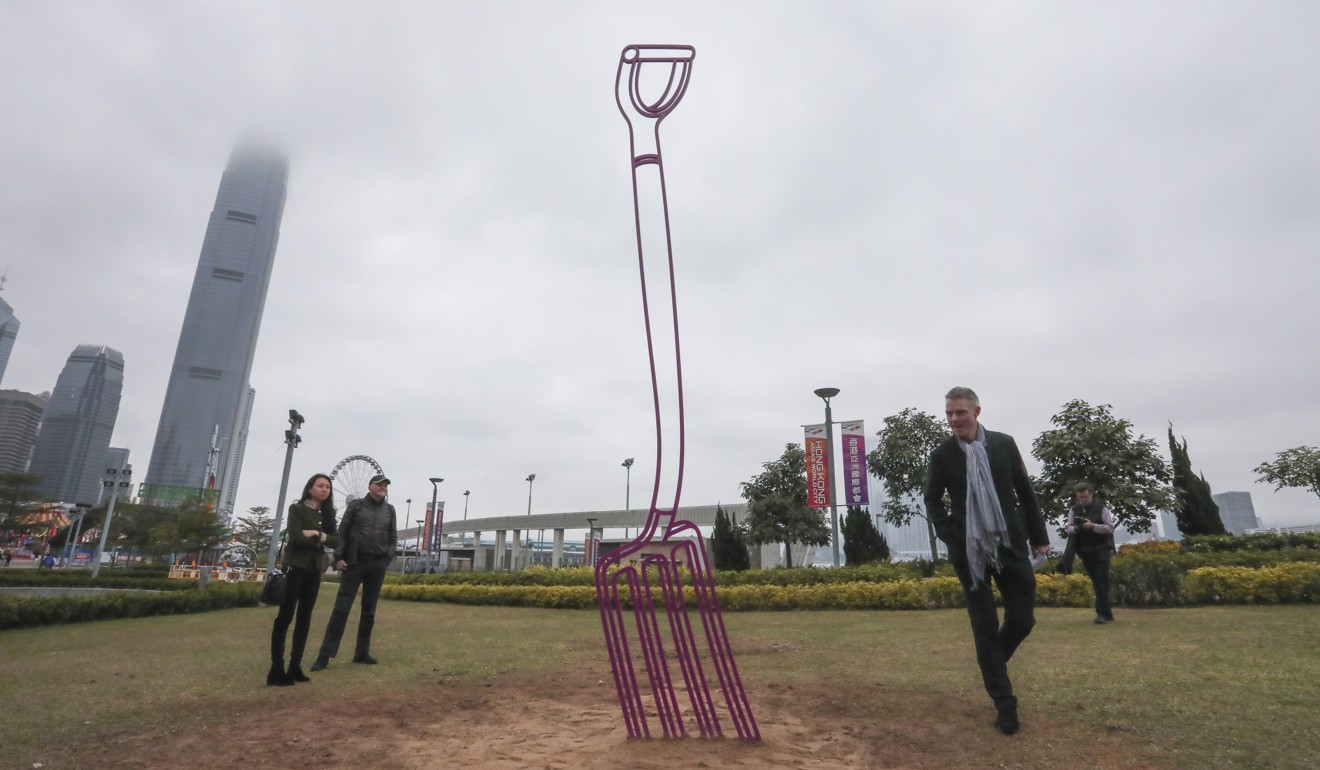 It will be interesting to see how such a major international undertaking (37 institutions and corporate sponsors are involved) goes down with the Hong Kong public. We are not talking about Florentijn Hofman's unmissable, 16.5-metre inflatable rubber duck that floated in the harbour in 2013.
Pieces such as Jenny Holzer's series of Truisms sculptures are white benches that most people will take for ordinary white benches. Zheng Guogu's Spiritual Tour in the Pure Garden: Charm (2014) became a piece of functional art when two men decided to play chess on it. Even Wallinger's White Horse seems dwarfed by the dense forest of skyscrapers in Central.
Marlow doesn't think the sculptures are overwhelmed by their surroundings. "If we were worried about scale, we would only have been able to choose gigantic works of art. But smaller works can still be very powerful," he says.
As with Craig-Martin's Gardenfork, the phenomenal foreshortening effect of the buildings means that you are quite shocked by the real size of some of the sculptures once you walk right up to them, he says.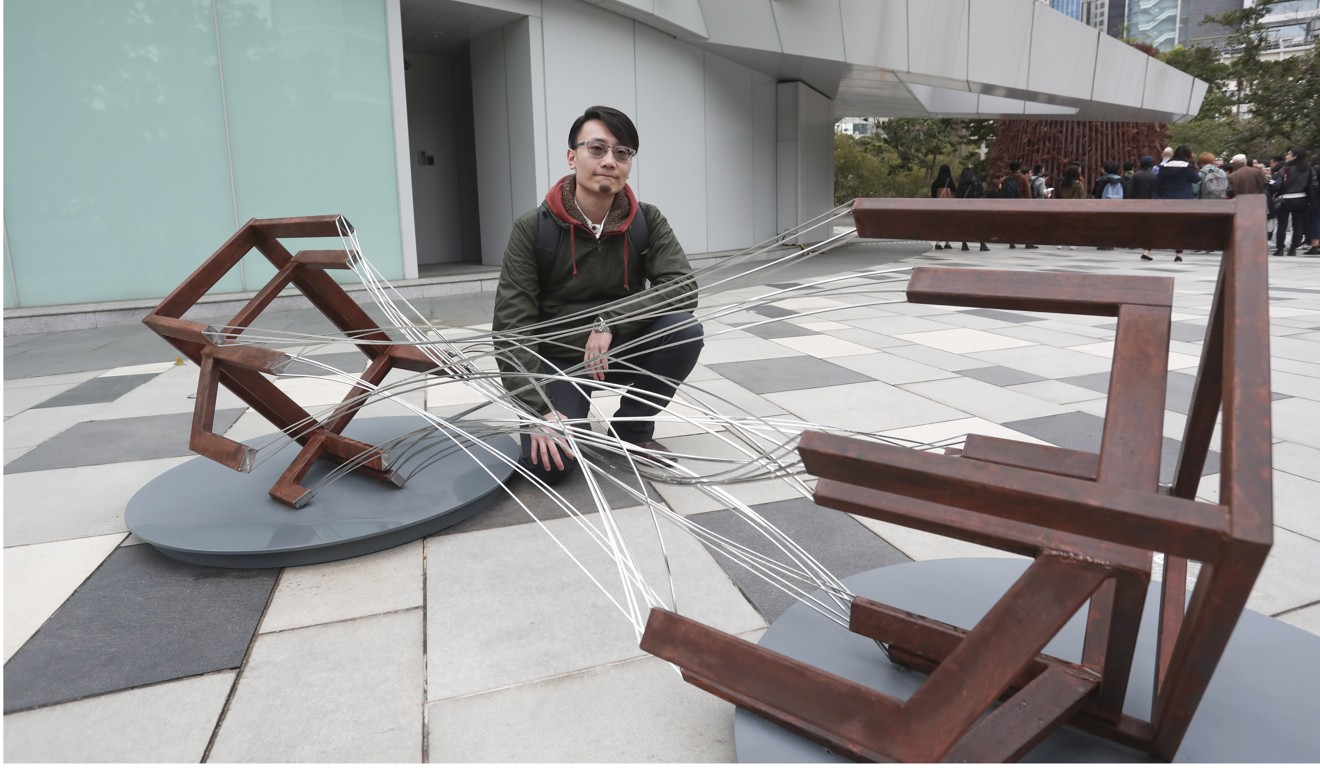 Visitor experience is greatly enhanced by the unusual bilingual audio guides, especially the Cantonese ones scripted by local playwrights Lo Cheuk-on and the Thealosophers. These are basically radio dramas (with top-notch performance by Hong Kong celebrities Jan Lamb, Charmaine Fong and Michael Ning) that make enjoyable listening off-site and on.
An English guide is presented by radio personality Uncle Siu. Unfortunately the mobile phone app is was not ready at the time of the park's opening, but the audio files are available for download on the official website
harbourarts.hk
.
More baffling is the absence of any Hong Kong woman artist from the exhibition. Marlow says it is the unfortunate outcome of the exhibition's logistical challenges.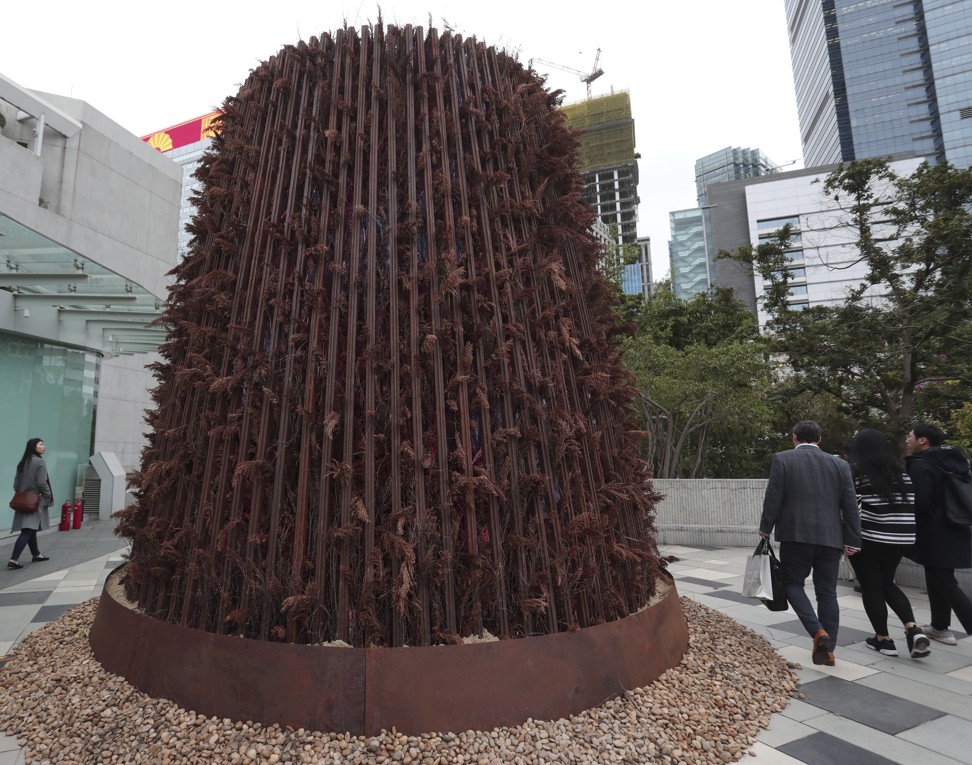 "Gender imbalance in the art world does need addressing. There were female artists who wanted to be in the show but couldn't, because of practical reasons," he says. One piece by a female artist couldn't be installed within the time frame, he added.
He also defends the heavy representation of British artists – including ones who have been given high-profile shows in Hong Kong before. He says it is natural that people like Craig-Martin and Conrad Shawcross would want to continue their relationship with the city after being involved in The Peninsula hotel's "Love Art at The Peninsula" project in 2016 and 2017, which Marlow was also involved in.
"And if you ask the artistic director of the Royal Academy to be a curator, you can't expect me not to bring any British artists. We also have seven mainland Chinese and Hong Kong artists as well as other Asian artists, so we are not 'helicoptering' art in," he says.
The team may have the opportunity to play with the mix in the future.
Connie Lam Suk-yee, executive director of the Hong Kong Arts Centre, says she hopes to make this into an annual event.
Harbour Arts Sculpture Park, Central and Western District Promenade, The Hong Kong Arts Centre, The Hong Kong Academy for Performing Arts, Western Garden, Edinburgh Place. Free and no closing time. Until April 11