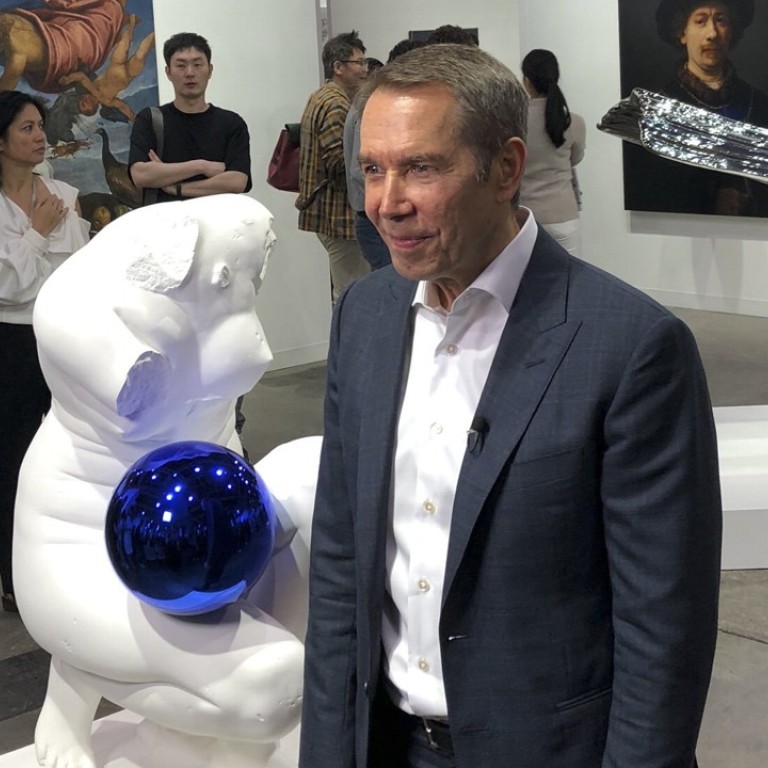 Art Basel Hong Kong opens with sale of US$35 million painting
The region's biggest contemporary art fair opened with a bang with the sale of Willem de Kooning's Untitled XII, while dealers expressed confidence in Asian demand for contemporary art and US artist Jeff Koons showed off his works
Dealers at the sixth edition of Art Basel Hong Kong said that sales of big-ticket items within the first few hours showed the fair had recovered from nervousness caused by both China's capital controls and regional political uncertainties, including North Korea and China's leadership reshuffling.
A 1975 painting by Willem de Kooning called Untitled XII sold for US$35 million at 3.30pm, just an hour and a half after the opening of the fair, making it the most expensive work known to have been sold at the Hong Kong event (though galleries often don't broadcast prices).
Brett Gorvy of Lévy Gorvy Gallery, which conducted the sale, said that it helped that the seller was Paul Allen, co-founder of Microsoft and owner of a respected art collection.
"But it's also to do with the fact that concerns about Chinese capital controls have calmed down," he added. "By comparison, lots of things were happening politically around the world last year and the situation today seems clearer. In terms of our sales so far, it's been transformative."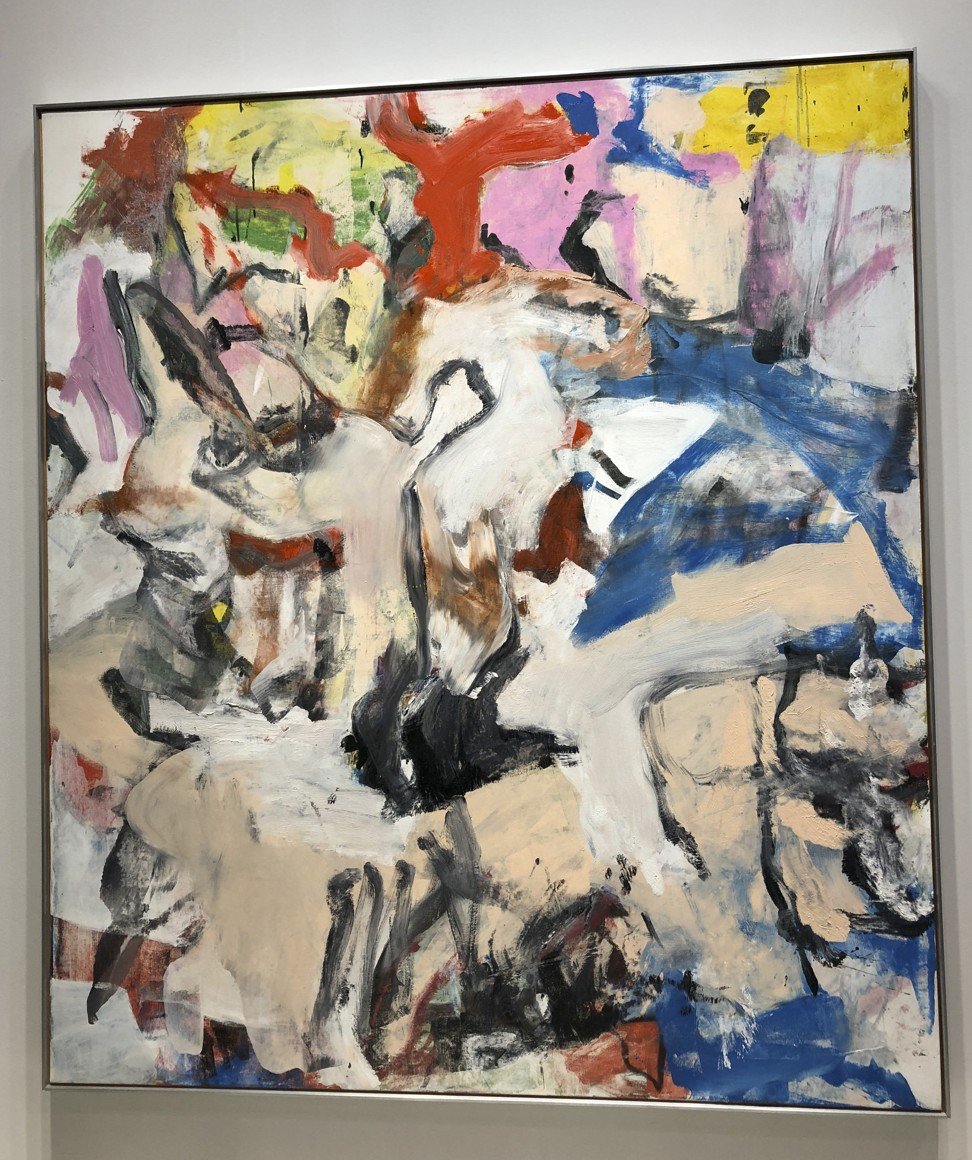 Stuart Shave of the Modern Art gallery from London said a solo presentation of new paintings by Peter Halley sold out within the first couple of hours.
While dealers continued to express confidence in Asian demand for international contemporary art, they said more buyers were coming from Europe and North America this year because of the added draw of new galleries opening in Hong Kong's H Queen's building in Central. Hauser & Wirth Gallery said it sold all works by American artist Mark Bradford at its H Queen's gallery, which opened on Monday.
Some of those galleries only focus on Western art, but Western collectors still thought it worthwhile to fly here for shows they wouldn't see otherwise, according to Italian collector Patrizia Sandretto Re Rebaudengo. She added that the diversity offered at the show by the 248 galleries from 32 countries was enough to keep it interesting. For example, she discovered the works of Chinese-American artist Cici Wu at 47 Canal, a New York gallery appearing at the Hong Kong fair for the first time.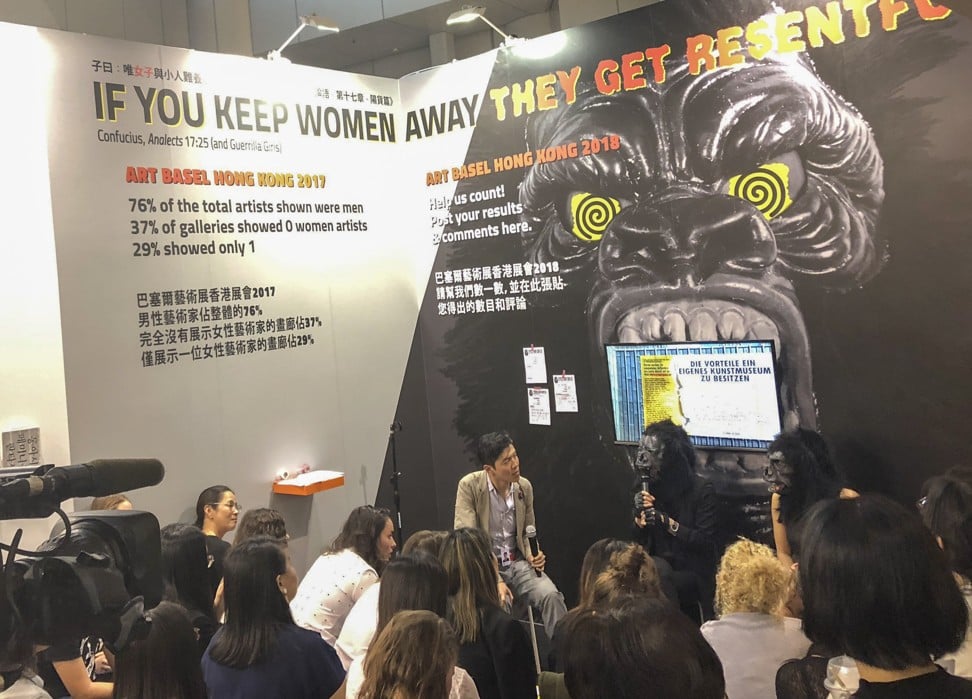 There is also more Middle Eastern art on show this year, courtesy of galleries such as Tehran-based Dastan's Basement – also in Hong Kong for the first time – which is showing a room-sized installation of paintings and sculptures by Sam Samiee.
Jeff Koons was the biggest star of the high-end art world to make an appearance at the fair on opening day, brought over by David Zwirner Gallery. The American artist showed works such as his 2015 piece Gazing Ball (Rembrandt Self-Portrait Wearing a Hat), a replica of a Rembrandt with a blue reflective ball in front of it, and Bluebird Planter (2010-2016), a massive steel sculpture of a bird.
The dominance of male Western superstar artists at a Hong Kong fair showed the spreading of systemic prejudices found in Western mature art markets, according to the Guerrilla Girls – the US feminist art activists who have
launched a project in Hong Kong
with Asia Art Archive to gauge how much exposure female artists are getting at the fair.
Mark Spiegler, global director of Art Basel, sounded caution over the continued, rampant growth of Chinese art sales seen in the past decade.
"It's always hard to predict the evolution of the art market," he said. "Yes, growth will continue, but at what pace remains unclear."
Additional reporting by Danny Lee
Art Basel Hong Kong, Hong Kong Convention and Exhibition Centre, Wan Chai. Vernissage: Wednesday 5pm-9pm. Public Days: March 29-31, hours vary.