Art
Get more with myNEWS
A personalised news feed of stories that matter to you
Learn more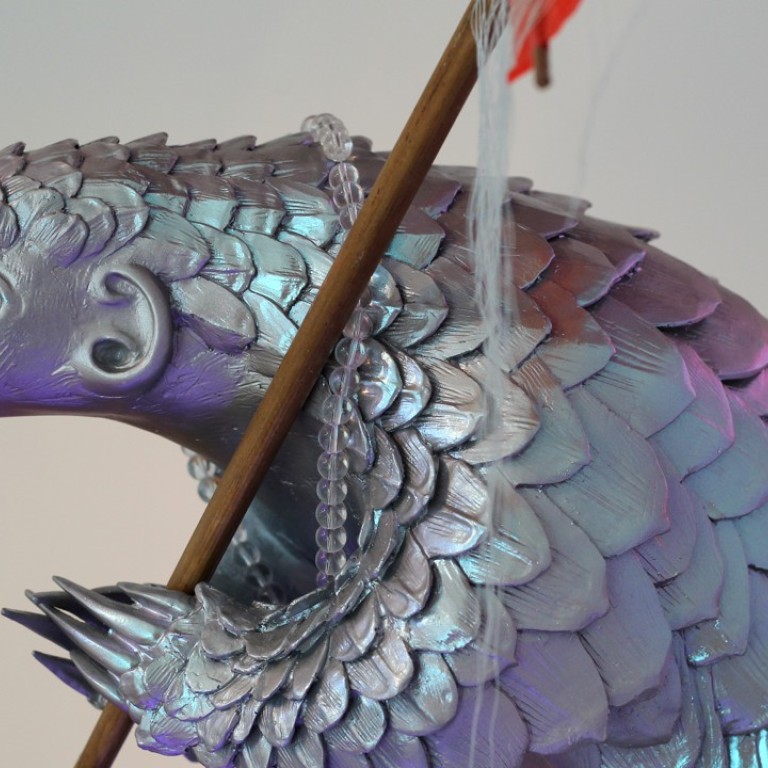 Vietnamese artist's Hong Kong exhibition on endangered species gives this meat-loving city something to think about
Tuan Andrew Nguyen insists his mixed media exhibition at the 10 Chancery Lane Gallery is not activism, but that he wants people to look at and question our relationship with animals
Tuan Andrew Nguyen could not bring himself to eat meat for months after watching Le Sang des Bêtes (Blood of the Beasts), a short documentary by Georges Franju from 1949 containing gory slaughter scenes of horses and cattle.
In the video, titled My Ailing Beliefs Can Cure Your Wretched Desires (2017) – also the title of the exhibition – two animal spirits conduct a debate about the culpability of man in the destruction of nature throughout Vietnam's history.
One voice belongs to the last Javan rhinoceros, who was killed by poachers in Vietnam in 2010. The other belongs to Cu Rua, a very old turtle that died in Hanoi's Hoan Kiem Lake in 2016. Some Vietnamese believe it to have been the descendant of the mythical Golden Turtle that lent a magic sword to King Le Loi to help him defeat the Chinese in the 15th century.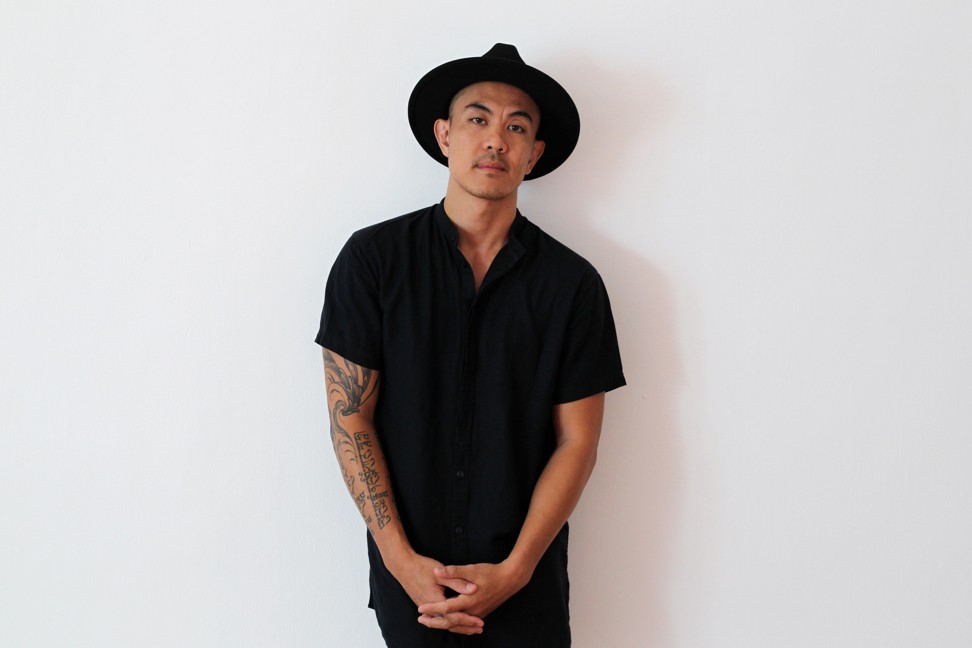 The spirits put forth their opposite viewpoints as contrasting scenes from real life via two television screens. Beautiful, sweeping shots of Vietnam's forests, which boast of some of the world's richest biodiversity, contrast with skulls of extinct animals on display in a museum, a tiger pacing inside a cage, gruesome images of cattle being killed and dismembered in a slaughterhouse, and little egrets having their feathers plucked – seemingly still alive – before being roasted over a makeshift pit by two women in a field.
The switch from the bucolic to barbaric is shocking. But Nguyen, who moved back to Vietnam in 2004 after spending most of his life in the US, did not start this body of work in 2017 as mere censure. He is trying to understand his country's complicated relationship with animals.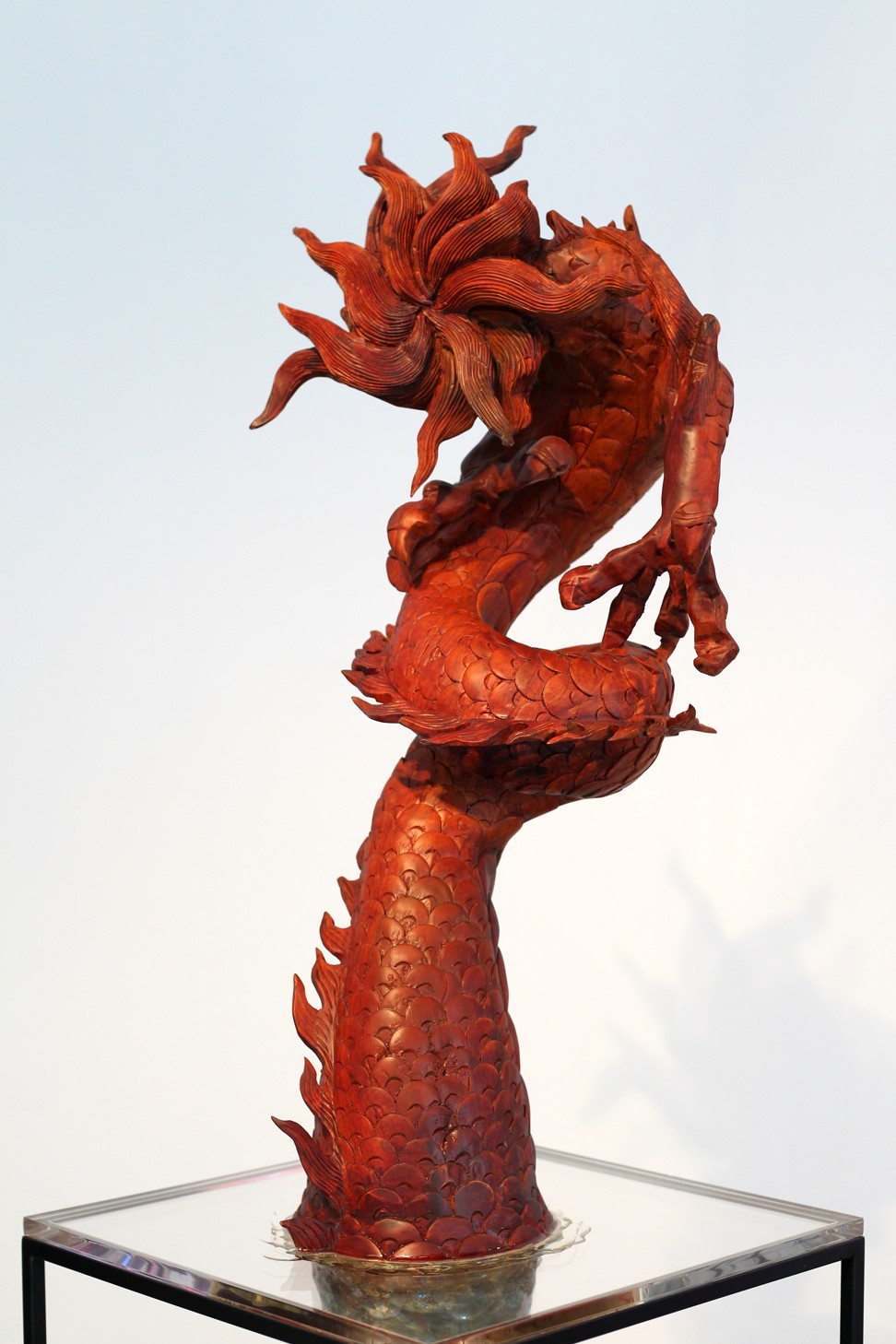 It is a relationship steeped in all kinds of irony. For example, despite a historic antipathy towards the Chinese, the Vietnamese are matching that nation's appalling record in hunting down rare animals for misguided medicinal purposes.
What makes this exhibition so relevant in Hong Kong is the common cultural and economic factors. Every day, images similar to the slaughter scenes in Nguyen's video are seen in Hong Kong's wet markets, where butchers casually discard piles of entrails onto the pavement and fish are scaled while still alive. A troubling lack of empathy is displayed in this thoroughly desensitised environment, and yet, as Nguyen says, it is almost better than the total disconnect between consumption and killing in the West.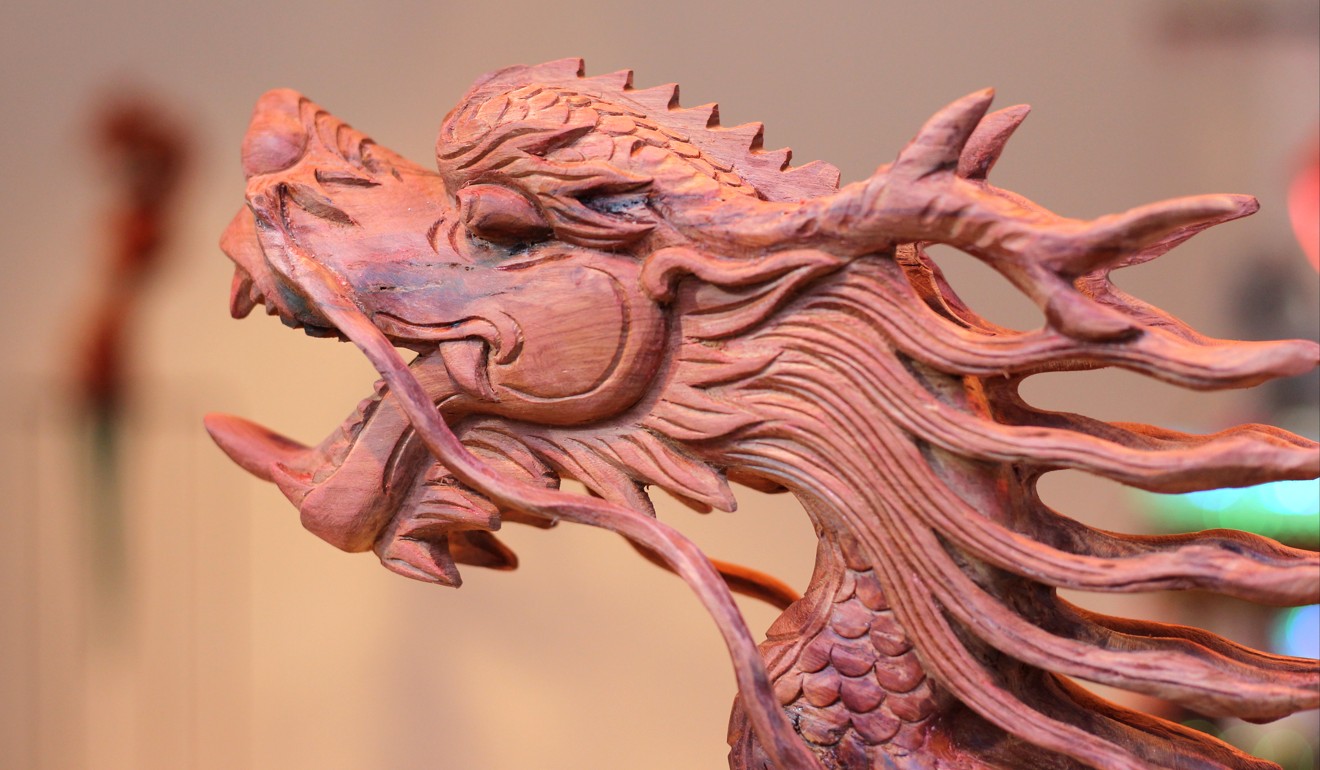 He finds the lack of emotion strange though, given the veneration of animals in myths and the magical power attached to them that result in the unscientific, but firmly held, belief that things like rhino horns and pangolin scales can cure cancer.
In Asia, it is particularly strange how the widely held belief in reincarnation does not prevent the cruel treatment of animals. That is reflected in Nguyen's The Irony of Our Worship / The Revolutionary Reincarnated As A Pangolin, which takes the form of a traditional ancestor altar that honours a pangolin holding up a protest sign reading "Rather dead than Extinct".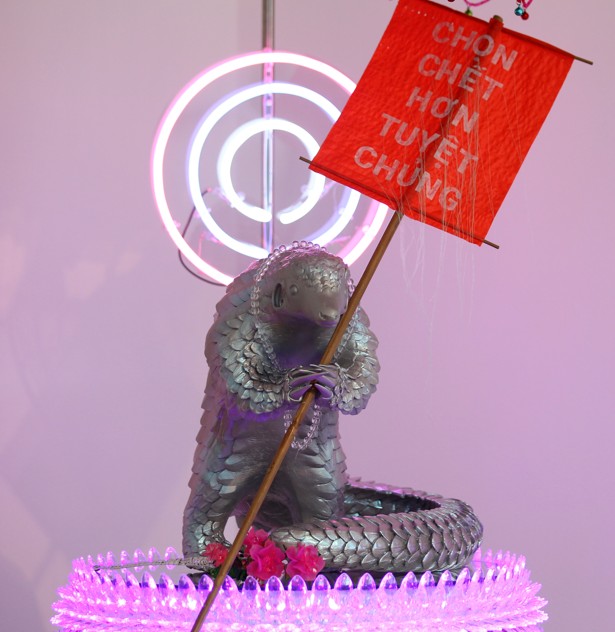 There is another trait that China and Vietnam have in common, Nguyen believes. Both countries are infected by pleonexia – a word Nguyen uses to describe an extreme form of greed fuelled not by necessity or economy alone, but by a combination of belief systems, tradition and politics.
Asians, however, are not alone in their tendency to mythicise strange beasts. One work in the exhibition, The Wrath of Imagination (2017), is a sewn copy of Albrecht Dürer's famous rhinoceros woodcut from 1515. The woodcut was conjured out of hearsay, since the German artist had only ever seen a sketch of rhino, and greatly exaggerates the animal's armour-like qualities.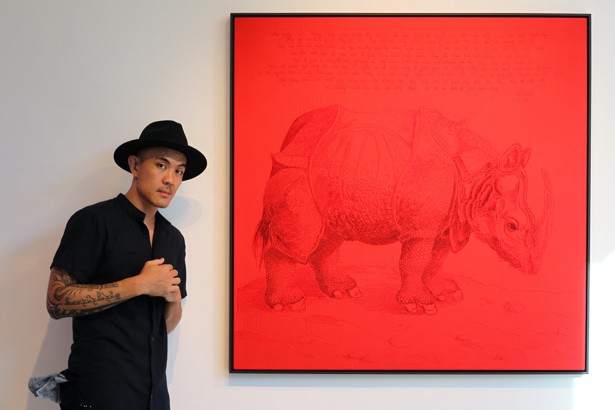 Two events prompted Nguyen's works: the killing of the last Javan rhinoceros and the horrific, large-scale discharge of poison from a factory in central Vietnam in 2016 that killed millions of fish, their carcasses washing up across miles of coastline.
His work, which was first shown in The Armory Show in New York last year, is not activism, he insists. Whether working alone or as part of the art collective called the Propeller Group, he says his work has always walked the thin line between being politically engaging and being reflective. "I want to implore people to look and to question," he explains.
"I am not even being sarcastic here," he adds. "The situation is inherently ironic. All I've done is to pull out the different layers."
My Ailing Beliefs Can Cure Your Wretched Desires, Tuan Andrew Nguyen, 10 Chancery Lane Gallery, 10 Chancery Lane, Central, Tue-Sat 10am-6pm. Until Aug 28.
This article appeared in the South China Morning Post print edition as: Solo show gives a city of omnivores much to chew over