Art
Get more with myNEWS
A personalised news feed of stories that matter to you
Learn more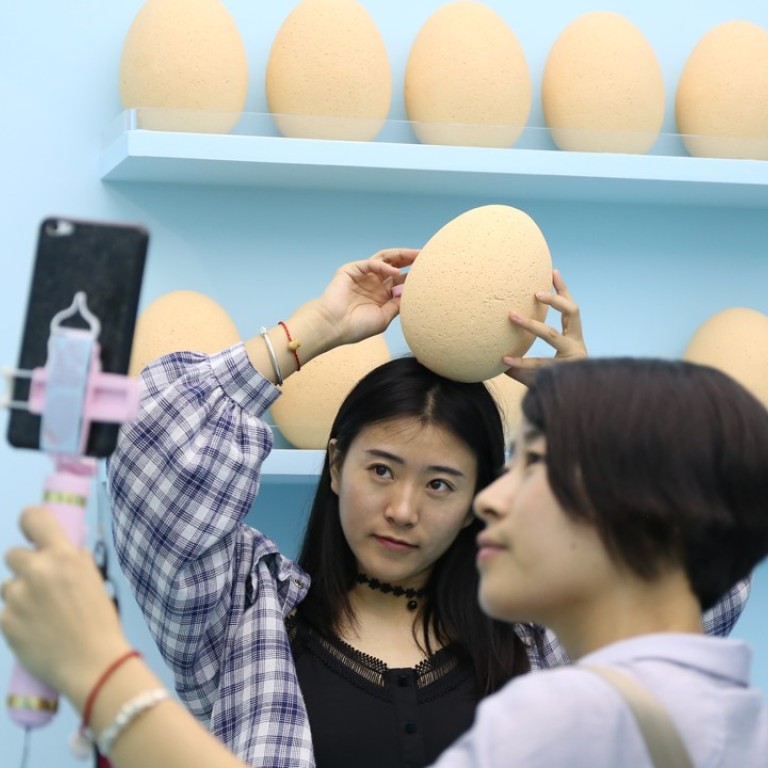 Creator of Shanghai's newest selfie magnet, The Egg House pop-up exhibition, makes no bones about its purpose
Wenzhou entrepreneur brings egg-themed installation she launched in New York to Shanghai, figuring 'a lot of trendy people need a place to create content' for social media; a critic calls it quick-fix entertainment for narcissists, but 25-year-old Xu Biubiu explains it has a serious theme
Artistic or narcissistic? The Egg House – a 4,900 square foot (455 square metre) pop-up exhibition space comprising several egg-themed rooms where visitors can pose in front of colourful installations to take selfies – has just landed in Shanghai, and people cannot get enough of it.
Since opening in late July, near 30,000 have passed through its yellow doors – and its creator, Xu Biubiu, is planning to launch another one in Los Angeles, having set up the first Egg House in New York in April.
The 25-year-old Wenzhou native says The Egg House taps into people's growing obsession with creating content for social media platforms such as WeChat.
"I figured a lot of girls, bloggers or trendy people, they need a place to create content. Not everyone has time and money to travel a lot. They can come to The Egg House," says Xu, who quit her internship as an accountant and spent two years travelling to 40 countries, visiting tourist attractions, hotels and restaurants that are popular on the internet.
"I keep travelling and take pictures and have experienced a lot of hotels, so I can have good content for my social media account," Xu says.
The show that inspired Xu to set up The Egg House was 29Rooms by Refinery29, a digital media and entertainment company, that sparked the pop-up exhibition trend. It was 2015 and Xu recalls having to queue for eight hours to get into the exhibition in New York.
Was it worth the wait? To Xu, certainly. She was so amazed by the installations – and most importantly, pleased by the photos she took at the scene – that she booked return visits to 29Rooms each subsequent year.
29Rooms pop-ups are staged annually to coincide with New York Fashion Week each September. "29Rooms combines the interactivity of a funhouse and the cultural relevance of a museum but it's also a museum where you can touch the art, punch the art, ride on the art, you can be the art," Piera Gelardi, co-founder and executive creative director of Refinery29, told Adweek, which described 29Rooms as an "experiential installation".
At 29Rooms, Xu saw a business opportunity and rolled with it, founding The Egg House in New York, where she was doing her master's degree in accounting. It was an instant sensation, attracting Victoria Secret's model Gizele Oliveira, Frank Ferrer, the drummer for rock band Guns N' Roses, Bethenny Frankel, star of the television show The Real Housewives of New York, and social media influencers from across the United States.
Like other museums and pop-up exhibitions that have sprouted in big cities in recent years – the Museum of Ice Cream in Manhattan, Candytopia in Santa Monica, California, Happy Place in Los Angeles, to name a few – The Egg House caters to a generation that is obsessed with social media, cultivating their personal brand, and building their own online personality.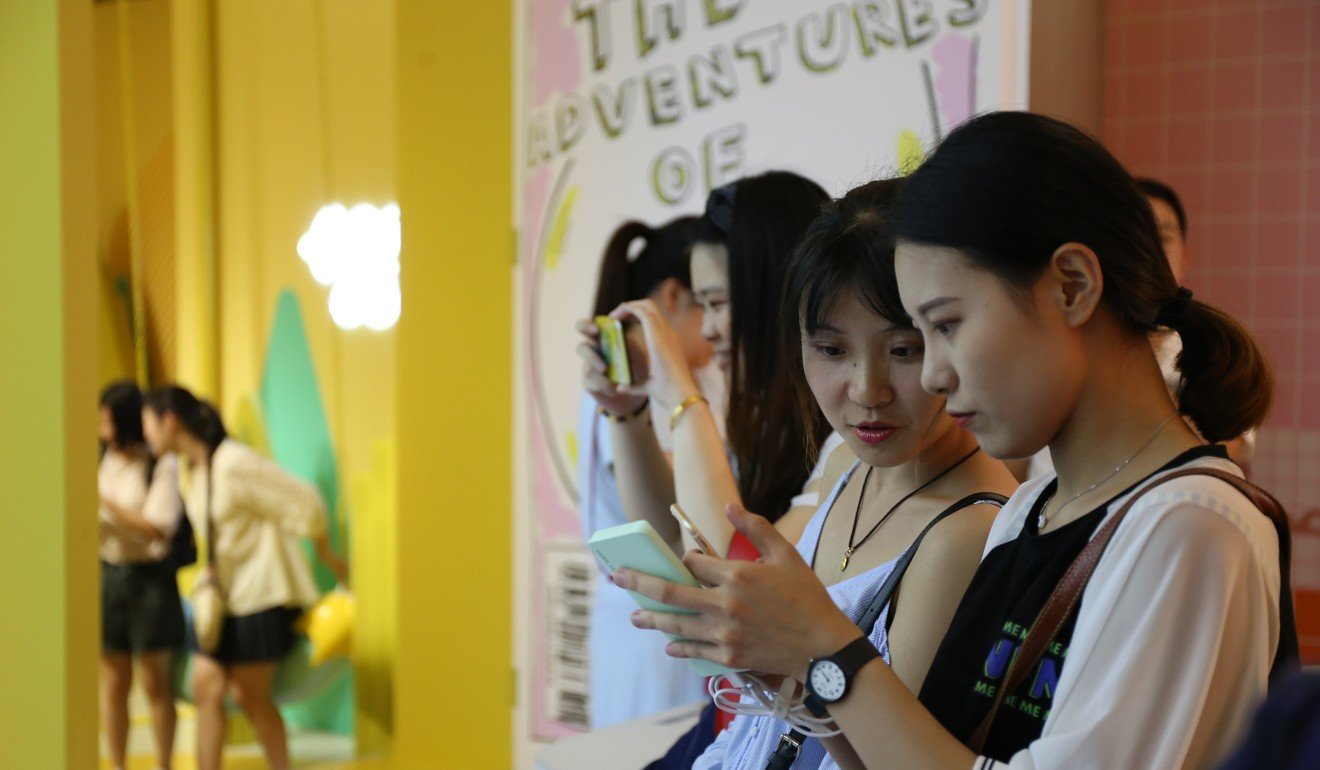 Media commentators have labelled such pop-ups "knock-off museums" and "selfie factories", and asked whether alternative museums "have gone too far". Art critics have pointed out the superficiality of such pop-up shows and how they could feed our vanity.
"Since modernity, every generation has its version of quick-fix entertainment, from the earliest films of the penny arcades to the roller coasters and coin-operated video games I grew up with," says Michael Ned Holte, an independent curator and an educator at the California Institute of the Arts. "Still, today's version of quick-fix entertainment does strike me as rather narcissistic, in result if not intent."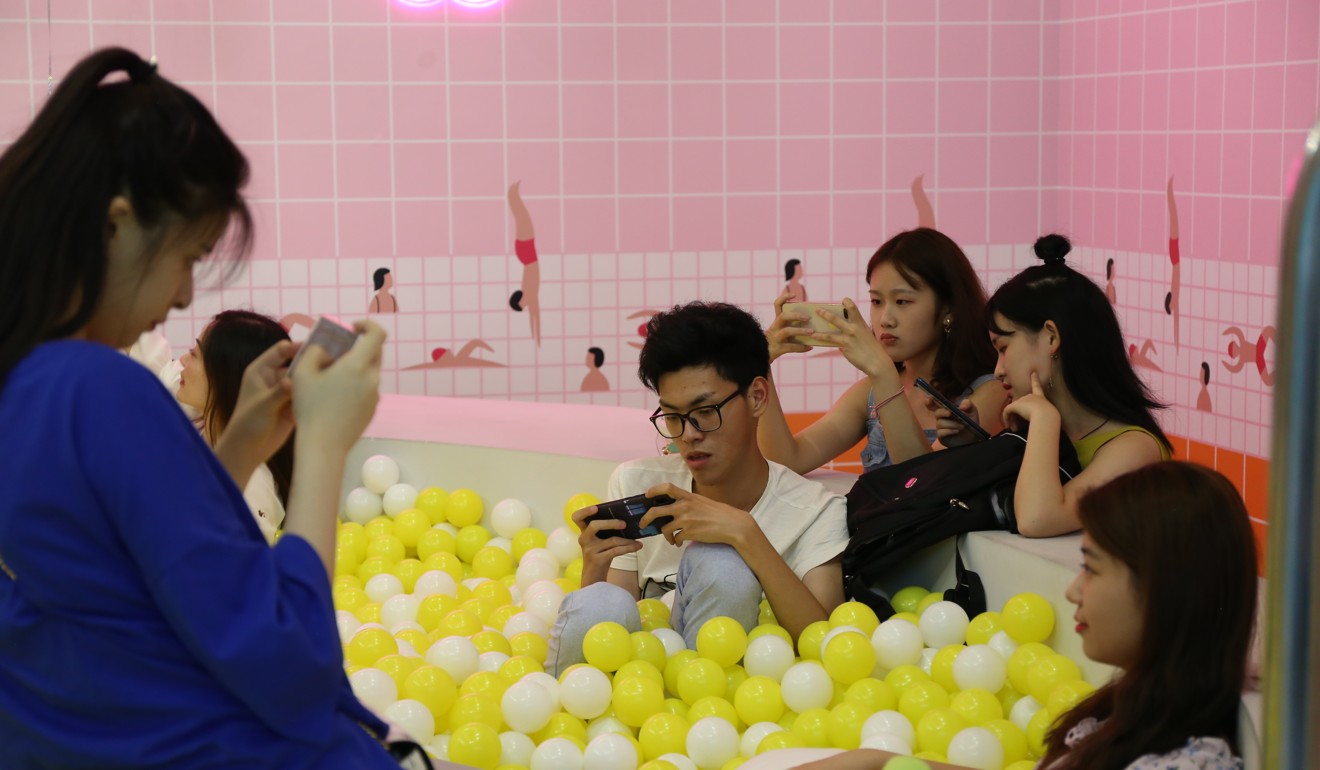 Another art critic, Edward Goldman, wrote: "I hope that Millennials will soon mature enough to understand that this latest trend is just noise."
Xu argues that there is meaning to The Egg House. The design of the space is based on the adventure of an egg called Ellis, named after Ellis Island, a historical site in New York Harbour that was once a reception point for migrants, she says. The character symbolises the hopes of foreign students like her of finding success and acceptance in America.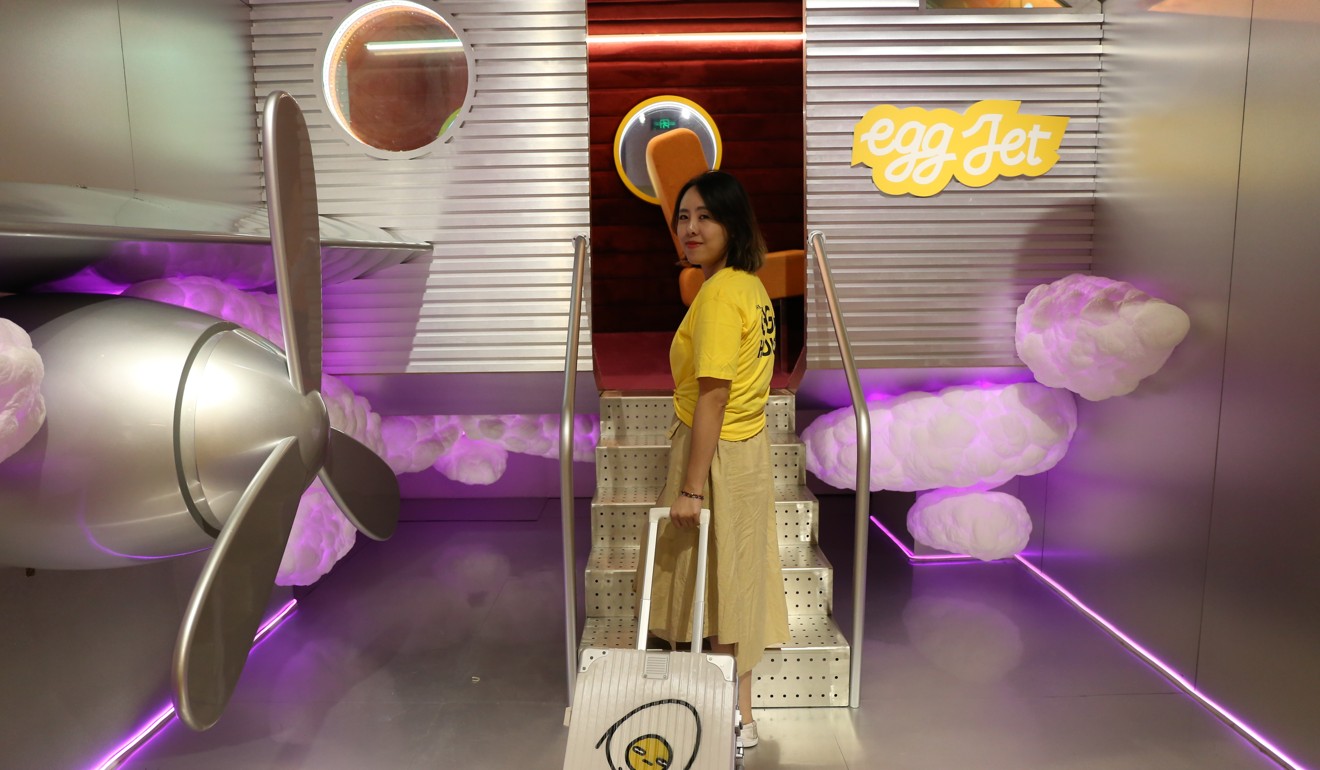 "The pop-up is our own team's American dream. Even though we are Asians, we want to do something successful in the native culture," says Xu.
It is not clear this message gets through to visitors in Shanghai, many of whom appear self-absorbed and focused intently on their phones. Three teenagers sit in a pool of fake eggs for 15 minutes, their eyes glued to the screens of their phones; a frustrated mother asks another visitor for help to take a snap when her young son could not take the desired shot.
The backdrops are eye-catching, but what is most important is how they look in visitors' pictures.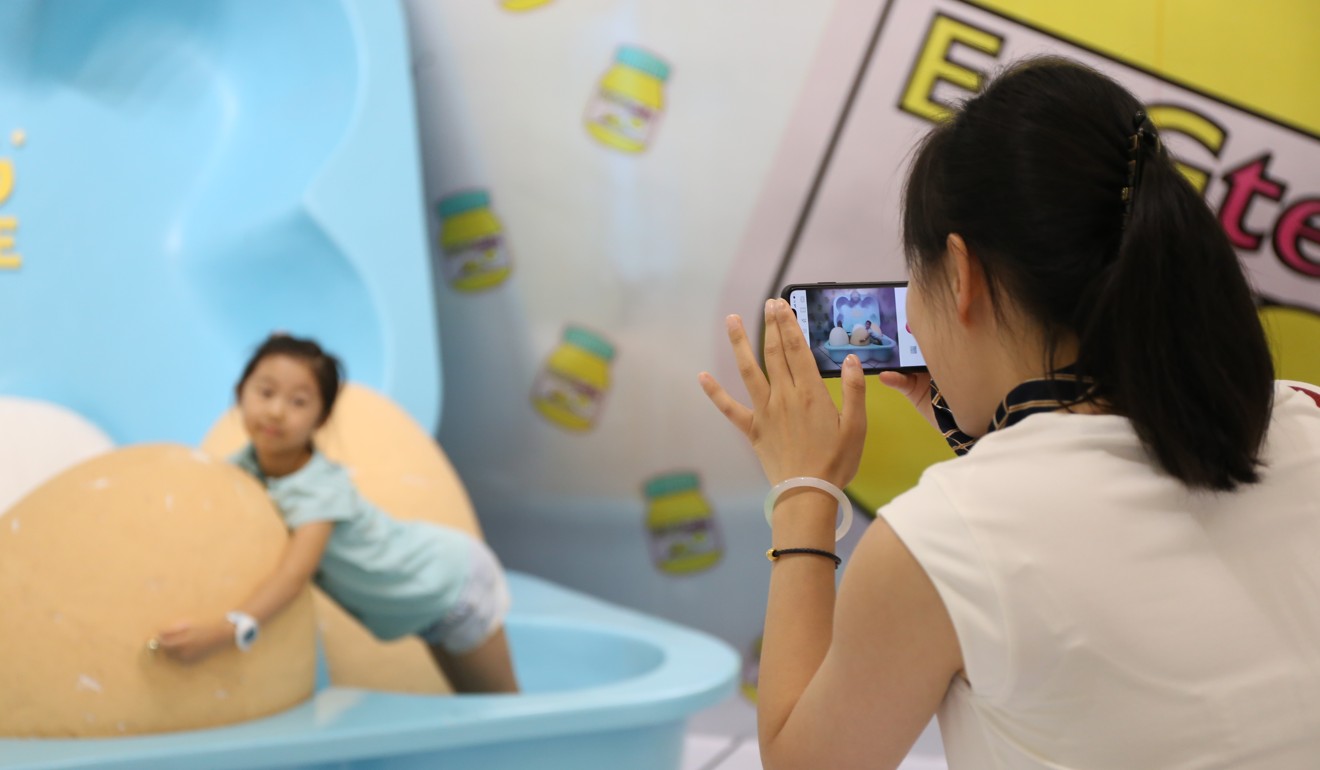 "What remains fascinating [and irritating, for me at least] in this moment is that people still choose to physically visit these spaces in order to produce what is essentially a virtual experience – that is, a selfie that circulates elsewhere," says Ned Holte. "I often see people taking a picture in museums but neglecting to actually look at or experience the art that brought them there in the first place.
"Strangely, the fleeting experience is now the encounter at the museum, and the lasting experience is the image that results from it."
 The Egg House, 3F, North Building, Joy City, 198 North Xizang Road Zhabei, Shanghai. Entry 58 yuan to 198 yuan.
This article appeared in the South China Morning Post print edition as: Where selfie satisfaction is guaranteed