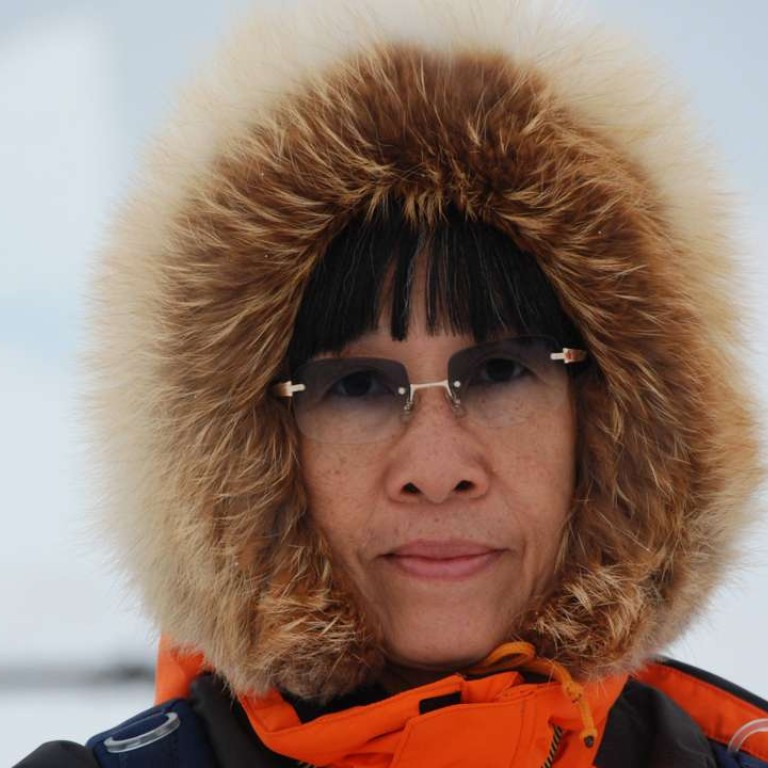 Beacons for a lost generation: book profiles 59 inspiring Hongkongers
Author tells personal stories of Hongkongers from worlds of politics, business and sport who agree to serve as mentors for young people, many of whom she finds to be hopeless, scared and worried
Delphine Barets came to Hong Kong in October with just one local contact in her address book and a mission – to find the inspiring people of Hong Kong. Six months on and she has met more than 200 people and interviewed 59.
"It has been very hard to stop, there are so many inspiring people in Hong Kong," says Barets, who is putting together Those Who Inspire: Hong Kong, the fourth in a series of books about the personal stories of role models for the young.
The idea for the series of books was born in Oman in 2009. Barets was running a communications agency in Paris with Marlene Plomik, and was subcontracted by news organisations to put together country reports for special supplements. Driven by advertising, it was a lucrative business and the pair travelled the world, spending a couple of months in a city to research and prepare the reports. But they fell in love with Oman and, looking for an excuse to stay, hit on the idea for a book.
It was Oman's former minister of manpower who planted the seed. He was concerned that the country's young people were focused on becoming civil servants and wanted to encourage them to consider other options. He suggested they write a book to inspire young people. They threw their hands in the air – it seemed an impossible task – but before long they began looking seriously into how to make it happen.
A lot of young people they talked to said they had a hard time finding mentors, Barets says. "They wanted mentors in real life, experts. They wanted to know how a person set up his business."
There is much talk on American television about mentoring and inspiring, she says. There is no shortage of TV shows of celebrity chefs mentoring wannabe chefs or pop stars inspiring young singers.
"Since we aren't just going to have a society of chefs and singers we thought, OK, let's give them a different tool," says Barets.
Those Who Inspire: Oman was published in 2012 and was followed by Those Who Inspire: UAE and Those Who Inspire: Nigeria. And after the publication of the third book, officially a "collection", the pair approached Unesco to see if they could get a coveted seal of approval.
"We went to see them and they loved the concept. The Hong Kong book will be the first to bear the stamp of approval from Unesco. That is about prestige, not money, but it does mean this is educational material so the book can be taken into a classroom," says Barets.
In a new city she and Plomik spend the first month focused on getting the lie of the land, speaking to people and compiling a list of possible interviewees. She was surprised to discover that many of the young people she spoke to felt hopeless, scared and worried.
"They don't really see what they can do. They feel a lot of pressure. And not just pressure from studying, but pressure to do jobs that they don't want to do, there's a lot of need to respect family and elders and things like that," says Barets.
Another thing that surprised her was the request from young people to have mentors who have a political conscience. They were interested in entrepreneurs and wanted to know how to become a CEO in two years. They wanted to hear from pop stars and people like Li Ka-shing, to know how he made his money.
Barets and Plomik initially shied away from the political element because they wanted to stay neutral – to inspire not influence – but demand was so strong that they relented. To keep the book balanced, if they represent one side of a story they always show the other, so one Democrat is featured, Martin Lee Chu-ming, and one from the pro-Beijing camp, Legco president Jasper Tsang Yok-sing.
As for Li Ka-shing, he hasn't replied to the request as of yet. And there are no pop stars featured.
The 59 people profiled so far are a fairly even split between men and women, big names and lesser-known folk. Among those who are often in the headlines are: former chief secretary Anson Chan Fang On-sang; G.O.D. founder Douglas Young; entrepreneur David Tang; Undersecretary for the Environment Christine Loh Kung-wai; explorer Rebecca Lee Lok-sze; professional boxer Rex Tso Sing-yu; chairman at Kadoorie Farm Andrew McAulay; former Hong Kong politician Hilton Cheong-Leen; and public relations executive Esther Ma Tin-wai.
Others with equally inspiring stories include Paralympic sailor Foo Yuen-wai; wine ambassador Kevin Ho; wildlife conservationist
Laurel Chor Lik-fung
; and
Mui Thomas
, a young rugby referee with a rare skin condition.
"The idea is that each person shares their personal story – it's not about the company they work for. What was it like for them when growing up? Did they always know what they wanted to become? Did they change jobs because their parents were pushing them to be a doctor and later on realised they wanted to be an entrepreneur?" says Barets.
Regardless of the wealth or social standing of the person, each is given the same treatment – two pages of text with a photo and a snapshot biography. The profiles are arranged in alphabetical order and to ensure that the book isn't perceived as a ranking, the number of profiles is kept to a random number, such as 67, rather than 50 or 100.
The book is intended to be a "mentor guide" for young people and key to this is the fact that each of the people profiled has agreed to list a contact so that young people can reach out to them. In the case of the Nigerian book, people gave their mobile numbers. In Hong Kong, they have provided a Facebook, LinkedIn or Twitter account or a blog site.
"The idea is that they don't only share their story, but they also agree they will be contacted by either the university, the college or the students themselves," says Barets.
Barets and Plomik conduct all the interviews in English. They then send the audio recording of the interview to a writer who prepares the text. The books will be bilingual – English in the first half, followed by traditional Chinese – and will have the distinctive silver cover of the series, intended to look like a mirror, "so that the young people look at themselves and say I can also inspire", says Barets.
You won't find the books in a bookshop. The idea is that young people receive the books free –usually through an educational body. Barets and Plomik aren't running an NGO or a foundation. It's a business, but one with a social conscience. And to this end they need to get companies – and individuals – to sponsor the books. This is proving a little more challenging in Hong Kong than they expected. While in Nigeria, Barets says, people saw a real need to inspire the young and snapped up the books, in Hong Kong there is hesitancy.
"In Hong Kong people are like, 'What kind of marketing can I get out of that?' They are 15 years old. Do you really want to pollute them with advertising?" she says.
Barets promises to double the print run of whatever someone pays for. So, for example, if someone buys 100 books, she will print another 100 and donate them to a school or university under the name of that person.
The launch of
Those Who Inspire: Hong Kong
is scheduled for November. If you are interested in sponsoring some books or finding out more, contact Delphine Barets at
[email protected]