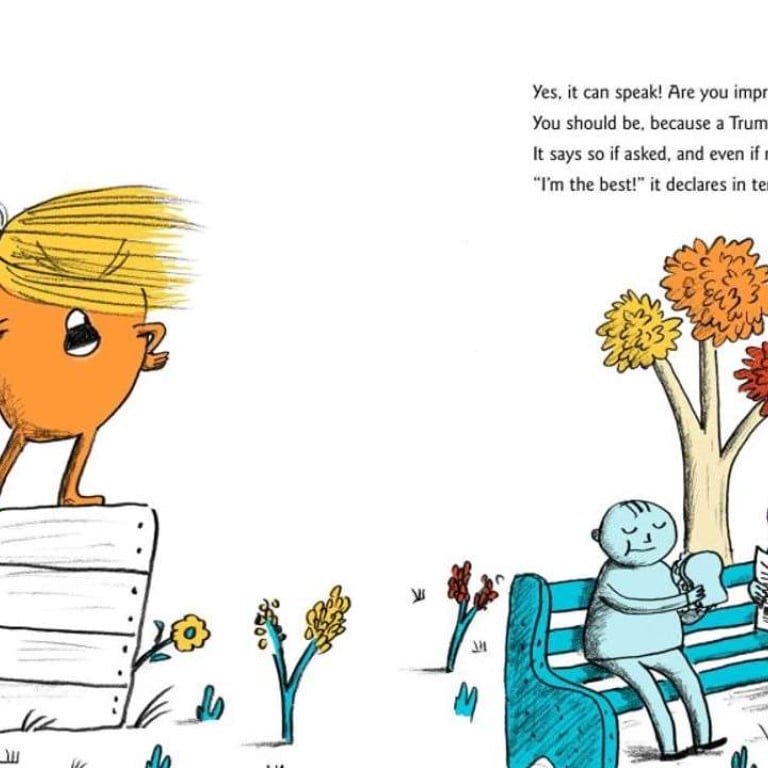 Book review: A Child's First Book of Trump – sometimes funny take on would-be president
Don't let the title fool you - this is an adult satire poking fun at US Republican presidential nominee Donald Trump, but some of its rhyming couplets are lazy and the jokes overstretched
A Child's First Book of Trump
by Michael Ian Black and Marc Rosenthal
Simon and Schuster
3 stars
I'm guessing that your first question about this timely Trump satire is will it make a good birthday, hostess or thank-you gift for that hard-to-buy-for liberal in your life?
The short answer is yes, at a pinch. Both author Michael Ian Black and illustrator Marc Rosenthal offer flashes of fun in this satirical picture book for adults, and the packaging is top-notch. The cover is at once a skilful evocation of mid-century classics such as Rudolph the Red-Nosed Reindeer and a hilarious swat at The Donald, depicted here as a swollen orange lima bean of a man, posing proudly within the gaudiest of gilt frames.
And then there's Black's pitch-perfect dedication: "For the haters and losers." I'm thinking even Trump would smile at that one.
Sadly, it's mostly downhill from there, as Black delivers an ode, in rhymed couplets, to a man with all the well-known flaws and foibles:
"The beasty is called an American Trump.
Its skin is bright orange, its figure is plump;
Its fur so complex, you might get enveloped.
Its hands are, sadly, underdeveloped."
Yes, Black went for a hand joke on Page 3, and not long after that he's telling us that the Trump's "diet is cash, its friends all go-getters. Its poop spells out 'Trump' in 10-foot-high letters!" Black, an actor/comedian and author of a best-selling collection of essays, My Custom Van: And 50 Other Mind-Blowing Essays that Will Blow Your Mind All Over Your Face, gets in some great lines: the above-mentioned "fur so complex, you might get enveloped", as well as "'I KNEW this would happen!' it says aplenty. Its hindsight is clocked at twenty and twenty."
But we get quite a few lazy rhymes and easy jokes from a guy who, at his best, is way better than that. The book is scheduled to be published on July 5, in time for the Republican National Convention, and Black says he wrote the first draft in a few hours, the second in a weekend. It shows. Black also said that while good children's books have messages, his does not. I'd say it actually does have a message – just not a terribly enlightening or useful one.
Rosenthal, an illustrator for the New Yorker, creates a delightful Trump beast with little more than the hair, the signature posture and the pursed lips. The restrained Seussian colour scheme adds to the charm. But, again, some of the spreads are thin – do we really need to see the Trump cross the finish line and declare himself No. 1 in a field of 1? Was there maybe a better award for our anti-hero to swipe than the trophy for "1st Grade Attendance?"