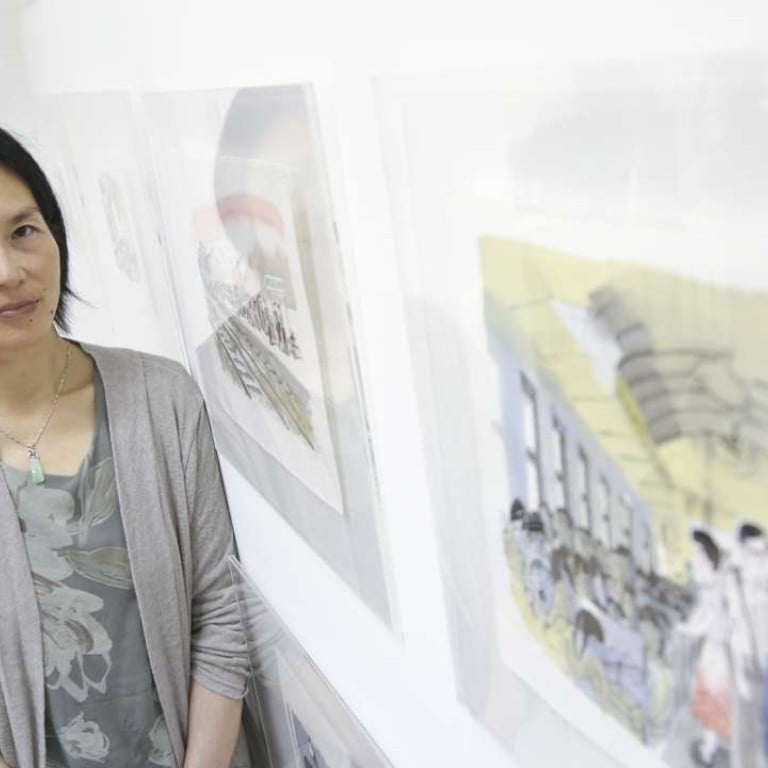 Hong Kong artist Meilo So illustrates a special book – written by her mum
Ho Sok-chun's story – daughter of war widow who fled China and worked as hawker, who has a family and as housewife invests in stocks – speaks to many Hongkongers, and touched the heart of her daughter, who's exhibiting art from the memoir
Meilo So may have drawn illustrations for books published by celebrities such as Hong Kong food critic
Chua Lam
and Oscar-winning actress Julianne Moore, but the 52-year-old artist's latest collaborator is the most special yet – with her mother.
Chun's Life in Hong Kong is Like a Delicious Meal, published by Crown Publication this month, is a 369-page memoir by Ho Sok-chun, 74, who came to Hong Kong from China with her mother as refugees when she was one.
With 120 illustrations by So, it charts Ho's life from the impoverished post-war era through the turbulent 1960s to the booming '70s and '80s. As well as being a veteran stock investor, Ho is also a mother of four, with eight grandchildren. To have So contributing to the book makes her feel proud, she says.
"I've always supported my daughter to achieve her own dream. Being an illustrator or an artist may not bring in much money but that is what she dreamt to be," says the first-time author.
"I'd always support Meilo to do whatever makes her happy."
Drawings from Chun's Life in Hong Kong is Like a Delicious Meal will be on show at the Conservancy Association Centre for Heritage, at Western Community Centre in Sai Ying Pun, until the end of September.
Having illustrated 100 books by Chua Lam and more than 70 children's books for international writers, So says the latest publication is as much an artistic as it is a personal project.
"I understand my mother more, particularly her earlier life, from illustrating her book," she says, adding her mother's story is a typical one for women growing up in the 1940s. "Hard work and the city's development has paid off."
And it's more than just a mother's story, says So. Through the writing and drawings it's also a piece of collective memory.
Born in Dongguan, Ho's father died during the Sino-Japanese war. Her mother first worked as a hawker before taking up a job at a factory after coming to Hong Kong.
"I used mainly black and white to illustrate [the early] period as that reflects the tough times and also the early memories of my mother," So explains.
The illustrations turn more colourful as Ho grew up, married an academic and started a family. While raising four children – So being the eldest – the full-time housewife also invested in stocks on the side.
"My childhood in Hong Kong was full of fun," says So who included the Lai Yuen funfair, the district of Mei Foo, gardens and family dinners in her drawings. "We are not wealthy but we are close to each other."
Ho, who lived in Macau in the early 1990s with her retired husband, recently moved to live with their youngest son in the US state of New Jersey. Another son lives in California, while one daughter is now living in Germany. So lives with her artist husband, Ron Sandford, in the Shetland Islands in Scotland.
"Working as an illustrator and an artist is not going to earn much money so the simple lifestyle in Shetland suits us well," So says.
Long-time collaborator Chua, who helped So arrange this exhibition, says the artist was recommended to illustrate his weekly column at Next Magazine.
"I was told Ms So's drawing style fitted my words well. In fact, I think her drawing is better than my writing," Chua says with a laugh.
So uses different mediums: pencil, pen, watercolour, ink and brush, and gouache. She now uses an iPad – a gift from Chua – to draft drawings that are later turned into works on paper.
Although So is proud of her drawings, the illustrator has no intention of influencing her 16-year-old daughter to follow in her footsteps.
"Like my mother, I would just encourage her to do whatever she is happy to do to achieve her own dreams," So says.
Drawings from Chun's Life in Hong Kong is Like a Delicious Meal, Conservancy Association Centre for Heritage, Annex Block, 36A Western Street, Sai Ying Pun, daily 10am-6pm, until September 30
This article appeared in the South China Morning Post print edition as: Illustrator draws on mother's inspirational story