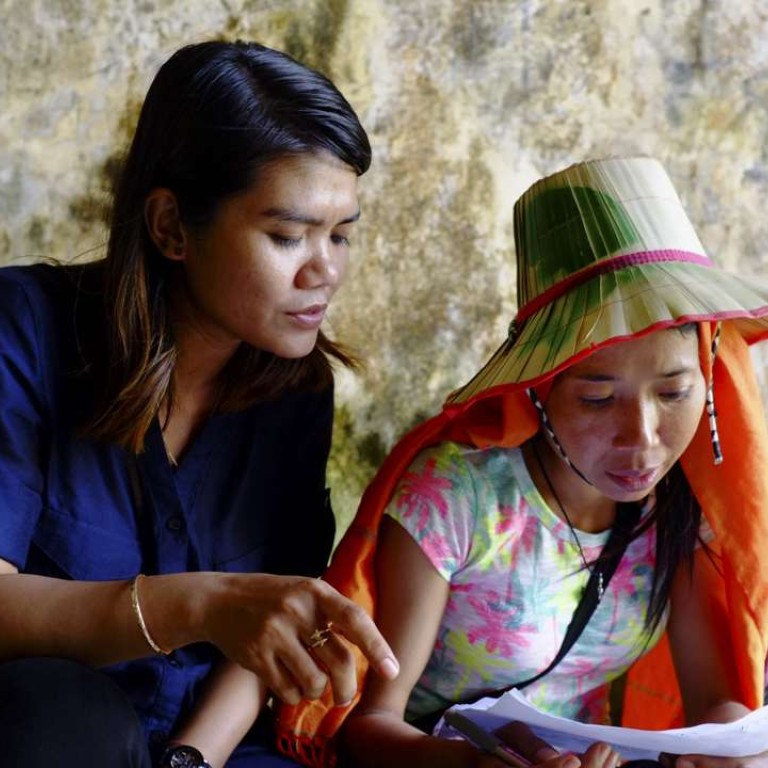 Kampot Writers and Readers Festival helps Cambodians tell their stories
In a country where one in four can't read or write, oral storytelling will be a focus of event attended by a Hollywood producer, a Miss World Canada, and award-winning authors
With low levels of literacy in Cambodia, it comes as no surprise that storytelling makes up a strong part of the country's cultural heritage – something that is being showcased at the second Kampot Writers and Readers Festival.
Historically, communities would gather in the evening after a day labouring in the fields to listen to folktales – passed down from generation to generation – being retold in animated performances that captivated the audience.
"It is this tradition that we want to celebrate," says festival co-founder Julien Poulson. "We want to highlight oral traditions, oral histories, spoken word, poetry, linguistics, lyricism, song lines and indigenous storytellers."
The festival made its debut last year with the aim of promoting literacy in Cambodia, where 28.2 per cent of those older than 15 are unable to read or write. It also intended to pay testament to the country's vibrant arts and literary community. The event proved to be an instant hit despite being put together in just 10 weeks, drawing more than 2,600 people to Kampot, a charming riverside town in southern Cambodia.
"There are very few Cambodian national writers and readers, but there is a culture of great stories," explains Poulson.
The festival, which takes place in the first week of November, is strategically sandwiched between the more established Ubud Writers and Readers Festival in Bali, and the Hong Kong International Literary Festival.
This year's event, which will be packed with workshops, panel-led discussions, book launches and performances, also marks the 25th anniversary of the signing of the 1991 Paris Peace Accords, which marked the official end of the Cambodian-Vietnamese war.
Tribal chief Lok Ta will be travelling to Kampot for the first time in his 91 years to share the stories and traditions of his vanishing culture.
"We've got something more precious than gold and silver, and it cannot be bought and it cannot be sold," he says, referring to the endangered culture of the Phnong tribe – the largest hill tribe in Mondulkiri province, who inhabit the remote, jungle-covered mountains.
David Puttnam, producer of Hollywood films Midnight Express and The Killing Fields – the latter set during the Cambodian civil war in the 1970s – will travel from Britain to be one of the mentors on a four-day Media Lab, hosted in partnership with BBC Media Action and OnePlus Media. The sessions will see 30 applicants hone their skills in writing for film, radio, TV and social media, and media arts production techniques.
Miss World Canada 2015 Anastasia Lin, who after speaking out on human rights was refused a visa to enter China, will also be appearing at the festival, as will award-winning Asian-American writer and poet Jenny Zhang, veteran punk rocker, writer and artist Jon Langford, and Australian crime writer Shane Maloney, of the
Murray Whelan
series.
Australian songwriter and poet Scott Bywater will be a coordinator for the poetry sessions, taking in traditional poetry, spoken work sessions and daily poetry slams.
"It's not just about writers and readers, it's about stories," he says. "What ways do we tell the stories? Do we take photographs? Do we write poems? There are so many ways, and that's what I'm interested in with the poetry this year; the more traditional narrative all the way through to the spoken word. We have some extraordinary people coming, and hope we can find some new performers."
New York-born poet, actor and writer Carlos Andrés Gómez will be visiting Cambodia for the first time to take part in the events. In May, his poem What does 'Hispanic' look like? went viral, capturing more than a million hits in a few weeks.
"The arts are vital to any society because they say what is often suppressed or withheld in other aspects of society. The true artist is a revolutionary because she gives voice to the deepest truths, which makes her a healer, change maker and sage. I am excited to be part of this," Gomez says.
With works that grapples with the ways race, gender, sexuality and history intersect, his attendance is a big coup for the festival. "His work fits perfectly into the themes we are addressing this year," says festival organiser Wayne McCallum.
New Zealander McCallum is one of a number of authors launching books at the festival. Having arrived in Cambodia in 2003, the staunch conservationist spent years working in the deep jungle of the Cardamom Mountains, collaborating with communities to protect the homes of endangered tigers, elephants and other wildlife.
His adventures, which have included being pecked by Sarus cranes, having his camera wrecked by orang utans and being whacked by an irate elephant, are detailed in A River and A Valley Far Away. The book will be launched alongside an exhibition of images from his time living in the wild. This will complement an exhibition featuring photo stories about climate change from the Koh Rong archipelago, and an essay competition, supported by WWF's tiger rewilding programme, around the history and cultural meaning of tigers in Cambodia.
Award-winning British author Mark Bibby Jackson will head up a crime writing panel to coincide with the launch of Peppered Justice, the second in his Cambodia-based detective series. Set in Kampot, the book follows disgraced Cambodian detective Major Sorn Satya investigating the ghastly murder of a young girl.
Bibby Jackson, who has spent the past decade flitting between England and Cambodia, says: "I don't think Cambodia is a crime noir country; it's much more of a slapstick country. I call it 'crime orange'. It's also the perfect place to explore the issues of justice and corruption."
The country's – and Kampot's – cuisine will also be showcased during sessions on food and cookbooks in their various forms. The region is home to the famous Kampot peppercorns, and neighbouring coastal town Kep is known for fresh crab and seafood. Kampot crab and pepper is a must-try. Kampot native Kek Soon, who is writing a Sino-Khmer cookbook, will lead a panel discussion exploring ways to develop grass-roots food tourism, driven by Cambodians with local knowledge and storytelling skills.
Kampot is an ideal location for the festival. A short stretch from the southern coast, the compact river town is often described as "sleepy". But visitors looking a little harder will find it full of all the jewels that make Cambodia so special: history, culture, diversity and heritage.
"Kampot is the perfect place for it," says Poulson. "It has always had a diverse community; it's a far-flung place beyond the reach of the central authorities; even up until 1920 it was considered someplace else. It's a former pirate port, it's got an uber-cool vibe and a community made up of cultural and linguistic diversity: Cham, Chinese, travellers. It has the French colonial history and the contemporary history. Now the arts and culture community is converging for this event."
The Kampot Writers and Readers Festival takes place between November 3 and 6 in Kampot, closing with a wrap party in Phnom Penh, featuring Cambodian Space Project. For information or to register for free, visit
kampotwritersfestival.com
This article appeared in the South China Morning Post print edition as: Oral and hardy