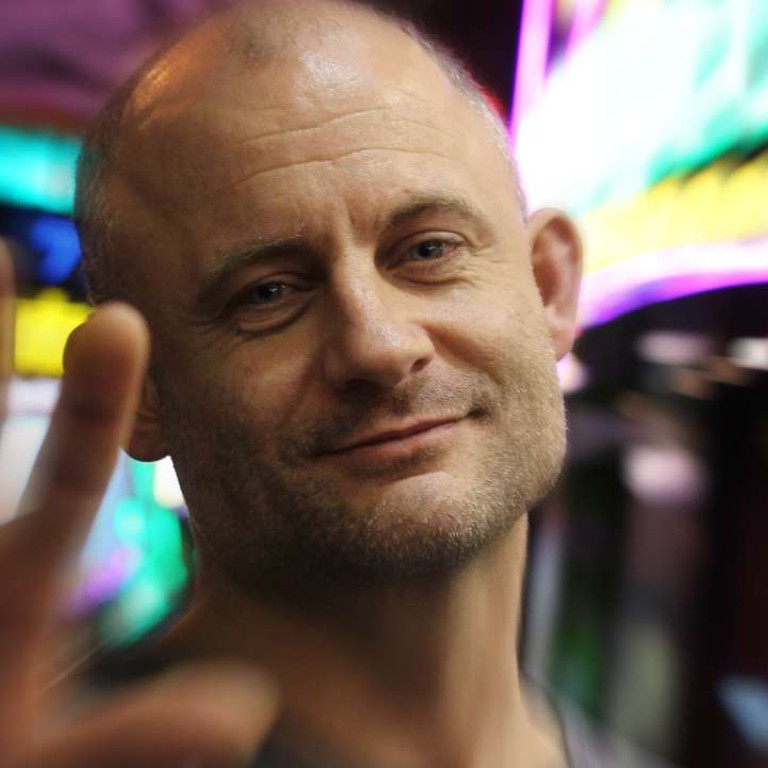 From Wan Chai meth head to bestselling author and radio producer: Chris Thrall on his return from the abyss
Thrall tells the Post how he beat addiction to write Eating Smoke, his memoir of life as a homeless drug addict working in a triad bar, which has been adapted for radio by RTHK Radio 3
Chris Thrall has been a lot of things: Royal Marine commando, daredevil, charity fundraiser, author, a doorman at a triad-owned nightclub in Wan Chai and a methamphetamine addict.
He can now add radio producer to the list, with RTHK adapting his bestselling memoir,
Eating Smoke
, about his Ice-addled mid-1990s time in Hong Kong; the third part is broadcast tomorrow, and all of it is available on
catch-up on the RTHK website
. The idea for the adaptation, performed by actor Nick Atkinson, came from RTHK Radio 3 presenter and producer Phil Whelan, after he interviewed Thrall for the radio station.
"It's perfect," says Thrall. "It's like hearing someone else tell their story. They've done a wonderful job, and I was very proud of the producer credit they gave me."
It's been a long journey to get there. Thrall left the Marines aged 25 to run a network-marketing business selling security products in Hong Kong, where his life gradually unravelled. It took him a long time after returning to the UK to publish Eating Smoke.
He continued to struggle with addiction and when he got home "my parents were told they had to place me in a mental institution. Most of my friends gave up on me." But he has also paid his way through a university degree in youth and community work, and worked as a substance abuse specialist; backpacked through more than 80 countries; driven a coach from Norway to India and back for charity; led a team of explorers from Sweden to Iceland in a vintage army truck; travelled to the Antarctic to dive amid icebergs; and become the father of an 18-month-old son, an experience that has evidently given him more pleasure than anything else.
There's an obvious line of danger and extremity that runs from his military career, through his full-throated embrace of intoxication and all the scrapes it got him into, to his ambitious-bordering-on-reckless charitable ventures. "I never do things by halves," he says. "I'm prone to extreme behaviour. There's a compulsiveness in me. It's the same with writing."
He started writing Eating Smoke in 2008. "I'd never written anything before in my life except university essays, but I knew I had it in me to be a writer. But I could only write when I was off my head; I didn't have any enthusiasm for it when I was sober. Crystal meth opened that doorway to creativity, and the spark went away when I was sober. I dabbled at it for three or four years. I'd write 1,000 or so words when I was high, but I was recovering from addiction, so those times became further and further apart – once every few months.
"Then one day I was fired from a job, I got home, I looked myself in the metaphorical mirror, and said 'Chris: do you want to make something of your life?' I wanted the five minutes of fame I'd so desperately missed when I was living in Wan Chai. So I made a cup of tea, rolled a cigarette, and by that evening I'd written 3,000 words. I was buzzing. I couldn't believe I hadn't written sober before. Like a typical novice writer I'd kept tinkering with the first chapter rather than writing the book. Then suddenly I'd written chapters two and three. Not just that, but it was funny."
He wrote the book in just five months. "I used to have to force myself to stop and eat," he says, adding that his memory of events was surprisingly clear – not that those events weren't memorable, but he'd done a lot to cloud his brain. "People ask how I remembered it all, but of course I only remembered the bits I put in the book."
Former cannabis smuggler and raconteur Howard Marks' memoir, Mr Nice, and heroin smuggler Warren Fellows' tale of life in Thai prison, The Damage Done, were particular influences, he adds – not so much in terms of style or tone as subject matter.
"I didn't realise you could publish a book about doing drugs; that you could write about the bad things you've done and people will enjoy it. I knew I was writing a good book, it was going to get published, and people were going to read it."
Still, the book's success came as a shock. "I never in my wildest dreams expected it to be a bestseller in Hong Kong for 10 weeks."
That success meant that, in 2013, Thrall returned to Hong Kong for the first time since the experiences described in Eating Smoke. "It was the crux of the book: I loved this place more than anywhere else I've ever been, but I didn't go back," he says.
"I went out not just to visit old places but also to make a bit of sense of the confusion I'd had. I went back to the old rooftop in Mong Kok, to the bench in Kowloon Park where I used to smoke marijuana. The saddest thing was that the old building where I used to live in Wan Chai had been pulled down, but I went down one of the alleyways there, and I can't tell you the nostalgia. There was an element of sadness, but mainly happiness.
"The crunch moment was going back into the club where I used to work. It still had the same owner and manager. But I was so happy to walk back in there and order a drink as if I were any old tourist. It was beyond words. I looked into the back rooms and saw the drink cartons I used to sit on during my break, and the conduit on the ceiling where the triads used to hide their weapons."
Buoyed by the book's success, Thrall is now carving out a career as a thriller writer, with a series of gritty, down-to-earth tales based around the character Hans Larsson. The first two, The Drift and The Trade, were published in April, with The Stone to follow. "I never dreamt I'd be a fiction writer, and people would be writing to me asking when my next book comes out," he says.
He's also about to publish a follow-up to Eating Smoke, and says he has at least two more memoirs in him. The new one, he adds, is "about what happens after I get on the plane at Kai Tak. The biggest question I get is: what happened after Hong Kong? And the second is: when's the movie coming out? I've been approached by Hollywood over 10 times for the rights, but nothing has ever come of it."