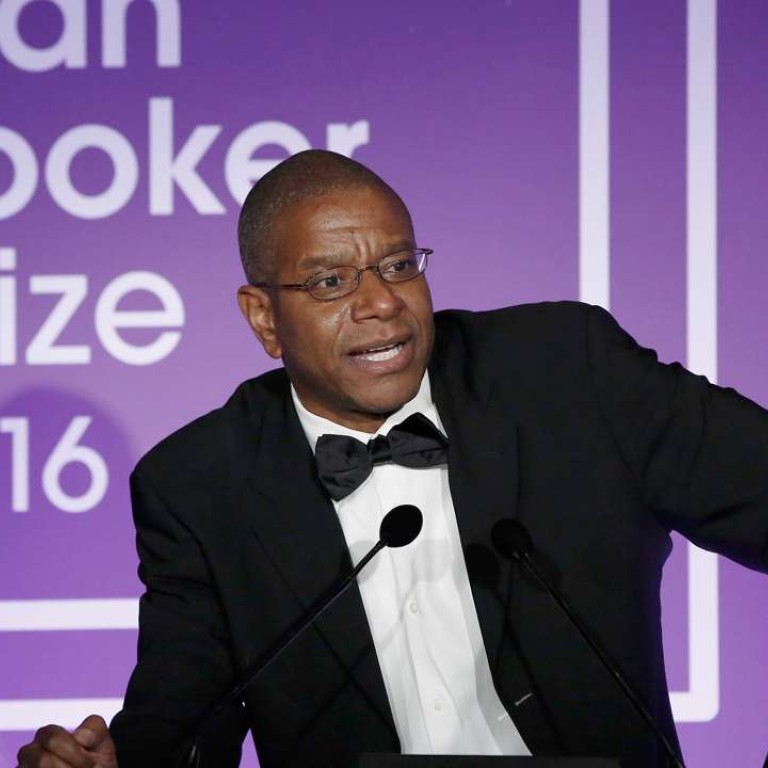 Update
Paul Beatty becomes first US author to win Man Booker Prize, beating former Hong Kong academic Madeleine Thien
Winning novel The Sellout paints a deeply funny and unsettling portrait of the contemporary United States
Paul Beatty has become the first American to win the Man Booker Prize.
His novel The Sellout paints a deeply funny and unsettling portrait of the contemporary United States. Set in rural California (a small ghetto near Los Angeles called Dickens), its central character is a black farmer accused of re-introducing segregation and slavery.
The Sellout was described in these pages as 'not just a brilliant novel about race in America, but a brilliant comic novel about race in America'.
Announcing the winner at the awards ceremony in London, Doctor Amanda Foreman, the chair of judges, said: 'In Paul Beatty's The Sellout, we have an anti-hero whose absurdist attempts to resurrect segregation are painfully funny with the emphasis on both painful and funny.'
Hailing The Sellout as a 'novel of our times', Professor Foreman compared Beatty's satirical talents to those of Mark Twain and Jonathan Swift: 'It manages to eviscerate every social taboo and politically correct nuance, every sacred cow. While making us laugh, it also makes us wince.'
A clearly emotional Beatty, who accepted a cheque for £50,000 from the Duchess of Cornwell, declared: "I hate writing." Thanking everyone from his girlfriend and agent to his editor and publisher, he rambled charmingly about breaking into tears the first time he read The Sellout aloud at a reading in Detroit. "It matches exactly the language and music in my head. I just didn't know it until I said it out loud."
While the novel is genuinely funny, its combative humour spares few pieties, liberal, conservative or otherwise. In addition to its provocative subject matter, there are healthy doses of swearing and racially inflammatory language.
Indeed, The Sellout, Beatty's fourth novel, has earned comparisons to stand-up comedians like Richard Pryor alongside his literary peers.
Rolling Stone magazine even called it 'badass.' The 54-year-old who was born in Los Angeles, but resident in New York, has written poetry as well as fiction, and had to be talked into accepting a grant for The Sellout by his girlfriend, Althea.
Nevertheless, the victory is sure to raise eyebrows for reasons other than his prose. Two years after American authors were controversially admitted to a prize formerly restricted to the United Kingdom and Commonwealth, Beatty's nationality will not win him universal admiration. In 2014, David Godwin, a leading English literary agent, called the decision 'absolutely tragic.'
Nevertheless, Beatty is an unpredictable, surprising and exciting winner in what has widely been viewed as the Man Booker's most unpredictable, surprising and exciting year in living memory.
Only Britain's Deborah Levy had previous Man Booker experience. Her new novel Hot Milk followed 2012's Swimming Home onto the shortlist.
All of 2016's shortlisted works mixed similar amounts of entertainment and ambition. And almost any winner would have created succulent headlines. A post-modern crime story (Graeme Macrae Burnet's His Bloody Project) duked it out with a post-modern psychological thriller (Ottessa Moshfegh's Eileen). There were heated debates about whether one book (David Szalay's story collection, All That Man Is) could be called a novel at all.
For many critics and bookmakers, the favourite had been Madeleine Thien's Do Not Say We Have Nothing. The longest work on the shortlist, this epic followed the lives of three Chinese musicians from the Cultural Revolution to Tiananmen Square and beyond. It was praised by Amanda Foreman as 'a fictional tale about what is very real indeed. The deep poison of totalitarianism and its existentialist threat to the human spirit.'
Born in Canada, Thien taught for five years on the MFA Program in Creative Writing at the City University of Hong Kong. When the course was closed in April 2015, Thien wrote an impassioned essay in The Guardian newspaper, arguing that: 'In its abrupt closure of a small programme, City University has chosen to make the act of writing a political battle.'
Having praised a course that attracted writers like Junot Diaz, Rae Armentrout, and Ouyang Yu, Thien ended on a melancholy note:
"I hesitate to use the incendiary words of censorship, freedom of speech and intellectual freedom. However, it has become increasingly clear to me, as events have unfolded, that these are precisely the issues."
Thien's outrcry seemed all the more poignant on a night when Professor Foreman spoke, somewhat grandiloquently, of readers being 'in the vanguard that stands against all threats, both political and practical, to the freedom of writers to write, the freedom of novels to be literary, and the freedom of people everywhere to read them.'
Audiences across the world will certainly be reading Paul Beatty's The Sellout, which looks set to gain the traditional surge in sales afforded winners like JM Coetzee, Salman Rushdie, Hilary Mantel, and, last year, Marlon James. Indeed, in one of many intriguing sub-plots, James and Beatty share a publisher – the relatively low-key Oneworld.
You don't have to win outright to triumph, however. Graeme Macrae Burnet's His Bloody Project had apparently sold only one copy before it was longlisted. Published by the small independent publisher Contraband, it has comfortably out-sold the rest of the shortlist so far.
In addition to Professor Foreman, the judges were: the critic Jon Day, novelist Abdulrazak Gurnah, the poet and academic David Harsent, and the actor Olivia Williams. Foreman revealed they had deliberated for just over four hours to make their decision. The Sellout was the last novel standing from an original total of 155.