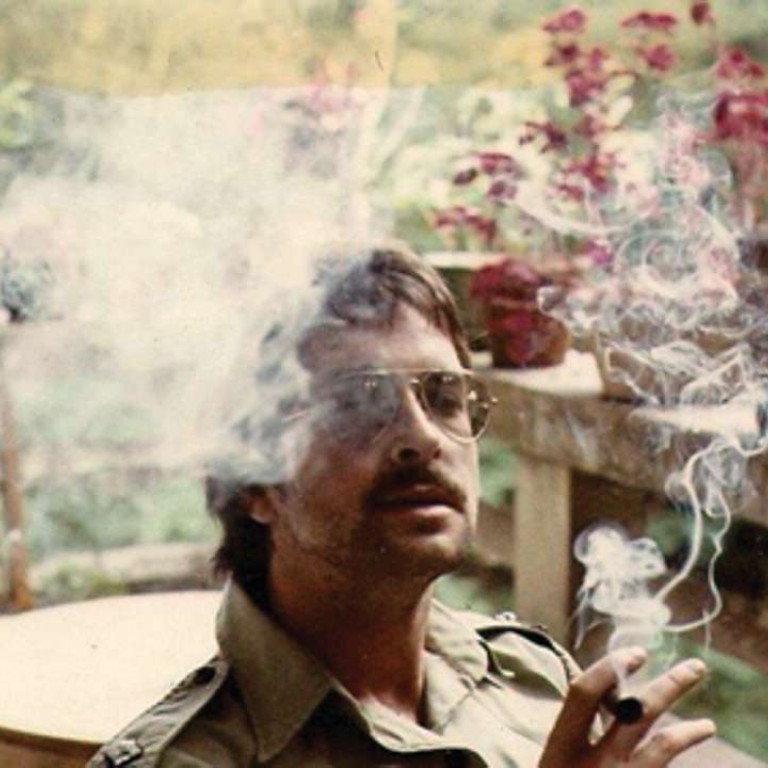 Book review: Sheriff of Wan Chai – author fluffs his best lines
Disappointing memoir about a Hong Kong life more observed than lived from former senior civil servant and policeman, who makes little effort to engage his audience
Sheriff of Wan Chai
by Peter Mann
Blacksmith Books
2 stars
Peter Mann's memoir, Sheriff of Wan Chai, is more than a police story. The author is portrayed on the cover in a Royal Hong Kong Police (RHKP) uniform, yet the 242-page book devotes only 33 early pages to the Englishman's two-and-a-bit years on the force. The rest of this biography is largely a bland, need-to-know timeline of Mann's subsequent 22 years in the Hong Kong Civil Service; his Garrison Players performances; and where he went for his holidays.
Even so, Sheriff of Wan Chai reveals Mann's intellect, if not his charm. His mother, Margaret, wrote the Merlin series and came from an illustrious line of church people and academics in colonial India. The author was educated at the traditionally churchy Monkton Combe School and won a place at Oxford, where he became captain of boats at Exeter College. However, Mann seems reluctant to write about his personal relationships, and as a result is hard to place, know or like. His parents have cameo roles with his siblings, and his stepfather merits only an untitled portrait in a restaurant.
The author also seems to have observed rather than lived his Oxford years, as he says too little of his rowing teammates, classmates, tutors or any intellectual influences there. Mann spots writers J. R. R. Tolkien and W. H. Auden around town, but doesn't talk to them. He says he meets Tony Blair, but fails to record anything the future British premier said. Manns' lovers are also reduced to timeline bit parts, such as the "tearful" Julia; the "attractive" Lilian; and even his "long-suffering" wife Zoe – until she offers him wise investment advice.
Mann's police reminiscences are no match for Chris Emmett's more entertaining
Hong Kong Police Man
from 2014. While Emmett describes the colour of his first arrival at Kai Tak in 1970, Mann resorts to clichés to describe his arrival six years later, with potentially groan-inducing references to a hawker's mucus and the "Building of a Thousand Arseholes". While Emmett introduces readers to his colleagues to build a mood and then largely focuses on a policing plot, Mann increasingly dilutes his memoirs with dull travelogue and regurgitated local history.
The author also fluffs his best lines. In the vice squad, Mann bravely chases a suspect down 17 flights of stairs, but doesn't describe the search operation's planning, teamwork, or how he felt during the chase. Some readers might also wonder whether Mann slammed the suspect's head against a wall in 1970s style, shouting the Cantonese version of "you're nicked", but the author makes no further effort at audience engagement.
Mann also pulls a gun on 50 suspects and seizes bundles of cash in a raid on an illegal casino, but the anecdote takes up just two paragraphs. A more imaginative writer might have opened a chapter with the stories of two failed swoops to reflect the frustrations of unreliable intelligence and the dangers of armed undercover policing – and then closed it with the sweetness of a good tip-off, Mann's coup and any celebrations with colleagues.
The author's descriptions of Hong Kong's vice scene also seem twee. He records a police station report room as a "veritable cathouse of pouting girls" but shields readers from the shock and maybe the trousers-down, bright-lights humour of a brothel raid. He reveals the traditional profit split of girlie drinks, but does not dwell on the prostitutes he interviewed, or the dangers and rewards of the "oldest profession" in late 1970s Hong Kong. Instead, the author catalogues the history of triads and flits to detailed recollections of Lantau until page 60, when he leaves the force.
Mann's readers might wish he hadn't. He joins the colonial government's administrative service section and recalls his experiences in drab vignettes of forgettable municipal jobs that largely lack the humour or the local charm of Austin Coates' Myself a Mandarin. He writes of his "lively discussions" on democracy with governor Chris Patten, but doesn't say much. Too many of his more junior colleagues are anonymous, as he pads his chapters with more diversions, from Puerto Galera to Ghana and Peru.
The author develops a knowledge of local trees, however. He reminds Hongkongers when they bloom and discourses on banyans. He catalogues the handover 15 years too late and leaves the civil service in 2001, writing that he was "too much of a free spirit to feel comfortable under the new civil-service regime". He then dabbles in business, teaches, and spouts more Hong Kong history, from Sars to Occupy Central. Mann embraces Buddhism, cites its similarities with Christianity, and then reveals a day's prayer and meditation practice – in the third person.
Sheriff of Wan Chai leaves Mann writing his memoirs in the teahouses of Xinhui, Gangdong, where locals praise the "amazing" quality of his Cantonese. However, this book's readers might wish Mann was as engaging in English.