Apple
Get more with myNEWS
A personalised news feed of stories that matter to you
Learn more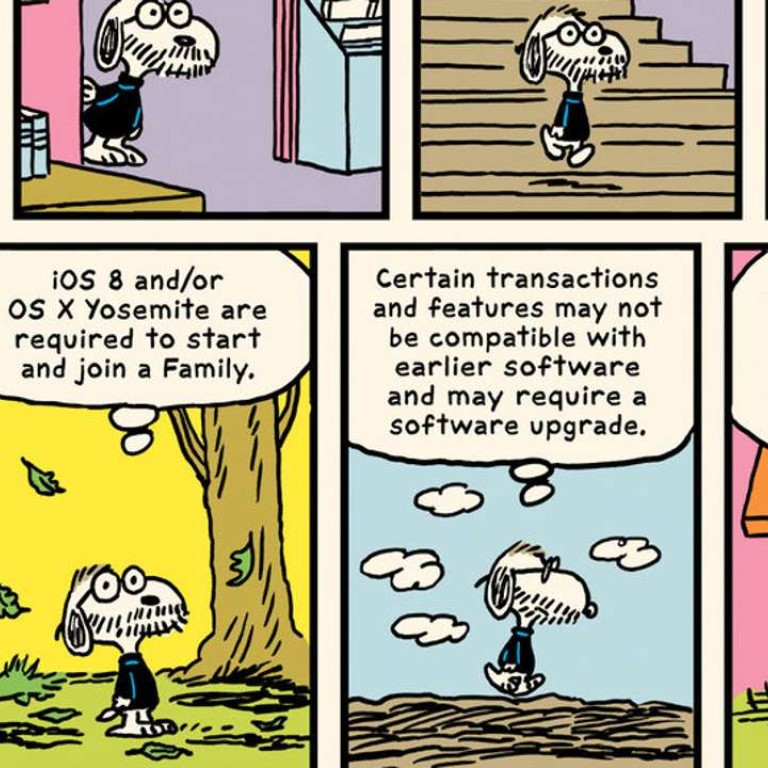 Artist who turned iTunes terms and conditions into graphic novel – baffling, weird and totally original
Late Apple founder Steve Jobs transformed into cartoon characters – from Snoopy to Hulk – on every page of book that turns all 20,669 words of rules iTunes users agreed to into a comic strip
It is rare to find someone who has a favourite line in the iTunes terms and conditions, but Robert Sikoryak does.
"Oh boy, where is it?" he says, scanning his book, before beaming and reciting: "You also agree that you will not use these products for any purposes prohibited by United States law, including, without limitation, the development, design, manufacture, or production of nuclear, missile, or chemical or biological weapons." He chuckles. "It's pretty startling, isn't it?"
Sikoryak's latest graphic novel, Terms and Conditions, is like a great piece of conceptual art: dazzling to behold, if more than a little perplexing. Its panels of text and dialogue are word-for-word true to the 20,669-word terms and conditions, published by iTunes in 2015 (Apple has since adopted a lighter 7,000-word version).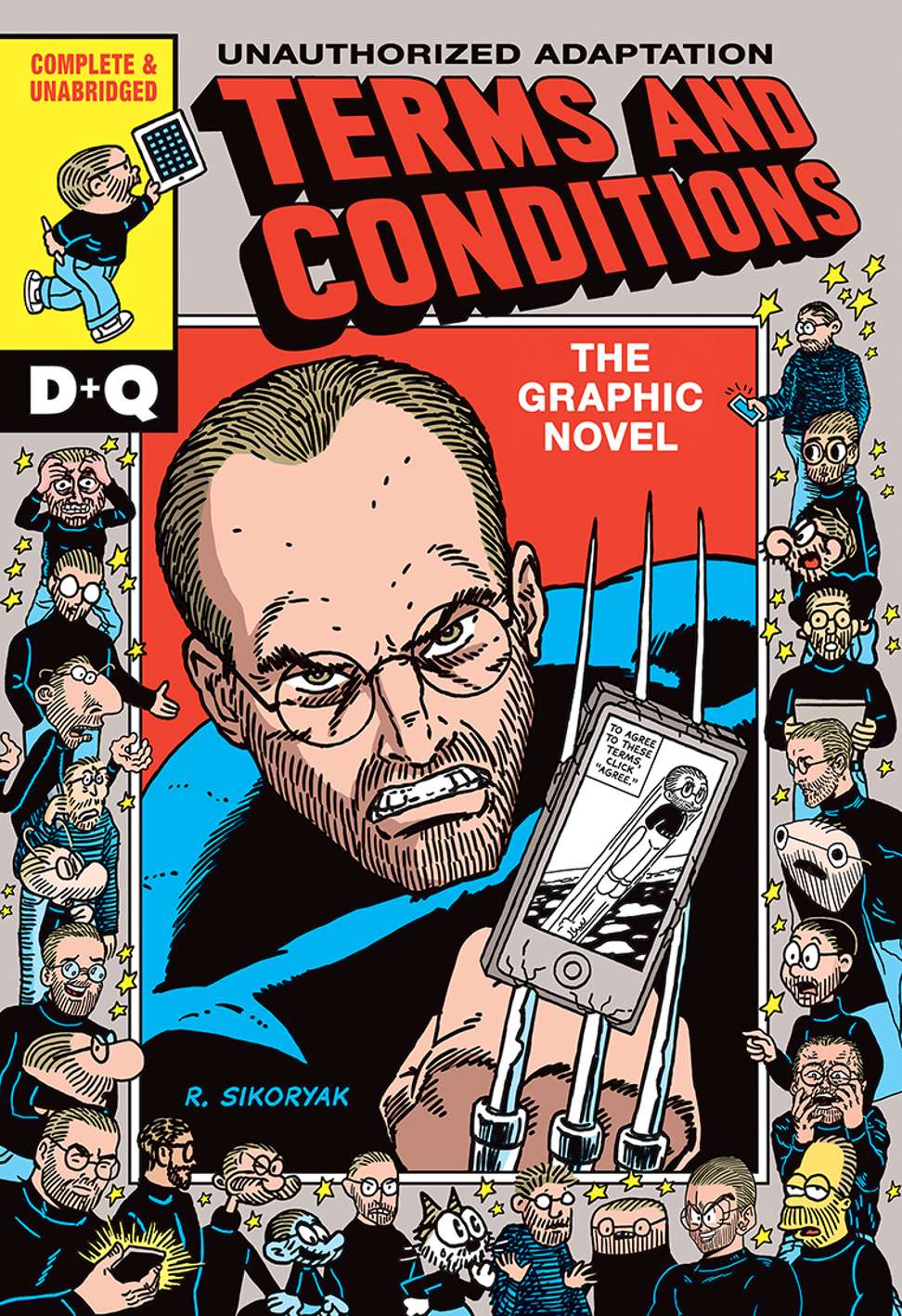 The book sees the late Steve Jobs transformed on every page into famous comic characters as he reels off Apple's user agreement. On one page, he's Snoopy, solemnly contemplating the rules of pre-orders as he lays on his little kennel. In another, he's Hulk going green while explaining iTunes Match. It is baffling, weird and – strangely for a book put together with text, design and characters created by other people – entirely original.
"In America, the graphic novel has exploded in the last couple of decades," says Sikoryak. "There are memoirs, non-fiction – and I wanted to do something different. Between my instinct for parody and absurdity, and my desire for something new, this happened." He shrugs and says: "It came into my head. I thought it was funny. And no one else had done it."
Sikoryak grew up in the US state of New Jersey, with two older brothers keeping him on a steady diet of hand-me-down comics, cartoons and satire. After years of drawing for the New Yorker, the Onion and Mad, Sikoryak has honed his instinct for parody and almost all his work now revolves around literature.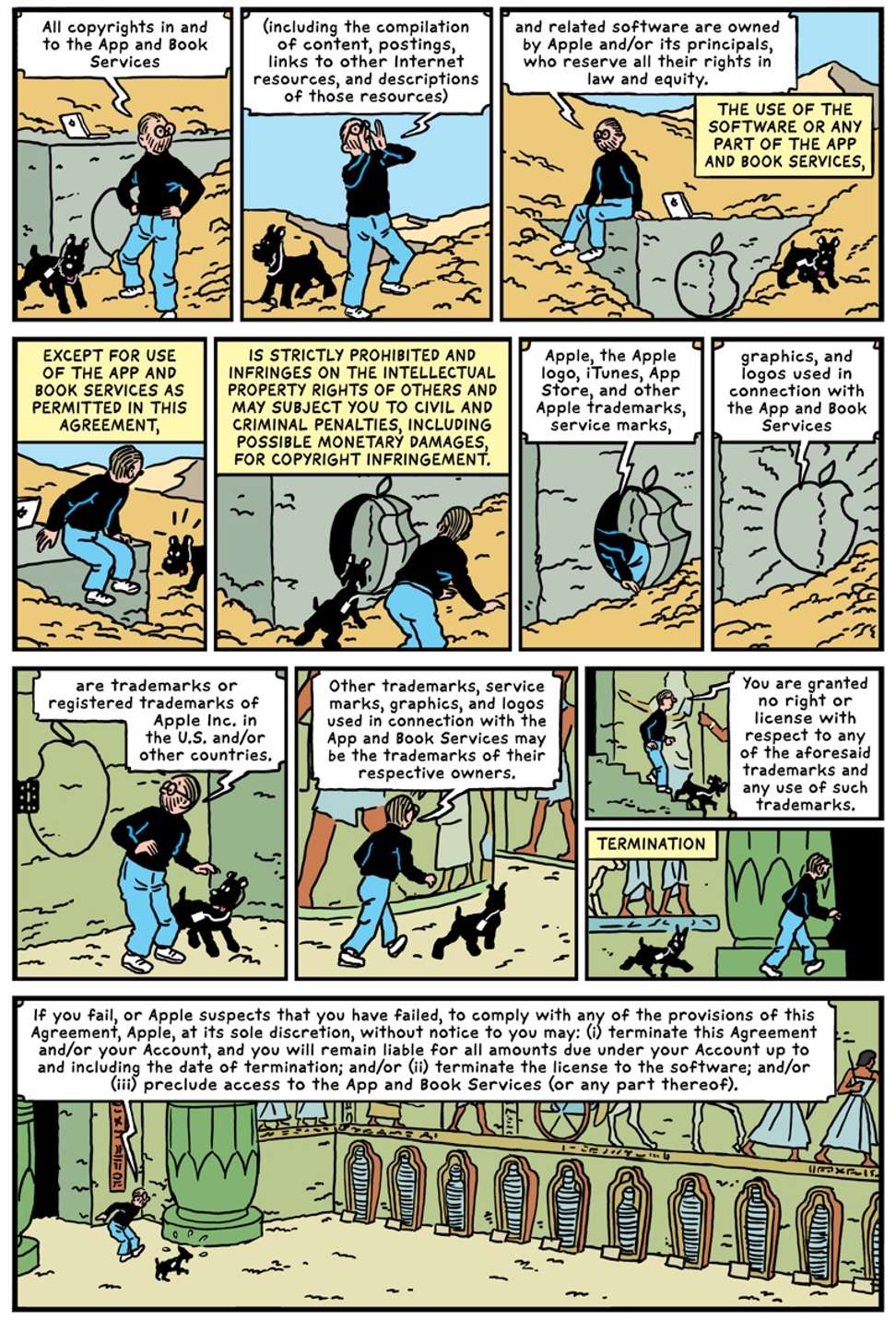 In his Masterpiece Comics , published in 2009, cartoons and classic books are mashed together: Beavis and Butthead are plonked into Waiting for Godot (retitled Waiting to Go); Superman is reimagined as Albert Camus' Stranger, now a smoking louche with deep thoughts about the human condition.
"Are you a fan of the Marquis de Sade?" he asks, while rummaging around for a copy of Just Justine, his retelling of De Sade's sadomasochistic tale with Wonder Woman as poor Justine, enduring a paddling from a monk. "Boy, I'm not sure I am," he says.
Sikoryak has been praised by some for making T&Cs more accessible, which he finds baffling. He just enjoys the challenge of making something dismissed as unreadable readable. In his eyes, convincing someone to read terms and conditions is just like getting someone to read "worthy" classics they feel guilty about skipping, from Camus to Beckett and beyond.
"I like using texts that are perceived as important," he says, "and that includes iTunes T&Cs. All my work is an attempt to bridge the gap between what we call high art and low art, what we think is important or serious, and what we see as frivolous and meaningless. Often, that boundary doesn't exist."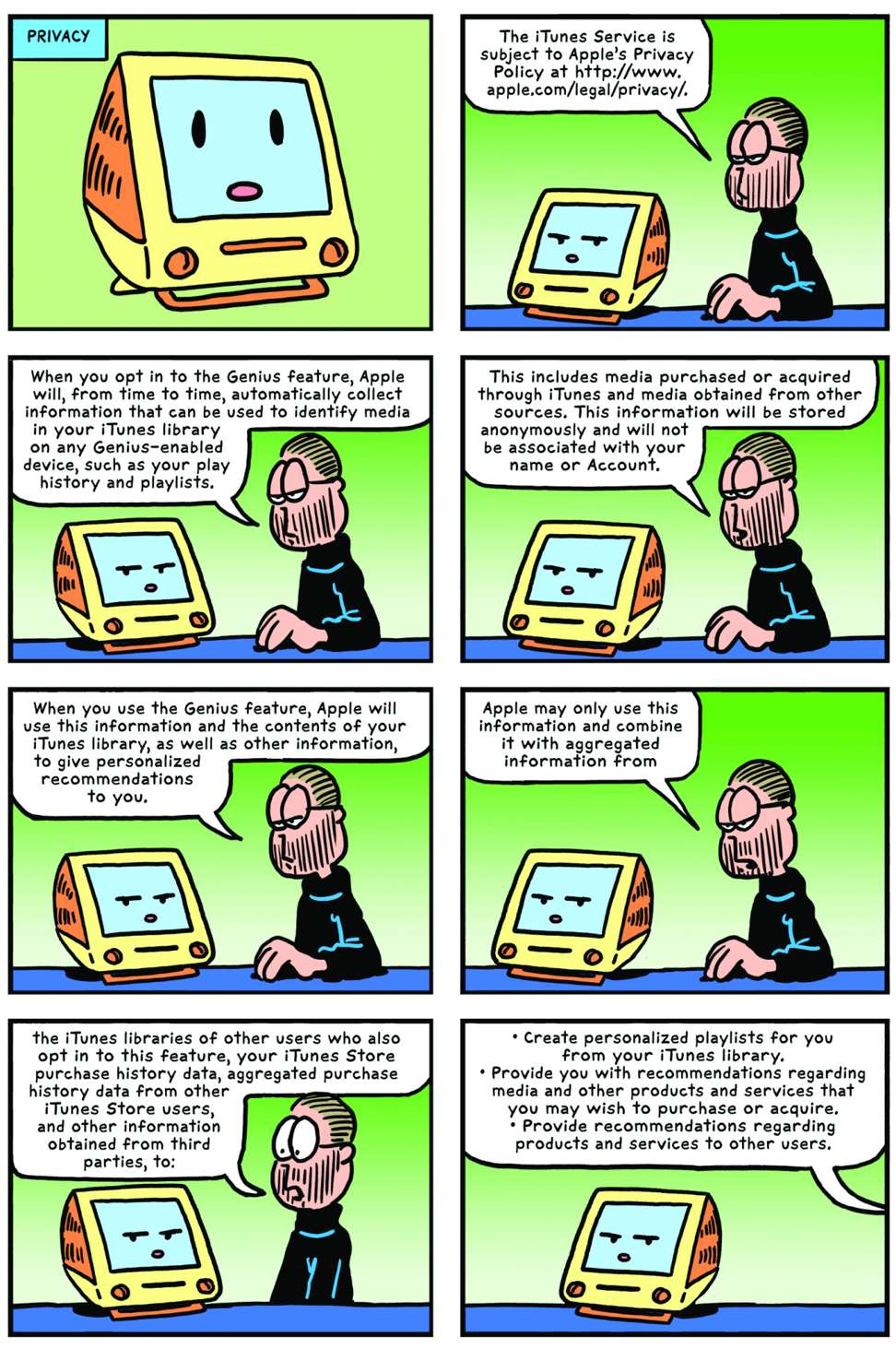 He's now working on adapting the work of the ancient Roman poet Catullus into comics, as well as The Unquotable Trump , a series of comic book front pages, in the style of everything from horror comics to superheroes, designed around quotes by the US president. The idea came four days before the US election, he says, but he didn't want to do it: he was anxious about the coming result, so he tweeted instead, offering the concept to other artists.
"And then he won, so I had to do it," says Sikoryak gloomily. "And he keeps giving me material."
The book is due in November, though Sikoryak has refused to take the easy route: he has decided to use the president's speeches, rather than his tweets, saying of the latter: "They would actually lend themselves better to comics, because they're compressed, boiled down. And his speeches are blathering. He rambles, talks around ideas. It is anti-comic. I'm reading so much news to get quotes – I'm really looking forward to stopping."
Sikoryak is clearly enjoying that project less that T&Cs. As an Apple fan, did he uncover any uncomfortable truths while working on T&Cs, anything that made him uneasy about all those times he had absentmindedly ticked that little "I agree" box? "Oh, no. Although, some of the language about not using the material you get from iTunes to infringe the intellectual property rights of a third party or Apple – that made me nervous as I was drawing. Have I done that? I think they're talking about apps."