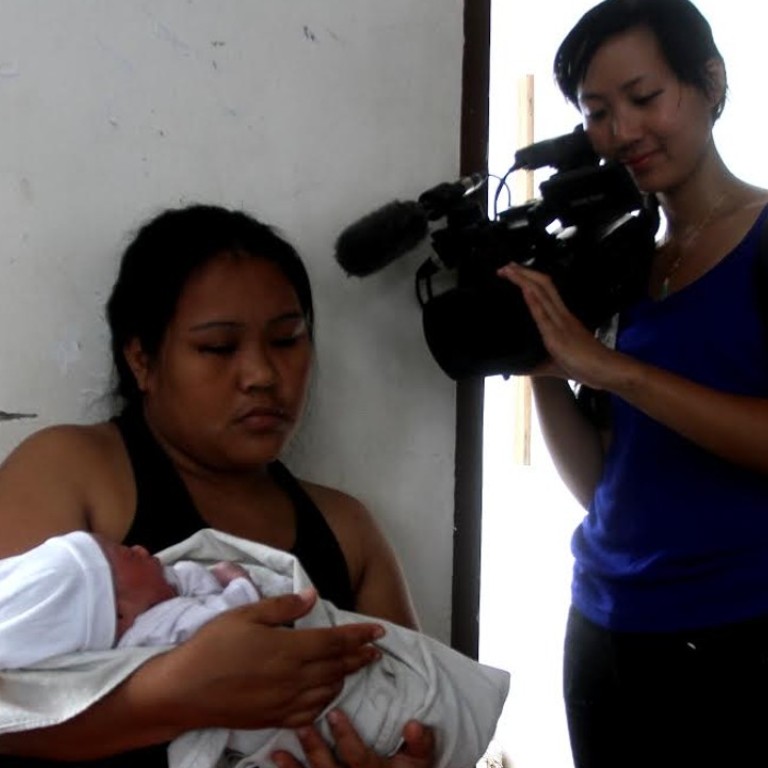 Typhoon Haiyan: a journalist's struggle to convey the grim reality of storm's aftermath – book extract
A baby dead, another born, hope amid despair and the stench of rotting corpses – video journalist Agnes Bun recalls 2013 Philippines disaster
Extract is from upcoming book There's No Poetry in a Typhoon
Agnes Bun is an award-winning video journalist for Agence France-Presse who for the past 10 years has covered major stories in Asia including the Rohingya refugee crisis and the 2015 Nepal earthquake.
She writes about many of her experiences while on assignment in her upcoming book, There's No Poetry in a Typhoon (published by Abbreviated Press).
In this excerpt, translated from the original French by Melanie Ho, Bun describes the devastation – human and material – she witnessed in the Philippines five years ago in the wake of Typhoon Haiyan (called Typhoon Yolanda locally), one of the strongest tropical cyclones ever recorded:
The heat in Tacloban was stifling and clammy. It was November 2013, and we had disembarked from the military plane just after Typhoon Haiyan. A thick silence settled among the passengers – most Filipino military personnel along with a few journalists. I thought there had been an error. We were supposed to land at Tacloban airport.
But in front of us was a field of ruins, kilometres of gaping walls, cars whose roofs had been torn off and fallen trees. I did not understand. Were we supposed to land in the middle of this, in the middle of nothing? Out of the corner of my eye, I saw the sign for Philippine Airlines, bobbing in the empty expanse. This rubble was all that remained of the airport, which had been toppled over like a house of cards by a capricious child.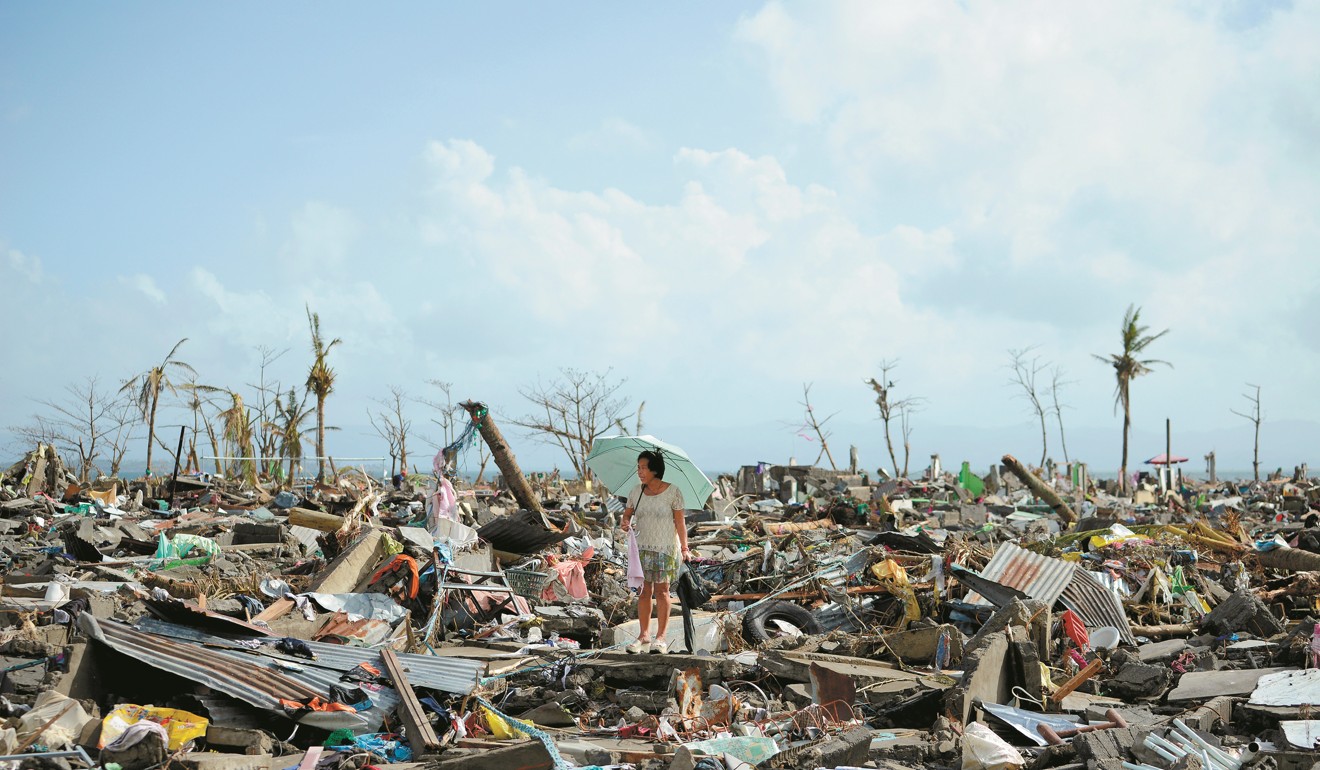 A few hours after Haiyan's devastating onslaught on the Philippines, I rushed out of Hong Kong, grabbing my camera and passport and throwing a few things into a makeshift bag. It was a Friday night at an hour when most were cracking open their first beers. The next morning, after arriving in Manila, I negotiated a seat aboard one of the first Philippine military planes headed to the scene of the disaster, just as the Hong Kong revellers were slowly staggering back to their homes, eyes blurry and feet exhausted by excess.
More than 6,000 people died from Haiyan, most by drowning. The homes of tens of thousands were destroyed in just a few days. For weeks afterwards, bodies piled up by the kerbs, limbs now stiff, awkward poses, stomachs swollen and skin gone blue. Relatives – those that had survived – held up umbrellas to protect the bodies from further indignities. Over the course of my week in the Philippines, I met armies of these umbrellas, often punctured with holes, but brandished as a middle finger defying the sky, claiming, even in death, a right to modesty. Some were held by children, who clung to these funereal umbrellas as they would to their mothers' skirts.
The process of covering a typhoon requires a careful balance, a certain responsibility – there are moments of grace and unexpected beauty, but reality is mostly grim and dire. As a video journalist, I need to find a narrative that adds meaning and context; filming these scenes requires a process – a poetic composition of what I see, what I film, what is edited and what is told.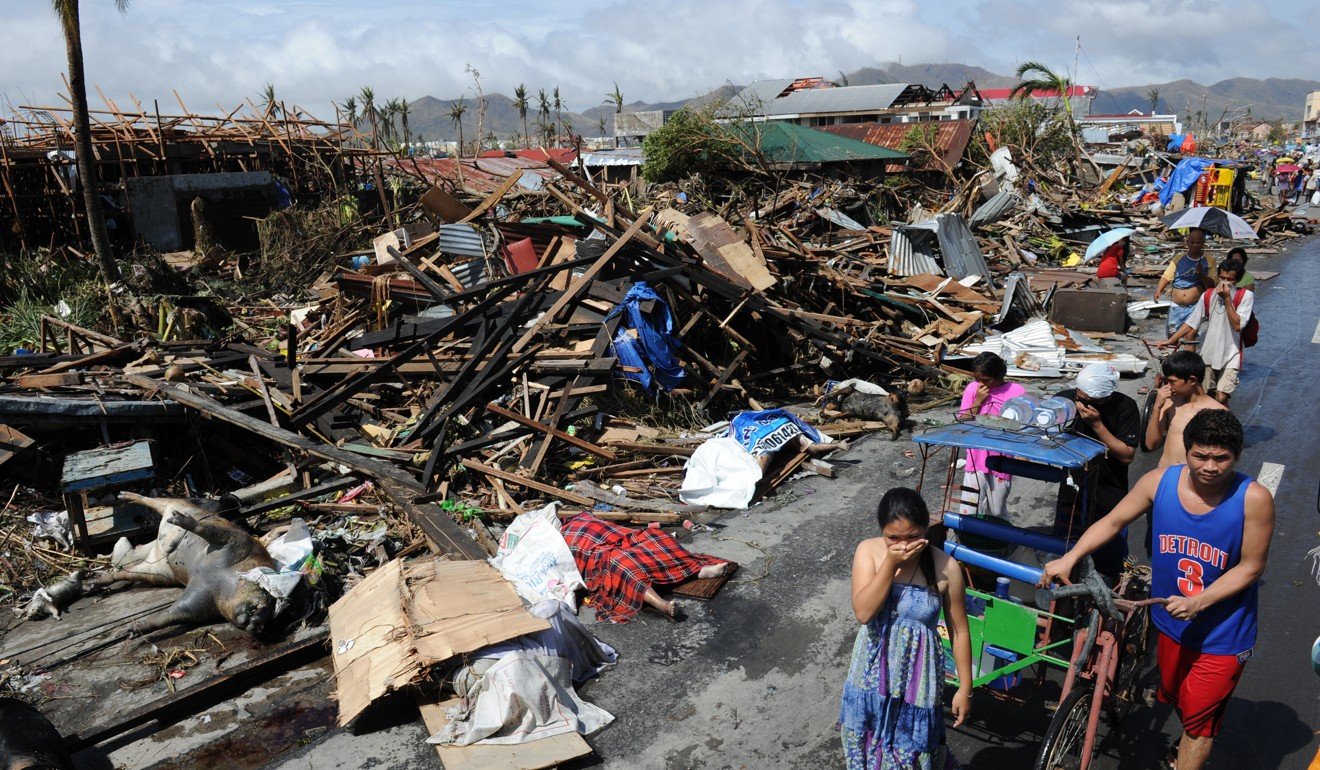 After I arrived in Tacloban and following a moment of hesitation, I turned my camera on and began to record these scenes of extreme distress around me.
Reality caught up very quickly: I had to search for electricity in order to charge my mobile phone, to send my video. I asked a soldier if he knew where a generator was located. He smiled and asked for my phone number, eyeing me up. Dishevelled, my clothes drenched with rain and sweat, it took me a minute to realise that he was making a thinly veiled advance. In some other context, the incongruity would have been amusing, but in this moment, it was disturbing. I spent the week without so much as looking at myself once in the mirror, to the point where, upon arriving at a hotel in Manila, my reflection in the mirror startled me. Having spent days entrenched in rubble and corpses, I had nearly forgotten the face that stared back at me.
I finally succeeded in convincing a Philippine army officer to let me use their generator. Communications had been cut and journalists were using satellite devices to transmit reports and communicate with the outside world. Filipino refugees would ask us to help them contact their relatives, many of them who lived abroad. My colleagues and I would discreetly let them use our very expensive internet connection so they could hastily answer Facebook messages with a heartbreaking laconic "I'm alive" – as much a cry from the heart as a piece of news.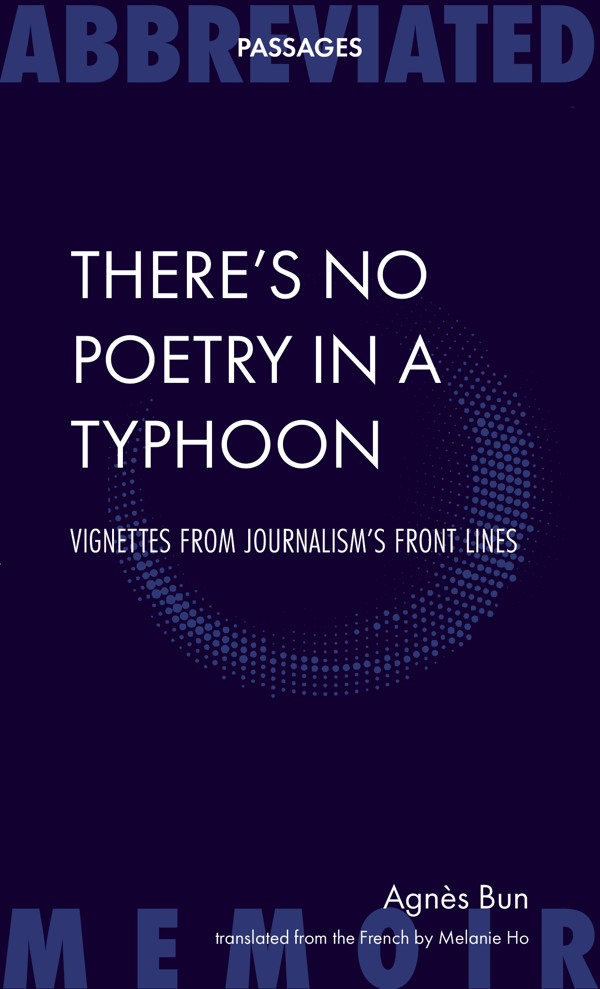 I remember the rain on the first night. A few dozen journalists and victims took refuge in a small, narrow room, the remains of an airport building with broken windows that allowed the beating rain to whip our faces throughout the night. A baby cried. I spoke with the mother to pass the time. Cut off from the world between sunset and dawn, there was nothing else to do.
She told me how, once her house was flooded, she and her family were forced to hold onto the roof. As she felt her arms running out of strength, she thought of letting herself fall into the water so that her husband could focus on saving their child, rather than his wife. Their ordeal, however, had ended well. I played with the baby before realising that this story would make a good video. I grabbed my camera and began to film. For a moment I had become confused: overwhelmed by the intensity of her story and by the simplicity of this mother's confession, I had forgotten to do my job.
It is dark, I am surrounded by men and, fully dressed, I lie down on a table to try and recuperate. A tin of sardines crosses my mind. We sleep with our shoes on because the ground is carpeted with insects. My table companions sleep with their arms folded across their chests like vampires, as if they feared inadvertently touching me during this short night. This gesture moves me; babies cry, the elements rage around us. The typhoon draws its last breath.
Of course there weren't any toilets. Everyone – refugees, journalists, aid workers, the military – we all relieved ourselves in a wasteland teeming with excrement. The smell turned my stomach. I only went there at night as there were no places out of sight during the day.
But this intimacy was synonymous with impunity. We would sleep with our cameras and laptops to prevent theft. Looting was common. Even during the day, I saw lines of people carrying televisions and electronic devices under their arms, stolen from hotels, restaurants and homes. This petty larceny was risible; there wasn't even any electricity to connect these devices, or a roof to put them under. I passed by a beer factory that had been vandalised, and witnessed the obscene: thirst had turned babies into adults.
Children, some having just learned to walk, emptied their first cans of alcohol. These chaotic scenes were all enveloped by the same smell. On the first day, my nose could not identify this heavy, sickly saccharine scent. But the disgusting mixture of rot and slightly sweet eggs was the smell of death. I'll never forget it: with each difficult report, my memory detects the smell of death before I see it. The stale water of faded flowers gives off the same vengeful odour, that of beauty disfigured by the ultimate ugliness of what is no more.
I arrived with two bottles of water and immediately gave one to a child who was visibly dehydrated. I almost regretted it the next day after, lips cracking from the blazing sun, I spent six hours walking along broken roads to reach a village that had been cut off from relief.
We arrived at this isolated place; its residents had written a huge sign in the sand, hoping to attract the attention of the helicopters. A Filipino approached me. He wanted to give testimony and he took me to the terrace of what was his house to show me the extent of the damage to the village. In a soft voice, he let go in front of my camera: "It's been here for years. And then it is all gone. There is nothing left." He smiled, resigned. I was no longer thirsty.
 A few days later, rescue workers and journalists forced me to eat my first meal. Shock, horror and fatigue had suppressed my appetite and had kept me going. I had refused food; today, I understand it was a misplaced reticence. It was impossible not to feel guilty about eating when so many others were deprived, even if my eating would make all the difference for me and my going without would change nothing for them.
I was in this hell to document it and show the world what was happening and the work required preserving one's strength. There remained, nonetheless, an omnipresent temptation to play hero and saint, but neither of these roles was where I was most useful.
All the same, there were moments where I could not do my job. One time, it was while filming a team of rescue workers putting corpses into body bags. One of the workers beckoned me over. A fellow photographer caught my eye and with a discreet look, he made me understand that I shouldn't look.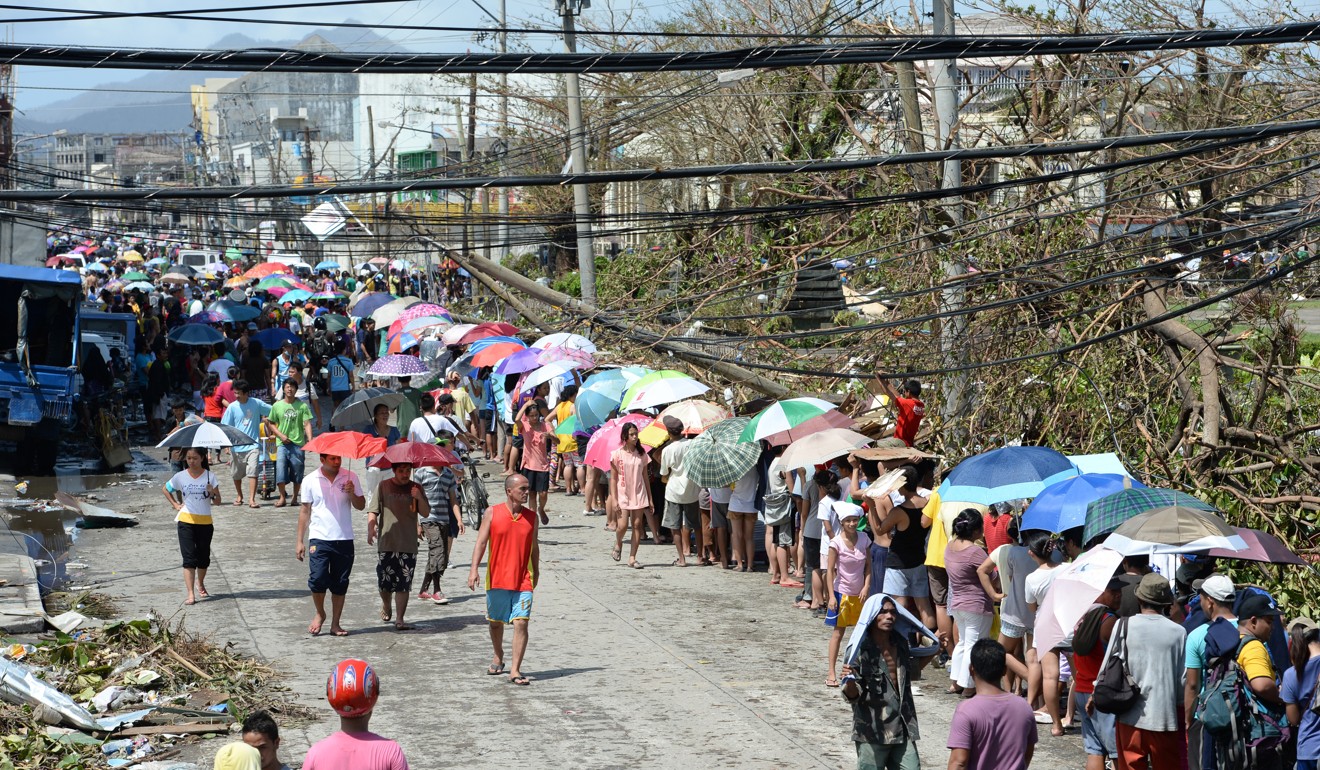 But I saw all the same: a wicker basket, the silky forehead of a baby. Dead. I put my camera on the ground. I had reached my limit. There were parentheses of lightness in the middle of this grave situation.
On the third day, I saw a baby being delivered. A woman in her twenties gave birth to her first child, while lying on a makeshift mattress in an impromptu clinic on the grounds of a destroyed airport that was covered in glass and rusty nails.
The emotion triggered by the arrival of this little miracle being left me, and still leaves me, speechless. Despite the army doctor's concerns about the mother's health, she survived. She named her daughter Bea Joy. Pictures of Bea circled the globe, a burst of light amid all the deadly reports. There is a fierce public appetite for these stories, stories of a baby born in turmoil, of a survivor freed from the rubble days later. There is a desire to believe that life, despite everything, wins over fate.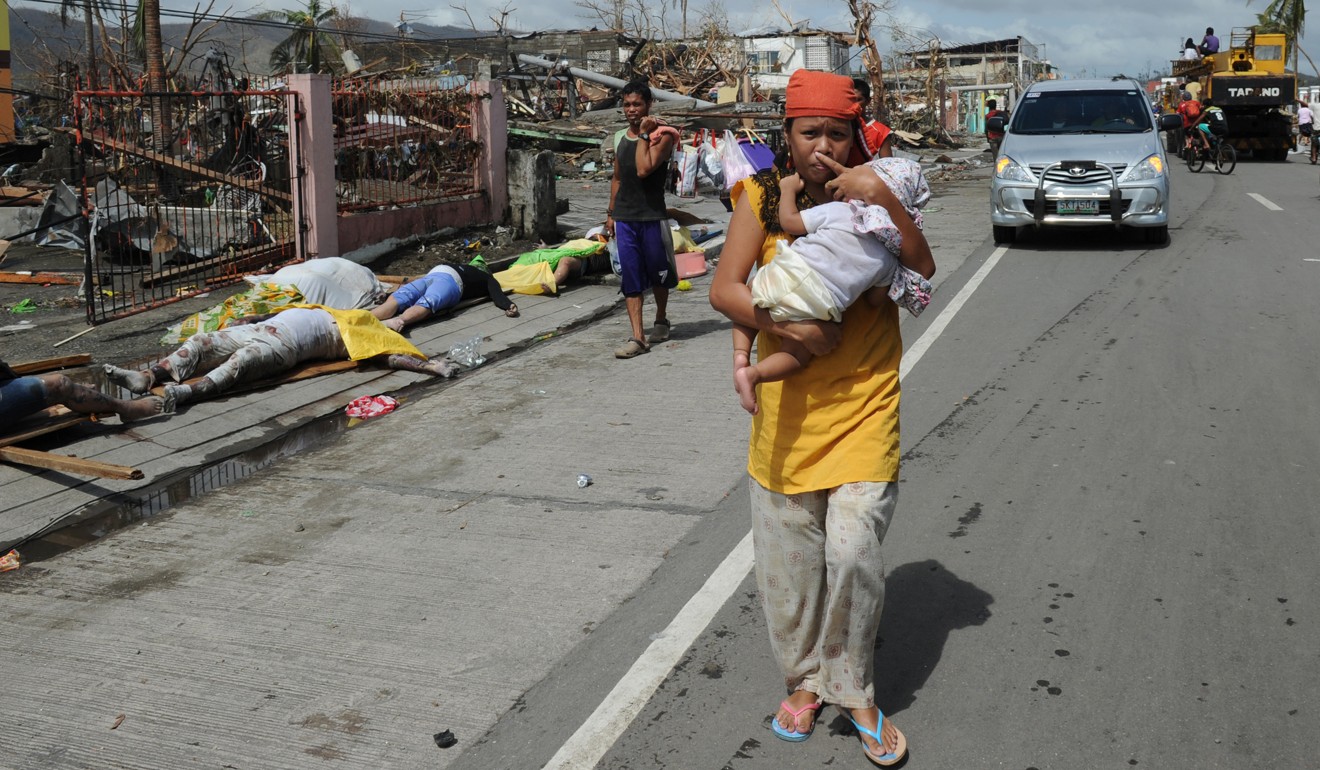 A year later I received an email with photos of Bea Joy blowing out her first birthday candle in a United Nations tent. Sitting behind my computer at the office, having returned to the normalcy of my life in Hong Kong, I thought of these photos: life continuing, slowly and courageously, even after the journalists had left and the cameras had been turned off.
Bea lived in a makeshift camp and her parents survived off the barest of humanitarian aid, but they were alive all the same. As I heard the tapping of my colleagues' keyboards, I quietly wiped away a tear. Another moment of happiness: some journalists got wind of a water pump in the army camp.
With two male colleagues, who were also ready for anything after going several days without a shower – and if only to rid the smell of death that permeated our clothes – we went in search of the pump. We came across dozens of soldiers washing themselves.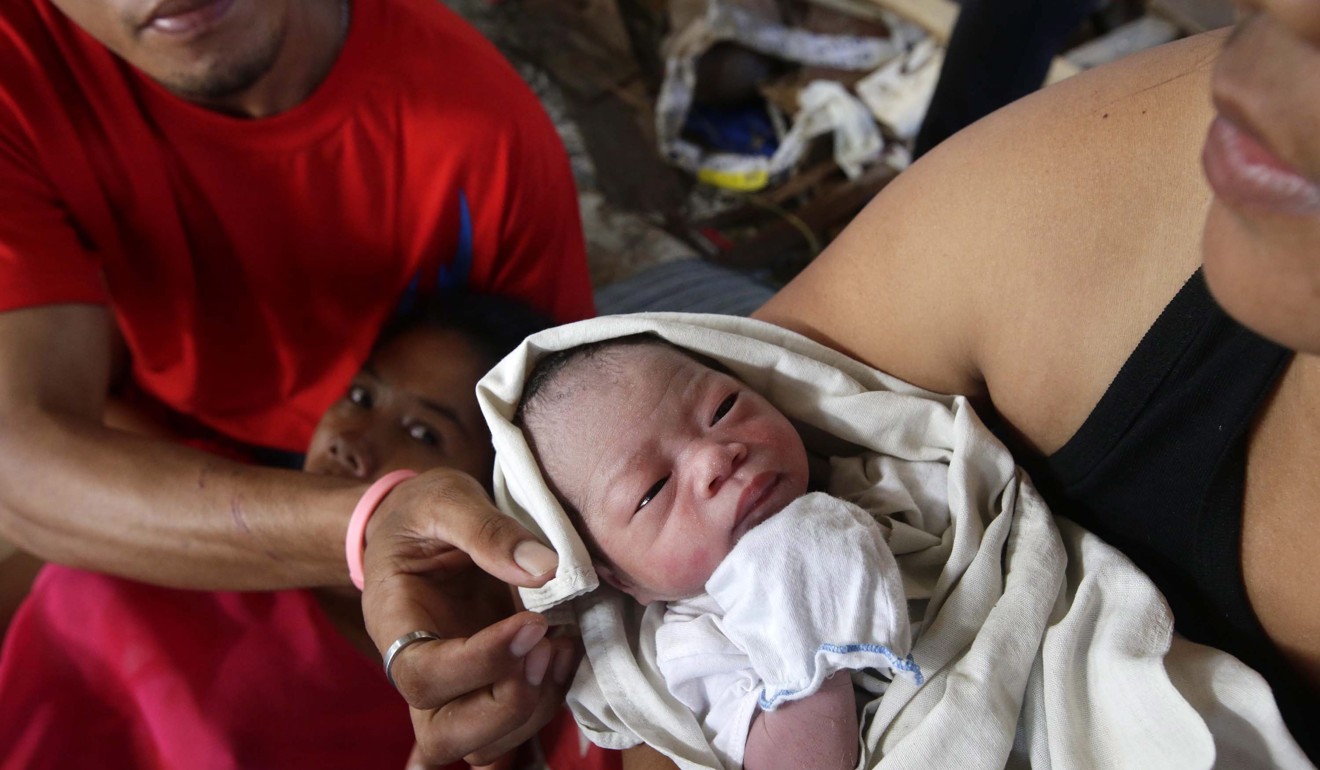 Upon seeing me, the only woman in this military environment, the soldiers shrieked and scampered away … leaving only my colleagues and me to enjoy the pump in all its tranquillity.
This exception aside, my presence usually induced more hope than terror. It was sometimes difficult to bear. Wherever I went, Filipinos would stop me. They wanted me to film them, to help them broadcast a message to show both the world and their families scattered around the globe: "Mom, I'm alive!"
I tried to explain that I could not send so many images, that my video needed to be short in order for it to send quickly, that my camera didn't have enough batteries or that my computer did not have enough memory.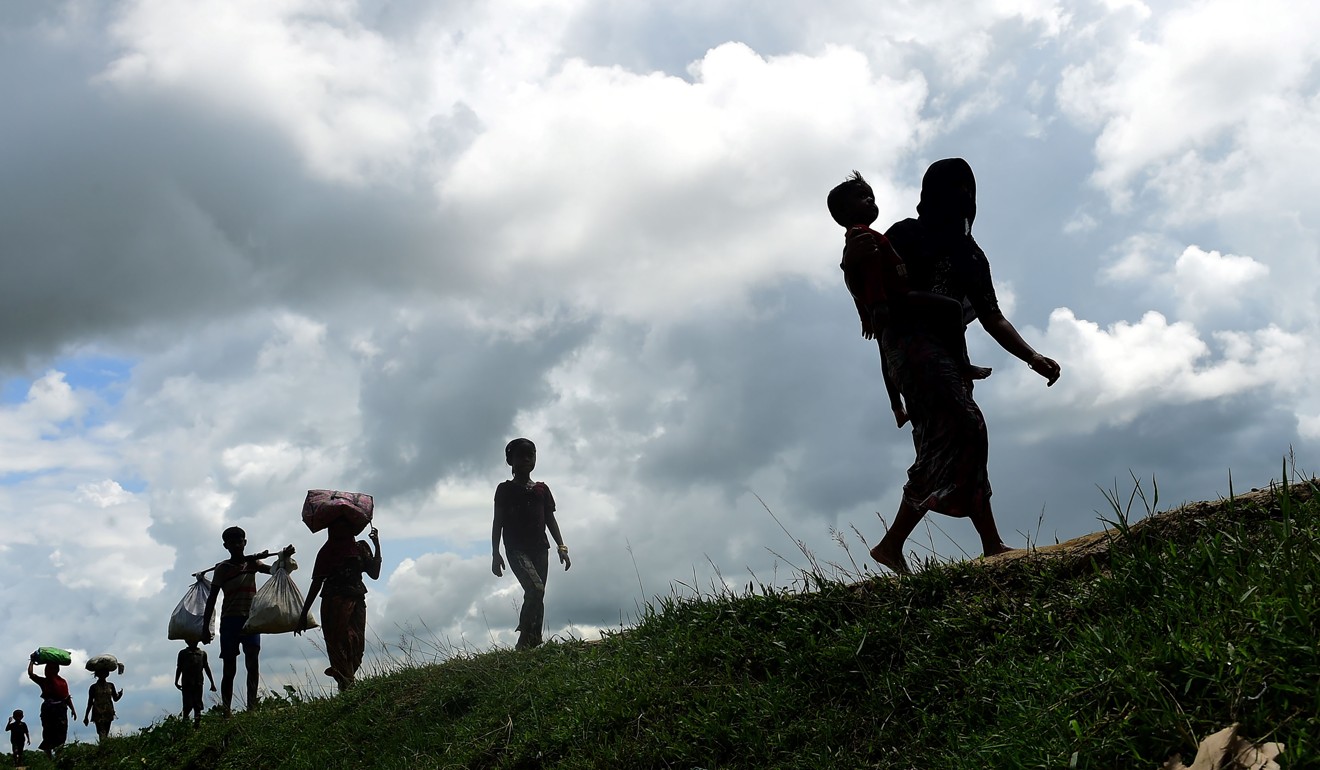 But they insisted. And then, what could I do about those tear-filled eyes, those eyes that saw something in me that exceeded me, that crushed me? Death in the soul; I executed myself.
I filmed them, and when my battery was low, I pretended to film them. They thanked me effusively and they left, relieved.
No, truly, there is no poetry in the telling of a typhoon.
This article appeared in the South China Morning Post print edition as: I n the wake of a m o ns t er