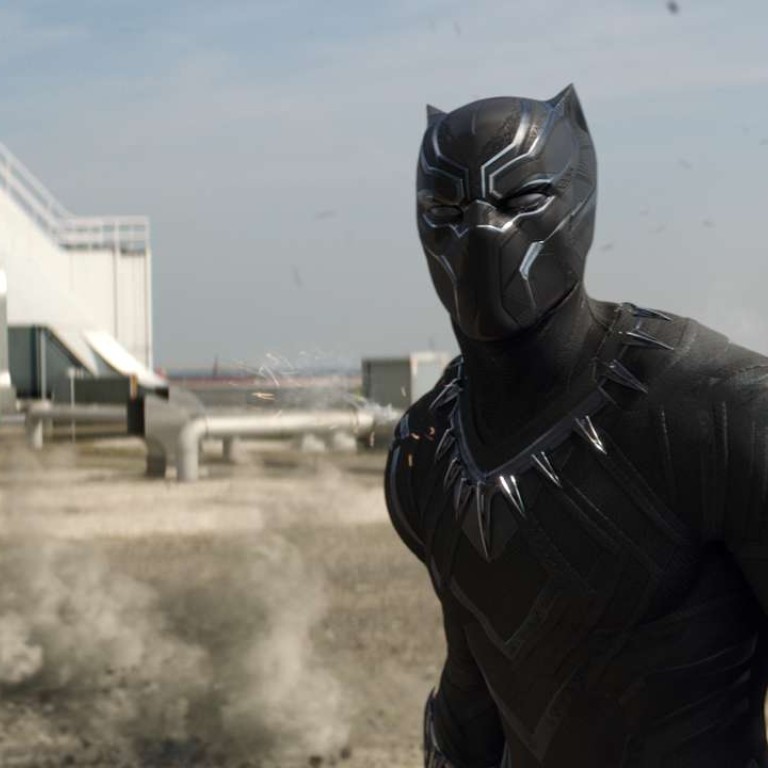 'The physical part makes it fun': Chadwick Boseman on playing Black Panther
Actor's latest superhero role, in Captain America: Civil War, is one he had long dreamt of playing
Chadwick Boseman joins the Marvel universe as Black Panther in Captain America: Civil War , but this isn't his first time playing a superhero.
His breakthrough role was as Jackie Robinson in the 2013 biopic, 42. The following year, he became James Brown in Get On Up. So stepping into a third super-powered part as Black Panther is nothing really new for the 39-year-old actor.
"Yeah, I would say that," said Boseman with an easy laugh that belies the sincerity and conviction with which he approaches his craft.
To play T'Challa, Black Panther's alter ego and heir to the throne of the fictional African nation of Wakanda, the actor did more than read every Panther comic he could find. He also made several trips to the real continent of Africa, and even took a role in a small film so he could play a South African character.
"You know how comedians, before they do their big HBO stand-up show, they do the Comedy Store or a smaller venue?" Boseman asked. "To me, this was an independent film, so it was a chance to play a character from the continent of Africa before doing Black Panther."
Boseman first discovered the Black Panther comic books while a student at Howard University, and he wanted to play the character before any film project was announced.
That worked out perfectly for Marvel. Studio chief Kevin Feige said Boseman was their first choice for the role.
"He is an incredibly talented actor who possesses all of the qualities that we wanted to inject into the character," Feige said. "We've been seeding the notion of the Black Panther and the nation of Wakanda all the way back to Iron Man 2, so it really felt like the time was right to bring in a character that had his own agenda."
In Captain America: Civil War, T'Challa/Black Panther stands apart from the other Avengers as they argue over whether to accept government oversight. He can't be distracted or dissuaded from his own personal mission.
Marvel's first black superhero was introduced in comic books in 1966, but Captain America: Civil War marks his cinematic debut. Black Panther will headline his own Marvel movie in 2018, but the cat has Boseman's tongue when it comes to spilling details about it.
He won't say if the script will be based on the new Black Panther comic-book series by celebrated journalist and author Ta-Nehisi Coates, which debuted last month. Creed and Fruitvale Station writer-director Ryan Coogler is confirmed to direct the film.
Boseman is willing to share what he put into creating the character for the screen in Civil War, from working with two dialect coaches on T'Challa's Wakandan accent to studying various martial arts for Panther's stealthy, catlike fighting style.
He embraces the physicality of the role as a means of understanding it.
"The physical part is what makes it fun for me and helps me get inside the characters," he said. "The spirit of the character is going to begin to come out."
Boseman trained on the baseball field to play Jackie Robinson and danced eight hours a day to portray James Brown. For the Panther role, he practised capoeira, karate, kung-Fu and jiu-jitsu.
"Part of it with Panther is there's an unpredictability," he said.
Boseman's next job is decidedly less physical but no less demanding — he's playing Thurgood Marshall in an upcoming biopic of the first black Supreme Court justice. Still, Boseman plans to use his body. He'll lose 25 Panther pounds to play the legal superhero, and exercise his powers of speech.
"There's just as much gymnastics, just as much spectacle in the spoken word as there is in the physical body. The tongue is a muscle, too," Boseman said. "It really doesn't matter whether I'm running or doing capoeira or I'm speaking long speeches, it's an exercise regardless."
And it's something he's been practising and loving since he was a kid.
"We've all played superheroes before," he said with a laugh. "What you were doing as a kid, the fun of it was if you actually had a suit, you would use it, and you got up and you did the movements. You took on the voice. You took on all of it. So it's not really different here. It's just bigger."