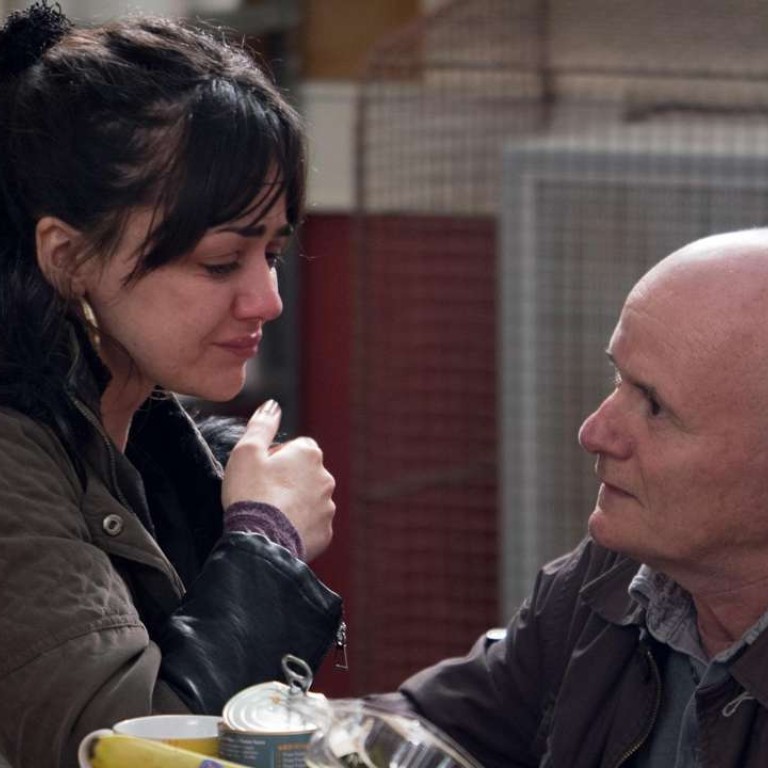 Ken Loach out of retirement with new Cannes film festival entry I, Daniel Blake
British director, who turns 80 this year, returns to his roots with kitchen-sink drama and says he's got his filmmaking mojo back, two years after declaring his career over
Left-wing British director Ken Loach – who turns 80 this year – said he was retiring two years ago, just before showing his "last" movie,
Jimmy's Hall
, at the Cannes Film Festival.
But he was back on the Croisette this week and again in the running for the Palme d'Or with I, Daniel Blake, which has him returning to his roots in kitchen-sink drama.
The story of a carpenter injured at work and young single mother struggling with the cruel absurdities of the welfare system under Britain's Conservative government, it stars the stand-up comedian Dave Johns.
Loach won Cannes' top prize exactly a decade ago for The Wind That Shakes the Barley , one of a handful of political history films he has made.
But his inclusion this year prompted speculation that he has rediscovered the surprisingly sure comic touch he displayed in Looking for Eric, which featured the legendary football star Eric Cantona playing himself.
Loach said he mentioned retiring "at a moment of maximum pressure when we hadn't shot a foot of film and the mountain in front of us was quite high and I thought 'I can't get through this again'".
But he has since got his mojo and his hunger back.
The world of work – or the lack of it – has long been the favourite theme of the veteran director, a stalwart of English social realist cinema alongside director Mike Leigh and Stephen Frears.
He memorably visited the subject in 1991 with Riff-Raff, which explored the lives of casual workers in London. Bread & Roses recounted a strike by cleaning staff at a Los Angeles hotel, and The Navigators (2001) followed five rail workers as their industry underwent privatisation.
But Loach has always been realistic about the impact his films can make.
"I never said to myself that my films could change things," he told The Guardian newspaper. "A movie isn't a political movement, a party or even an article. It's just a film. At best it can add its voice to public outrage."
Loach's roots are impeccably working class, growing up in Nuneaton in the English midlands, the son of an electrician and a dressmaker. He did military service with the Royal Air Force before studying law at the University of Oxford, where he discovered the world of acting, directing and theatre.
Later, at the BBC, he began to make television films already marked by his left-wing politics.
In the tradition of social observers such as Charles Dickens and Emile Zola, Loach believes passionately that cinema can be about "ordinary people and their dilemmas" – as in his early Kes in 1969, about a working-class boy caring for his pet falcon, which won two Bafta awards.
A long-time collaborator with scriptwriter Paul Laverty and producer Rebecca O'Brien, his subjects have ranged from a teenage boy trying to rebuild his family in Sweet Sixteen to a recovering alcoholic in My Name is Joe, which won Peter Mullan best actor at Cannes in 1998.
In his 19 appearances at Cannes, Loach has also won three Jury Prizes for The Angels' Share – another comedy – in 2012, Raining Stones in 1993, and Hidden Agenda in 1990.
The director has also been known to delve into history, dealing with the Spanish civil war in Land and Freedom, Sandinista-era Nicaragua in Carla's Song, Ireland's war of independence in The Wind That Shakes the Barley, and a 1930s Irish political activist in Jimmy's Hall.
In 2013 Loach's political commitment saw him helping found Britain's Left Unity party, which advocated stronger public services and wealth redistribution. The same year he released The Spirit of '45, an archive documentary about Britain's post-war general election and the creation of the welfare state.
Last year he published Art and Resistance, a collection of essays and interviews in which he explained his artistic process and the importance of making films with a social conscience.
A documentary on his life and career, Versus: The life and films of Ken Loach, will be released in June.