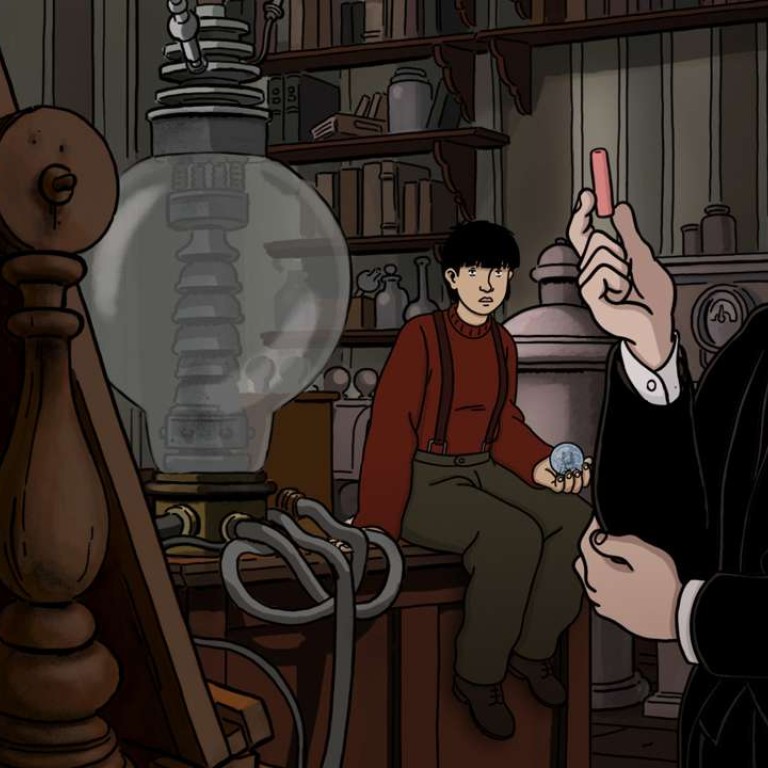 How a French graphic novel spawned one of 2016's most acclaimed films
April and the Extraordinary World, which opened Hong Kong's Le French May festival, goes against the trend of 3D computer-generated animation in favour of a hand-drawn style reminiscent of Hayao Miyazaki's anime classics
Let it be known that the French filmmakers behind April and the Extraordinary World, a new hand-drawn animated feature based on Jacques Tardi's graphic novel, were not influenced by Fantastic Planet – even though the 1973 film remains a benchmark of France's animation industry.
Released more than four decades apart, both stories are sci-fi adventures revolving around human attempts to free themselves from the oppression of fantastical creatures.
When they are asked about René Laloux's counterculture classic just before the Hong Kong premiere of April, which screened last week as the opening film of this year's Le French May cinema programme, both Christian Desmares, the film's co-director, and Luciano Lepinay, its artistic director, offer a resounding "no" to the cinematic lineage that cineastes everywhere are eager to infer.
"That said, it's true that René Laloux came from around the same period as Jacques Tardi," says Desmares, who is making his feature directing debut alongside co-director Franck Ekinci. "Through learning about Tardi's work, we got to know more about the work of his contemporaries as well."
It would certainly appear that to clarify the cultural influences surrounding
April
is to bring up some of the biggest names in the realms of graphic novels and animated features.
According to Desmares, his studio was initially approached by Benjamin Legrand to turn Tardi's book into an animated feature. Legrand is perhaps best known outside France as a writer of the post-apocalyptic graphic novel Snowpiercer, which was adapted into a live-action 2013 film of the same name by South Korean director Bong Joon-ho, starring Chris Evans and Tilda Swinton.
While Legrand didn't work closely with the screenwriters on the
Snowpiercer
adaptation, he was in touch with the filmmaking crew throughout the process, attended the film's premiere, and was very glad to see his book published belatedly in South Korea.
As Desmares reveals, Legrand's interest in adapting graphic novels for the big screens precedes the breakthrough of Snowpiercer: "He has known Tardi for around three decades, and it's actually Legrand's idea to adapt Tardi's work. They approached our company after coming up with this idea to animate April."
It was right after he finished work on the Oscar-nominated
Persepolis
, for which he worked as the animation coordinator, that Desmares was invited to join the
April
project. Legrand was eventually joined by Ekinci as the film's co-screenwriters.
"At the time, Tardi's work had never been made into an animated work before," says Desmares. "Legrand really wanted to incorporate everything from Tardi's world – from its detective plots to the mad scientists – into this movie. The film is tailor-made for Tardi."
In April and the Extraordinary World, the audience is introduced to an alternative reality in which Napoleon III died in a laboratory accident, the age of electricity has never arrived, and almost all the leading scientists have been mysteriously captured, resulting in a human world that's distinctly lacking in invention and progress.
Whereas the narrative follows the adult April (voiced by Marion Cotillard) as she goes on a wildly unpredictable journey to track down her two long-missing scientist parents, the Paris-set film is as much a stylish steampunk adventure as it is a psychedelic fantasy populated by talking animals and set with a latent message of environmental protection.
For Desmares, it was Tardi's approach of balancing the casual and the lifelike that has proved most intriguing. "When Tardi does a street scene, for example, he would illustrate it in a totally realistic way, while spontaneously leaving out a couple of components," he says.
As the project's artistic director, Lepinay finds it especially hard to faithfully translate Tardi's vision for an animated feature. "The way he creates his graphic novels is very different from the way we create animations," he says.
"Instead of copying directly from his book, we needed to come up with a new method to turn it into moving images. In an effort to replicate his style, we reconstructed a new world by incorporating the components that he had come up with."
Apart from Tardi's drawing habit, the filmmakers offer that April, as an animated work, may be most stylistically coherent with the animations by Japanese director Hayao Miyazaki, particularly Howl's Moving Castle (2004) and Castle in the Sky (1986).
"I believe both Miyazaki and Tardi had taken inspirations from Albert Robida," says Desmares, referring to the French illustrator who was most renowned for his 1880s trilogy of futuristic novels. "There are a lot of similarities between Miyazaki and Tardi."
For Desmares, the experience of working on Persepolis was valuable preparation for him to again turn the static images in the original graphic novels into flowing animation. "This is the hardest part," he says, adding that it was just as difficult to pick between referencing American cartoons, in which the body movement is more fantastical, and Japanese anime, which has a more realistic look.
Desmares continues, "The American style didn't really suit Persepolis. Besides, there's the question of framing, which also reflects an author's style. We got our inspiration from the films Tardi likes most: the '40s French fiction films. The prevalent cinematography approach then was to put the camera level with the character's head, and keep it still. It's a very simple form of framing."
To get the look absolutely right, the filmmaking team had invited Tardi along to learn from him directly.
Desmares says: "We began by learning to draw in his style, so that everyone in our creative team understands it. We met with Tardi frequently for two or three months at the start. But then he had his books to write, and so he didn't stay for our entire production after that."
Even so, the least surprising part about this whole project – which took 100-plus people, some from Canada, China and Belgium, to create the animation – is perhaps that Tardi ended up liking what he saw. "He liked the film a lot – which was a relief," Desmares recalls with a big smile. "He was among the first audiences."
Tardi is far from the only satisfied viewer of April. Since its November 2015 release in France and Belgium, the film has also opened in Canada and the US to predominantly favourable reviews. It is certified fresh by the review aggregator Rotten Tomatoes, at a remarkable 98 per cent.
When you can create hand-drawn marvels of that quality, the generational shift to 3D computer-generated films engulfing today's Hollywood remains no more than an afterthought.
"I don't think we're bothered by the different production methods," says Lepinay of the general trend towards 3D animations. "The greatest concern should be on the story and the characters. If they are strikingly portrayed, the audiences will keep going to the cinemas, irrespective of the techniques we're using."
April and the Extraordinary World opens on June 2
Want more articles like this? Follow SCMP Film on Facebook