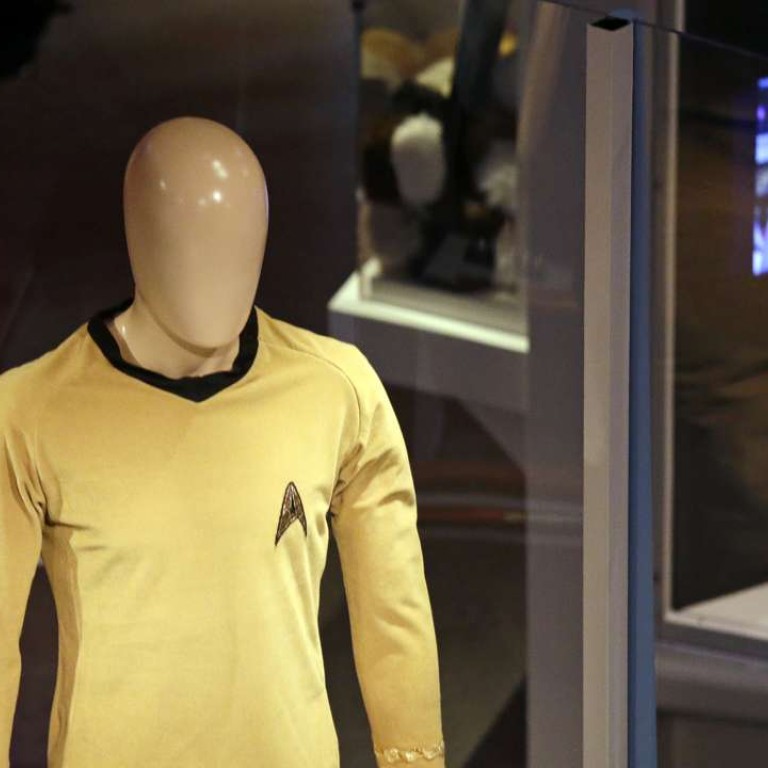 Museum celebrates 50 years of Star Trek with rare artefacts ... and tribbles
Memorabilia, including Captain Kirk's original costume and one of two phasers still in existence from the original TV show, are on display for Trekkies
It's been 50 years since the Starship Enterprise began its five-year mission to boldly go where no man had gone before, and the EMP Museum in the American city of Seattle is marking the anniversary with an exhibition honouring Star Trek and its influence on pop culture and society.
"Star Trek: Exploring New Worlds" opens on Saturday and is filled with geeky artefacts from all the Star Trek series and movies – from sections of the original Enterprise bridge to a costume worn by Benedict Cumberbatch in the most recent film, 2013's Star Trek Into Darkness.
One uniform worn by every captain and one of only two phasers still in existence from the original series is on display among more than 100 props and artefacts. Keep an eye out for the tribbles that apparently escaped from their display case. There are half a dozen scattered around.
Some of the set pieces are clearly showing their age, which curator Brooks Peck says is a sign of the less-than-ideal way some of them have been stored in garages and transported from collector to collector.
But the exhibition has much more than artefacts and costumes. The museum does its best to illustrate how
Star Trek
was both a reflection of its times and a catalyst for social change – from a starring role by a black actress to a Russian actor featured during the cold war to interracial and same-sex relationships.
The show's influence on popular culture and even architecture is also on display, including a place to listen to Star Trek-inspired bands, a "Picardigan" sweater that looks like Captain Picard's uniform, and a giant red foam Vulcan salute that was given out on Star Trek night at a Boston Red Sox game.
The exhibition opens the same week that US broadcaster CBS released a teaser for the new Star Trek TV series and a few months before a new Star Trek movie premieres.
Visitors are asked to wrestle with some of Star Trek's ethical themes, such as what makes us human, in interactive display screens called "Away Team Encounters".
Although the objects cannot be touched, there's plenty of opportunity to explore in other ways: put yourself in a scene from the
Wrath of Khan
movie, crawl through a "Jeffries Tube", create your own
Star Trek
story line and take your picture in a Borg regeneration station.
An opportunity to act out a scene involving a transporter and then have the scene e-mailed home was not available at the press preview, because of technical difficulties. The curator of the exhibition joked that people who volunteer for the transportation experience will do so at their own risk.
Even the most ardent Star Trek fans might see something new at this exhibit, including a cardboard model of the set that was used to plan out scenes. And they might learn something too, including the role Lucille Ball played in creating the original series.
If you don't know the answer to that Star Trek trivia, this exhibit is for you.