CNBC
Get more with myNEWS
A personalised news feed of stories that matter to you
Learn more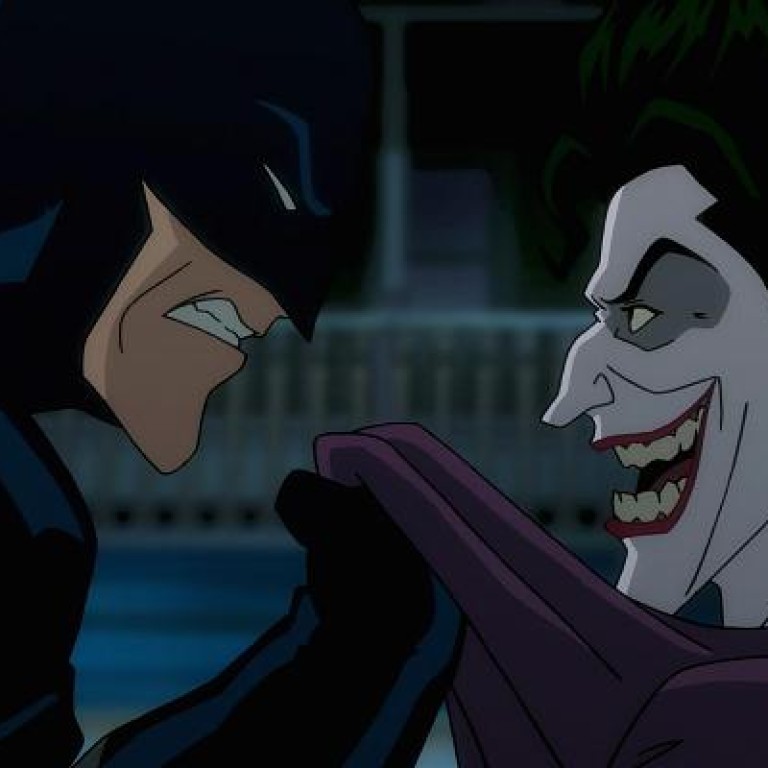 The Dark Knight gets darker as more comic book movies risk R-rating
Warner Brothers says it is at a point where it can choose to be 'authentic to the source material'
Imagine this narrative of an upcoming R-rated movie: A homicidal maniac escapes captivity, kidnaps a high-ranking city official and subjects him to a litany of extreme degradation and torture. The story's protagonist races against the clock to rescue the victim — but not before someone close to both men suffers a grievous wound.
It may come as a surprise that the hero and villain in question are none other than Batman and The Joker. The synopsis describes the latest superhero movie — this one a cartoon video, no less — called "The Killing Joke" that's expected to be released in July. Based on an iconic graphic novel published by Warner Brothers' DC Comics in 1988, "The Killing Joke's" dark tone and decidedly adult content earned it a place in the pantheon of avant garde storylines. To date, many fans and experts consider it one of the best Dark Knight stories ever written.
"We're at a point now that we can choose to be as authentic to the source material," says Sam Register, president of Warner Brothers Animation, . "'The Killing Joke'" had been on the slate for years, and the director felt it could be close to the source material.
"We didn't go for rated-R but we knew that would be a possibility," he said. "We decided to embrace it."
The soon to be released video, whose R-rating is a first for a DC superhero endeavor, is part of a fabric of highly lucrative comic book films that are darker and more violent. However, what has become increasingly apparent is that fewer of them are suitable for children and young adults.
Movies like the PG-13 rated "Batman v. Superman," which hauled in nearly US$900 million worldwide, and Marvel's "Deadpool" — the first R-rated film in the studio's cinematic universe and one that earned about US$762 million globally — were noteworthy for their intense action, vulgarity and bloodshed. An upcoming sequel to the "Wolverine" franchise is also likely to carry an R-rating.
The last decade has turned comic book movies into creative goldmines, as fanboys who came of age reading the source material flock to relive childhood memories on the big screen. Yet the somber tone and violence has more people questioning whether the entertainment should be more kid-friendly, because many fans were first exposed to characters like Batman, Superman and the X-Men as children.
"It's fair to say superheroes are still for anybody, but filmed entertainment is catching up with the comics and that's a good thing," said Register, who himself has young children and was once a top exec at Cartoon Network. "If there's an audience we should be reaching that likes that [children's] content, then we should be talking to them too."
With the wide array of alternative forms of entertainment, including video games and Web-based platforms, "kids have a lot of stuff they can do … other than reading comics," he added.
Register, who is also billed as a producer for "The Killing Joke," says while DC still has a wide range of content available to ages 13 and under, comic books and the movies they spawn are clearly being skewed to adults.
Not everyone is pleased by that trend. Warner Brothers' reintroduction of Superman, 2013's "Man of Steel" was widely criticized for being too gritty and somber, a sharp departure from the more jocular tone Superman movies featured in past decades.
Christopher Gildemeister, head of research operations for the Parents Television Council, was generally critical of the direction DC's big-screen properties were taking.
"Marvel has found a good balance but for some reason ... this is the direction DC has been going in and they've been doing this for a while. It is a disturbing trend," said Gildemeister, a self-described lifelong comic fan. The company might be doing a disservice to children with such stark portrayals of their most widely recognized characters, he said.
"We're talking about Superman, Wonder Woman, The Flash and Batman. Of course kids are going to be attracted to this material," Gildemeister said. "It would be nice if they didn't neglect the kid audience so much."
Register pointed out that DC still actively caters to the children's market with products like DC Superhero Girls, an online platform that features female heroes, and a line of toys, as well as direct-to-video movies that are comparatively more family friendly.
Yet there's no question darker fare is where the money and most of the fans are — something Register acknowledged was a reflection of an aging audience and the increased creative flexibility that comes with it. Movies and even Batman-themed video games like "Arkham Asylum" are "darker because the audience is expecting that," Register said.
"The publishing has gotten older and comics have aged with the audience," Register said. That implies that big screen movies, and even some animation, aims for a "fanboy audience" of a certain age rather than just children, he said.
"There are ratings on this stuff and you know you're making something for an older audience versus a kid audience …and you can do both," Register said. "Our fans expect it."