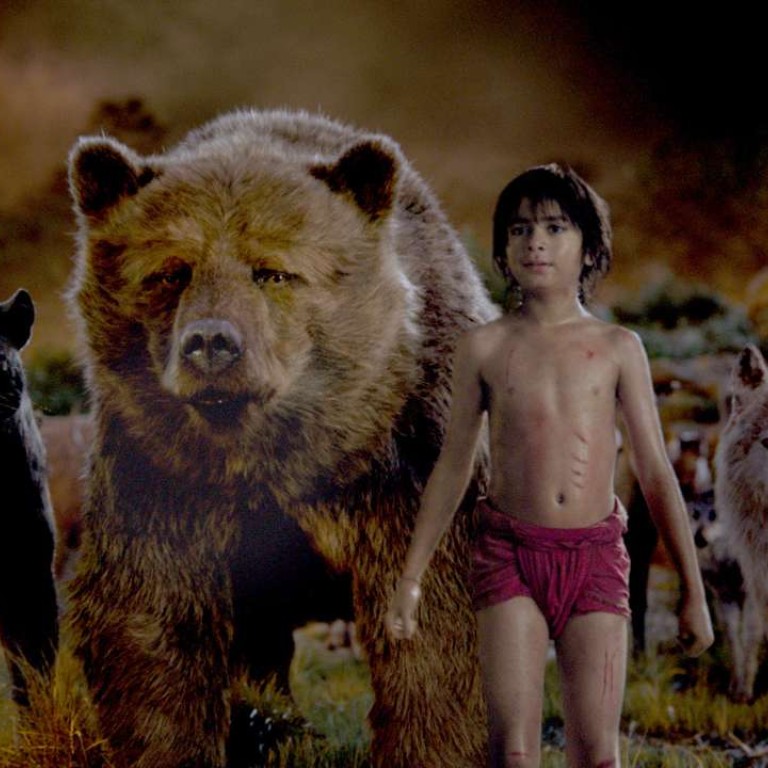 How Jungle Book director Jon Favreau updated Kipling's classic for 21st century
Rudyard Kipling's story is rooted in antiquated ideas about race, nature and identity – all of which had to be confronted by team producing a new film version for a new century
Jon Favreau has a strategy for adapting a classic – remember what you liked about it in the first place.
That's the approach the Iron Man and Chef director took when Walt Disney Studios chairman Alan Horn charged him with updating Rudyard Kipling's 19th century Jungle Book tales using contemporary digital filmmaking tools.
Modernising The Jungle Book meant more than rendering its animal cast in zeros and ones; it also required refreshing a story with a complex legacy rooted in antiquated ideas about race, nature and identity.
Like many people, Favreau first experienced Kipling's stories of Mowgli, a boy raised by wolves in the Indian jungle, as a child himself through Walt Disney's whimsical 1967 animated musical. Favreau remembered the catchy song Bear Necessities, the spooky snake hypnotising Mowgli and the character of King Louie, a comical giant ape voiced by Louis Prima. All appear in the new Jungle Book, with some key changes, including a tweak to King Louie's species and mien, the addition of some female characters and an updated view of the jungle itself.
"This was an opportunity to tell a story for now," Favreau says. "Things have shifted. In Kipling's time, nature was something to be overcome. Now nature is something to be protected."
Tonally Favreau had to strike a balancing act, retaining the buoyant spirit of the 1967 film, including some of its memorable songs, while crafting a movie with more realism and peril. The script by Justin Marks draws heavily on Kipling's lyrical language – including a key verse that "the strength of the wolf is the pack, and the strength of the pack is the wolf". But the story also pulls from a broad range of cinematic inspirations, including the child-mentor relationship in the 1953 western Shane, the establishment of rules in a dangerous world from 1990's Goodfellas and the use of a shadowy jungle figure in 1979's Apocalypse Now.
Shot with much of the same motion-capture technology used on
Avatar
, and executed by the visual effects houses MPC and Weta Digital,
The Jungle Book
has only one live-action character: Mowgli, played by 10-year-old New York-born Indian American Neel Sethi. A newcomer to the screen, Sethi is surrounded by photo-real digital characters, including Bagheera the protective panther voiced by Ben Kingsley, Baloo the lazy bear (Bill Murray), Raksha the loving mother wolf (Lupita Nyong'o), Shere Khan the fearsome tiger (Idris Elba) and Kaa the hypnotising snake (Scarlett Johansson).
King Louie is perhaps the most changed of the key
Jungle Book
characters, and the one with the most problematic legacy. In 1967, the singing ape was a comedic, jive talking and – some felt – racist character inspired by Louis Armstrong. Academics have interpreted his song
I Wan'na Be Like You
as a prejudiced metaphor for some black people's efforts to be more like whites during the racially charged civil rights era. That Louie was voiced by Prima, a white jazz musician known for performing a black style of music, added another layer to King Louie's knotty history.
In the new film, Louie is no longer an orangutan – a species that never actually lived in the Indian jungle – but is now a geographically correct, extinct species of ape called a gigantopithecus. Voiced by Christopher Walken, the character's scenes are still comedic, but instead of a minstrel show, they're inspired by Marlon Brando's Colonel Kurtz in Apocalypse Now.
"Jon called me and said, 'We have Walken, so we have to write something worthy of Walken'," Marks says. "We liked the notion of Louie as a pretender to the throne making a power play by summoning this boy to him. What if he could play it seriously and yet he was completely preposterous?"
The 1967 film is also noteworthy for its lack of female characters, which Favreau and Marks addressed by reviving a character that had been prominent in Kipling's tales but was omitted from the animated film, the female alpha wolf Raksha, who raises Mowgli and takes on a heroic role when the wolf pack is in peril. Favreau also cast Johannsson (who previously appeared in the director's
Iron Man 2
and
Chef
) as the snake Kaa, seizing the opportunity to use her distinctive, throaty voice for a mysterious character who delivers key backstory. (Johansson also sings
Trust in Me
in a steamy track produced by Mark Ronson over the closing credits.)
"This was an opportunity to balance the gender of the cast and update it for our moment in history," Favreau says.
Musically, the film relies on a robust orchestral score by long-time Favreau collaborator John Debney, as more than 100 musicians playing instruments like Indian tablas and woodwinds boost long, dialogue-free action sequences.
Early on, Favreau made the decision to retain some of the key songs from the 1967 film, including Bear Necessities, which is sung by Murray and Sethi, and I Wan'na Be Like You, which has Walken delivering new lyrics written by Richard Sherman. Sherman, now 87, who wrote the original with his brother, Robert, as part of their distinguished Disney musical legacy, had to find a way to incorporate the word "gigantopithecus", among other changes.
"We're sitting there in Jon's office, and he's talking to Dick about this creature, King Louie," says Debney, who had met the Sherman brothers during his first job out of college, in the Disney musical department. "Dick was writing the word down, and we saw the wheels turning. He immediately started coming up with a lyric in the meeting. I looked at Jon and said, 'Wow, this is cool'."
Without spoiling the movie's third act, it's worth noting one more major difference between the 2016 Jungle Book and its predecessors, which treated returning to human civilisation as Mowgli's inescapable destiny.
"This movie makes a choice that identity is not necessarily something you are born into," Marks says. "We see that as an evolved version from where Kipling started all the way to today."
Tribune News Service
The Jungle Book opens on May 26