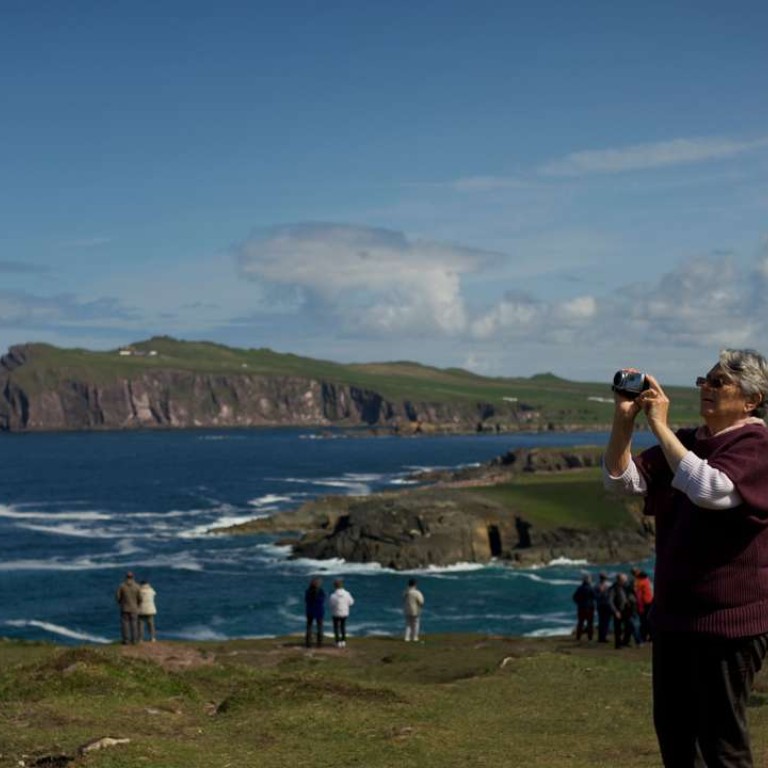 Filming of Star Wars: Episode VIII brings crowds to Irish beauty spot
Businesses hope to cash in as stars and crew descend on remote part of Ireland's wild west coast, bringing increase in visitors, but some in Gaelic-speaking community dislike disruption
The plot for the next Star Wars film is guarded more closely than the Death Star, but one thing is certain, it will feature plenty of Irish mist and rain.
The regular downpours – helped by tankers of water brought on set just in case – failed to dim the enthusiasm of hardy fans and local businesses cashing in as director Rian Johnson began shooting this month on a remote stretch of coast in southwest Ireland.
"There's a buzz around and the exposure worldwide is unbelievable," says Donal O Cathain, a bar owner in Ballyferriter, the small village nearest the set constructed on Ceann Sibeal, a rocky promontory.
Christy Mac Gearailt, who runs a local restaurant, says: "I don't know if the force is with us but it has certainly forced us to work a lot harder because of the increase in the number of visitors."
The last movie in the Lucasfilm Disney Star Wars series, which was released in December, has generated more than US$2 billion at the box office, making it the third highest grossing film of all time.
Star Wars Episode VII: The Force Awakens also featured Ireland in a dramatic ending filmed in a sixth-century monastic settlement off the west coast.
"Ireland has become an important part of Star Wars history," Candice Campos from Lucasfilm Disney, said in a statement officially announcing that Ireland would feature in the eighth instalment.
Irish Film Board chief executive James Hickey says he hopes for "increased levels of job creation, incoming tourists and foreign direct investment to Ireland".
Episode VIII is scheduled for release in December 2017.
Among the fans eagerly awaiting the premiere will be Irish-American Jack Sullivan, who is in a group trying to catch a glimpse of a structure jutting out from the hilltop, believed to be a Jedi temple.
"This is a real bonus on our trip to Ireland," he says. "It's just a pity we can't get to see it up close – I can't wait until the film comes out now."
But some locals complained about the disruption in this rural spot – one of the last remaining areas where Irish Gaelic remains the primary language.
Louis Mulcahy, who has been hosting some of the visitors at his pottery shop to view the set through a telescope, complained about the traffic around the Dingle Peninsula, which is already one of Ireland's busiest tourist routes.
"The increase in numbers certainly won't help," he says.
Truckloads of equipment have navigated the narrow roads in recent weeks to ferry equipment to a hastily built camp at the bottom of a hill near Ballyferriter that is usually home only to a few sheep.
Local owners of four-wheel-drive off-road vehicles are reportedly earning €300 (HK$2,600) a day to ferry the cast and crew along a temporary road up the hillside to the shoot location, which is bounded by cliffs on three sides.
About 450 people were working on the set amid tight security to prevent any leaks.
Landowners have signed onerous secrecy agreements and none will speak openly about the layout of the site for fear that they would not receive the promised compensation for the use of their fields.
Nor were they prepared to talk about their windfalls.
Workers have had to check in mobile phones to prevent them taking pictures and the Irish Aviation Authority has imposed a no-fly zone over the area.
Still, the village's three bars have been humming with conversations about the day's happenings on site and how the stars are conducting themselves.
The friendliness and down-to-earth manner of Mark Hamill, who plays the saga's main hero Luke Skywalker, was singled out by several locals for particular praise.
But some business owners are openly sceptical of claims that the film is enhancing prosperity.
"We have seen plenty of cars passing our door to go to the site but you can count on one finger the number of local people actually working there," says Eamon Houlihan, owner of the Black Cat shop in the village.
"Everything has been shipped in – it is almost completely self-contained," he says.
Douglas Dalby